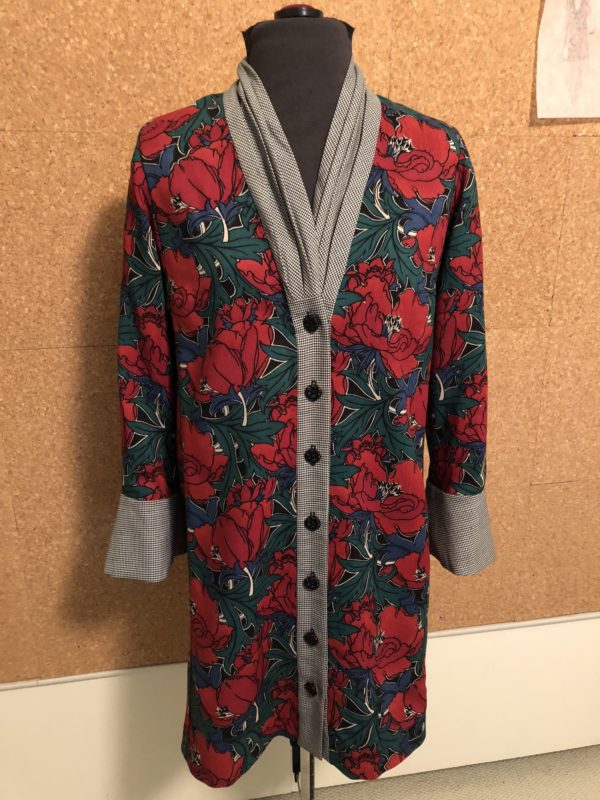 I've had a beautiful piece of wool challis in the studio for a few years just crying out for a project.  Because the fabric is very elegant, has beautiful drape and is warm, I decided it would make a nice dress for winter wear.  Just the impetus I needed to create my first Tabula Rasa Dress.  This week's blog post looks at simple pattern alterations that have a big impact.
Ever since buying the challis, I've had in mind that the perfect complement would be a small scaled black and white hound's-tooth; I found the perfect lightweight wool piece at Mood on my November NYC trip, so I was all ready to go.  I started by sketching a couple of design possibilities for an above-the-knee dress that I would base on the Tabula Rasa Jacket.  The collar or neckline would definitely feature the hound's-tooth, but what style?  And where should I feature the hound's-tooth a second or third time?  In the side panels? A trendy sleeve treatment?  Here you can see the sketches I made using my croque.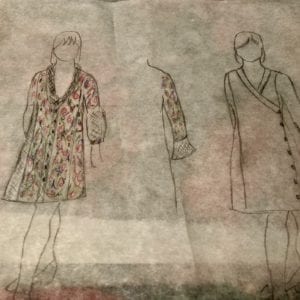 The sketches helped me decide on the gathered collar style from Band Variations and Pockets for the TRJ, like the Indigo batik top, but using pleats rather than gathers for the upper band area.  I also decided the sides should be the primary fabric with contrasting flared cuffs on the sleeves.  The only pattern work I needed to do was:
Add 10" length to the front, back, side and lower band patterns (the same length added for the Peacock Coat) while flaring slightly toward the hem in all side seams and the center back.

Cutting out lengthened pattern pieces.

Narrow the waist area, as described in a Trimmer Fitting Adjustments TRJ, to make the torso area slightly more fitted relative to the flared hem.
Create a deeper flared cuff pattern. I lengthened the flared cuff pattern in Wide Neckline Variations for Tabula Rasa Knits (as can be seen here), but later Rae pointed out I could also have adapted the bell cuff from Sleeve & Cuff Variations for the TRJ.  Either way, I had to measure and make sure that the cuff's circumference would match the circumference of the shortened sleeve.

Adapting the cuff pattern.
To construct the dress, I followed the basic instructions for a lined Tabula Rasa Jacket, adding the pleated collar and faced cuff directions from Band Variations and Sleeve & Cuff Variations.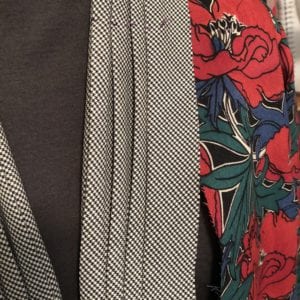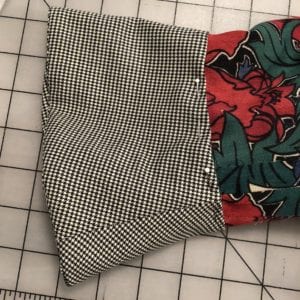 The result – a beautiful and elegant Tabula Rasa dress that fits well and is super comfortable. (And, I might add, received many compliments when I wore it on Christmas Eve!)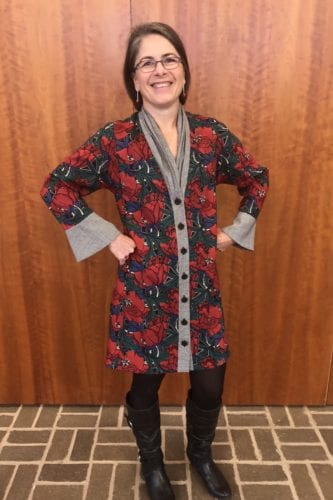 If you have been following our blog, you know that Rae and I are always experimenting with our Fit for Art base patterns.  This is the essence of our sewing philosophy – develop a basic pattern that fits well and feels comfortable and then make pattern alterations to create new looks and styles that will still fit well and be comfortable.  The successful trials become a variation for one of the Fit for Art base patterns.  While you too can do this kind of tinkering, we recognize that some sewists don't feel confident about their pattern work skills, or just don't want to put in the time.  We hope you will use our variations for quick gratification to a new style with your beloved Fit for Art pattern.
If you have worked with any of our variations, you've discovered that they sometimes require you to use templates to make alterations to the base pattern you've already fitted.  This is necessary so that the new style will fit just as well as the base style.  We also hope that walking you through the pattern work process will eventually give you the confidence to try out designs you envision on your own.  Many of our blog posts also provide the step-by-steps for the pattern work to create a style change that hasn't made it into a published variation pattern, at least not yet…
Have you been contemplating some variations or new styles for your Fit for Art patterns but are hesitant to try it on your own?  Then sign up to join us in March at our Sew! Let's Get Dressed Retreat or Eureka! Pants Workshop.  Rae and I will be there to provide plenty of guidance, plus you'll get dedicated sewing time and inspiration from fellow sewing enthusiasts in a bucolic setting.  We are limiting enrollment to 10 students per day to be sure you'll get the individual attention you want, so send your registration in soon!
Meanwhile, we hope you are getting lots of sewing time in during this cold winter!
Happy Sewing, Carrie