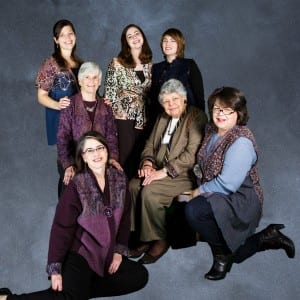 Fit for Art is an independent pattern company offering sewing patterns for women of every shape and size. Our classic designs are easy to assemble and very versatile. Each pattern offers fitting options, so sewers can get a comfortable fit quickly. The Tabula Rasa Jacket and Tabula Rasa Knit Tee & Tunic offer two different fronts and alternative sides in each size. The Carpe Diem Dress & Tunic adds sleeve choices and views in three hem lengths. The Eureka! Pants that Fit pattern offers three different backs for every size. We want to assure fitting success for every woman who chooses our patterns and inspire her to stitch up an entire wardrobe of handcrafted clothing that is fun to wear for every occasion.
Our detailed instruction booklets have been called the best on the market. They include tips for getting the best fit, instructions for perfecting the fit with a mock-up, identifying adjustments and transferring the changes to the tissue pattern. They also feature design tips on fabric and styling choices and directions for enhancing your pants or jackets with a lining. Our online Helpful Hints and Video Tutorials feature additional fitting information and step-by-step techniques. Don't miss our Photo Gallery and archive of blog posts full of samples to inspire your own creative efforts.
We started Fit for Art Patterns because, as wearable artists, we could not find a jacket pattern that offered a good fit and simple design to support our creative sewing. We created our Tabula Rasa Jacket pattern to give sewers, quilters, weavers and other fiber artists a "Tabula Rasa," or "blank slate," to display individual creative expressions or to transform handmade textiles into unique garments that are flattering and comfortable as well as beautiful. Then, we added patterns to our line to complete your outfit. Take the time to master the Eureka! Pants that Fit so you can stitch up a wardrobe of great pants to complement your jackets. Complete your contemporary wardrobe with our Tabula Rasa Knit Tee & Tunic or Carpe Diem Dress & Tunic patterns for great clothing to wear every day and on special occasions.
Once the core Fit for Art pattern is adjusted to fit, each sewer can make changes that will alter the look of the garment without having to fit a new pattern. Our line of tips books and pattern variations for the Tabula Rasa Jacket, Tabula Rasa Knit Tee & Tunic, the Eureka! Pants that Fit and the Carpe Diem Dress & Tunic make these changes easy. They offer additional pattern pieces, templates, directions and design ideas to give your garments a fresh style. Choose among the Jean Jacket Variations, Rain or Shine Variations, Sleeve and Cuff Variations, Swing Variations, Band Variations, Pocket Variations, and Shirt Variations for the Tabula Rasa Jacket. Sporty Details, Trouser Details and Glamour Details for Eureka! Pants that Fit include all you need to change the silhouette and to add a front fly zipper and appropriate style elements such as pockets, belt loops and cuffs to the pants. Expand the styles of your knit tops with Clever Crossing Variations, Wide Neckline Variations, and Twin Set Variations for the Tabula Rasa Knit Tee & Tunic. We are always working on additional styles to complement your Fit for Art wardrobe, so stay tuned for more.
Learn More About Fit for Art Patterns
Sign up for our email newsletter and follow us on Facebook to receive information about new pattern releases, technique tips and notice of our upcoming appearances. We would love to have you attend one of our classes or workshops or visit us at a sewing show, where we also offer jacket sizings and pant fittings. See our Event Calendar for our schedule of classes and shows. If your sewing group or local sewing shop is interested in having us teach in your area, please read about the classes and workshops we can tailor to your needs or contact us with your ideas. Be sure to subscribe to Fit for Art's weekly blog full of tips, reflections and inspiration for your own garments.