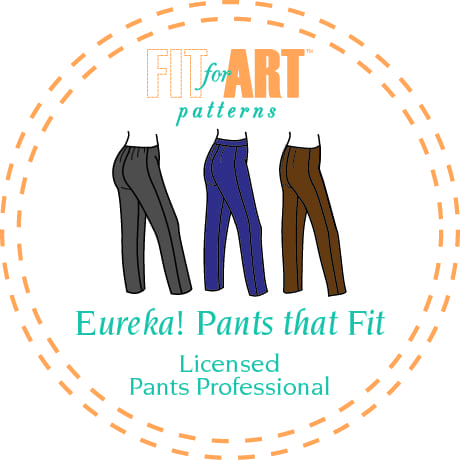 Become a licensed Eureka! Pants Professional with Fit for Art Patterns. During a week of training, you will learn how to utilize and fit the Eureka! Pants pattern for your business and how to teach Eureka! Pants classes and workshops. The seminar is taught by Rae Cumbie, Sarah Veblen and Carrie Emerson.
The next licensing seminar will be held October 15-19, 2019 in Milwaukee, WI, concurrent with the annual conference of the Association of Sewing & Design Professionals. ASDP members can register early at a reduced rate.
Contact us with questions or for more information about the licensing program.
Here's what some of our first licensees have said about the training:
"The Eureka! Pants pattern has allowed me to achieve an excellent fit in less than half the time it took me with other methods that I've used – drafting from scratch, commercial patterns, fitting shells, etc. It saves me time in the initial fitting, as well as all the time previously spent fine-tuning." 

Barbie McCormack
"After the five-day class, I was able to hit the ground running and start making great-fitting pants for my clients right away. Whether you want to teach Eureka! Pants that Fit, use the patterns for your clients or both, I highly recommend this class."

Edye Sanford
Benefits of Licensure
Upon successful completion of the licensing seminar, you will become a licensed Eureka! Pants Professional with the privilege of promoting your status in your business and teaching with the Eureka! Pants that Fit pattern. You will be able to take advantage of Fit for Art Patterns' advertising and other publicity (such as recognition in sewing publications) by association.
In addition to these benefits, licensed Eureka! Pants Professionals are entitled to:
Purchase Fit for Art patterns at wholesale price for resale to students. (Wholesale price is 1/2 the regular retail price.)
Purchase pants tissue patterns in bulk for client work.
Receive product updates and class outlines for teaching Eureka! Pants that Fit.
Purchase Eureka! Pants that Fit fitting prescription pads, postcards, and other marketing materials from Fit for Art Patterns at cost.
Receive information about and access to our preferred vendors for supportive materials.
Licensed Eureka! Pants that Fit Professionals are listed on our website as recommended professional fitters and teachers for the Eureka! Pants pattern. Licensees are invited to list their services on the web page, as well as to post information about upcoming classes, workshops and appearances on our Event Calendar.
Enjoy This Testimonial First Printed in the ASDP Newsletter
One of the things I love the most about ASDP is the never-ending information sharing among our members. I recently received an email from a member who was curious about Fit for Art's licensing seminar for Eureka! Pants that Fit. In my response, I was able to share with her how valuable this tool, created by three ASDP members (Rae Cumbie, Carrie Emerson, and Sarah Veblen), has been to my business and my skill set. And then I thought it might be helpful to reach out to some other licensees so we could share our experiences with the greater ASDP membership.
Unlike other pants patterns, the Eureka! pattern comes in a range of sizes AND has three different backs for each size. This starting point, with extensive horizontal balance lines (HBLs), allows each sewist to create a mock-up that that is the key to a great-fitting pant. At the licensing seminar, attendees have the opportunity to learn the ins-and-outs of fitting for themselves and for their clients of various shapes and sizes, "All on real bodies, [with] volunteers daily!" said licensee Cari Loschen of CariKim Couturier.
Barbie McCormick of Sew Good already had extensive experience with patterns and fitting before attending the Eureka! licensing seminar. But after spending five days with the Fit for Art team she, "learned SO much- So many nuances and tricks with adjusting and truing up pattern lines, as well as so many 'Aha!' moments with fitting different bodies, proper and improper pinning and pattern adjustments." She went on to say, "The Eureka! pants fitting pattern has so many attributes that I have never seen before (And I've been to many other pants fitting classes, studied and used many pant drafting books) but make SO much sense! The seminar brought my understanding of pants and patterns to a whole new level!"
I couldn't agree more. I'd never been able to get my fit, "just right." There just always seemed to be something I wasn't happy with. Now, I not only have an excellent wardrobe of comfortable, flattering pants, in a variety of styles, but I'm also able to bring that to my clients. Whether it's a great fit in the crotch and hips (the key to the Eureka! method), selecting a waist treatment, or placing darts, this licensing seminar has you covered – all in a professional-but-fun environment.
Cari aptly summed up this great opportunity saying, "Since attending the Eureka! Pants seminar, I finally wear pants that fit!! I've honed my pant fitting skills, but most importantly I've been able to bring an innovative pattern and fitting technique to my area. Sign up. Go. Get fearless about pant fitting too! You'll be glad you did! It's a fantastic hands-on learning experience!"
To learn more about Eureka! Pants that Fit and the licensing seminar that will be offered in September 2017, visit fitforartpatterns.com.
Edye Sanford
Designs from the Edge Custom Clothing
President, Baltimore Chapter of ASDP
edyesanford.com