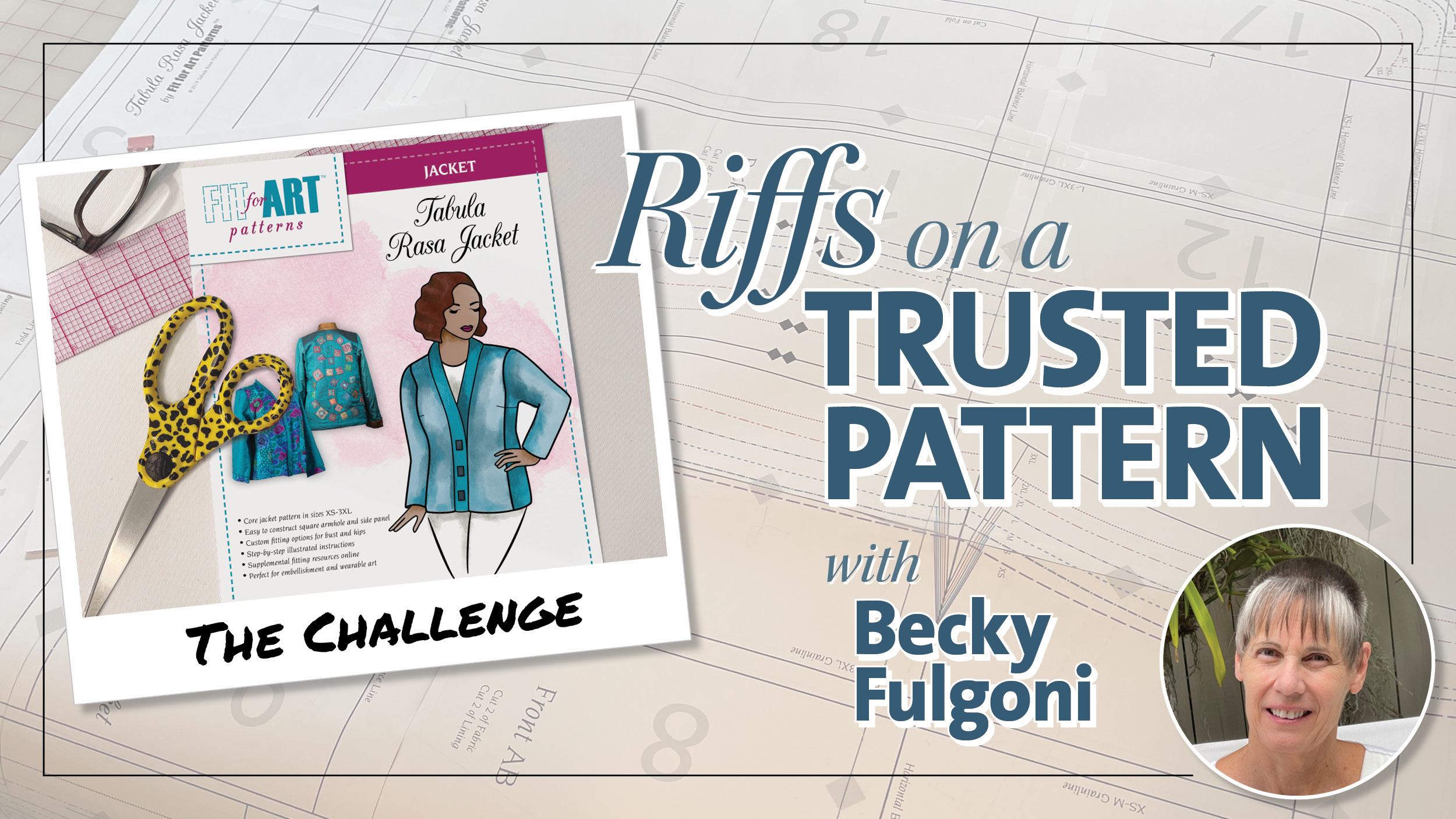 This year Threads Magazine is featuring Riffs on a Trusted Pattern by Becky Fulgoni as an online insider series.  Becky chose the Tabula Rasa Jacket pattern as her trusted pattern for the series, so every month we've been enjoying Becky's creative makes with the TRJ pattern.  You may recall that this is not the first time we have featured Becky's makes on our blog because she has been creating with the TRJ pattern for years.  Becky's challenge perfectly captures the Fit for Art philosophy – start with a basic core pattern, get it to fit you comfortably, then use it over and over to create garments in different fabrics, styles and for different seasons.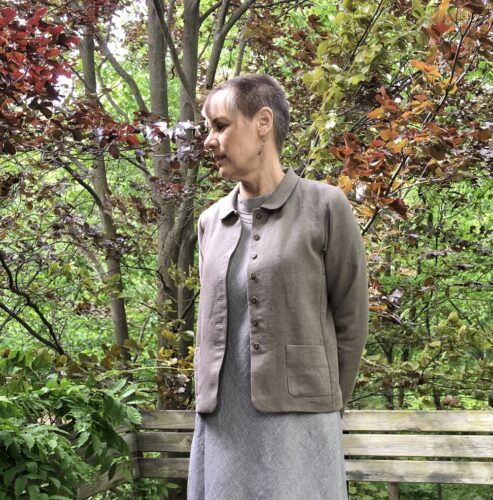 Becky's journey with the Tabula Rasa Jacket has followed many of the paths we have taken with the TRJ over time to create jacket variations as well as new core patterns and their variations. It's also been fun to see some of the interesting fabrics and sources that inspire her makes. So here is a peek at the riffs Becky has created so far this year, and a quick glimpse at how you can create similar looks using our line of Fit for Art Patterns. If you are attending the Original Sewing & Quilt Expo in Fredericksburg, VA next month, come to Fit for Art's trunk show Four Core Patterns – One Great Wardrobe for even more inspiration!
In the introductory Threads post in the series, Riffs on a Trusted Pattern: the Challenge, Becky described the challenge she has set for herself and her process for fitting the core Tabula Rasa Jacket pattern to prepare for the series.  If you are new to the Tabula Rasa Jacket pattern, be sure to consult the free fitting resources available on our website in video tutorials and Common Fitting Adjustments for the Tabula Rasa Jacket.
Becky's first make, Riff # 1, is a very fun beach cover-up constructed from "a couple of cotton terry cloth towels, often called Turkish towels, [purchased] at the farmers'/artisans' market. They are soft and absorbent and come in great beachy stripes." Riffs on a Trusted Pattern: The Beach Cover-up.  This riff reminded us very much of the Endless Summer Beach Coat that Rae created for our good friend Edye.  Edye's beach coat, styled with Rain or Shine Variations for the TRJ, features a center front zipper closure, attached hood, and festive ball fringe for trim.  Read more details in our photo gallery and Rae's blog post Beach Coat Fun.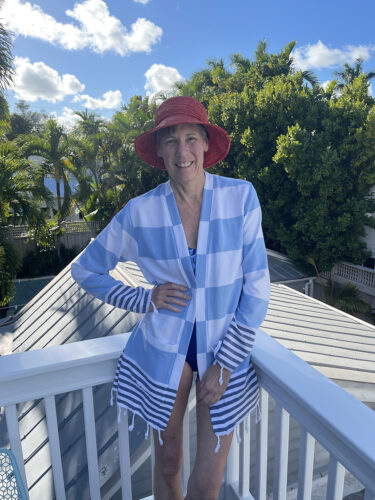 Riff #2 is a short sleeve bowling shirt sewn with an end cut of "Jams World" rayon fabric sporting images of flamingos.  In Riffs on a Trusted Pattern: The Bowling Shirt, as in each of her posts, Becky explains the pattern adjustments she made to achieve the new style; in this case she crafted a short sleeve pattern with a rolled-hem cuff.  Carrie has been a big fan of short sleeve shirts for years and also describes this pattern alteration in TR Camp Shirts for Summer.  The short sleeved Tabula Rasa Camp Shirt and  Malaysian Batik Shirt are both based on the spread collar version of Shirt Variations for the TRJ, making it easy for you to craft your own bowling-style shirts with the TRJ pattern.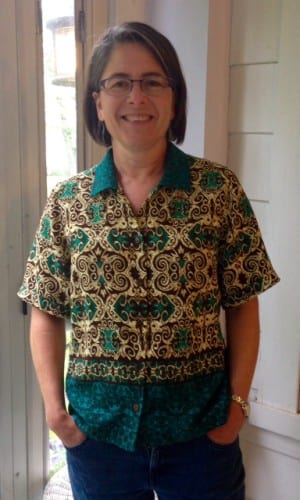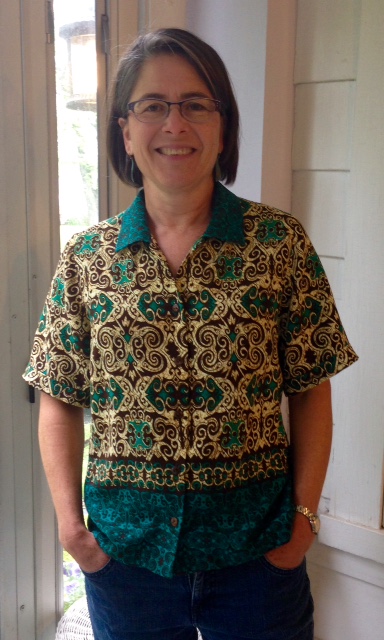 Riff #3 is a summer pullover top inspired by a small remnant of striped woven fabric.  Riffs on a Trusted Pattern: Mary Tyler Moore Pullover Style Top features Becky's pattern work to create a pullover front and a sleeveless side panel.  What a cute top!  Fit for Art has already done all that pattern work for you in our newest core pattern, the Carpe Diem Dress & Tunic.  While the Carpe Diem pattern is styled for a dress length and longer tunic, Carrie and Rae have found that it is a great resource for cropped tops, with sleeves or without.  See Carrie's sleeveless Floral Chambray Tank Top and Rae's sleeveless Atelier Rayon Tank Top or Sizzling Crop Top with sleeves for examples.  To bind the neckline and sleeveless armhole like Becky did in her Mary Tyler pullover top, take a look at Carrie's blog post on how to Finish a Carpe Diem with Binding.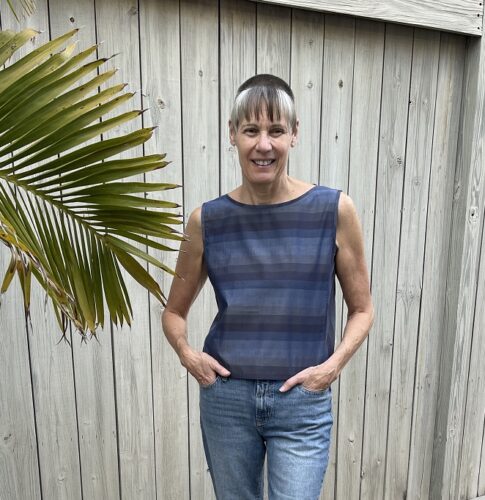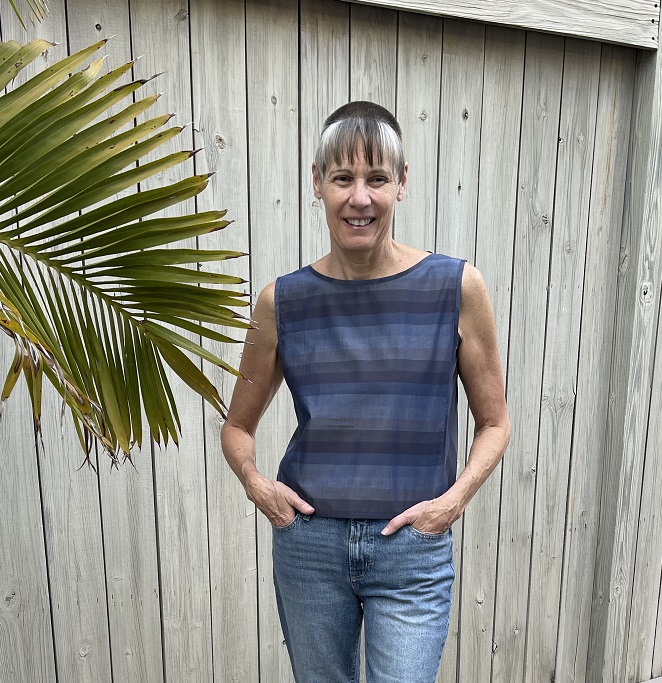 Becky's next two TRJ challenge garments were both dresses with center front button closures.  Riff #4, a Special Dress with Statement Collar, in mint green handkerchief linen re-used her sleeveless side panel from the pullover top (Riff #3) extended to dress length and added a new statement collar.  Riff #5, her Birthday Dress made from a vintage cotton tablecloth,  included a cut-on collar, full skirt, and incorporated the short sleeves from Becky's bowling shirt (Riff #2).  Aren't they fabulous?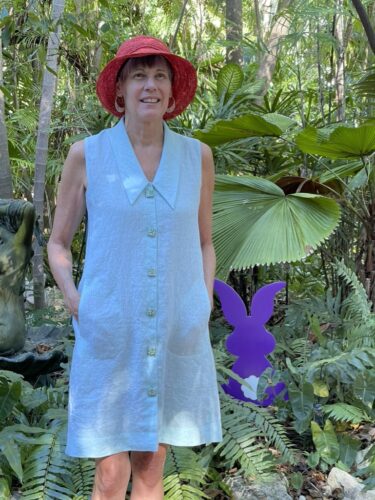 Today, of course, we are also crafting dresses with sleeves and without from the Carpe Diem Dress & Tunic pattern, such as the Minty Fresh Dress, Autumnal Dress, and Edye's fun cotton Carpe Diems with Pockets.  Several years ago Carrie extended her Tabula Rasa Jacket pattern to dress length to create dresses with center front button closures. The Denim Shirt Dress is based on Shirt Variations with the spread collar and adds an Obi Belt (free download from FFA!) for styling options.  The inseam pockets were topstitched to the fronts like the pockets in Becky's Statement Dress.  Find more details in the blog post Tabula Rasa Shirt Dress.  Carrie's Wool Challis Dress was crafted with the Tabula Rasa Jacket pattern and the 2-piece gathered band from Band Variations for the TRJ.  It also features a buttoned center front closure and includes a dramatic faced cuff as described in A Tabula Rasa Dress.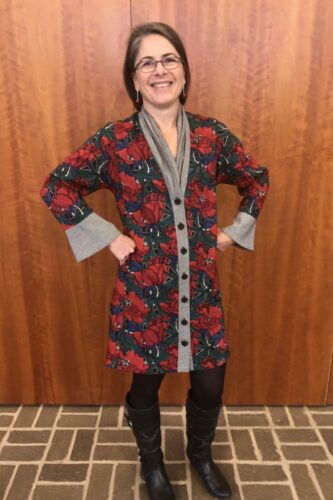 Becky's fun dresses have inspired us to think about a variation for the Carpe Diem pattern with a buttoning front. What other variations would you like to see for the Carpe Diem Dress & Tunic?
We hope you will join us in following Becky's series Riffs on a Trusted Pattern on threadsmagazine.com for the remainder of her challenge year!  In any event, we will catch you up here in our blog later this year.  In the meantime, take advantage of our discount offer through Threads for the Tabula Rasa Jacket pattern; for each month's challenge, we add another Fit for Art pattern to the discount that would help you replicate Becky's changes to the TRJ pattern.
Happy Sewing! Carrie