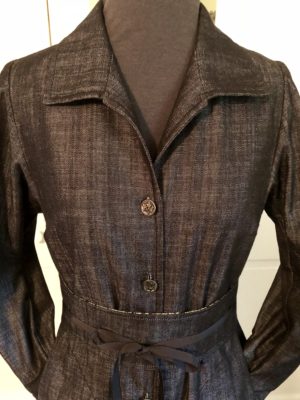 Classic shirt dresses are totally on trend this year, so I decided to make myself a Tabula Rasa version for fall with some lovely black denim purchased recently at Mood in NYC.  I like that this denim is not a dark or dense solid black; the weft fibers are white, which adds nice light and texture to the fabric.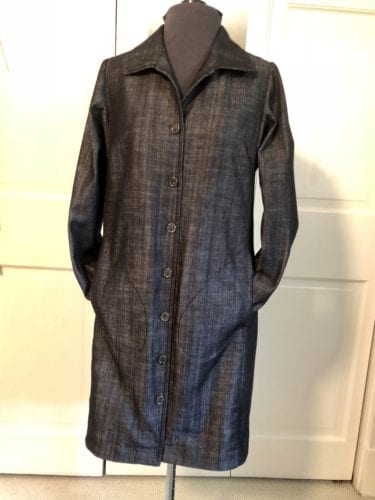 The dress was going to be very plain, so I searched my stash and found some lovely vintage buttons that would add a nice focal point.  They are larger than a standard shirt button, about 5/8" in diameter.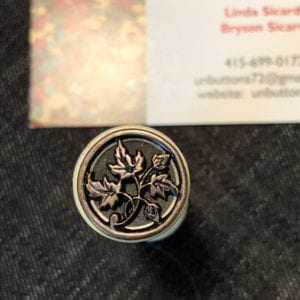 Naturally I relied on my pattern for the Tabula Rasa Jacket with Shirt Variations as the starting point.  The only pattern changes I made to the body of the pattern was to add 10" length to the front, back and side panel pieces.  (I didn't add any flare, as I had to my wool challis Tabula Rasa dress, to test that alternative.)  I also wanted pockets, so I included inseam pockets, for which you can find a pattern and instructions in either Band Variations and Pockets or Rain or Shine Variations for the Tabula Rasa Jacket.
I decided to put a classic shirt cuff on the sleeves, so that did require some research and pattern work.  I found the directions for making a lapped cuff with continuous bound placket in my trusty reference source, the Reader's Digest Complete Guide to Sewing.  It seemed the easiest of three methods illustrated in the book.  I shortened the sleeve length by 7/8" above my usual finished hem length to accommodate a 1½" deep cuff.  The trickiest part was putting in a placket, so here are my step-by-step photos.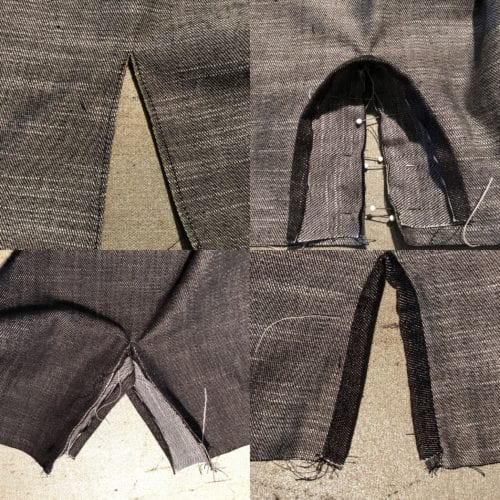 I also added two pleats to the shirt hem before attaching the cuff.  The cuff pattern is a rectangle; the long side of the cuff is the circumference of the sleeve measured from the outer edge of the front placket to the outer edge of the back placket, plus ½" or a little more to add lap for my big buttons.   The short side of the rectangle is 4 1/4" deep to create a 1½" finished cuff.  And voila, the finished cuff.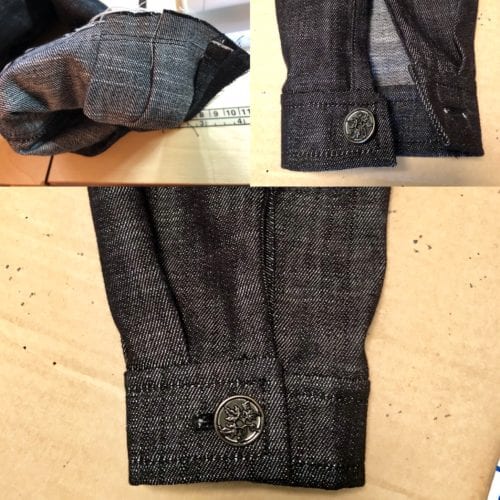 When it came time to hem the shirt dress, I found that I didn't want it any shorter than the unfinished length.  So rather than turn a hem up, I cut a long piece of selvage to face the hem.  This created a very handsome finish!  Next time I will add a few more inches to my pattern length.  I also was unhappy with the floppy inseam pocket bags in the unlined dress, so I topstitched them down as you can see in this close-up.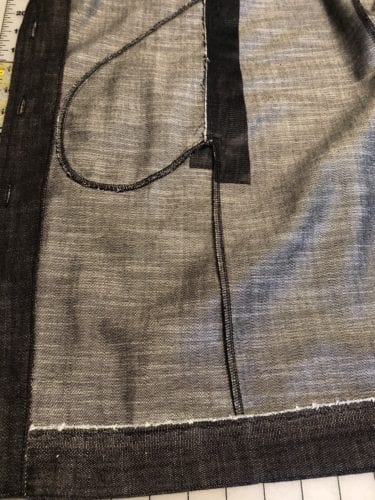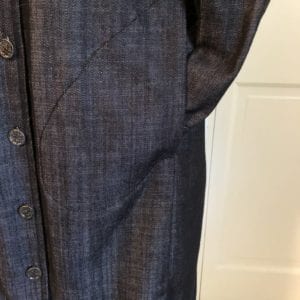 Finally, it was time to make a belt to give the dress some shaping.  I had intended to create a simple tie belt out of the same fabric, but Rae had a great suggestion.  I used Wrap It Up, our free downloadable pattern, to make an Obi Belt.  One side of the oval is  denim, but the other side is a piece of Liberty of London cotton floral fabric in fall colors that I had picked up at an outdoor market last year in France; now I can have a contrast look when so inclined!  I used ½" wide black grograin ribbon for the long ties so I wouldn't have to make and turn long tubes (one of my least liked sewing tasks).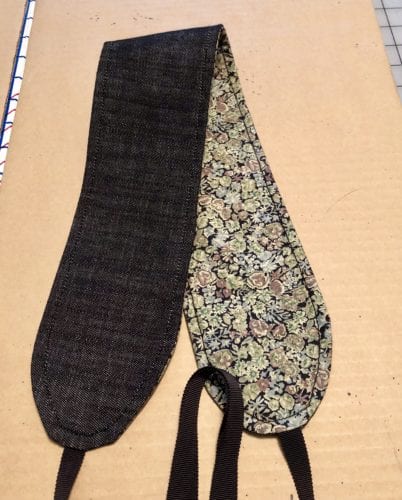 If you knew you were always going to wear the dress belted, you could also try the wrap around belt style included in the free belt download from FitforArtpatterns.com.  You can see more samples with both kinds of belts in this blog post.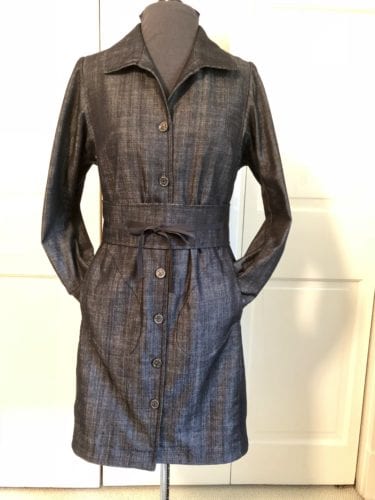 Now I can't wait for the weather to cool off enough to wear my new Tabula Rasa Shirt Dress!  You can get a closer look at both TRJ dresses in our booth at the Fredericksburg OSQE later this week.
Have you made a dress from a Tabula Rasa Jacket or Knit Tee pattern?  We'd love to see photos!  IF we were to develop a Fit for Art dress pattern, what sort of dress style would you be interested in?
Happy Sewing, Carrie