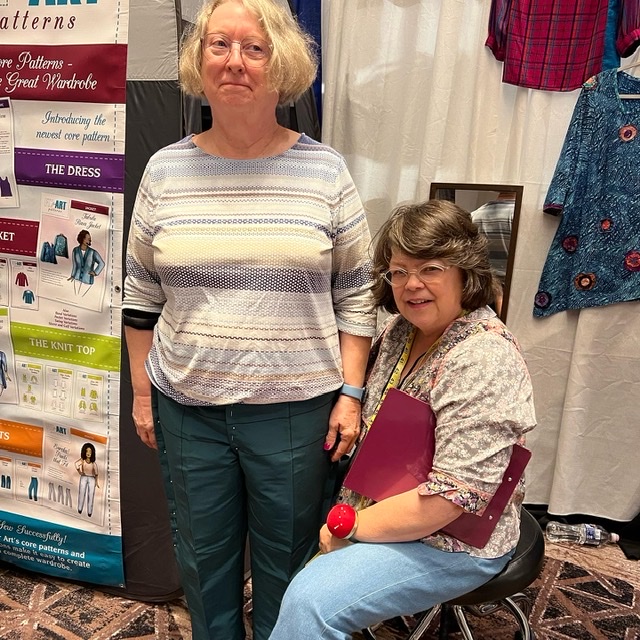 Fall is upon us so it's time to take pants inventory and get going on the pants needed to get you through the year. We are delighted to be returning to the Fredericksburg Original Sewing and Quilt Expo (OSQE) to teach our two day Eureka! Pants fitting workshop during "More the Day Before" sessions Tuesday and Wednesday September 27 and 28.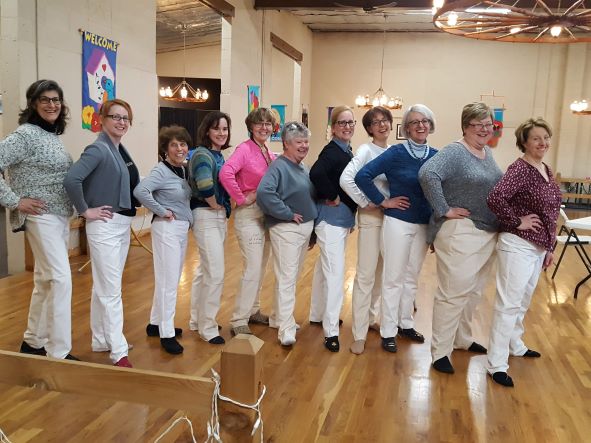 This 2 day workshop is the perfect time to get a personalized pants pattern prepared and learn all the ins and outs of making great pants with the Eureka! Pants pattern. Though this class is now sold out, it is also available to sewing clubs and guilds as a private event. What a perfect way to get your pants journey started with all your sewing friends by your side. We always encourage students to patiently begin the process with us in class and then continue to adjust until the perfect pants are in your wardrobe.
Here is a testimonial from a student who took the class in 2019. We are so glad she shared her experiences with us, both during and after class:
I attended your class in Fredericksburg, VA in early October. Prior to that, I had vowed never to attempt sewing pants again. Today I completed my fourth pair and can now provide valid feedback. I have never been so happy with a garment I did not design myself as I have been with this fourth pair of pants. I did not know the pleasure of standing up without needing to "hike up" my pants until now. AND, these also did not ride up in the front forcing me to adjust them upon sitting down. I have no whiskers, no smiles, no stress wrinkles. I have a nice pair of pants that hang straight down. It took me four tries to perfect the waist finish, but I believe I am now there. My challenge moving forward is to remain this size! LOL. Thank you so much for sharing your knowledge and personally fitting me so that I can now have beautifully fitted slacks to wear when the weather turns chilly.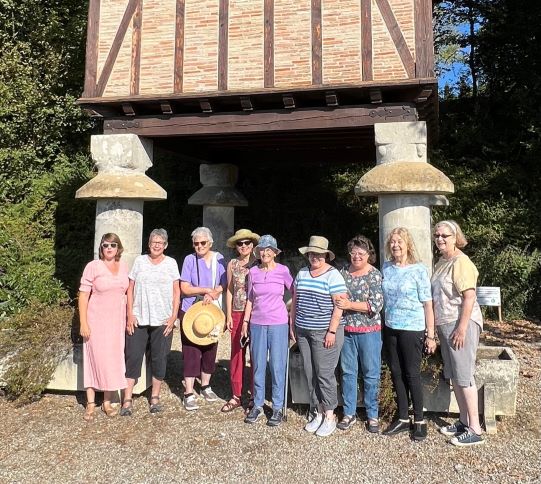 Whatever your pants wants and needs, Fit for Art's Core Eureka! Pants pattern and our pattern variations are a great way to build your complete pants wardrobe. Take a look at the core pants I took to France for my month long visit. I usually prefer simple solid color pants with great versatility. I have relaxed tapered pants, like the khaki cotton pair, snuggly tapered pants like the light blue denim pair, stretchy denim tapered pants, like the dark blue bamboo denim, and wide leg, loose pants like the navy linen and the batik rayon.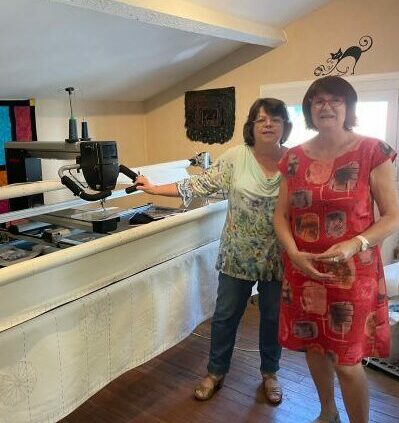 Each pair that went to France were made with very light, cool fabrics, but I have very similar pairs made in heavier fabrics for fall and winter. Visit our social media pages this week on Facebook and Instagram to see more of my outfit combinations featuring these basic pants.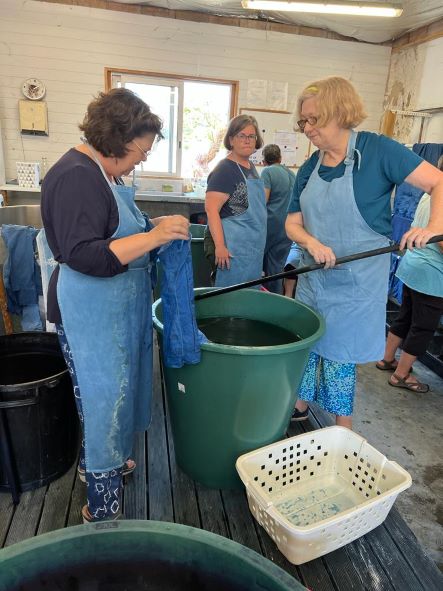 As a full figured gal, I prefer pants when it is hot as they create a fabric shield between my inner legs which I find most comfortable. While I loved all the pants I took with me on the trip, I hope to add a simpler pair of medium-dark wide rayon pants with a high elastic waistband to my wardrobe for next years French trip.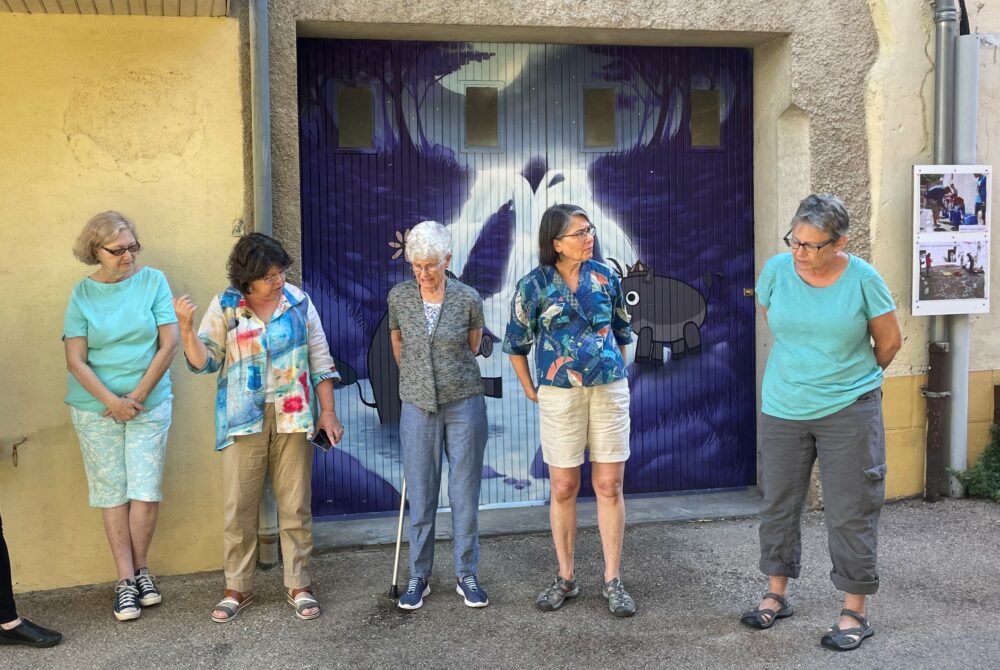 Carrie enjoyed her new pants too, especially the linen ones, while in France, but she prefers little dresses when it gets really hot. Her wish list for next year includes a Sleeveless Carpe Diem or two to round out her fun new travel wardrobe. That is what's great about Fit for Art, we have options for everyone's wardrobe preference.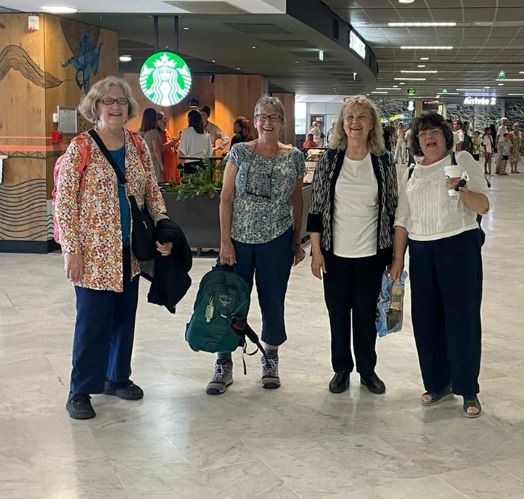 Read about Carrie's travel wardrobe which included the Eureka! Trouser shorts and the rose colored Eureka's with the lantern cuff in her recent post Summer Wardrobe Update. See more of Rae's navy based travel pants in her post Anchor a Travel Wardrobe with Eureka!Pants. Then check out what makes the Eureka! Pants pattern so special in Why? Eureka!. All that will be left is for you to participate in a class or have a pants sizing in our booth in Fredericksburg to begin your pants journey with us. Plan to join us in November on retreat near the BWI airport for a 3 day sewing retreat, the perfect time to develop the pants of your dreams, or organize a class in your area by contacting Rae@fitforartpatterns.com for details.
Happy Sewing, RAE