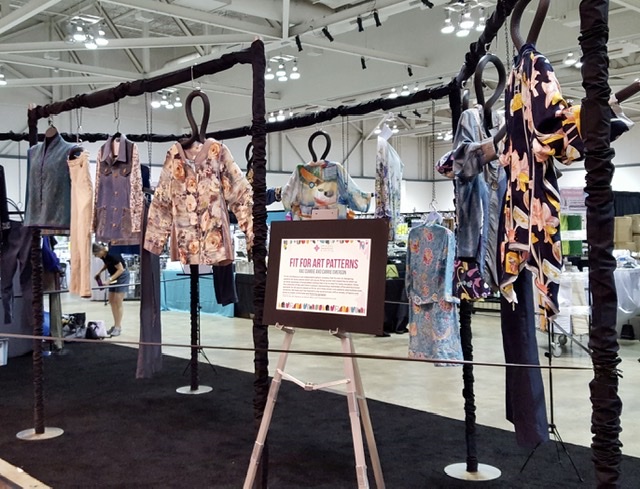 We are so honored that our friends at the Original Sewing & Quilt Expo invited Fit for Art to mount an exhibit of garments for the expos in Cleveland/Akron, OH (in July) and in Fredericksburg, VA (in Sept/Oct).  It is very cleverly hung so that the garments can be seen from all directions; no wondering what is going on in the back!  For those of you unable to see the exhibit in person, we decided to share a handful of the display garments in this and next week's blog posts while Rae and I are busy with final preparations and travel for my daughter's mid-August wedding.  (These shots were taken the day we set up our booth, so the background is a little messy!)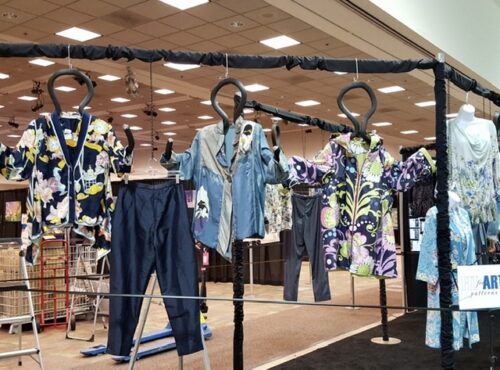 Sashed Silk Jacket
This basic Tabula Rasa Jacket features some special scraps pieced together using a sashing technique frequently used for quilt piecing. It was featured in the Threads Magazine 2017 article "Piecing Softly" (#193, Oct/Nov).  The silks were collected over time from three of our favorite sources, Laura Murray, June Colburn and Mekong River Textiles.  Don't miss one of Rae's favorite tricks, stacking selvages to create a layered cuff.  You can also see more details up close in the Threads extra Intriguing Details for Pieced Garments.  Read more about this jacket in our blog post Threads Samples  and about the sashing technique in Simply Sashed TRJ.  This jacket looks great with Carrie's rust-colored wool Eureka Pants  with a faced waist, but can also dress up blue jeans!
Olive Pieced Tiger Tee
This elaborately pieced knit tee requires only the core Tabula Rasa Knit Tee & Tunic pattern. Rae began by choosing and carefully placing her favorite elements of this unique print knit (the tigers, Arabic letters, fanciful flowers and glittery sparkles) then surrounded them with a solid blue jersey and gold stretch lace. The Tee is assembled with one of our favorite piecing techniques, using the rolled edge feature on a serger. Read more about Rae's design and construction process in the blog post Olive Pieced Tiger Tee.  This tee was shown dressed up with olive twill slacks made from the core Eureka! Pants that Fit pattern, but can also be dressed down with jeans made with the Sporty Details pattern.
Recycled Denim Vest
Carrie had such fun creating this recycled denim vest from 3 pairs of old jeans her husband was preparing to throw out!  It features the Jean Jacket Variations details – classic collar, front breast pockets with flaps, and hem band with tabs in the back.  Note that the recycled jean's back pockets create front pockets on the vest.  Carrie chose classic orange jean top stitching thread to match the top stitching carried over from the jeans. The buttons are also recycled cedar from Favour Valley Woodworking, which will darken with age.  Read more about Carrie's process in the blog post Making a Recycled Denim Vest.  Naturally Carrie pairs this vest with tan jeans or brown trousers made with Sporty Details and Trouser Details for Eureka! Pants that Fit.
Fabulous Fall Twin Set
This fun ensemble, made with Twin Set Variations for the Tabula Rasa Knit Tee & Tunic, plays with lengths in an interesting way.  The printed rayon jersey was not a large or weighty enough piece of fabric to make a Tailored Cardigan, but with the addition of the second longer layer of rust colored jersey things fell into place.  Rae embellished this Tailored Cardigan with leaf appliques cut from the same rust jersey and stitched on around the collar and split cuffs with raw edge collage.  The sleeveless knit tank is cut extra long so the cropped cardigan can be worn comfortably with leggings or skinny jeans.  When paired with a navy tank top and wide legged pants like these made with the Glamour Details pattern for Eureka! Pants that Fit, it takes on a completely different look.
We hope this will inspire you into sewing for Fall and as well as to visit us at the Expo!
Happy Sewing, Carrie