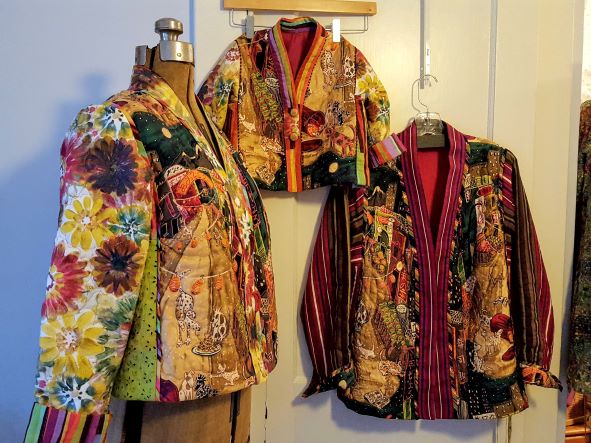 How do you get started on a new sewing project like a quilted or layered jacket? If you have been sewing complex projects for years, this might be second nature, but for a rookie or returning sewist, a multi layered project can seem daunting.  I am already thinking about sewing a new quilted jacket for fall so let's unpack the first few steps together.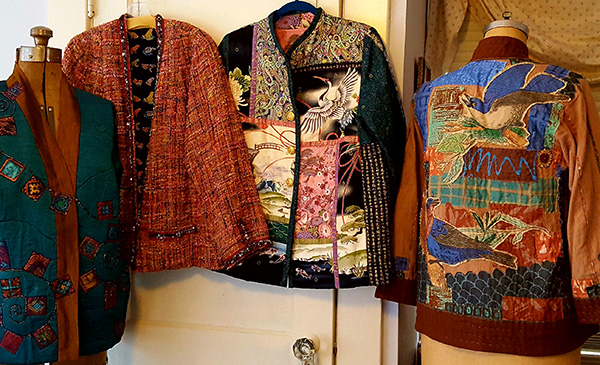 Identifying the desired project and gathering materials  is the best way to start.  We will presume that the project is a three-layer quilted jacket:
Choose the style jacket you want. Simple shapes are best for layered garments especially if you are new to this.  I will use the Tabula Rasa Jacket pattern.  I know it fits and I know how to put it together so it is a perfect choice.  (If you have not yet made a fitting mock up of the TRJ, do that first.  Follow the directions to make any necessary fitting adjustments and then adjust the pattern to reflect the fitting changes.)  If you do not want a Kimono Band front, several of our variation patterns offer great design alternatives.  The Shirt Variation with the Stand Collar or the Funnel Neck from the Rain or Shine Variations are both well suited to layered jacket construction.  As you are preparing to start a quilted jacket, consider making a full-size grid pelon pattern to make your planning easier.  Stay tuned for a blog post about this process coming soon.
Identify fabric for the project. I start this step while I am finishing up other projects so once I have time to cut and sew, the fabrics are prepared for action.  Choose something from stash or visit a reliable fabric store to choose fabric for the entire jacket or to extend your stash fabric.  In the Tabula Rasa Jacket Direction Book and on the Jacket Help Page, there is a chart with fabric requirements for mixed fabric jackets. The sleeves require a rather large piece of fabric.  If you don't have that available, then make a vest using our free downloadable directions which are also linked from the Jacket Help Page.  Our previously published posts, Gathering Fabric for a Quilted Vest and Cozy for Spring, talk at length about collecting fabric for a new project.

A fall color group

A spring color group

Choose the backing layer, cotton or a silky lining, and decide if it will be quilted to the other layers or free hanging. See both options in our post Quilt Fanciful Jackets and take a look at three construction options in the Simple to Simply Amazing Quilted Jacket post.

Constructed jacket and free hanging lining ready to insert

Anna's jacket with quilted in lining in process

Binding the seams and hem before hand work.

Choose the batting or inside layer that will give loft and texture to the quilted jacket. Lightweight, drapey battings are very nice choices for jackets.

One back, 5 batting options.

Don't forget to choose one or two quilting threads that will complement and add texture as you quilt the layers together.
Join me and OSQE on August 24th for the virtual class: Quilted Jacket Success.  Purchase the swatch kit to become familiar with my favorite choices for piecing, lining and batting.  We will consider them closely during class and will also look at Whole Cloth and easy piecing options for great quilted jackets.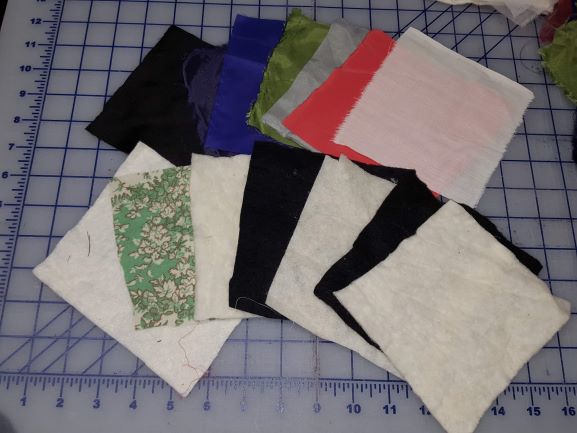 Once you have gathered all your materials and planned a design, pre-wash all the fabrics so you don't have any post sewing shrinking surprises.  (The batting does not need to be pre-washed.)
As you prepare to cut out all the layers, cut each layer in the quilting sandwich at least ½" larger all around.  Sometimes the quilting will cause the fabric to draw up a bit and it helps to have a little extra insurance in case that happens.  Once each piece is quilted and pressed, trim away any extra fabric.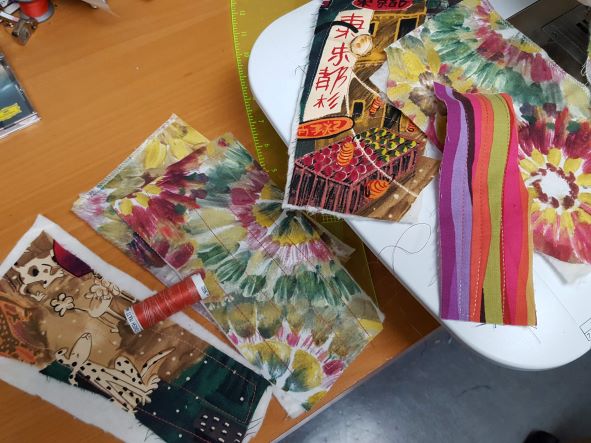 Use fabric leftovers, once the cutting is complete, to make samples that test the threads, techniques and design ideas you have chosen.
Now is the time to begin collecting the materials you need to stitch up a Quilted TRJ for fall.  Here are some fabrics I am considering for my new quilted jacket projects.
Search the gallery and blog by topic, Quilting or Quilted Jackets, to see more of our creations.  Order up our Quilting Tips booklet and sign up for the OSQE class to boost your confidence in choosing materials and creating a Successful Quilted Jacket.
Stay well and dream of fall sewing, RAE