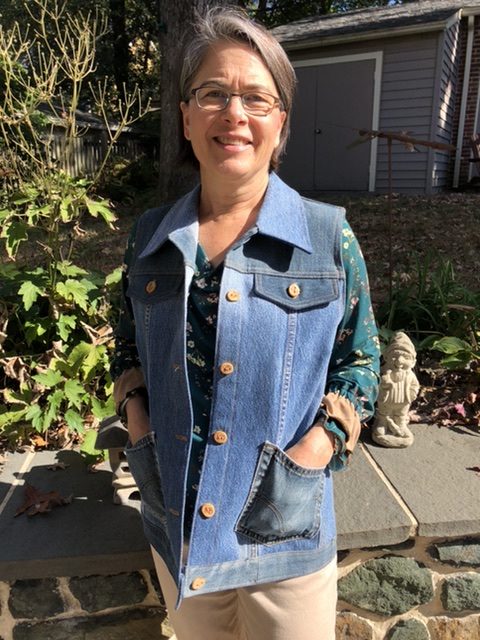 My Recycled Denim Vest was inspired by a pile of old jeans I discovered my husband was throwing out.  Rae and I were well into developing Jean Jacket Variations for the Tabula Rasa Jacket, so I knew they'd come in handy for a jean jacket sample!  Besides, I had been wanting to try a recycling project since reading Mary Ray's article Repurpose Jeans into a Denim Jacket in Threads magazine #191, June/July 2017.
I took Mary's advice to use a razor for disassembling the jeans; she was right that it was much speedier than alternatives!  After opening up the legs and crotch of all 3 pairs of jeans, I laid them out on my worktable arrange my jeans jacket pattern pieces.  It didn't take long to decide to make a Tabula Rasa Vest since it looked unlikely I could get sleeves out of the jean legs, even with a two-piece sleeve pattern.
The process of repurposing old jeans created several factors to take into consideration on laying out the many jean jacket pattern pieces: the shape of the pattern pieces vs. the shape of the fabric, avoiding the holes and extremely worn areas, equalizing the different fabric weights, and utilizing the color contrasts.   (Of the 3 pairs of jeans, two were a very similar color and weight of denim, but the third was significantly lighter weight and darker hue.)
Some of the fun ways I took advantage of recycling jeans in my jean jacket variation vest are pictured below. I:
pinned the front side and center pattern pieces together and cut the full lower fronts out over an existing flat fell seam.
used a section of flat felled seam to bind the top edge of the side panels.
removed the back pockets and used the two in best condition to make pockets on the vest, retaining the red Levi tag.

Lower Front cut on seam

Flat fell seam binding side panel

Back pocket repurposed

used the unfaded denim which emerged after removing back pockets to create a facing for the back yoke. (Because the fabric I chose for the yokes was so much lighter weight than the lower fronts and back, I decided to face all 3 yokes with another piece of denim.)
sewed one of the classic leather Levi waistband labels into the back yoke facing.

Facing the back yoke

Finished Back Yoke facing
For the breast pocket flaps and collar, I cut one side out of lighter and one side out of darker colored denim so I'd have choices in the construction process.  Which hue would you have chosen?
From the beginning of this project, I had planned to finish the vest with a set of blue and green plastic buttons purchased from Dusty's Vintage Buttons.  After I sewed them on the finished vest, I decided they just weren't right – too small and looking like googly eyes!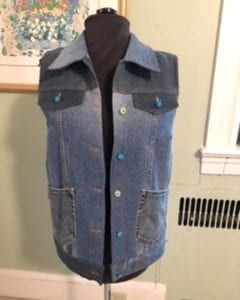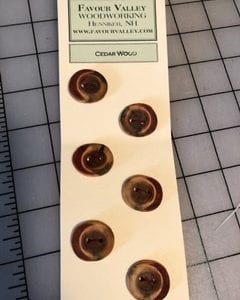 In my stash I found some handmade cedar wood buttons that I had purchased last spring at the Maryland Wool and Sheep Festival.  I liked the rustic natural wood with the faded denim and orange top stitching thread, but they were too big for the buttonholes I had already made.  I reached out to the owner of Favour Valley Woodworking and she was happy to create a set of ten 5/8" cedar buttons for me.  Over time, they should darken up to look more like the sample card buttons.
Have you repurposed worn out jeans into a new garment to wear?  We'd love to hear about your recycling project!
Happy Sewing, Carrie