Original Sewing & Quilt Expo – Fredericksburg, VA
September 30, 2021
–
October 3, 2021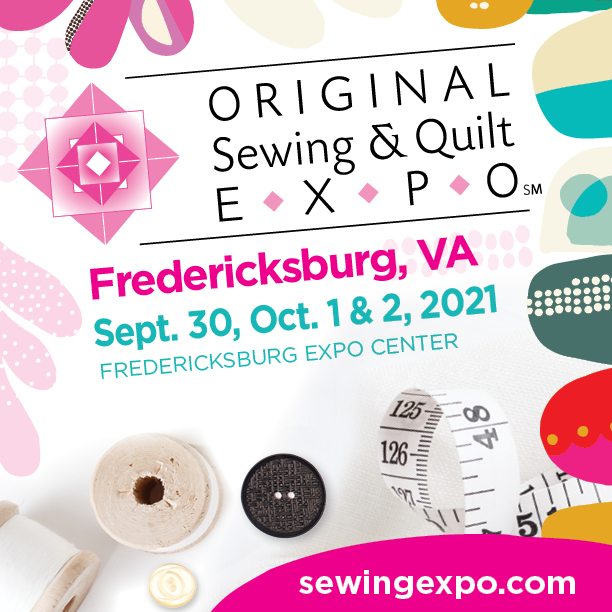 Fit for Art looks forward to returning to Fredericksburg for the 2021 Original Sewing & Quilt Expo! We can't wait to see old and new friends in the vendor hall; come by Fit for Art's booth for a jacket or pant fitting, to pick up new patterns and supplies, and to view our newest samples. If you want to be fitted for the Eureka! Pants that Fit pattern, come by the booth early in the Expo to reserve your appointment time; we are so busy with teaching and trunk shows, slots will be limited!
A collection of inspirational Fit for Art garments will also be featured in one of the Expo Display Galleries. Rae and Carrie will be teaching several classes, so register early on the OSQE website to ensure a space. Plan to catch Carrie's trunk show, Play with Your Patterns, on the Expo Stage on Thursday at 3:15 p.m. or Friday at 10:30 a.m. We are so excited to be heading to a live in-person event!
Classes
Make Pants for Every Day, Th. 9/30 at 8:30 – 10:00 a.m.
Embellishments for a Contemporary Wardrobe, Th. 9/30 at 1:00 – 2:00 p.m.
Knits that are Sew Fabulous, Fri. 10/1 at 1:00 – 2:00 p.m.
Square Armhole Magic, Fri. 10/1 at 4:00 – 5:00 p.m.
Pattern Work Basics, Sat. 10/2 at 10:30 – 11:30 a.m.
Openings and Closings, Sat. 10/2 at 2:00 – 3:00 p.m.
Exhibit Hall Hours
Thursday & Friday 10:00 a.m. – 5:30 p.m.
Saturday 10:00 a.m. – 5:00 p.m.