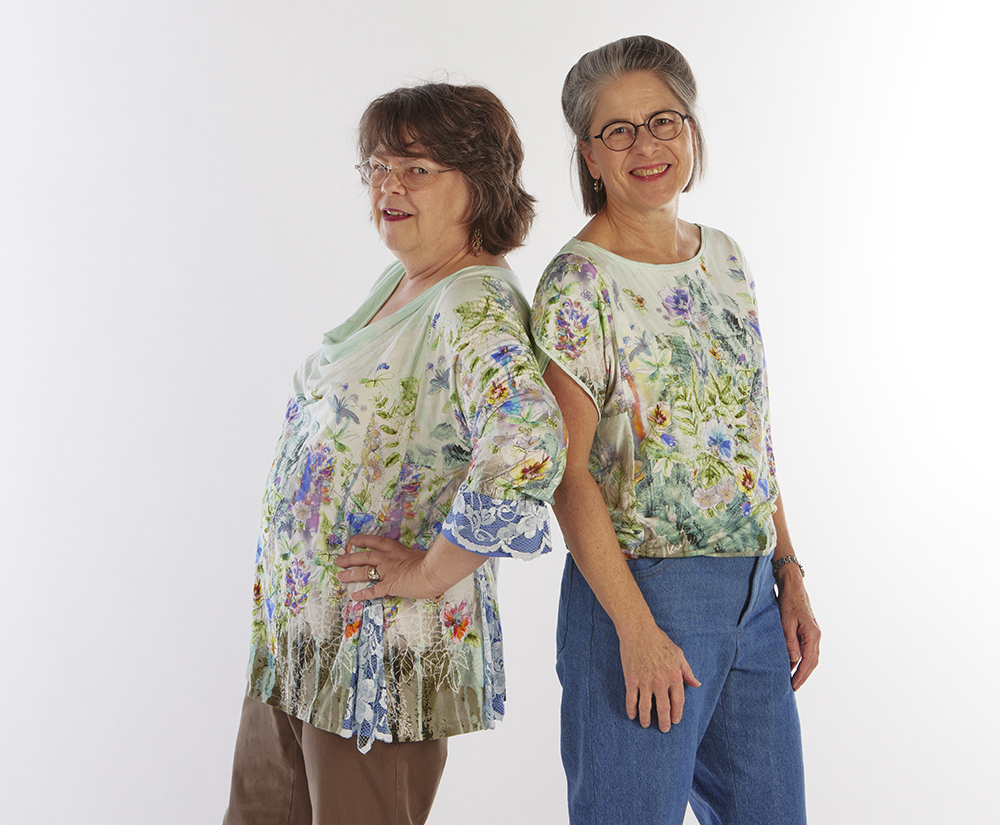 Great knit fabrics, according to Fit for Art, have a lovely drape or feel and a beautiful color or a fanciful print. Sometimes when we find such a knit, we buy plenty and share it with each other and our sewing friends. This can lead to some funny circumstances where we find ourselves in the presence of another person dressed in the same fabric! At our spring photo shoot we decided to take advantage of this and shoot some photos of these creations side by side. Enjoy these fun photos and a brief description of these fabulous Tabula Rasa Knit tops.
Group one – Confetti cotton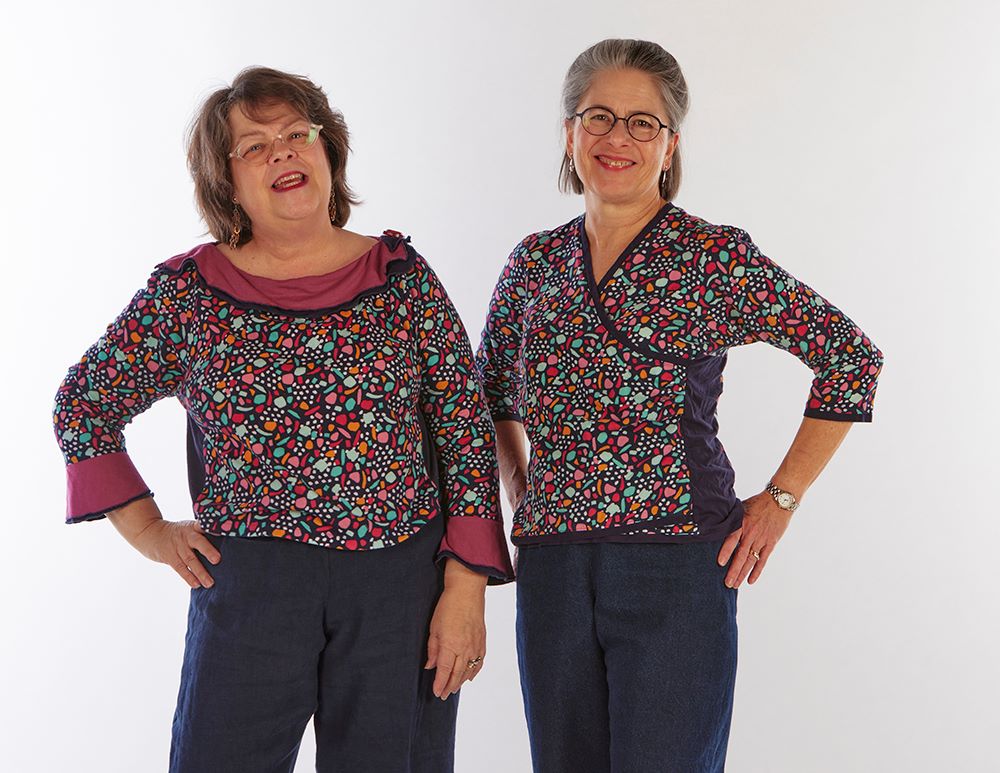 This confetti printed cotton was featured in a knit bundle we sold pre-pandemic. It is not very stretchy and very light weight. We mixed it with navy blue jersey which quiets the print, eliminating a busy overall look. Carrie made her top to promote our bundles early days of Covid 19. It is the surplice style found in our Clever Crossing Variations. It is so fun when the weather is warm but it is not quite time for a summer look and coordinates with jeans, navy Eureka! Pants and some rose colored Glamour Pants in her wardrobe. You can read more about this top in the post Confetti Surplice.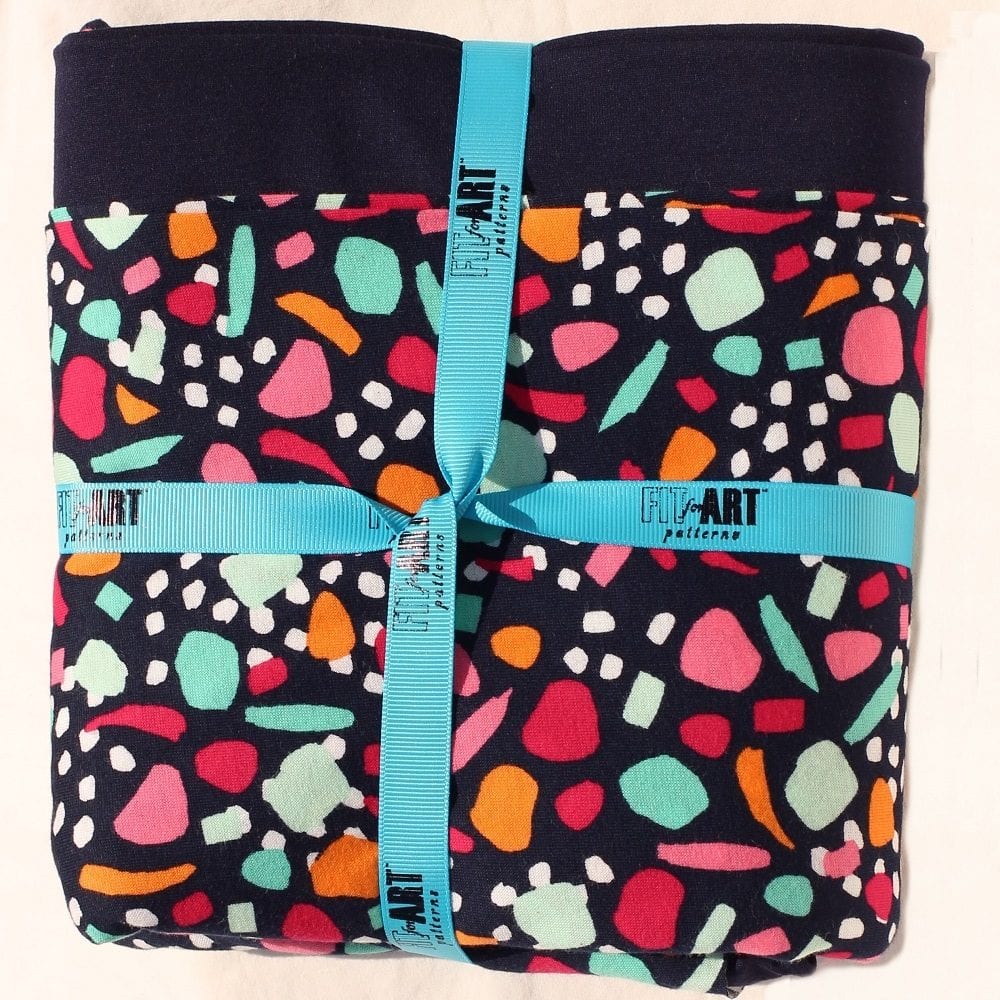 Rae's top was made recently with the chunk leftover after we cut all the bundles. It is also accented with navy jersey plus a scrap of rose colored jersey that was in the stash. This top is cut quite short to be worn with her Eureka! Pants with Glamour details featuring a Hollywood waist and wide legs. Because she had a fun button to enhance the project she chose the Wide Neckline Variations for the Tabula Rasa Knit Tee, choosing the pattern's curved collars and decorative tie under the button. She also used the flared cuff pattern from Wide Necklines to complement the collar, repeating the two colors of knit jersey in the stacked cuffs.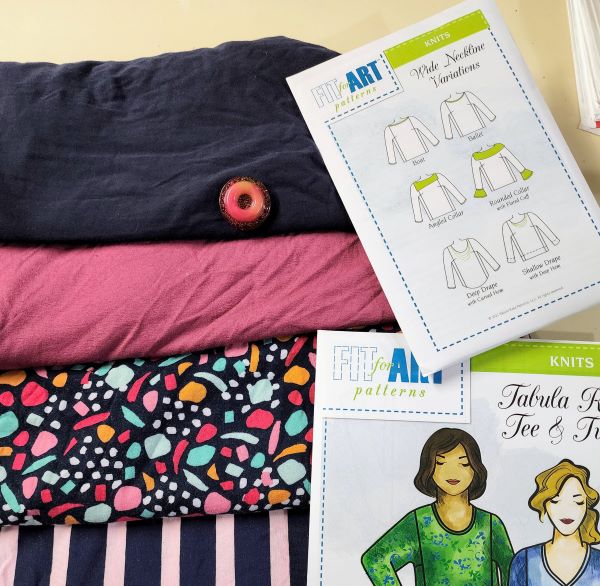 Our variation patterns that offer design changes for the basic Tabula Rasa Knit Tee & Tunic pattern can be interchanged so you get a unique design each time. Or just find the one you like best and make it over and over.
Group 2 – Watercolor rayon
Next is a very special rayon jersey with a watercolor design in a repeated print featured which you see featured at the top of the post. Rae found this fabric in our favorite fabric store in France, La Satalin. She purchased it for Carrie as a gift the first year Rae went on her own La Cascade adventure. It features lots of dreamy colors that Carrie likes to wear. Rae coveted that fabric so much, she purchased more to make something for herself the next summer while hosting a Fit for Art retreat for the first time at La Cascade .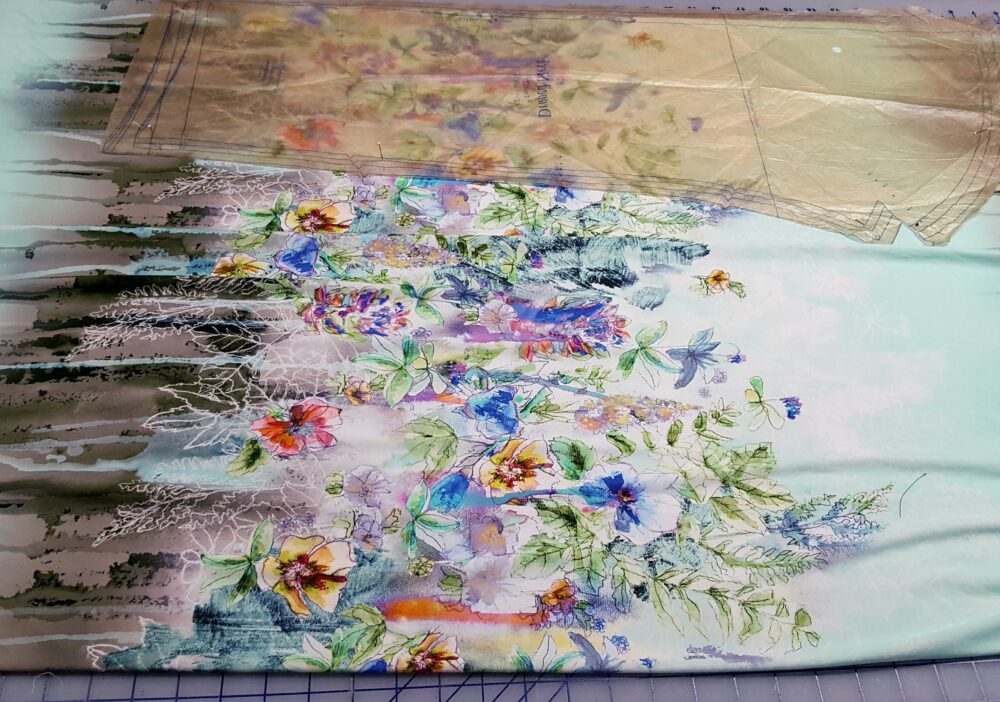 Rae made her top first, during the pandemic when she was organizing fabric and found a soft piece of blue lace that complemented the fabric nicely. It was hard to find a compliment for this unique fabric, but the robins egg blue lace draped over a coordinating periwinkle knit was perfect. She chose the draped front version of Wide Neckline Variations cut long with lace godets around the hemline for a soft look. The lace is also included at the cuffs and inserted in the neckline to control the draped front. You can read more about this top in the post Dress Up a Tee with Lace Godets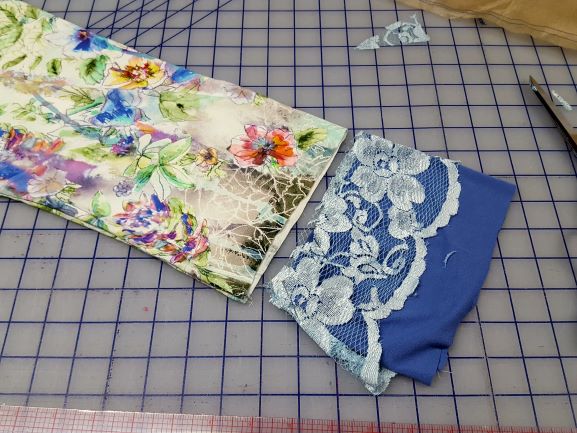 Carrie used her piece of this fabric when she was creating her new summer wardrobe last year for her first visit to La Cascade. It is a short tee with the Wide Neckline Variations boat neck top and the short tulip sleeve From Clever Crossing Variations. It is perfect for a hot summer day both in detail and in spirit. It just looks soft, comfortable and cool.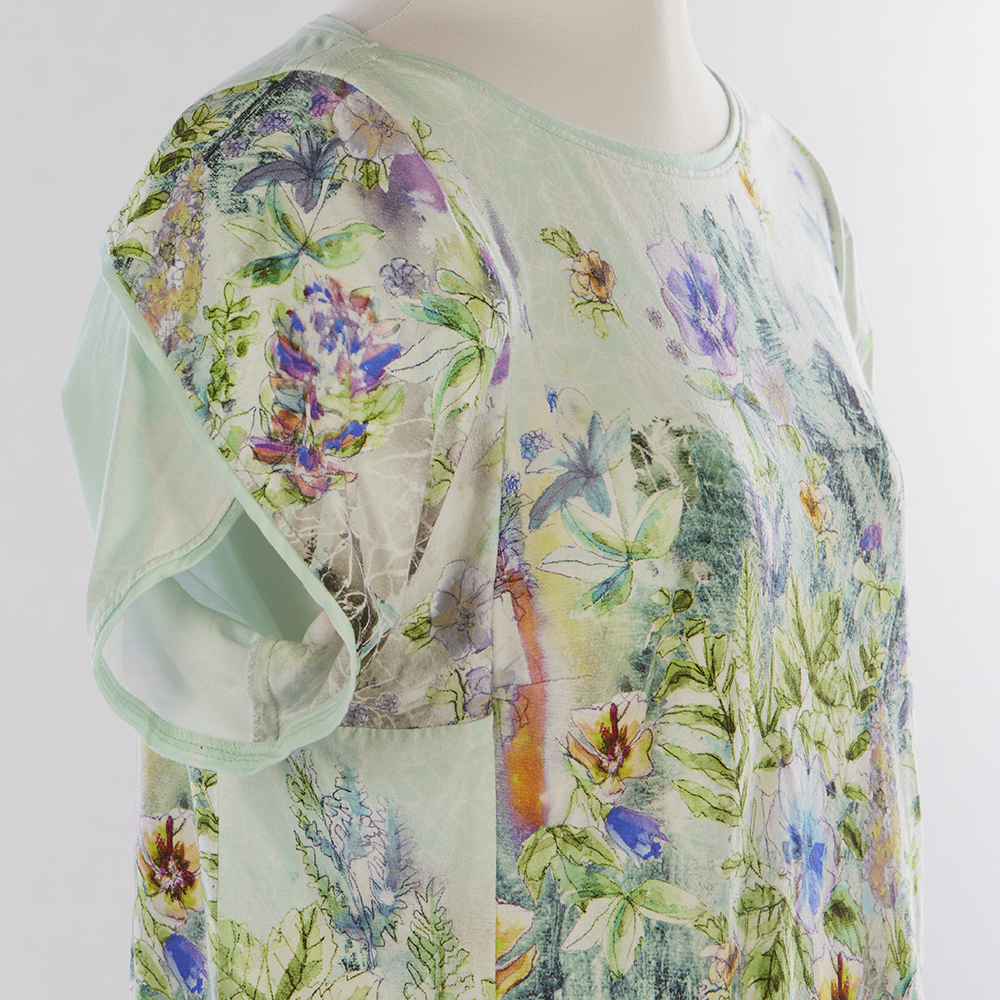 Group 3 – easy cotton and lycra jersey
Here is a fun photo from a knit class Rae taught at Capital Quilts pre-pandemic. Rae was wearing a cotton and lycra Clever Crossing Variations top made with the Banded Surplice style. She had purchased the 3 coordinating fabrics at Capital Quilts. One of her students has chosen the same fabric to stitch up a basic top during the class. Once she had finished, we had to stage a photo because a lovely knit deserves to be featured when stitched into inspired new tops.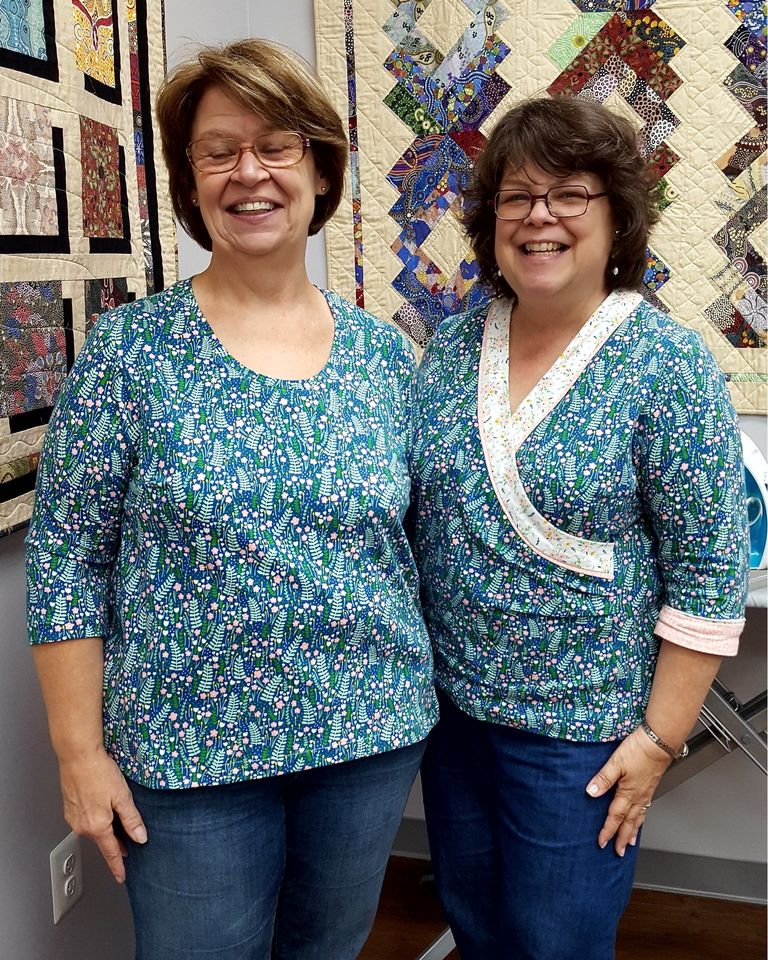 Come sew with us!
If you are currently enrolled in the 4 part virtual knit sewing class on Sewbattical, we hope this inspires you along the journey. As with all our core wardrobe patterns, mastering the fit and construction of the basic tee will lead to lots of knit top sewing success. Each variation offers tips on how to tweak the fit of new design elements, if needed. It also offers suggestions about fabrication as different knit fabrics behave uniquely and are often more suitable for one style over another. That will be the topic we discuss in this Friday's Virtual Knit Class.
You can also come to France with us, there are still a couple of places available, and visit the wonderful La Satalin fabric store to find your own treasures.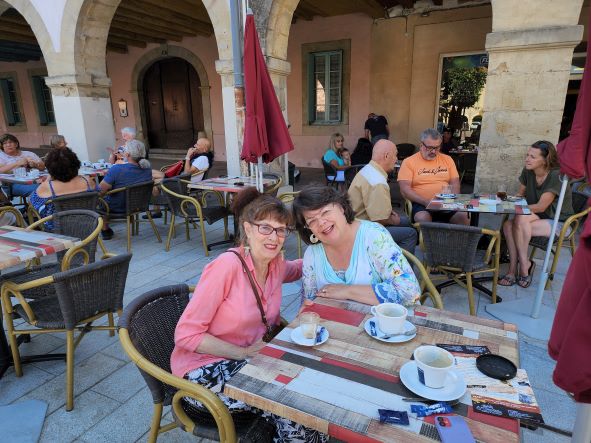 Happy Knit Sewing! Rae and Carrie