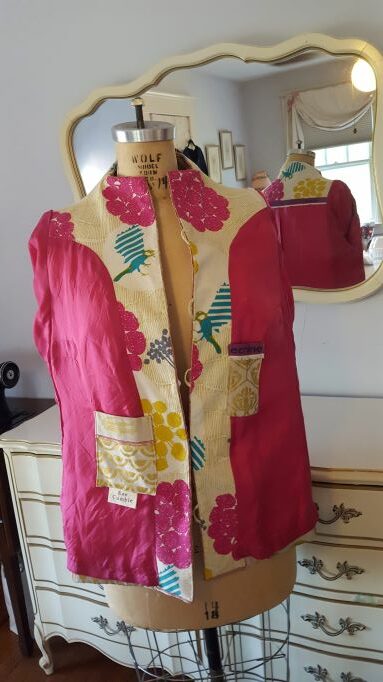 Pockets seem to be required additions for many stitchers making DIY garments. I love pockets myself, but I know how pockets can shift the shape and fit of a garment so I add them carefully. Our Pocket Variations Pattern for the Tabula Rasa Jacket offers a number of interior and exterior pockets that are easily added to jackets to satisfy your pocket making desires. Here is a look at the interior pockets I added to the Easy Quilted Jacket, now named the Gold Bee Jacket I made this spring.
Follow the link above to read about how I cut, quilted and began the construction of this coat in February. It was kept simple so it would be a great teaching sample during our Spring Expo experiences. Once back in the studio, I decided to add a couple of incidental pockets on the lining/facing layer so I would have a place to drop my car key, easy cash and lipstick now that we are not always masking.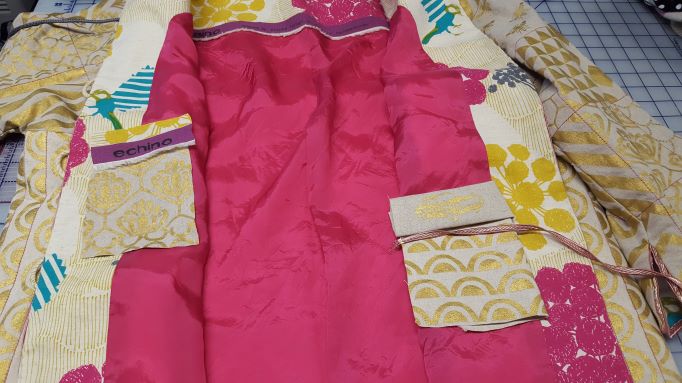 Scrap pieces informed the pocket design. I love to put some fun pockets into an otherwise subdued garment and the addition of the automobile canvas, acquired for a different quilting project, proved a fun inspiration. The pocket also offered a place to bring the trim and the selvage into the jacket composition one more time.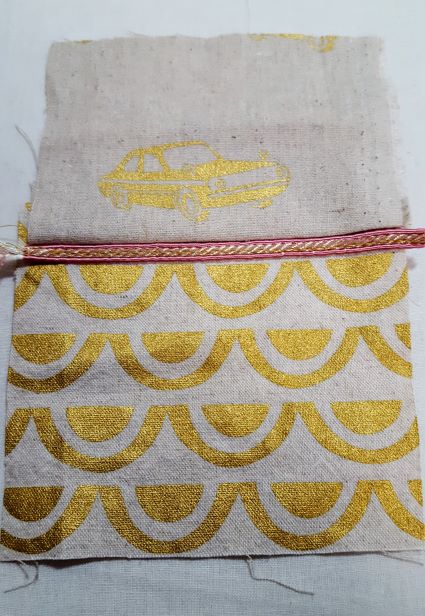 Using the pocket patterns from the Pocket Variations download, I planned, cut and pieced the pockets. The decorative selvage was stitched to the lipstick pocket, wrong sides together so it could fold toward the front for a decorative finish. Then I prepared and inserted the pockets following these steps:
Finish the raw edges all around, except for the selvage which would become decorative.
Press all the raw edges toward the back.
Reverse fold the top edge of each pocket and seam it on each side to create the neat finish. Then turn the pocket right side out and press well all around.
Place the pockets on the lining. One side was attached onto the facing for extra strength. I will not put anything heavy in mine, but if you were developing a pocket like this for a cell phone, for instance, it would need to be well supported.
Stitch the pockets to the facing/lining only, all around the three sides with very sturdy back stitching at the top edge of both sides.
Press well.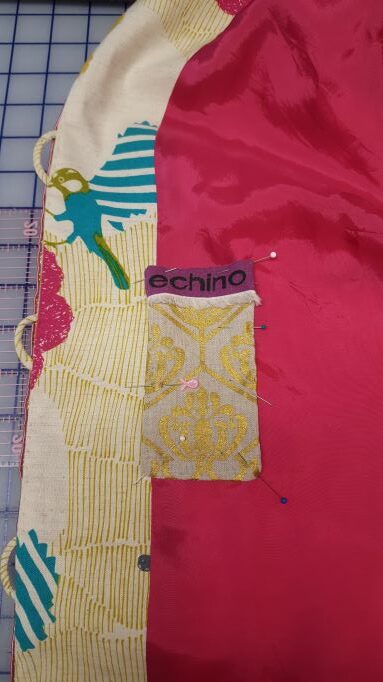 Pockets are a bit challenging to design into quilted jackets, especially jackets where the lining is stitched into the quilt sandwich. Enjoy these photos and links to quilted jacket pockets from other Tabula Rasa Jacket projects.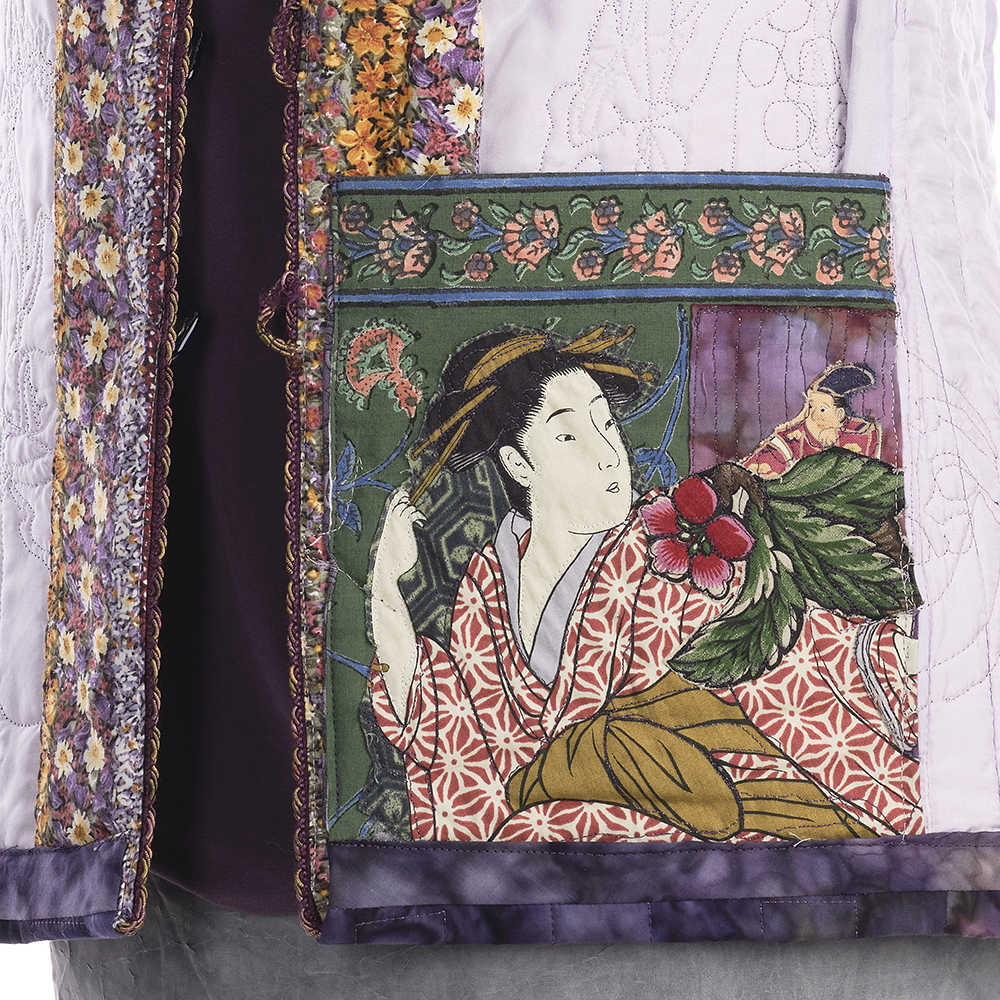 Our newly revised and updated book Tips for Quilted Jackets has a sidebar about adding pockets into a quilted jacket. We are so excited to bring this updated booklet to you digitally so we can add live links to blog posts and gallery entries that illustrate each topic being presented. Look for an announcement about its publication and availability in our newsletter on Friday. There will be expanded sections on some of our favorite piecing techniques, an updated list of great battings, and lots more.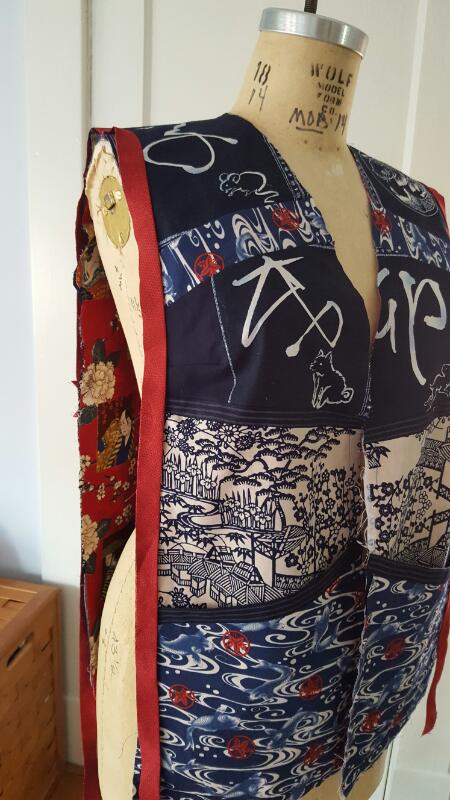 The piecing techniques are the subject of my upcoming virtual class at the Quilts Inc Virtual Quilt Festival. I am so honored to be teaching a Master Class, Stash Busting Fashion Piecing on Thursday, June 16 at 1:30 PM eastern time. There are lots of great programs being offered by national teachers at this event so be sure to register soon. It is a great bargain with a $25 admission fee for access to 3 days of classes. My class is an additional $10. Click the link to enjoy this little video invitation.
Quilting a jacket can be a project for any time of year and can be structured for any season or occasion. Even though we live on the mid-Atlantic coast of the US, we know we have readers all around the globe. If you are entering winter in the southern hemisphere, consider starting a quilted jacket project to keep you warm and cozy during the long dark nights of winter. If you are heading into summer in the northern hemisphere, begin gathering materials including the Tabula Rasa Jacket pattern, the Digital Quilting Tips Book and the Digital Pocket Variations Pattern. Then, when you are ready for a cozy project you will have everything, you need.
Happy Sewing, RAE