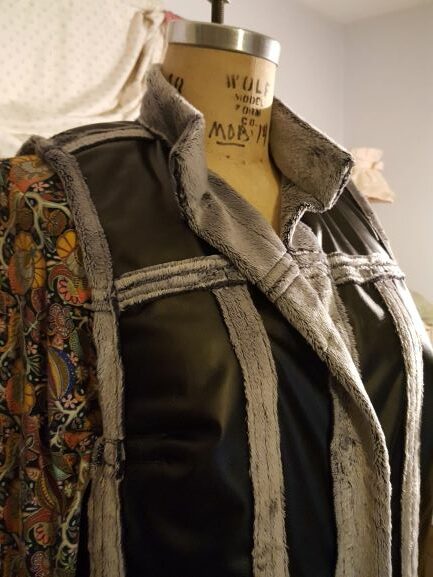 As winter takes her last gasp, I am happily ensconced in a faux fur/faux leather vest made with the basic Tabula Rasa Jacket pattern and Jean Jacket Variations.  This project was previewed in the post Jumpstart Your 2021 Sewing where you can see photos of the fabric draped on the dress form before it was cut.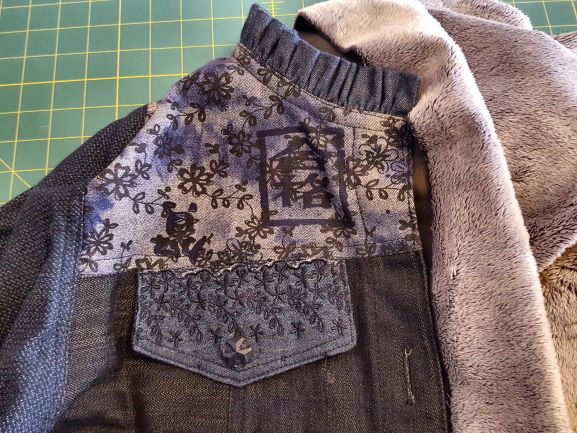 The Inspiration
You might ask, what prompted this unexpected wardrobe addition?  The stash fabric pile and the need for a jean jacket visual were the inspiration.  Online teaching calls for high contrast visuals and we were scheduled to do an online presentation about Jeans Jackets early in January.  The details of our black, grey and dark blue jackets were impossible to see clearly on the camera.
A quick trip to the fabric stash unearthed this very soft piece of faux fur/faux leather purchased at the JoAnn Fabrics winter clearance several years ago.  There was only enough for a vest.  It was not precious, but the black "leather" side was a very high contrast to the lt. grey/blue fur side.  The bonus was that the seams could be left unfinished and topstitched open, allowing the grey "fur" to peak through the black "leather" showing off the fun seam lines of the jean jacket.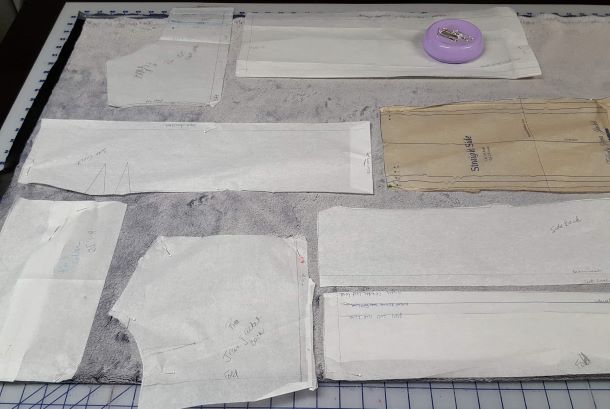 Get Ready to Sew
Once the previously prepared pattern pieces were laid out, a sample of my seam technique was made with some unneeded fabric.  It confirmed my assumptions that this seaming technique would be visually effective and allow the vest to even be reversible.  The only drawback was the fuzzy mess the fabric created in the studio.  Since new year's studio cleaning was already on the schedule, this was not a deal breaker.
If you were at the Decorating Dive Webathon, you got to see this fun vest in process.
Style the Vest
Now it is finished and I am enjoying wearing this little confection as the snow falls outside.  In spring, I expect to wear it as a Tabula Rasa trifecta: over one of my many Tabula Rasa Knit tops and under my pieced denim jean jacket which you can read about in the post Jean Jacket Ruffles and Flourishes.  The ensemble will be perfect for socially distanced visiting with friends and neighbors around our back yard fire pit.
Make one for Yourself
Have you stitched up a stash treasure during the pandemic?  This little vest was made completely with things already in the house, including the 3 big snaps used as the closure.  My new corduroy vest, featured last week on Instagram and Facebook, was also made completely from scraps and other studio finds.  If you have been sewing for a while, these sewing room treasure hunts can be fun.
If you are new to garment sewing, do not fret.  Join in the fun with our 6 session online class series to help you Get Ready to Sew Clothing hosted by OSQE.  It starts tomorrow.  Because it is on line, you can still register for any and all sessions.  Recommend it to a friend to if you know someone with a pandemic purchased machine and a desire to sew something besides masks.  We have even put together an Essential Tool Kit for Garment Sewers which is now available in our online store.
Stay Well and Sew Happy, RAE
Do you own an online or brick-and-morter fabric store?  We would love to design a Tabula Rasa Vest for you to kit and sell.  We will write a blog post specific to the actual kit and garment so your supporters will have everything they need to make their own great vest.  We call it our Invest in Garment Sewing campaign and we would love to partner with you.  Check out the post The Artistic Artifacts Vest and contact us at info@fitforartpatterns.com