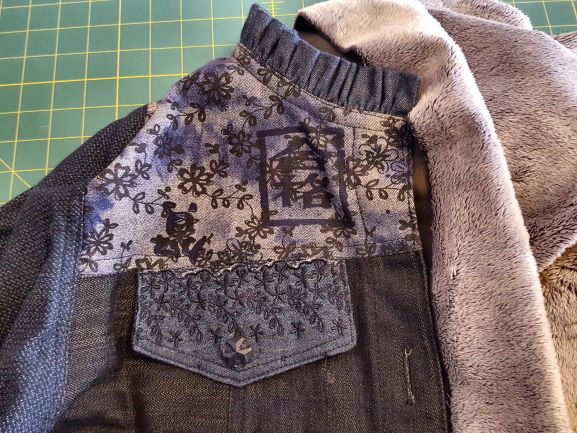 We are sewing Fit for Art's two newest variations to jumpstart our new year sewing:  Jean Jacket Variations for the Tabula Rasa Jacket and Twin Set Variations for the Tabula Rasa Knit Tee and Tunic.  Both of these fun designs are casual and comfy, which is certainly the best kind of sewing these days. Tune in to the Decorating Diva's 2021 Webathon this Friday, https://www.youtube.com/watch?v=8j-IV_EYPQE, and Saturday,  https://www.youtube.com/watch?v=HDyNzLWyAOE .  There are lots of great teachers but we will be on at 1PM both days. See us demonstrate each pattern's possibilities and to be eligible for a free gift.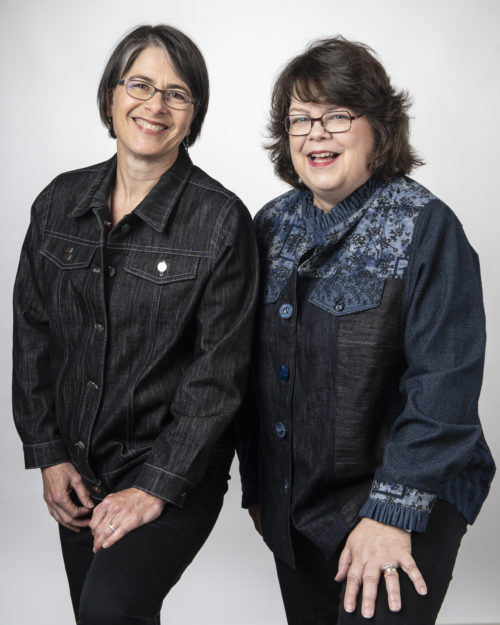 Jean Jacket Ideas
My January pandemic sewing plan starts with a Jean Jacket Vest.  Carrie already has one made from recycled jeans but mine will be made from a double-faced faux leather/faux fur I bought on clearance at JoAnn's several winters ago.  The soft furry side will be cozy on the inside and I plan to have it peek out of all the fabulous jean jacket seams on the vegan leather side.  I think it will slide easily under my Ruffles and Flourishes Jean jacket, adding a layer of warmth when it is cool around the backyard fire pit, our favorite place to socialize right now.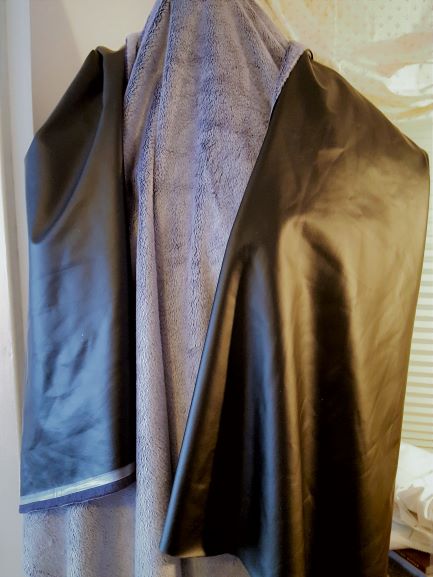 I will have to decide between snaps and buttons.  The jean jacket it will be paired with has a mix of fun vintage plastic buttons so I am inclined to keep this closure minimal.  Follow the links in the blog archive and the photo gallery to see more Jean Jackets to rev up your inspiration.
Twin Set Ideas
There are also several twin sets in my immediate future.
A ponte waterfall cardigan and ITY tank top are ready to stitch up as a gift for my daughter Sarah's birthday. She has zoom meetings all the time in her chilly basement and I know this little set will look professional and feel soft and warm.  No photos yet or it will spoil the birthday surprise.  Watch our social media posts on Instagram and Facebook to see the finished garments.
A Tailored Cardigan twin set was requested by my friend Susie and so she got the fabric for Christmas. It is a SewBatik cotton jersey in shades of purple and orchid that will be cheerful this winter and transition perfectly into spring.

Susie, draped in her new fabric

I had on my Sew Batik Jersey Magic Purple Ruffles twinset yesterday as I cheered on the hometown Ravens, and it is so comfortable.

For myself, I have a very chunky cable knit from Style Maker Fabrics that has yet to be designed. I might mix in some rayon print for the finishes and the tank top.  What do you think, tailored cardigan or waterfall?

Some Rayon options also from Style Maker

Sweater Knit in need of a design.
Have you made a twinset yet using your basic Tabula Rasa Knit Tee pattern as the base?  Check out these knit Twin Sets from the gallery to get your design juices flowing: Wanna Be Missoni Cardigan, Brushstroke Waterfall Cardigan, Circle Fun Tailored Cardigan, French Terry Waterfall Cardigan.  
Time for a Fresh Start
Carrie and I toasted the new year with our guys around the Cumbie Fire Pit on Saturday Night.  Carrie is wearing her Sparkly Tailored Cardigan layered over her Blue Ponte Tank Top.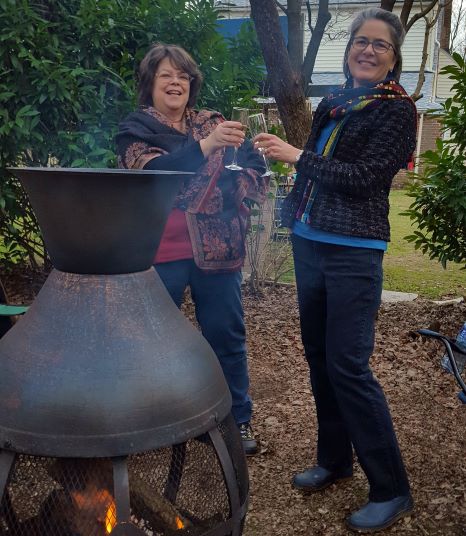 Next week our post will update you with a list of all the virtual events scheduled for the first quarter of 2021.  We are moving past 2020 with an optimistic spirit and new ideas to inspire your garment sewing journey.  Don't forget to check out the Webathon this weekend with Pam Damour and Friends for our two presentations: From Tee to Twinset, and Create Your Dream Jean Jacket.
Stay Well and Sew Happy, RAE