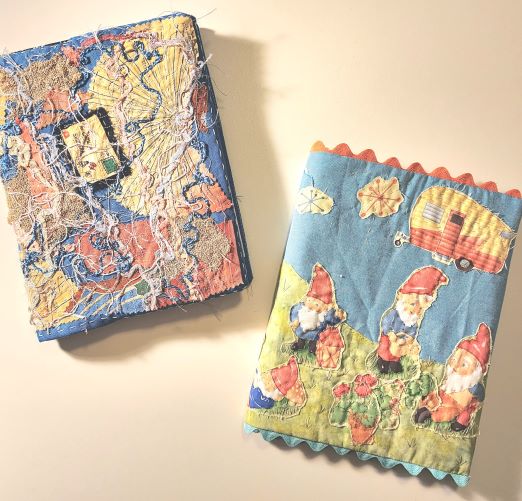 It is the Fit for Art tradition to offer a gift idea with downloadable instructions to thank you for your ongoing support.  Why not gift yourself the time to make one for yourself?  Or, choose stash fabrics or an embellishment technique to decorate one for a friend or family member.  The cover can be moved from one composition book to another, or it can be left on its collection of writings, sketches, sewing notes or whatever fills its pages, in perpetuity.
Directions to get a cover started.
There is not a downloadable pattern for this project, just follow these suggested dimensions:
The cover's fabric base – 24" by 12" – cut one
The batting, flannel or interfacing to be placed inside the base adding volume 17" X 10" – cut one
During construction, the additional 4" on each long side will be turned back to form the sleeves that wrap around the book cover. The extra 1" on the top and bottom are turned under to finish the edges.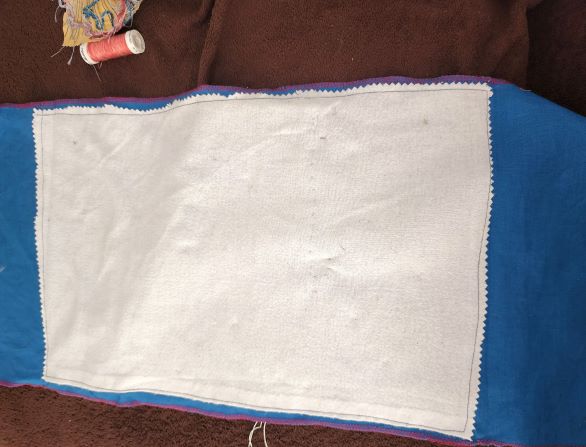 The classic American composition book is 10" tall and 8" wide when it is folded in half as a book.
If you live overseas, be sure to adjust the measurements to fit any blank paper or cardboard covered books available in your area.  Our French retreat participants covered a 17 X 22 cm book for our La Cascade host, Nese as a thank you gift.  We cut the cover fabric base 19" x 11" and the batting 14" by 9, leaving a 2 ½" turnback on the sides and 1" turnback at top and bottom.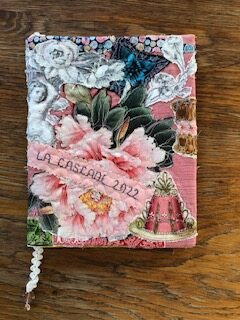 Ideas for embellishment and composition.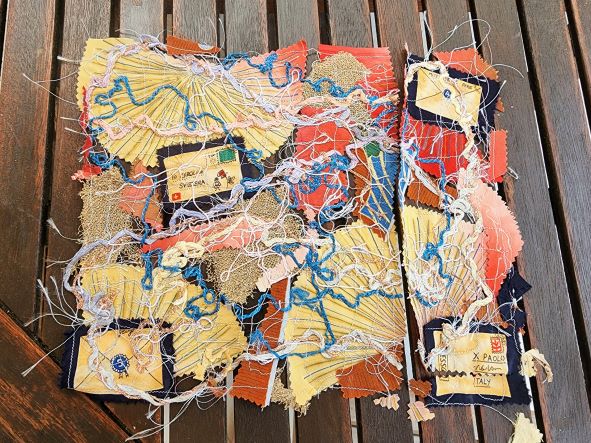 The composition book cover, like the sleep mask in 2019, is the perfect place to practice embellishment techniques or mount embellishment samples. The 2022 La Cascade cover is made with a large sample of scrap lace, cut to fit and hand stitched onto the fabric/flannel backed cover before the sides and edges are finished.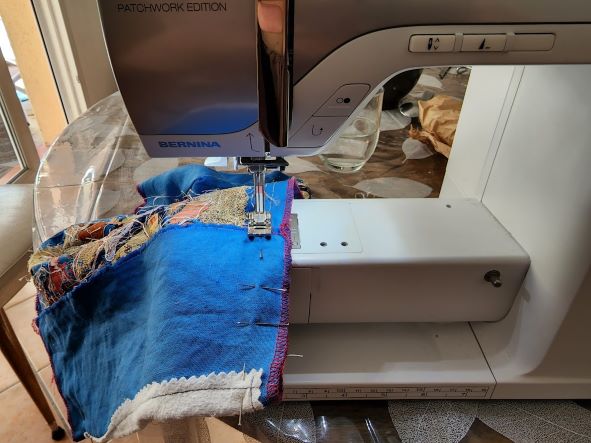 I love the fanciful textures on this cover and will use it as my sustainable wardrobe journal this coming year.
The Gnomes Lawn Art Convention cover is a boro collage project similar to the Boro for the Birds Coat.  Think of it as painting a picture or story incorporating a landscape and figures.  Or collage a very abstract design incorporating some favorite scrap fabric. These decorations were stitched by hand but machine stitching would have worked as well.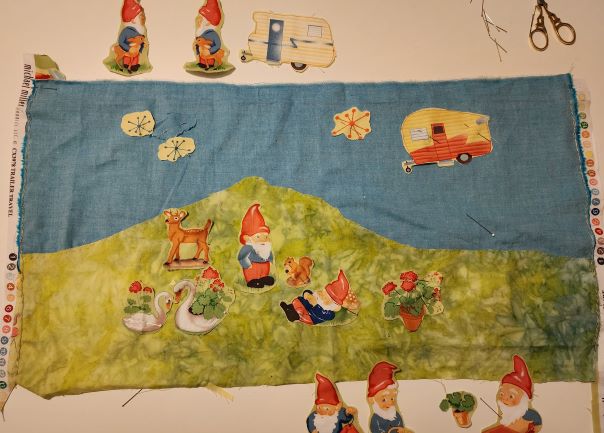 Nese's gift cover was raw edge collage attached with free motion machine stitching. Each participant at La Cascade chose a fabric that was incorporated into the cover and signed the turned back inside edge with a paint pencil. For this book, a permanent fabric bookmark was added at the fold of the spine (see photos above).
My newest version is created using a stitch and flip wonky log Cabin design adapted from the book In the Studio with Judy Murrah. Some of our Fall Retreat participants encouraged me to try a very free form foundation piecing technique rather than the patterned stitch and flip projects I have made into garments like the Inspired by Ruth Jacket.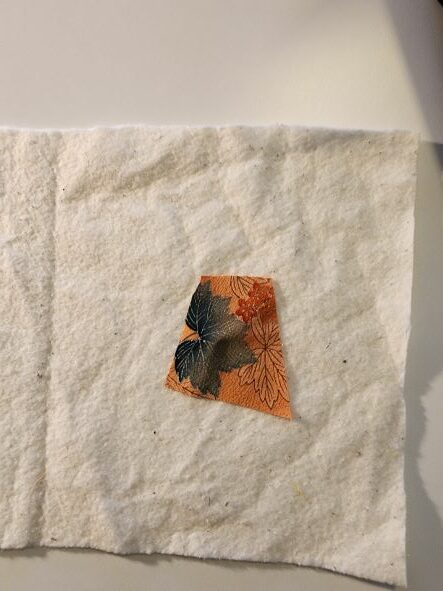 Using batting as a base, I started in the center of the front and back, then added pieces of kimono silk scraps until the base was covered. Because there was no fabric base, the side flaps that form the cover's sleeve had to be added. A simple quilt binding finished off the top and bottom of the cover.
Check out the video of my process for the Gnome Boro stitched cover or find the Pinterest idea pin or Instagram Story.  We will also be posting composition book covers, or the beginnings of such covers, for your enjoyment throughout the week on our Facebook and Instagram accounts.
Plan to make your own!
What do you think? It is easier to be free form when composing a flat rectangle than when creating a jacket. But as with any embellishment technique, the more you practice, the easier it becomes and the more possibilities you can imagine.
Check out our previous post: Holiday Gifts Past and Present for links to our other gift ideas. We wish you playful holiday sewing as you prepare for this festive season.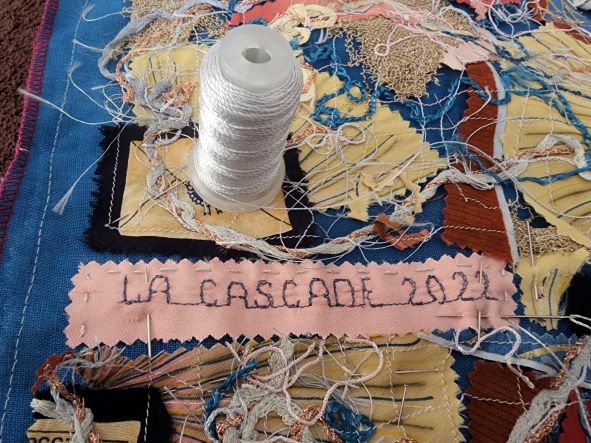 Happy Sewing, RAE
PS Be sure to register to participate in the La Cascade French Retreat this summer. Registration will open Saturday at noon Eastern time. We would love for you to join us!