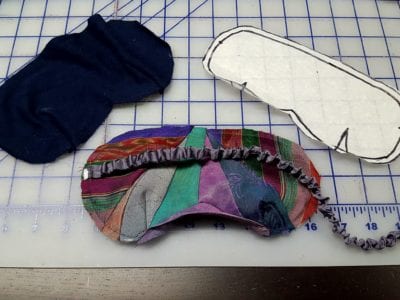 Every holiday season in appreciation for your loyal participation in our blog, Sew! Let's Get Dressed, we gift you with a free downloadable project.  This year in honor of our busy travel schedule we give you the Artful Slumber Mask.
This little project is easy to construct and it is also the perfect size to  practice new embellishment techniques.  Try out some of the embellishments we have blogged about like raw edge collage, fabric painting, boro stitching, or stitch and flip piecing to decorate a sleep mask for yourself or as a gift for a friend or family member.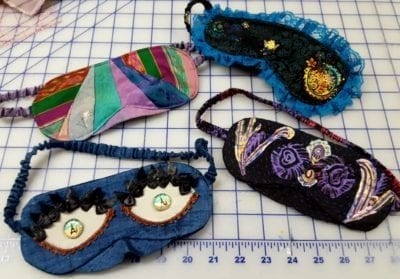 We challenge you to post each Artful Slumber Mask you make to Instagram with the hashtag #artfulslumbermask.  We want your holiday season to be filled with sewing inspiration from each new #artfulslumbermask.  If you are not familiar with #hashtags and Instagram, send your mask photo to info@fitforartpatterns.com and we will post it for you on Facebook and Instagram.
When you download the Artful Slumber Mask pattern you also get a page of excellent Fit for Art instructions to guide you with the easy preparation and construction.  Search through our file of embellishment posts for additional ideas.   Follow our Instagram and Facebook posts; Fit for Art stitchers are very clever and creative so you can be too.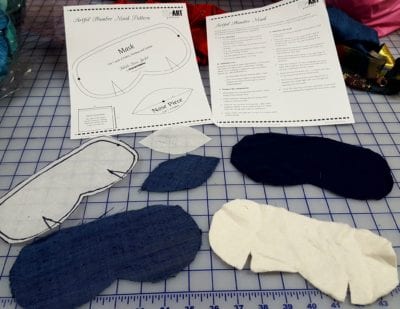 You will need:
small pieces of fashion fabric,
a soft lining like French terry, cotton interlock, flannel or charmeuse,
batting (lofty interfacing or flannel can be substituted), and
15" of 3/8" elastic.

And fun fabric of course
The mask pattern is easier to use if you trace it off onto pattern tissue paper first.  Include the markings for the darts and the positioning of the band.  Be empowered to size the pattern up or down as needed.  This pattern fits both Carrie and I, but you might want to make it larger for a man or smaller for a teen or child.
If you don't have time to make these for all your sewing friends, download and print the pattern and directions and assemble the materials to create a personalized Artful Slumber Mask kit for each friend.  Or, invite your friends to an afternoon of sleep mask sewing and embellishing.  What a great  way to use up some of the scrap fabric and have fun at the same time!  Serve up some tea or hot cider to soothe everyone's holiday stress with sewing and sleep therapy.
Here are a few ideas to get you started.
Boro stitching and raw edge collage in all cotton:
Stitch and flip foundation piecing on the batting – silk fabrics and french terry backing:
Watch for details about the other masks on Facebook and Instagram.  Help us post a mask a day by posting your creations, too.
Happy Holiday Sewing!  RAE