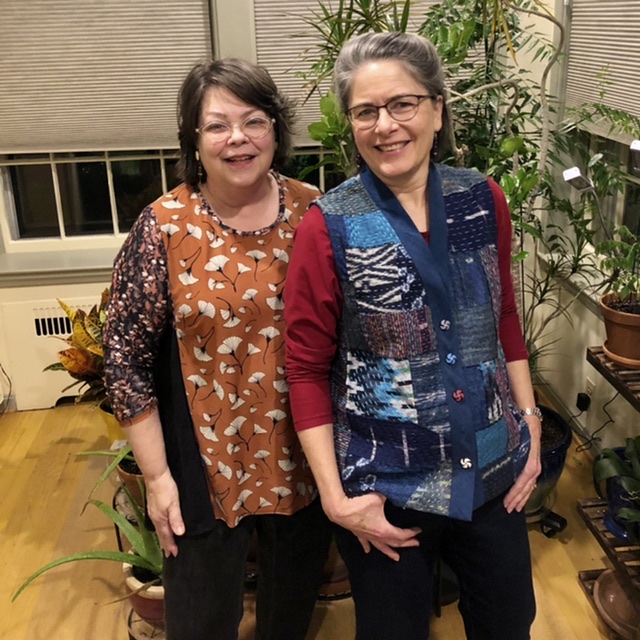 What a lovely way to refer to knit tops sewn for every day wear. (Almost every word sounds better in French.) Comfortable knit tees and tunics are a staple of our wardrobe and Carrie and I will each take a turn in this post telling you about our latest Tabula Rasa Knit creations and a few old favorites.
Knits for Rae's France Trip
When I began planning the clothes to pack for my trip to the French countryside in late October it became clear that I had not refreshed my fall knit wardrobe in some time. Some of my old favorites are still wearable; the Garden at Night, Rolling Bubbles, and Medallion Surplice. They rolled up effortlessly into the suitcase.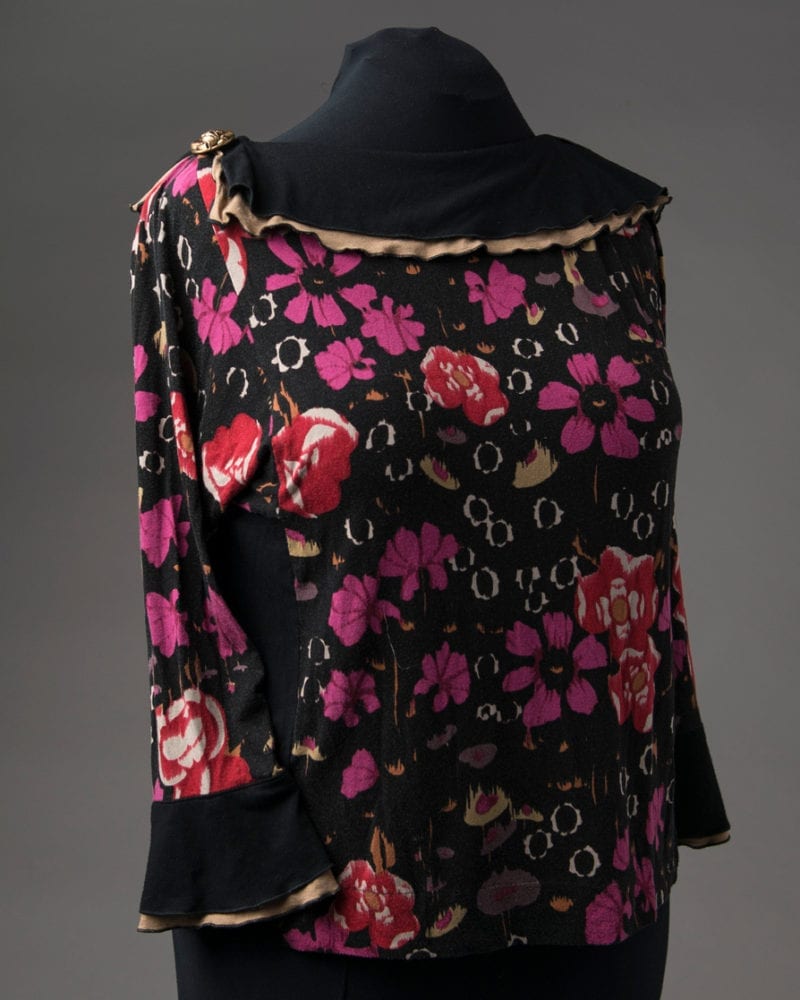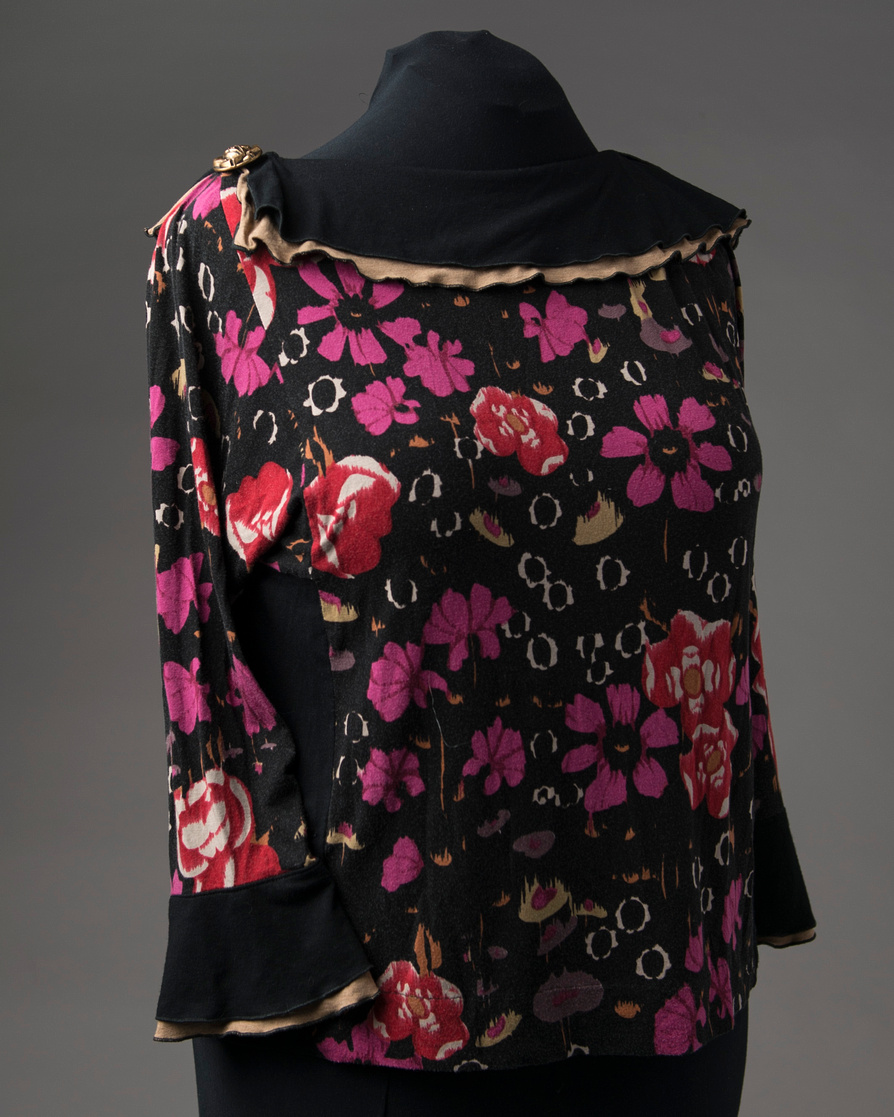 I also packed the Sparkly Block Print Tunic made this time last year using Artistic Artifacts supplies, to wear for my birthday celebration dinner. My Sew Batik Ruffled Twinset was wonderfully comfortable for my overnight flight and coordinated with my silk mask set.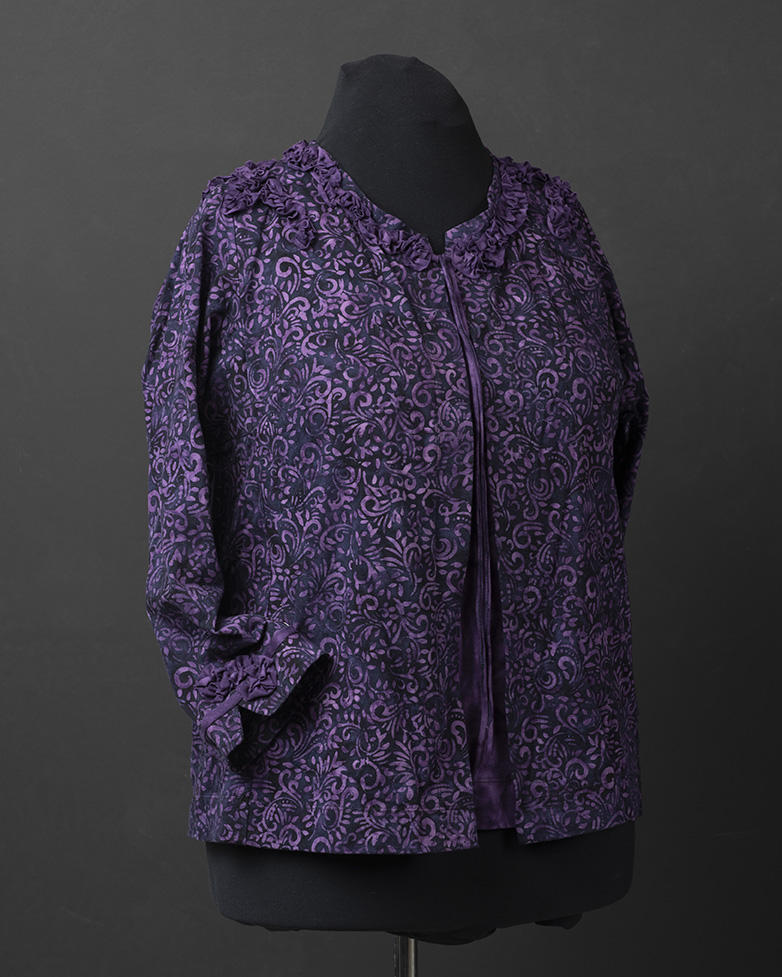 In need of one more top, I found two coordinating fall prints at JoAnn Fabrics. In my stash was a black pointelle knit that coordinated nicely to complete the look. They were stitched into a basic tunic top that also went into the suitcase.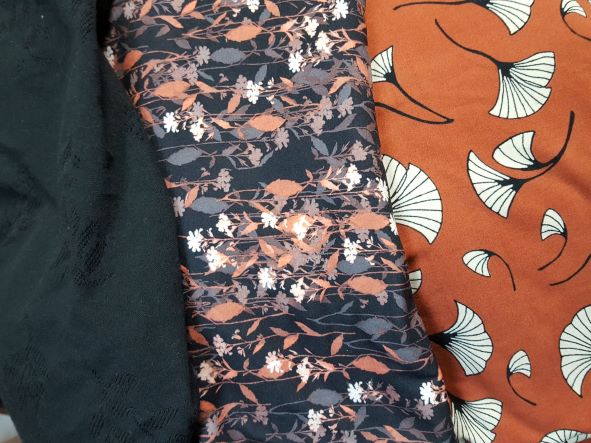 All these knits looked great with the outerwear, pants and accessories I was taking along so it was easy to get dressed every morning for my relaxed French adventure.
Carrie's Tees to Complement her Vest Wardrobe
I've been catching up on basics for my knit wardrobe. Over the pandemic pause, I added several fun Tabula Rasa vests to my wardrobe. As we've returned to teaching and expos, it quickly became apparent that I need a Tabula Rasa Knit Tee to complement each vest for trunk shows and general wearing. I had put off making basic tees in part because there is always something more fun on the burner, but more honestly, because I knew the time had come to develop a new tee pattern for my maturing body.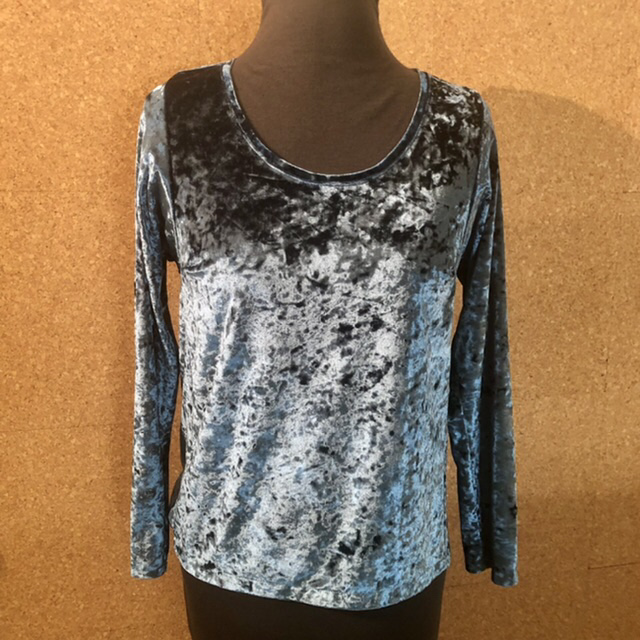 Last year I did make one shiny Tabula Rasa Knit Tee for the holidays in which I tested out pattern adjustments for a rounded back and adding a dart. I used the scoop neckline we developed for the Twin Set Variations tank top. This neckline felt too open for my basic tee, especially in cold weather, but it gave me a good place to start refining my new basic tee pattern.
In the last few weeks I've made an orchid tee in cotton modal jersey to complement Rae's amazing collaged and quilted vest and a red mid-weight cotton jersey for my Boro Vest, experimenting with slightly different necklines. I've got one more basic lined up, in our own black rayon jersey, that will complement several vests old and new including this reversible cotton jacquard vest, and am on the look-out for a mid-weight teal or turquoise knit to match my Painted Waterfall Knit Vest and Ikat Vest.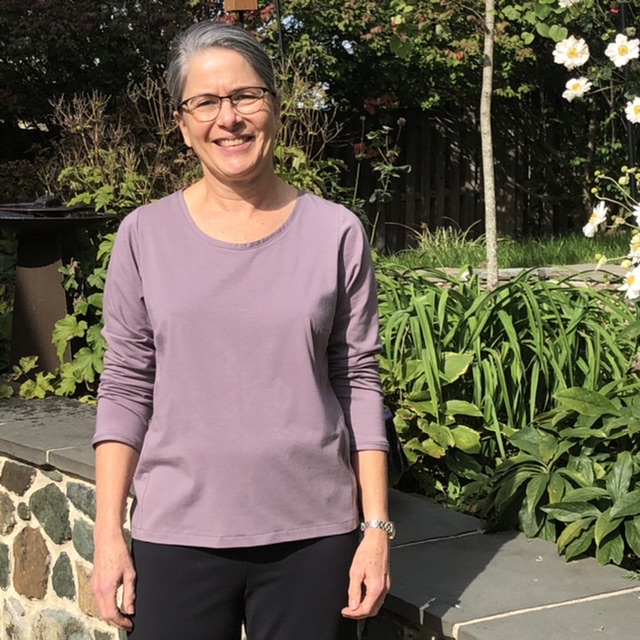 Now that I have finessed the fit, I am also ready to make a complete set of my adjusted Tee pattern pieces on Tru-grid Pellon to use over and over. In particular, it will help me plan knit tops with prints that require more careful placement of the design. My first such project will be this large scale Fall rayon floral border print that has been languishing in my stash for a couple years. I have only a yard of the print to mix with black, so careful layout will be very important!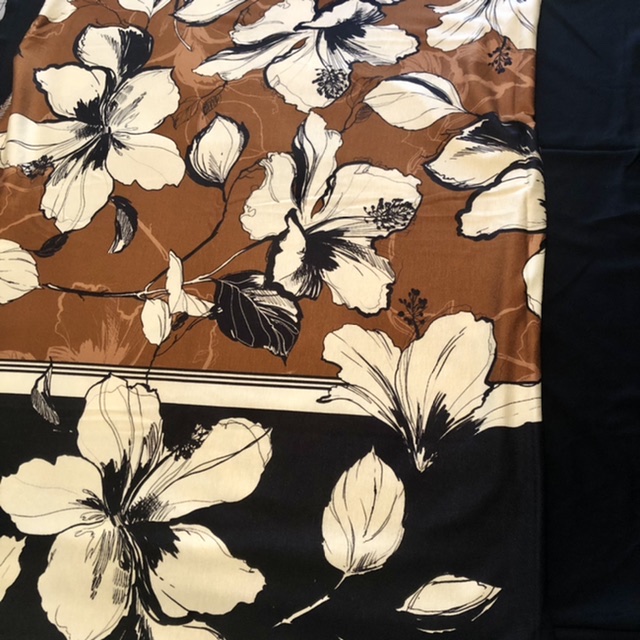 Are there Knits on your Cutting Table?
Cozy twin sets, long sleeve tees and tunics, wide neckline stacked collars, and the cowl collar surplice tops will take you from fall to winter in style. Begin with the Basic Tabula Rasa Knit Pattern which provides the baseline for your future designs. Then, add new details from our 3 knit variation patterns for a complete wardrobe of stylish knits to take you wherever life takes you.
Happy Sewing, Carrie and Rae