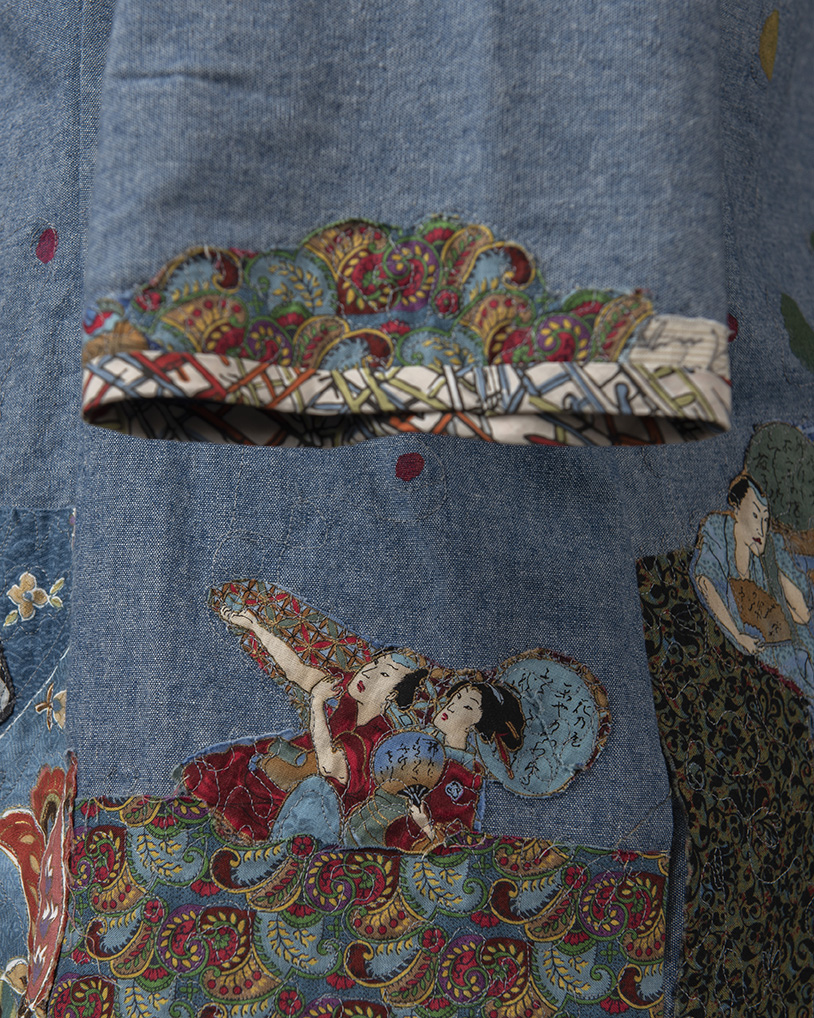 Embellishing fabric for a unique garment is one of my passions. It is also the organizing principal behind our French Retreat which we hope to host again in August of 2022. It was there that I first envisioned a summer weight embellished garment combining my interest in collage and stencil painting.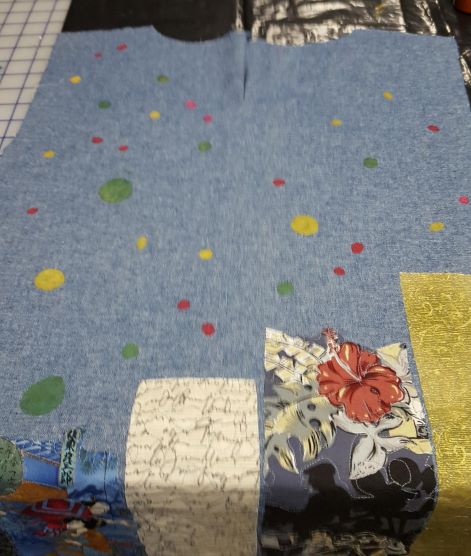 This post will look at the technique but not the finished product. We are so close to finishing our 4th core pattern and this garment is built on the forthcoming pattern. Enjoy this little tease, the technique could be used on any garment. Once we introduce the pattern, you will see the entire finished garment.
As always, the basic ideas for this piece danced around in my head for a while, taking shape around a piece of light weight chambray in my stash. I really wanted an interesting summer topper. Most of my embellished garments are quilted or layered jackets. It is easy to embellish in layers, but the challenge was to keep it very light and cool.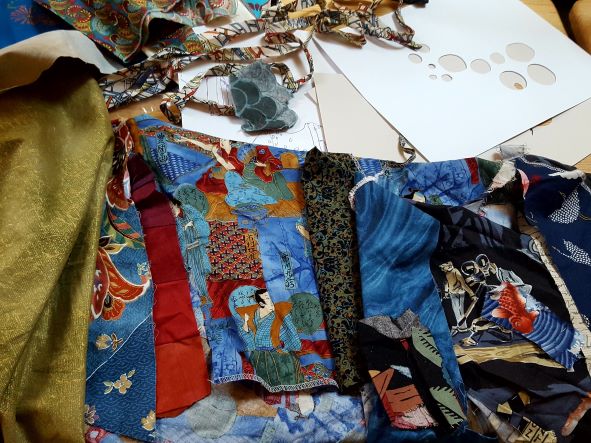 I gathered the fabrics for the embellishment during our 2019 Enchanting France Embellishing Fabric event. During the retreat there is always a pile of fabric scraps readily available for collage exploration. In addition to the chambray, I had an interesting piece of geometrically printed bias tape to use for the garment finishes. One afternoon as I was refolding the scrap pile, I intentionally chose a few fabrics that looked great with the chambray and the bias tape.
My work is usually pictorial or landscape oriented but in my effort to be more modern, I was focusing on a geometric look. So, another little goodie from the retreat workroom, a stencil with uneven circles, was added to the materials pile and came home with me from France.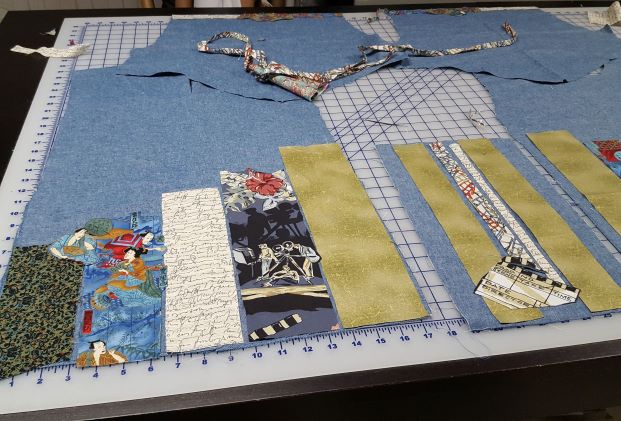 When I was able to have some free days in the studio, I put my ideas into action. The collage was organized first and attached to the unassembled but pre-cut garment pieces using free motion stitching. Then the painted dots were added after some experimentation on a sample piece. The paint was our fluid fabric paints and the foam brushes were used to apply the mixed colors. They really filled in the empty space above the collage. Pretty good, but it was not quite enough.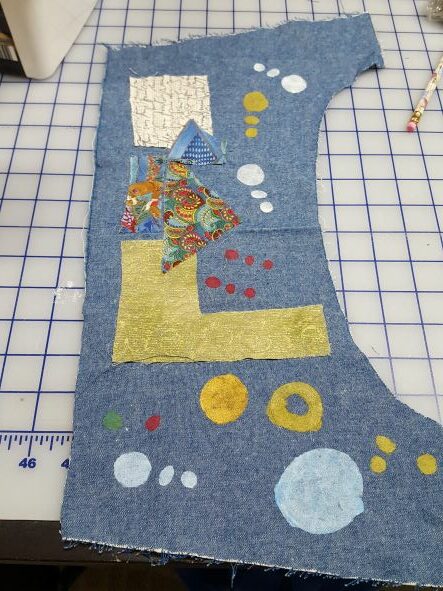 Finally, I added free motion stitching all around the dots. It is subtle, but integrates everything well in a lighthearted sort of way.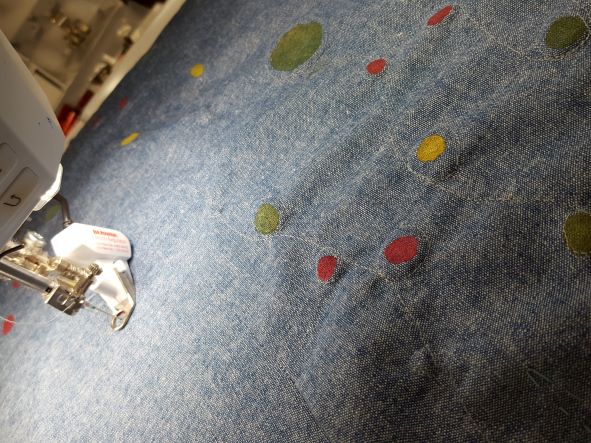 I had particular fun creating the collage on the sleeve cuff to isolate a few scraps that worked well with the bias tape finishes.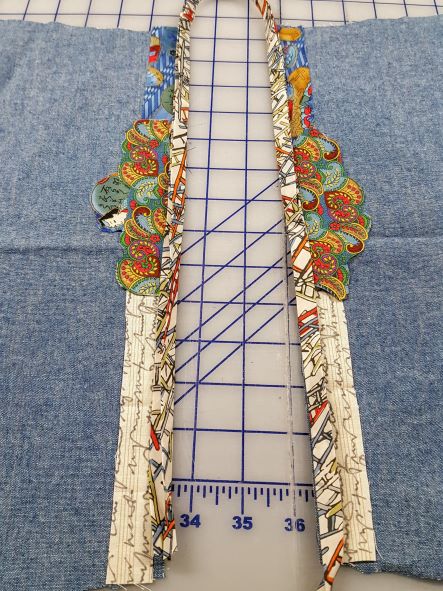 Have you done any summer weight collage or embellishment? What are your favorite materials? Our new pattern is a wonderful blank slate for embellishment techniques, just like our Tabula Rasa Jacket and our Tabula Rasa Knit top. Stay tuned, you are going to love it.
Happy Sewing, RAE