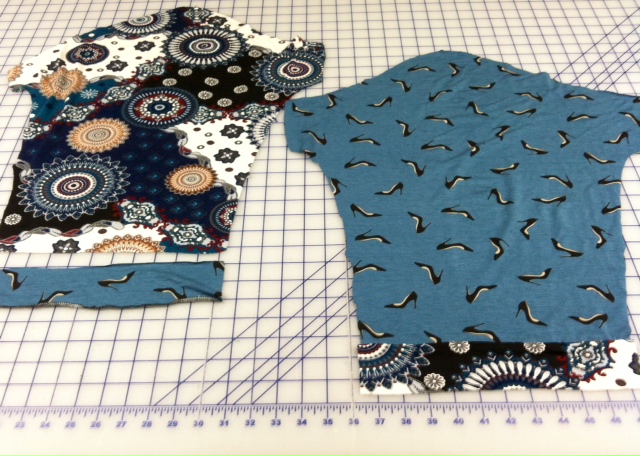 Knits are on the cutting table right now as we prepare for the Original Sewing & Quilt Expo in Atlanta.  We are making some new knit samples and preparing new knit bundles.  It is fun to imagine which style of Tabula Rasa Knit Tee or Tunic, Clever Crossing Variations, or Wide Neckline Variations will complement each new knit group.
In a similar pre-expo sewing flurry last fall, I stitched one of our knit bundles into a Tabula Rasa Knit Tee (TRK) with the surplice design from the Clever Crossing knit variation.  Because I liked each print equally well, I planned the tops left side in one print and the right side in the second print.  Of course, with all that print swirling around, the sides and trims would be solid black to highlight the tops flattering lines.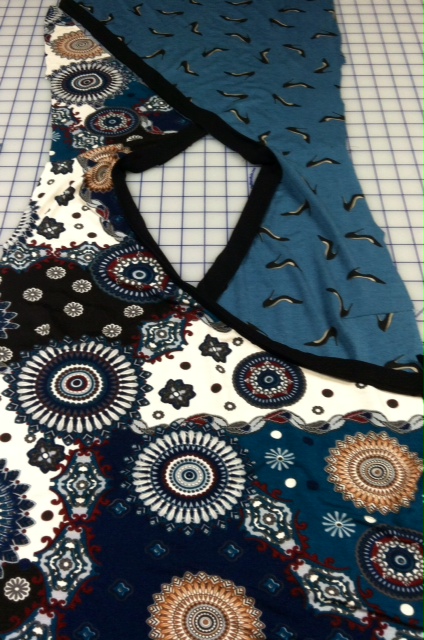 As I was questioning this bold fabric placement, my inner design voice said: "put some of the alternate print on each sleeve to tie the two sides together".  I don't always listen to that wild inner voice, but on this occasion, it was offering up perfect advice.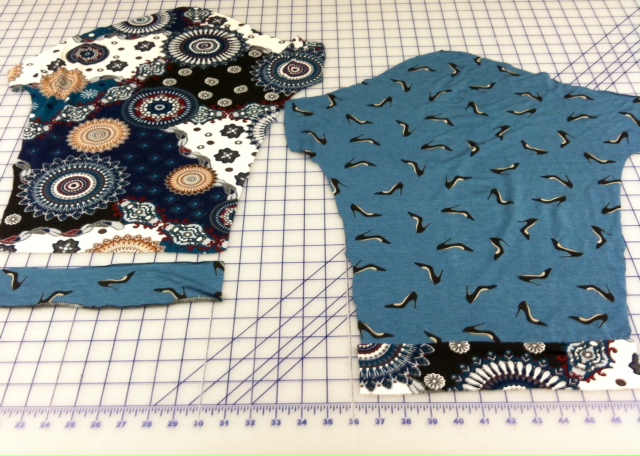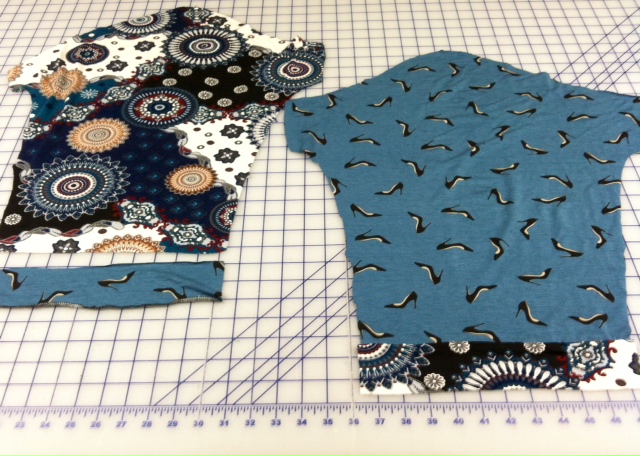 So, I cut each sleeve a little shorter and then cut a strip of the alternate fabric the same size as the sleeve.  Each strip was attached to its corresponding sleeve before the underarm seam was stitched.  That is the easiest way to execute this simple little knit design detail.  (You can also add a similar band after the sleeve is constructed if the sleeve ends up too short, or too plain.  In that case, cut the band, sew it into a circle and then stitch it to the constructed sleeve.)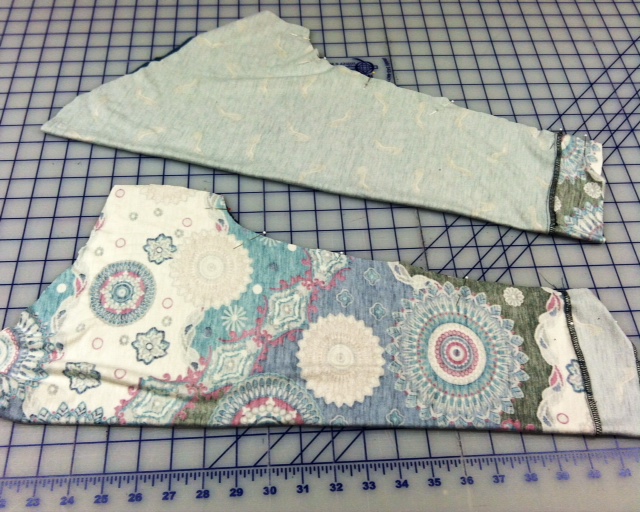 When you sew sleeve seams with stacked fabrics, be careful to match the seam lines so that the sleeve sections line up flawlessly.  I always pin them together before I stitch the seams and then check the placement before using a serger finish on the raw edges of the seam.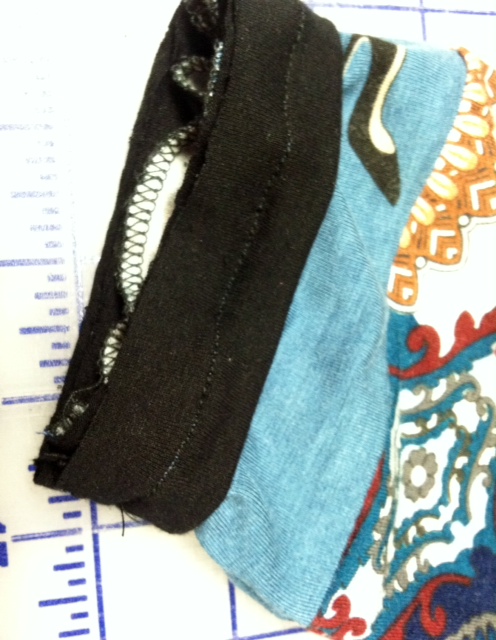 Then use your third fabric to create a snug sleeve band.  Follow the directions on page 14 of the Tabula Rasa Knit Tee and Tunic Pattern to calculate and apply the band finish.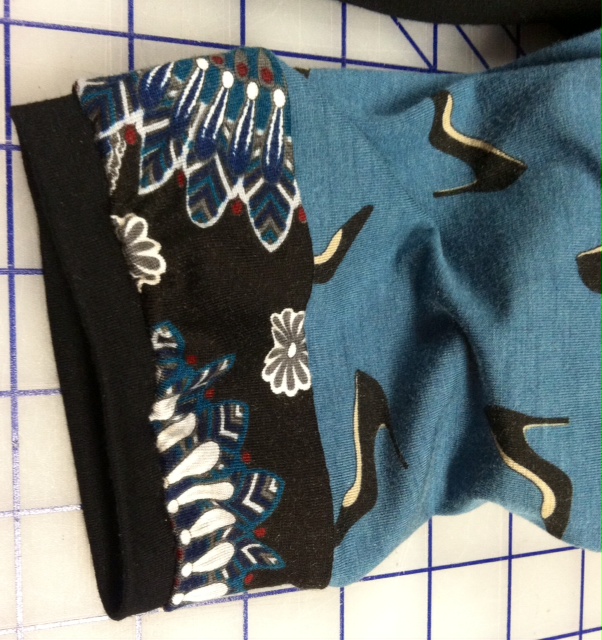 If you feel nervous about sewing knit tops, nothing helps more than practice.  We have several opportunities on our spring schedule where you can get some experiences with knits.  In the lovely classroom at Danner's Bernina Shop in Hanover, PA we will have two days of TRK knit sewing February 6 and 13.  There are still a few spaces left.  You can take my Fabulous Knit Finishes or  Knit Fit Nuances classes at the OSQE in Atlanta.  Attend our Sew! Let's Get Dressed Retreat in March and choose knit tops as your project, or spend 2 days with the TRK pattern at Capital Quilts in Gaithersburg, MD May 10-11 (watch for the registration coming soon for this class).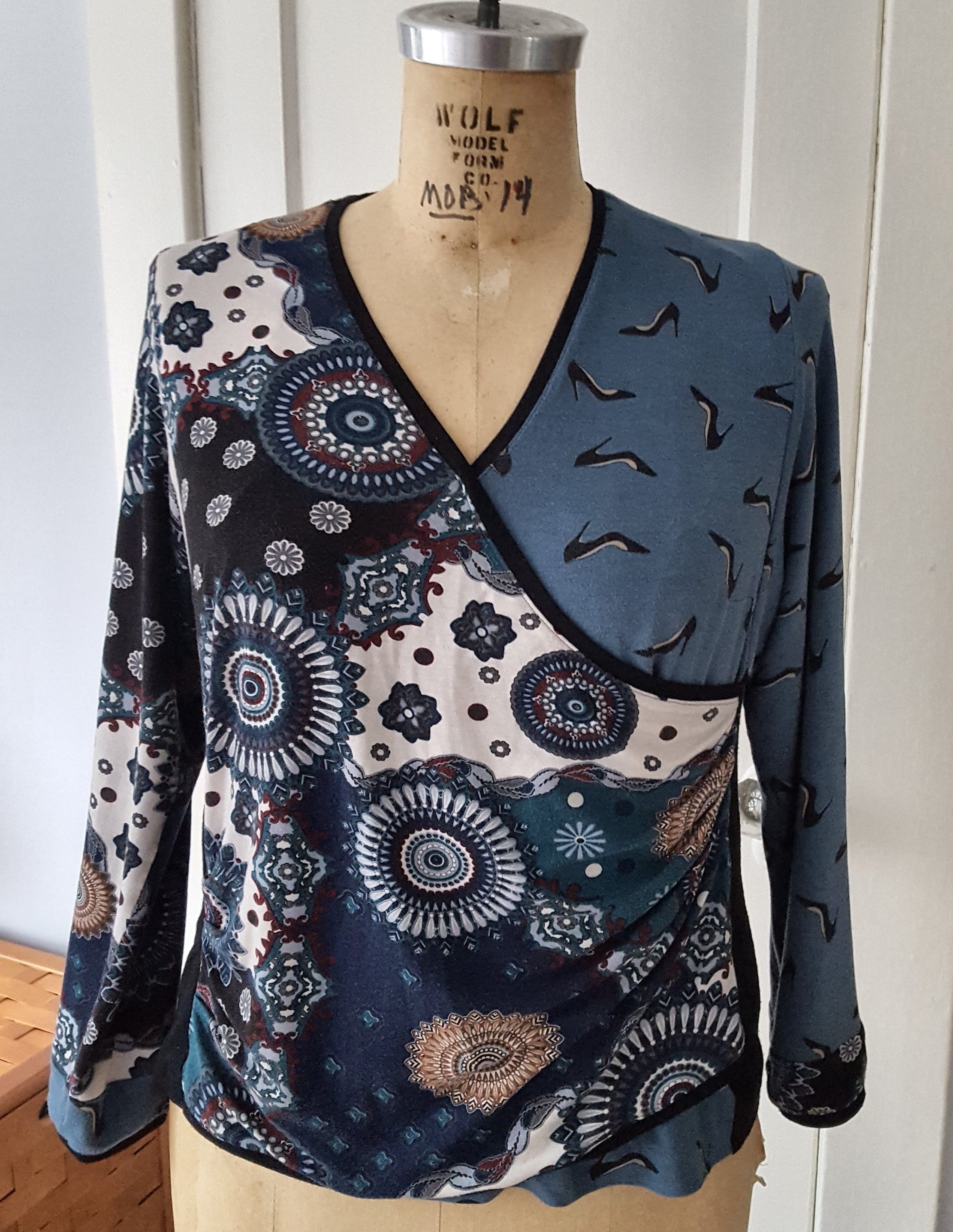 Be sure, if you are in Atlanta, to stop by our booth and pick up a knit bundle or two for your spring sewing.  I believe there is still one or two bundles like this one with the shoes and medallion prints if you love these featured prints as much as I do.
Have you used one of our bundles to make a unique top?  E-mail us a photo or post it on your favorite social media using #TabulaRasaKnitSewing, and #FitForArtSewingpatterns.
Happy Sewing, RAE