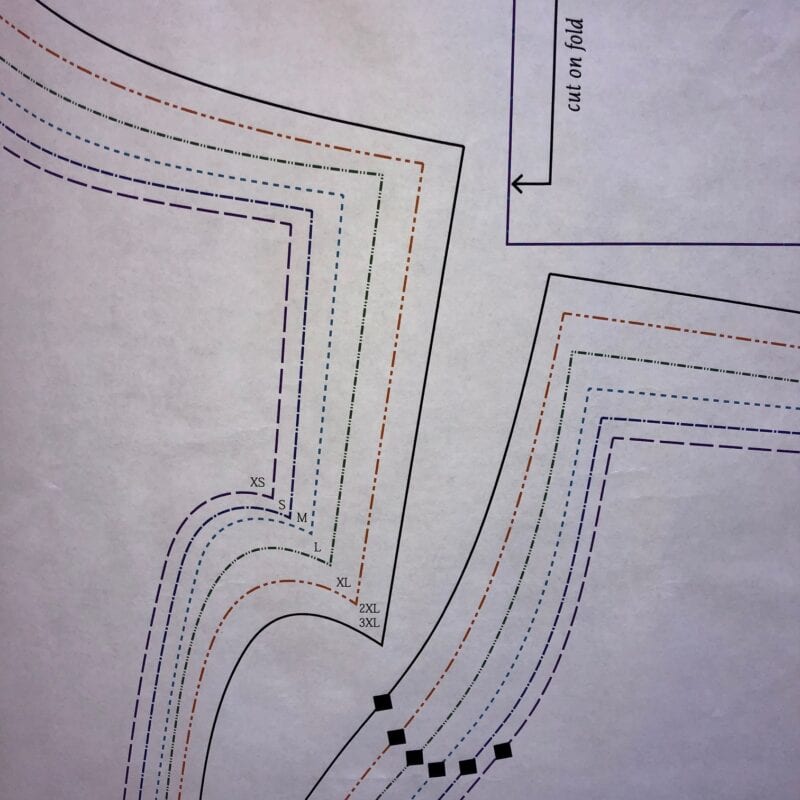 New Fit for Art Patterns are well crafted and are a labor of love so you can sew successfully. As we approach the launch of our new pattern, a fourth core wardrobe pattern, it occurred to us you might be interested in how we create a pattern for your sewing pleasure. So, here goes. Enjoy this little missive about the old-fashioned way we bring patterns to life. There are a few hints too if you are trying to puzzle out what sort of pattern we are making.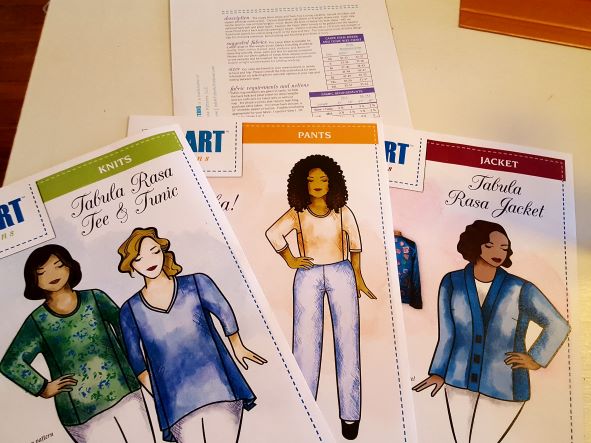 First: Envision the Pattern
The idea for a new pattern usually comes from a need we have in our own wardrobe. Sometimes there is a fabric that speaks to us of a new design, and so we get busy creating a new pattern using other patterns as our guide.
Hint: Our new pattern has our signature square armhole and side panel construction, but it also has lots more.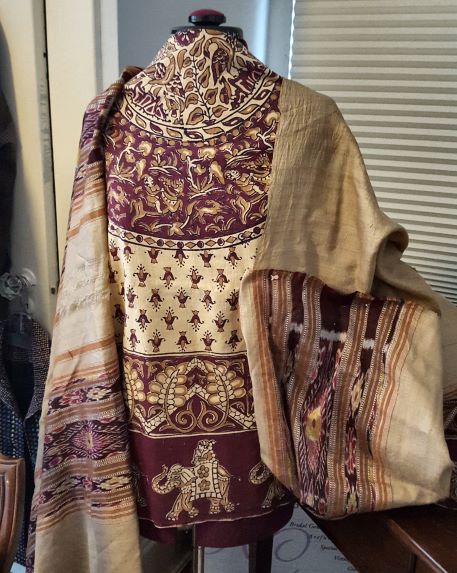 Second: Sew Some Samples
If our idea proved fruitful, then we take turns sewing up samples. Not every sample idea gets included in the new pattern, but making and wearing samples helps refine the pattern's focus.
Hint: Our new pattern involved an exploration of new neckline, hemline and sleeve details.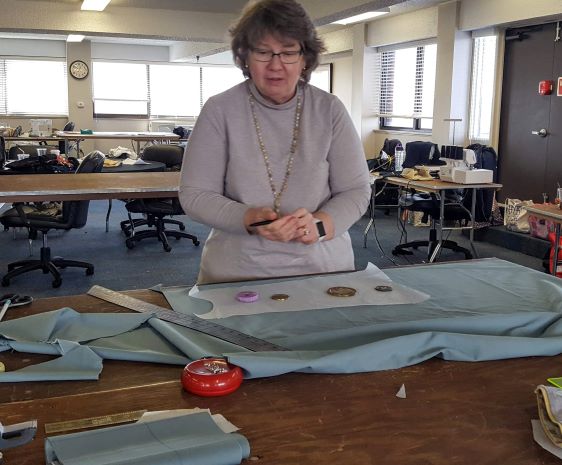 Third: Draw the Patterns
Once the parameters of the pattern are identified, the patterns we have tested for ourselves are graded into our entire size range, XS through XXXL with fitting options. At Fit for Art, we draw these by hand, usually building the new patterns on top of a previous pattern with adjustment for garment ease, shape, etc. Our Digital Pattern expert Madeline Stage then makes them look wonderful and checks our work.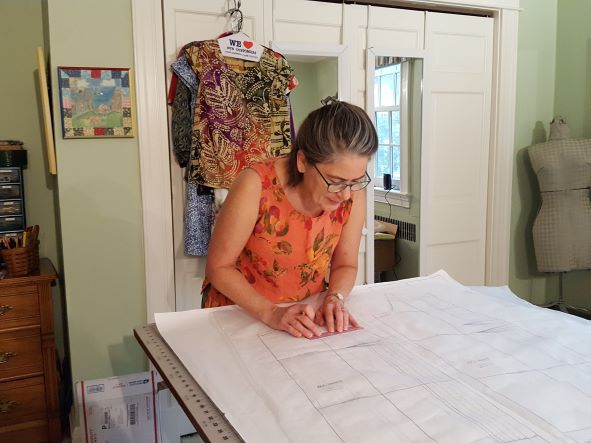 Hint: We have checked, rechecked and walked every one of these pattern pieces to determine that they will fit together well and give you great results.
Fourth: Play with Words
The new pattern needs a name, instruction booklet, promotional text, etc. We work carefully to craft a name that suits the product and is honest and inspiring. Instructions are written, read, corrected and reread, organized and reorganized. Because we love our new garments, we can get excited writing these descriptions and instructions for you.
Hint: The new pattern has a Latin name too.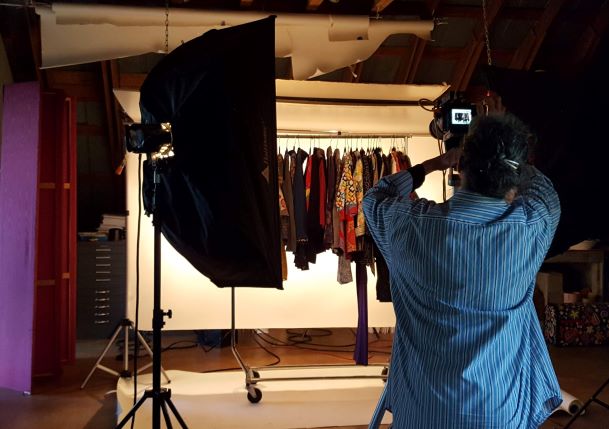 Fifth: Add Illustrations and Images
We add to the text illustrations that include cover art, measurement and fabric tables, and direction visuals. For this step, we need a Graphic Designer and Alison Cooper, our new Graphic Designer, has been a wonderful partner for our new pattern visualizations.
Our garment samples have to be photographed too and our new photographer, Christine Armstrong, did a wonderful job capturing our favorite samples perfectly. We had a very fun day in her eclectic studio assisting with the photo shoot.
Hint: We continue to make new samples and test the fit on family and Fit for Art friends through the entire development process so we know the patterns, directions and supporting online materials will work for you.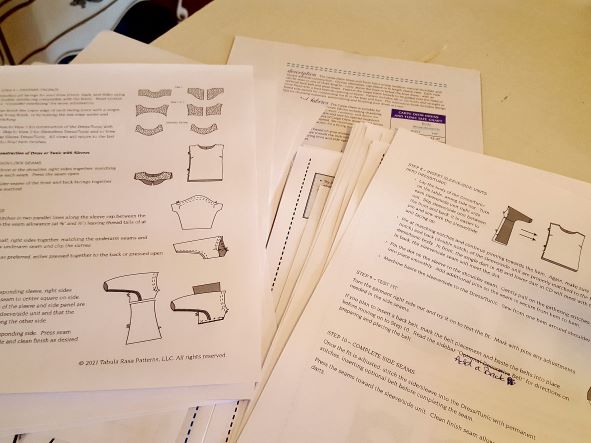 Sixth: Prepare for Sales and Destribution
With all these pieces in order, instruction books and pattern pieces are both printed and digitized so they can be sold in both print and digital versions. Print patterns also have to be assembled.
The pattern has to be added to the online store, photos uploaded into the online gallery, helpful hints for the new pattern prepared and placed on the website, the banner and photo montage changed, social media announcements planned and scheduled and common fitting adjustments prepared.
Hint: Watch closely this weekend for the big reveal.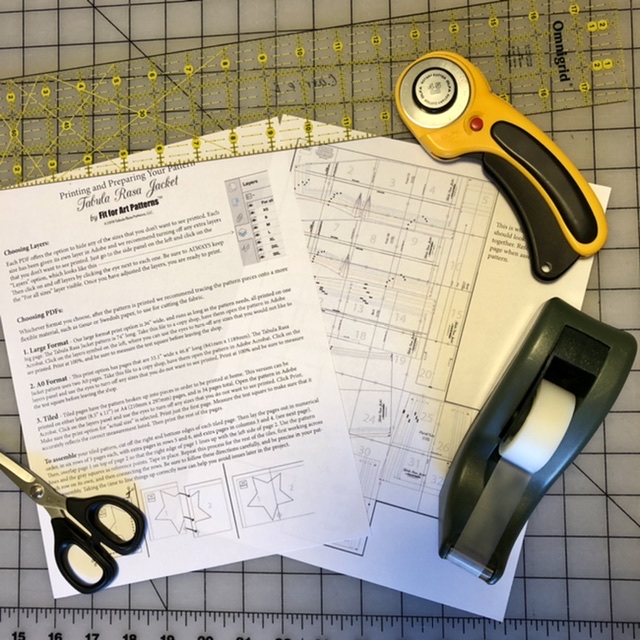 Seventh: Launch Excitement
Our village has been busy! Once we launch, we will continue to offer new tips through blog posts, gallery entries, helpful hints and videos of fitting suggestions. We look forward to years of success working with this fun new pattern.
Hint: If you get a quick start, you can have a fabulous dressy or casual new garment for your holiday celebrations.
Happy Sewing, Rae and Carrie