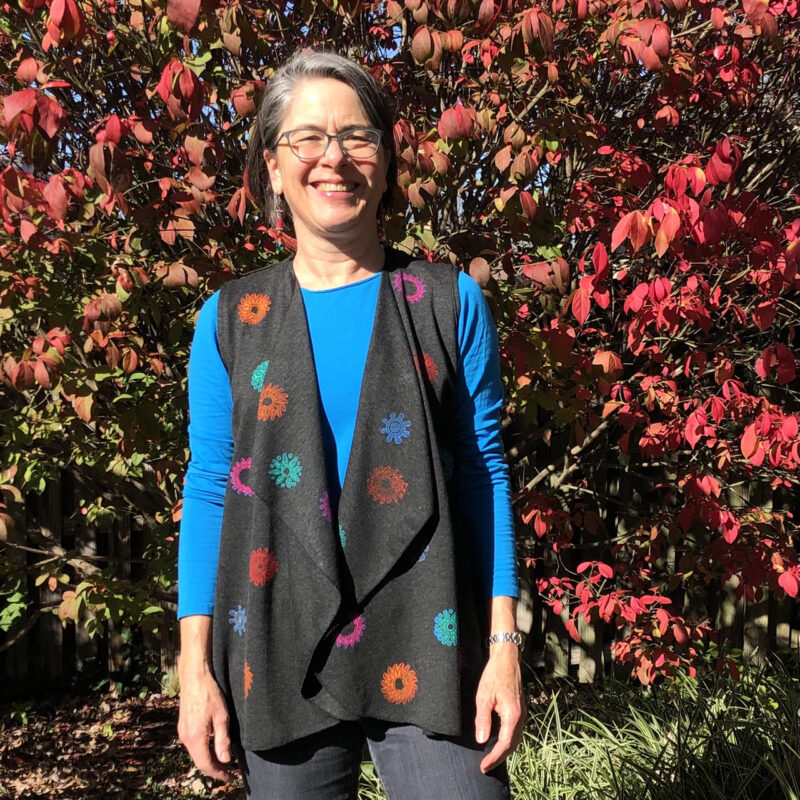 If you've been following our blog Sew! Let's Get Dressed for long, you know that I love to sew and wear vests.  We've been creating vests from the Tabula Rasa Jacket pattern for years with our step-by-step directions for making a TR Vest.  Now we've got a pattern that works for making Tabula Rasa Knit Vests, too.  A knit vest fits perfectly with my desire to focus on sewing comfy casual clothes that I will actually wear these at-home days.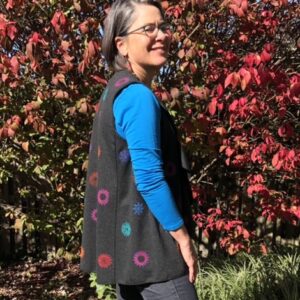 Today we are going to look at a ponté knit waterfall vest painted with wooden blocks and fabric paint.  The key to making a knit vest comes from Twin Set Variations for Tabula Rasa Knits which includes a pattern for a sleeveless tank top.  To create this vest, I used the Tank Top Side, Waterfall Front and Waterfall Hem Extensions, all from Twin Set Variations, and the Back pattern from my core Tabula Rasa Knit Tee.
Painting Unfinished Vest
Vest painting was planned for a Saturday when Rae and I were visiting Artistic Artifacts in Alexandria, VA to do a live Facebook chat about Tabula Rasa Vests.  Artistic Artifacts has a big selection of hand carved wood blocks and textile paints that they were kind enough to let us play with.  To prepare, I cut the vest front, back and side pieces out of gray ponté knit and partially assembled the vest.  This involved finishing the underarm of the side panels and then attaching the sides to the fronts and backs, but not sewing the shoulder seams closed so the vest could lay flat for block painting.  You can also paint the pieces before assembly, but this gave me a surer sense of how the painted motifs would be arranged around the vest and prevented me from painting too close to a seam line.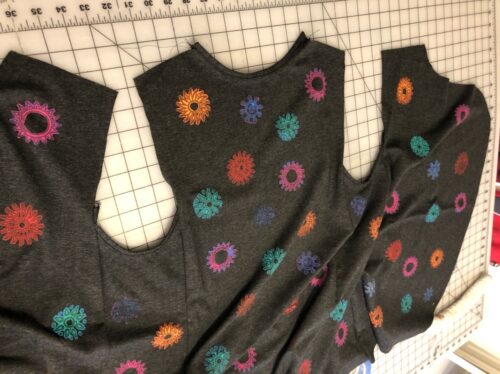 I began by testing the paints and wood block on ponté scraps and found that Artistic Artifacts' heavier opaque textile paints gave me brighter colors on this fabric.  It took me a little while to get the hang of this technique – proper amount of paint and pressure – so it was nice to be working on an unstructured project for which I wouldn't obsess about careful placement and perfectly formed prints!  If you are interested in painting with wood blocks, check out Judy Gula's how-to video clip about painting on fabric with the wood blocks and textile paints.  Back home, after letting the paint dry thoroughly, the painted motifs were heat set with a hot iron and organza press cloth.  Here you can see my painting in progress.
Finish Constructing Vest
To complete the vest, simply follow the directions in Twin Set Variations.  First, finish the Tank Top armhole binding and clean finish the side seam allowances as directed on page 7 of the instruction book.
Secondly, finish the waterfall cardigan perimeter by your chosen method.  There are several ways to finish the perimeter – a baby hem, serger rolled hem, binding or other trim, or even leave it unfinished with knits that won't fray or curl; see the options included in the sidebar on page 10 of the Twin Set instruction book.  For this ponté vest, I finished most of the perimeter with a serger rolled hem set to the longest possible stitch.  Of course,  I strayed from simplest path of finishing the entire perimeter in one pass.  Read on if you are curious, skip to the end if you don't want to fuss with it!
Combined Finishing Method
I decided to bind the neckline of the back piece for greater comfort against my bare neck.  So, the neckline of the Vest Back was finished with the same binding method used to finish the side panel underarms before assembling the vest.  Then, as you see above, I basted the side panels into the fronts and back without sewing the shoulder seams.  After the painting was set, I followed these steps:
Partially sewed the shoulder seams closed, leaving unsewn about 1½" from the neckline, and pressed the seam allowances open.
Applied armhole binding around armscye (as directed for the tank top) making sure to catch the shoulder seam allowances in the binding.
Clean finished the side seams with the serger, finishing the raw edge of armscye binding at the same time.
Finished the perimeter of the vest from one front shoulder to the other with a serger rolled hem.  The tricky part here is planning to make sure the front neckline and back neckline match at the shoulder seam when joined.
Finished sewing the shoulder seams closed to the neckline, securing firmly with back stitches.
Top stitched the shoulder seam allowances to secure at neckline and add support to the shoulders of the vest.
This alternate finishing method will also work to make a waterfall vest in a woven fabric.  I've made two more waterfall vests in woven rayon batik, finishing the perimeter with a baby hem.  I devised this combined finishing technique because the non-stretch fabric would not easily turn under around the back neckline for the baby hem, as a stretchier knit would have.   Another option for a woven waterfall vest might be to bind the entire perimeter. Just remember — the Twin Set Variations and Tabula Rasa Knit Tee are sized for knit fabrics, so give yourself more ease in the underarm and side seams when sewing with a non-stretch fabric.
I am loving this vest and wearing it frequently over jeans or leggings and brightly colored tees!  Look for more details of my waterfall vests this week on social media.  I am inspired to try some other possibilities and hope you will too.  How about a Tabula Rasa Knit Vest with a straight tee hem or assymetrical tunic hem?  What about a painted Waterfall Cardigan or Tailored Cardigan?  You can find several more painted knit garments to inspire you in our photo gallery and blog archive.
We look forward to seeing your creations for comfy casual wintertime wear at home!  Please post photos on Instagram or Facebook with our hashtags, or send us your photos.
Happy comfy sewing! Carrie
#fitforartpatterns  #tabularasajacket  #tabularasaknits  #tabularasavest  #eurekapantsthatft  #sewsuccessfully