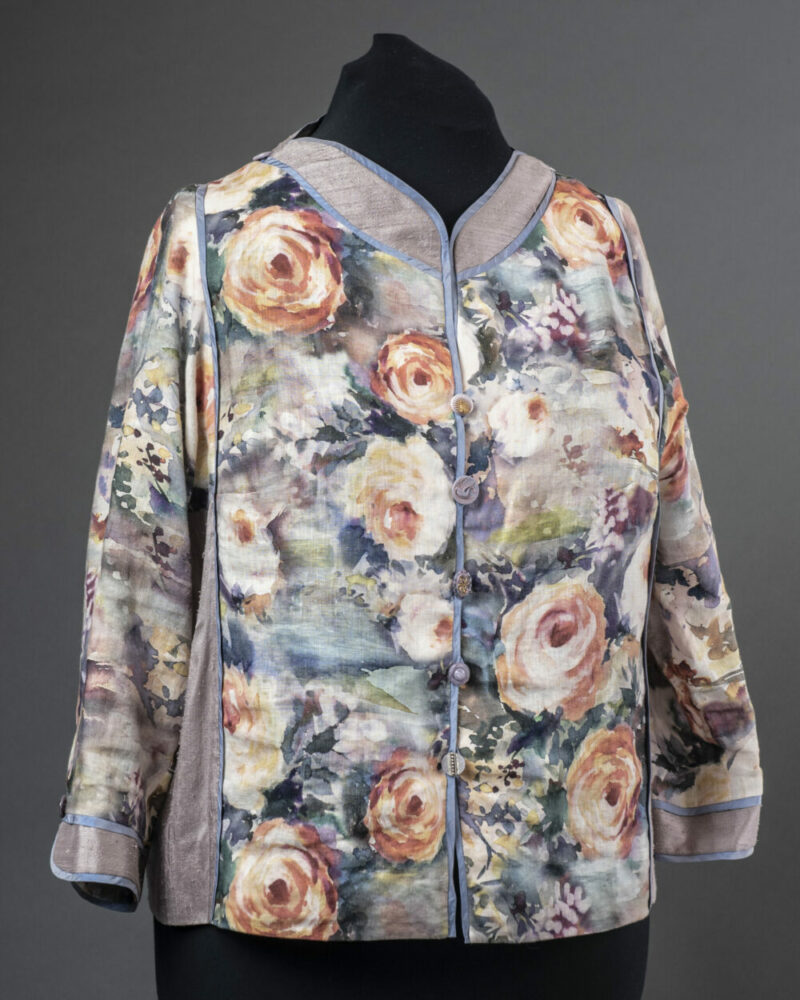 This week we're going to look at another handful of the garments featured in our Exhibit at the Original Sewing & Quilt Expo in Akron and Fredericksburg.  This is how we introduced Fit for Art to new viewers: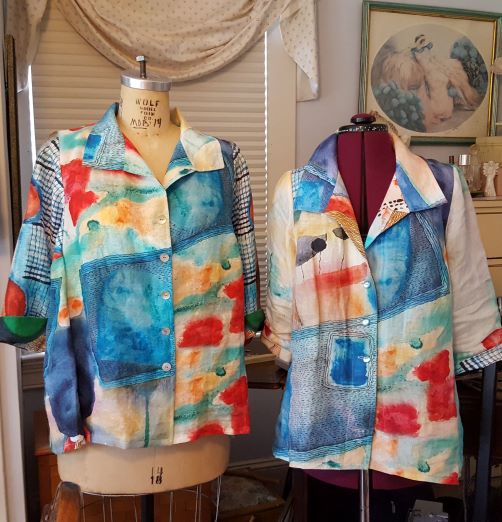 "We started Fit for Art Patterns because, as wearable artists, we could not find a jacket pattern that offered a good fit and simple design to support our creative sewing.  Our core Tabula Rasa Jacket pattern provides sewers, quilters, weavers and other fiber artists with a "Tabula Rasa" or "blank slate" to display their expressive creations or to transform their handmade textiles into unique garments that are flattering and comfortable as well as beautiful.  Later we added patterns to our line to provide a complete wardrobe – the core Tabula Rasa Knit Tee & Tunic pattern for great knit tops to wear every day and on special occasions and the core Eureka! Pants that Fit pattern for great pants to complement your jackets and tops.
Fit for Art strives to offer sewing patterns for women of every shape and size in classic designs that are easy to assemble and very versatile.  Each core pattern includes fitting options for the bust and hips so sewers can get a comfortable fit quickly.  Once the core Fit for Art pattern is adjusted to her individual fit, each sewer can easily change the look and style of future garments using our line of variation patterns for the Tabula Rasa Jacket, Knit Tee & Tunic, and Eureka! Pants with the confidence that the new style will still fit. We want to assure fitting success for every woman who chooses our patterns and inspire her to stitch up an entire wardrobe of handcrafted clothing that is fun to wear for every occasion. " 
Big Summer Shirt
This graphic linen shirt for summer is made with the Tabula Rasa Jacket pattern plus Shirt Variations for the TRJ.  Rae changed it up with a high low hem, deep back yoke, and lower back split into two crossing diagonal pieces. The really big digital print linen created quite a challenge for laying out the pattern pieces.  Rae carefully placed her favorite motifs – a pair of birds – on the front and back and matched some of the graphic lines to create a perfect diagonal accent across the front. Read more about Rae's design and layout process in the blog post A Big Summer Shirt.  The many colors in this fabric give Rae lots of pant options, but she especially likes wearing it with her white faille or blue denim Eureka! Pants. 
Funnel Neck Ikat Vest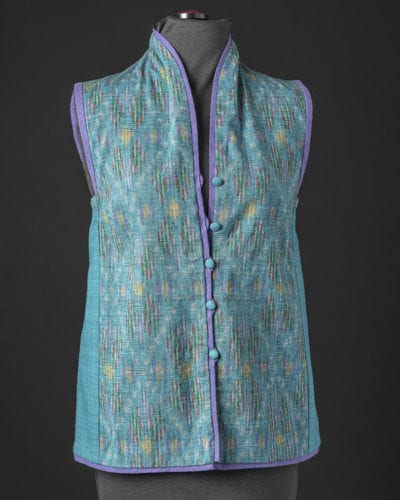 The beautiful Ikat and coordinating solid cottons in teal and purple were purchased from one of our favorite sources, Mekong River Textiles. The vest is styled with the center front closure and funnel neck variation from Rain or Shine Variations for the TRJ and closed with self-covered buttons and button loops.  It is fully lined with cotton batik in shades of lavender, green and yellow. This vest looks great with Carrie's faux leather Eureka! Pants with side vents at the ankle.
Fit for Art vests are easy to make using the Tabula Rasa Jacket pattern without the sleeves! Find free downloadable instructions for Making a Tabula Rasa Vest and Carrie's blog post explaining how to fully line the vest, Make a Lined Tabula Rasa Vest.
Spring Tee with Lace Godets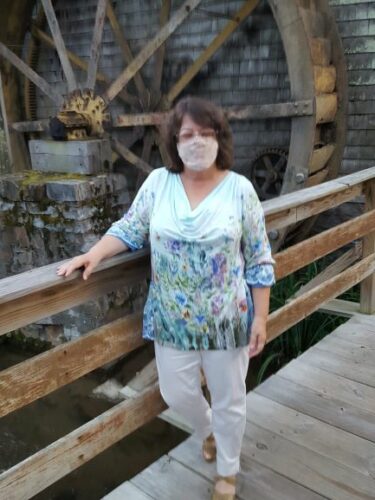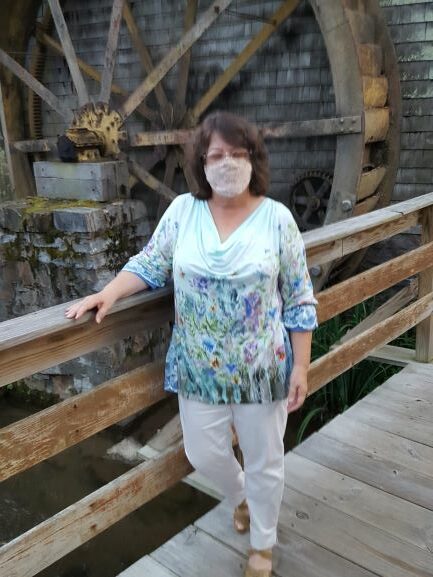 This special occasion worthy rayon jersey tee comes from the Tabula Rasa Knit Tee & Tunic pattern with the draped front and cuffs featured in Wide Neckline Variations.  The floral watercolor fabric came from a favorite fabric shop in France.  Rae layered soft blue lace over periwinkle rayon knit to insert godets into each of the 4 side seams and to create the flared cuff.  Read more about Rae's design and construction process in the blog post Lace Godets Dress Up a Tee.  This longer tee looks great with skinny white Eureka! Pants that Fit.
Dusty Floral Linen
This linen is reminiscent of an impressionist painting and looks lovely in this Rain or Shine Variation for the Tabula Rasa Jacket.  The unusual three piece collar, which is a riff without a pattern, matches the rounded split cuffs found in Shirt Variations.  Muted purple/grey silk dupioni and blue taffeta flat piping accent the details. The jacket is accented with a collection of vintage glass buttons that also work as the center front closure and dress up the cuffs.  Read more about Rae's design process in Fall Tabula Rasa Jacket.  Dress it up with navy pants or wear it for a casual occasion with blue denim or khaki pants.
We hope you enjoy this collection of garments based on our three core patterns and their many variations.  Let them inspire you to sew a uniquely you wardrobe that is comfortable and flattering as well as expressive.
Happy Sewing!  Carrie