This fall, I (Carrie speaking this week) found some very cool "faux leather" at Haberman Fabrics that would make fabulous Eureka! Pants that Fit for this winter.  It has enough stretch to be comfortable, "flannel" backing, and is a color – a cross between silver and purple – that goes with several of my Tabula Rasa Jackets and Knit tops.
Never having worked with leather before (real or fake) I started with a web search for hints on sewing with leather.  I found many sources with quite a variety of methods and recommendations about what type of needles and machine feet to use and how to finish the  seams (many of which talked about gluing the seam allowances).  One universal caution is to take your time and do it right the first time because tearing out stitches on this fabric leaves visible holes.  So, in today's post I'm going to share what worked for me and spare you all of the rejects and dead ends.
I used my Eureka! Pants pattern for fabrics with lycra. It is a trim fitting pattern, but not body hugging or leggings like many of the leather pants for sale today.  Rae commented that this fabric is really "out of the box" for me, but I'm taking one step at a time; leather leggings just felt like too much of a leap!
I cut each pattern piece out separately (i.e. one layer) with a rotary cutter, using a straight and curved ruler to guide the rotary into a nice smooth line.  After testing on scraps, I found that a microtex needle and all-purpose foot worked just fine on the wrong (flannel) side of the fabric.  I chose a slightly longer stitch than usual to reduce the number of holes being punched in the fabric.  However, the fabric did not feed well on the right side.  I don't have a Teflon foot, which several sources recommend for leather, but I found success with the trick of putting scotch tape on the bottom of the foot front and back but not under the needle opening.  This kept the fabric moving well enough, except I still had to tug it through when crossing thicker seams.
While I was testing with scraps, I also played with several types of glue to secure the seam allowances.  I liked the fabric glue best as it didn't take too long to set up and remained pliable, and found a small roller (I believe this one was a mini paint roller) that secured it smoothly.  I have to confess that I haven't washed the pants yet, so the jury is still out on that score, but fabric glue is designed to withstand laundering.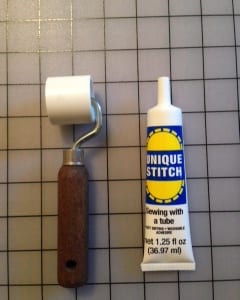 Once I had my pattern cut out and tools ready, I started construction.
Inseams: because I was concerned that glue wouldn't hold up to the stress and wear at the inner thigh, I decided to top stitch both seam allowances toward the back, then trimmed the seam allowances to about 3/8".
Crotch seam: I clipped the curves and finger pressed the seam allowances open but did not secure the seam allowances with topstitching or glue.
Side seams: after checking for fit, I glued the side seam allowances open, working in segments to allow the glue to set up before moving the seam. I found it helpful to work over a ham at the curvy hip sections.

Gluing the side seams.

Zipper: a standard invisible zipper went in beautifully and I did not glue the seam allowances down, relying on the waistband stitching to secure them open.
Waistband: I cut the Eureka! Pants waistband pattern on the selvage and inserted 1" wide non-roll elastic, stretching it as described in the instruction book to help it sit securely at my waist. I simply topstitched the band in place, stitching in the ditch, and did not glue anything in this area.
To my surprise, constructing leather pants was really no more difficult than other fabrics.  So far I've worn them a few times and they are holding up just fine.  Watch for photos on our Facebook page of the faux leather pants in action over the holidays.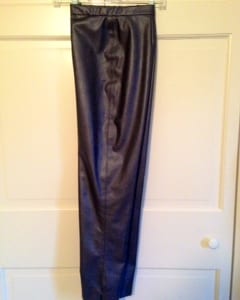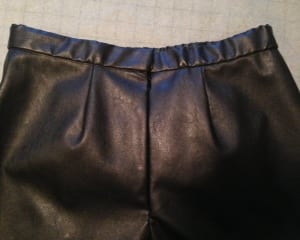 Have you sewn with leather, either real or fake?  What methods worked for you?  And most importantly for me, do you have a recommendation for how I should proceed when it comes time to clean them?
Happy sewing!  Carrie