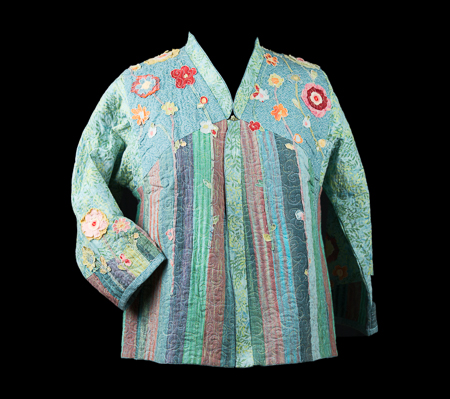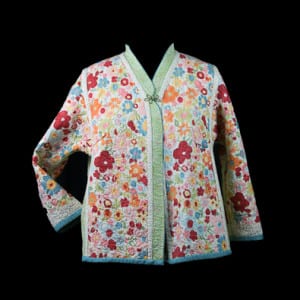 Quilted Tabula Rasa Jackets are great fun to make and wear. We have made it even easier with some new direction booklets that walk you through the steps to recreate two of our favorite quilted jackets. I am thinking about this now because Spring in the mid-Atlantic is the perfect time for a quilted jacket and the reversible Flower Garden Jacket is a celebration of Spring color. It is always admired by folks passing by the Fit for Art booth, which is why we wrote up the guidelines for making this particular jacket first.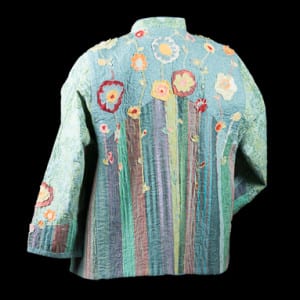 Our guidelines for making any quilted jacket are in the Tips for Quilted Jackets booklet that works hand-in-hand with your Tabula Rasa Jacket pattern. There are lots of helpful hints in the Tips booklet to take your quilted jackets from functional to fabulous. Our detailed directions for this flower-embellished jacket include additional information on choosing fabrics, adjusting your pattern for the pieced primary side, cutting, quilting and constructing the jacket. We have also included a number of great photos in the direction booklet and the online gallery to see the jacket up close.
I would like to take a few minutes to elaborate on the section of the directions that discusses fabric selection. This jacket was created while developing the Tabula Rasa Jacket pattern when I collaborated with two quilters and two weavers. One of the quilters was an old friend who had recently learned to quilt and was having fun making small wall quilts and quilting with residents of a retirement community in therapeutic sessions.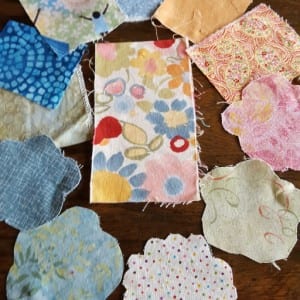 Because she was having trouble choosing jacket fabric, I encouraged her to visit her local quilt shop, Pennington Quilt Works in NJ, and simply choose her favorite fabric. She found this vibrant floral and brought it to Baltimore where we began our search for coordinating fabrics. When combining fabrics, one large statement print is often a good place to begin.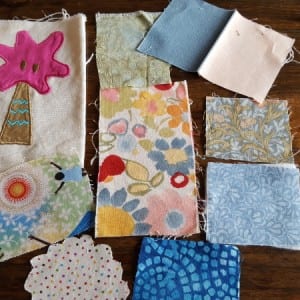 As we shopped for additional fabrics to complete a jacket for her and one for me, we collected a number of small prints and batiks in the colors the base fabric. As you can see, it is a very colorful pallet. While over-spending is never wise, having more choices than you need helps you pick and choose the best collection for your jacket.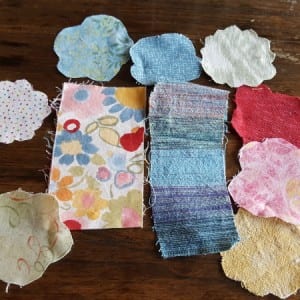 We each created the printed side of our jackets first. Terry's fabric grouping and mine were different, but both made terrific jackets. Then working independently, we created our second reversible side. I decided to bring some of the flowers from the base fabric to the second side of my reversible jacket so the two sides would coordinate. I cut out about 30 of the flowers to raw edge collage onto the second side. Then I searched for stem options, trying ribbon, rickrack, and fabric tubes before finding the perfect answer, the serged edges of my prewashed fabrics. They were just raw and organic enough to complete the second side with its more textured handwoven striped cotton.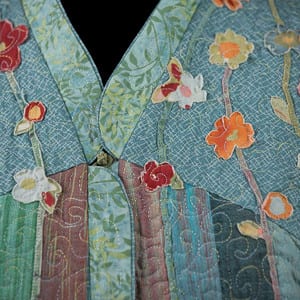 Armed with my flowers and stems, I arranged and then tacked the fabric flowers and stems to the quilted jacket sandwich before sending each piece of the jacket to my friend, who did the lovely meandering free motion quilting. Then we got together again to construct the jackets. We both learned a lot and each got a beloved jacket that we have enjoyed each spring for 7 years.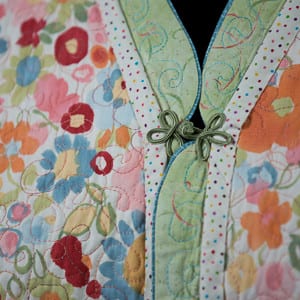 Want a great spring quilted jacket? We have the direction booklets, TRJ pattern and photo inspiration to help you make it happen. Learn more in a class too! Rqe frequently teaches a class on making quilted jackets, so check our calendar of events and join our mailing list to receive notices of upcoming classes .
Have you ever quilted a jacket? Made a reversible jacket? Collaborated on a jacket? Tell us about it! Our Fit for Art community would like to know your tips and tricks, too.
Happy Sewing, RAE