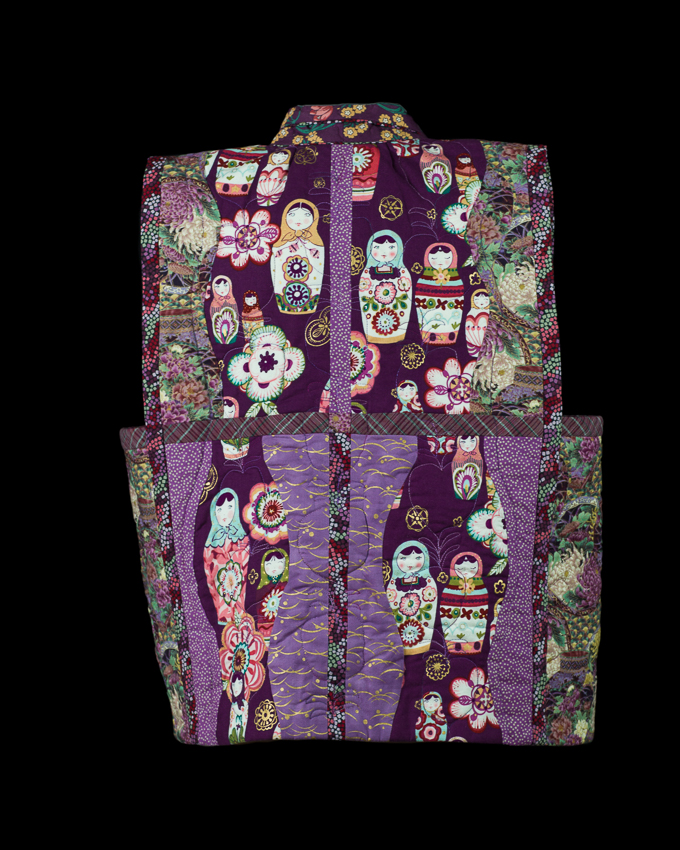 This quilted vest is the perfect antidote to our cool spring weather, which is why it's featured in our early spring photo montage on the home page.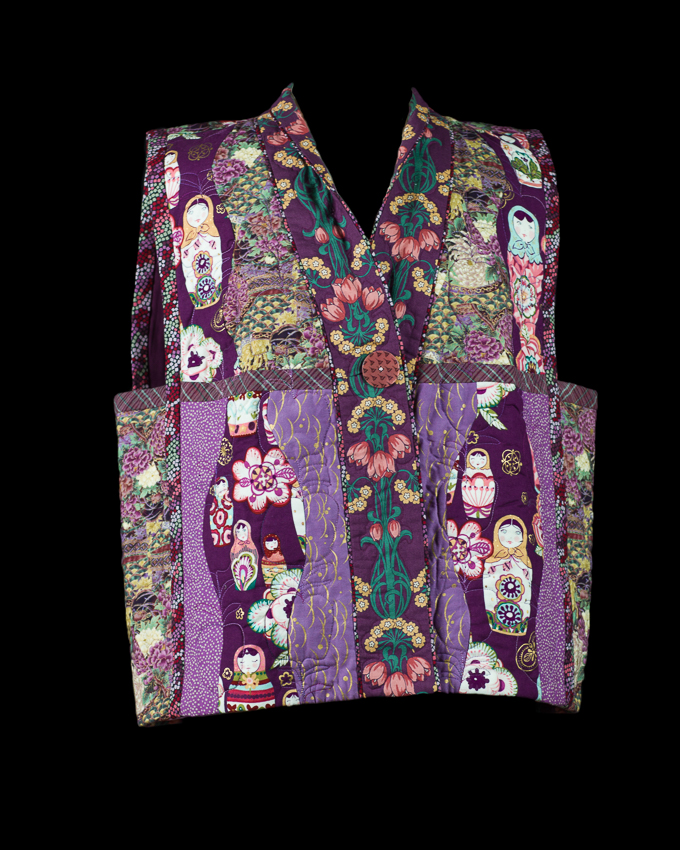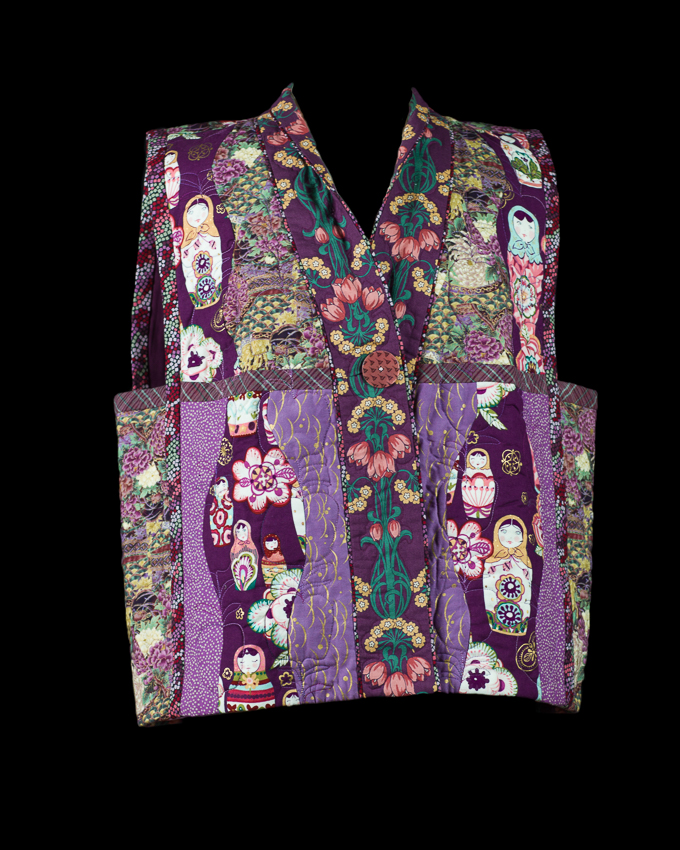 It is both cozy and cheerful thanks to a mix of bold prints and small geometrics used to piece the vest sections. It is made using the Tabula Rasa Jacket pattern, I just left off the sleeves and bound the armholes.   So, how does a composition like this come together?
The first step is gathering the materials and determining a design.  This vest started with the Russian nesting doll fabric.  If you have been reading this blog for a while, you have seen this print before in my post about draw string pants. (Click here to read that post and the origins of this fabric.)
I love the colors and the dolls, but the overall print felt pretty busy.  My goal was to find complementary fabrics so small sections of the doll fabric could be framed by smaller scale prints.
My first stop was the stash box labeled purple and pink cotton.  Clearly these are colors I like because I hit the jock pot, finding many fabrics that complemented the dolls.   I narrowed down the fabric pile, choosing two small purple geometrics, an art deco print and a plaid.  They all seemed cheerful and appropriate for a spring/fall vest.  The fabrics that I set aside might just become a summer top for my Mom.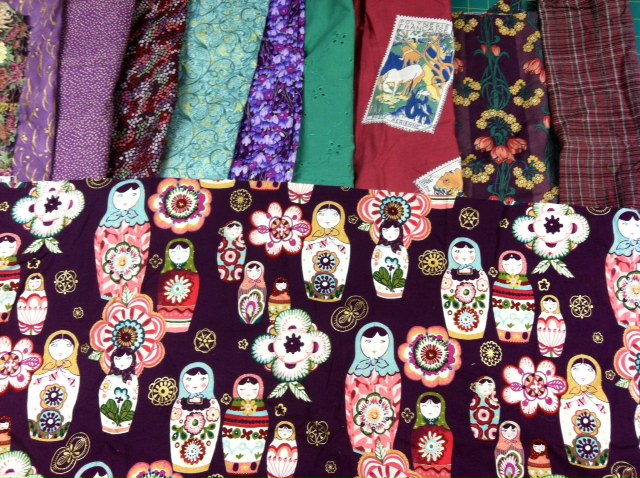 I bundled these fabrics together and went in search of some other coordinates.  On a visit to A Fabric Place in Baltimore, I came across the oriental floral.  I found the final piece of the cotton puzzle at Piece by Piece Quilt Shop in Ephrata, PA while teaching a jacket class.  The little tumbling squares print was perfect for framing both sides of the front band and finishing the armholes.
I silk lining was found in the purple lining box and the batting in my stash.  Fortunately a vest does not require much fabric, so there was plenty to work with.  The button was a gift that had been sitting on the shelf waiting for the perfect project.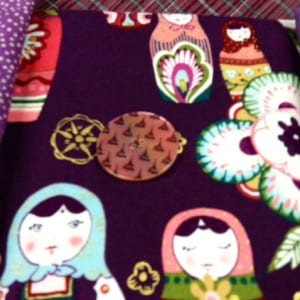 My piecing design was inspired by the Goddess quilt pattern in Maverick Quilts by Alethea Ballard.    It seemed perfect for featuring the dolls in small curvy spaces.
Choosing which fabric to use for the front band was pretty straightforward.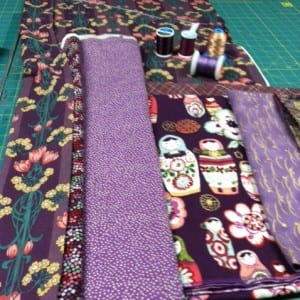 The art deco print had a striped pattern that could be centered perfectly and it really set off the button, which I had tested on a couple different pieces of fabric.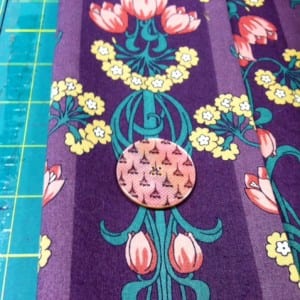 I arranged the fabric composition for both fronts and the back before cutting any of the sections.  After piecing each section, I created the quilt "sandwiches" and finally stitched up the vest.  In the Fall, I will tell you more about the quilting and construction finishes.  So, if you want to have a little vest sew-along, begin collecting your fabric now for Fall sewing.  Or, if you are in a hurry, our Tips for Quilted Tabula Rasa Jackets will give you more than enough information for this project.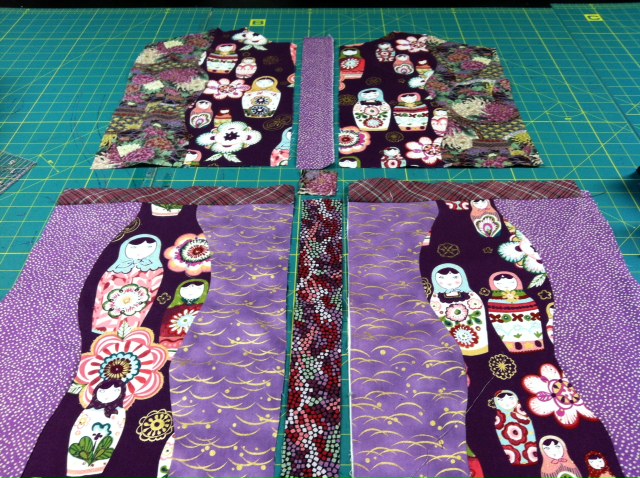 When I write a post like this it sounds like I completed this project in a matter of moments.  The truth is that these fabric collections come together over time.  But here is a tip to something I've found useful.  Keep swatches from the fabric groups you wish to coordinate with pinned together in your purse or stapled to a small note card.  Or, put the fabrics in a tote bag that you take with you on each trip to the fabric store.  You never know where or when you will find the perfect complement.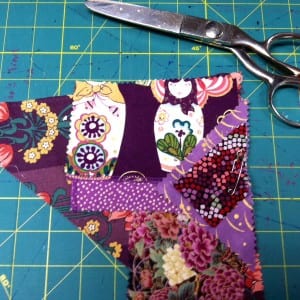 Do you collect fabrics that work together in hopes of making a mixed fabric top or jacket?  What are your tricks for matching fabrics to expand your collection?  Share them here with the Fit for Art community, though I doubt that many of us have trouble collecting fabrics!
Happy Sewing, RAE
PS,  Keep an eye on the facebook page.  On the next cool day I will wear the vest and you can see how it looks on my body!