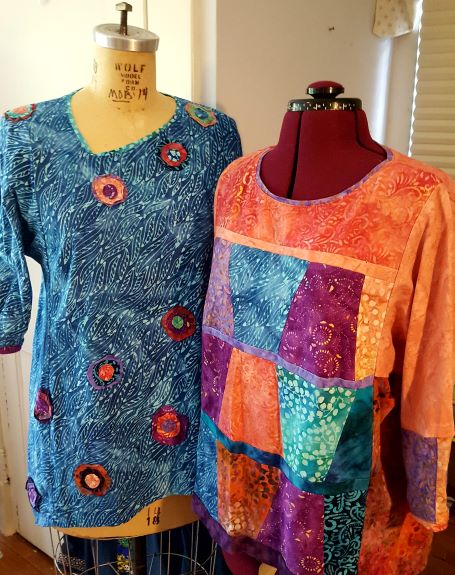 In March and June posts we teased you with plans to sew a couple of Tabula Rasa Knit Tees in fun SewBatik  jersey.  Finishing sewing projects takes more than planning, as you well know. We proudly featured the finished tops in our OSQE booth last weekend and in the Knits that are Sew Fun class.  Now it is your turn to see a bit of the pattern work and construction processes as these two tees went from idea to reality.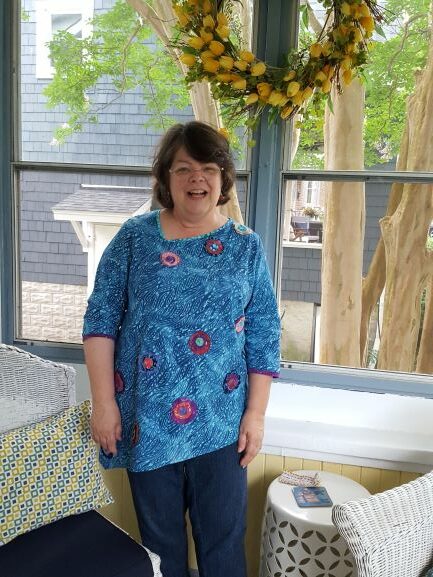 Choose a Design
Perhaps you voted for the blue tee design when we wrote about sketching the square armhole in June.  There were 6 sketched design options for this tee and when the votes were in from the blog, Facebook and Instagram, the asymmetrical shape got the most votes by far.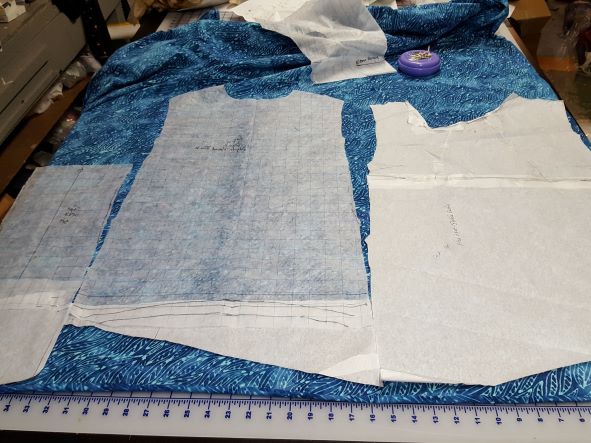 Prepare the Pattern
Getting started required some fancy pattern work.  Using my Knit pattern grid pelon pieces, I added the asymmetrical hemline and planned an asymmetrical V neckline for the tee's front.  Given all the front changes a paper pattern, traced from my grid pelon base, was created for the front.  I also added additional bust length, creating a second dart for an improved hang.  (The SewBatik Jersey has no lengthwise stretch and after wearing some of my winter tops from this fabric, I felt an extra dart would be an improvement.)  The two side panels were also adjusted to assure a continuous asymmetrical hemline all around the top.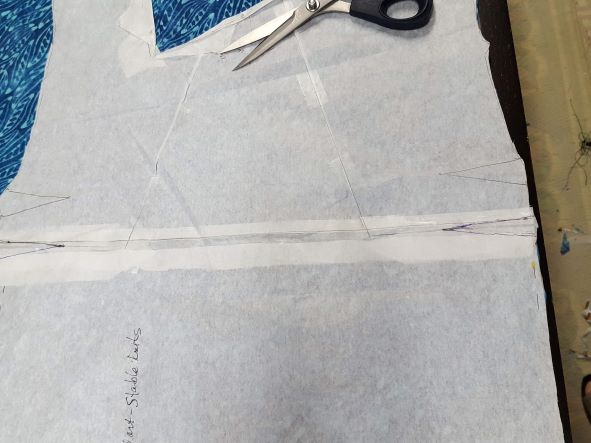 Cut out everything you need
A single layer cutting layout was required since each piece was a different shape. Lots of circles had to be cut to for the planned embellishment, too.  I was able to use paper circle patterns from a previous project, cutting an assortment in 4 different sizes.  This is evening work for me, while watching a baseball game.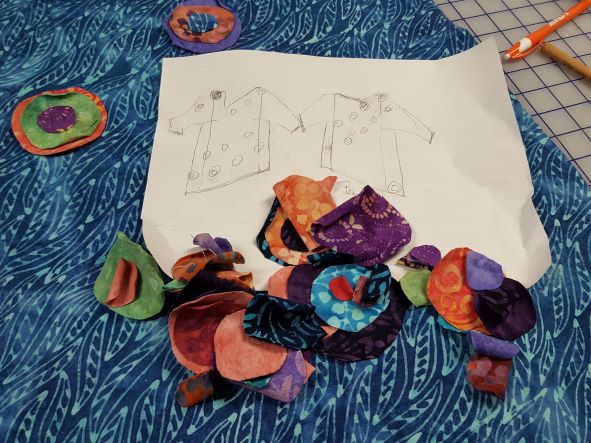 Place the Details
With the cut pieces in hand, I began playing with the placement of the stacked circles to achieve an asymmetrical look without it looking like a cluttered, all- over pattern.  This requires placing, observing, walking away, revisiting the design and moving things around until I am satisfied.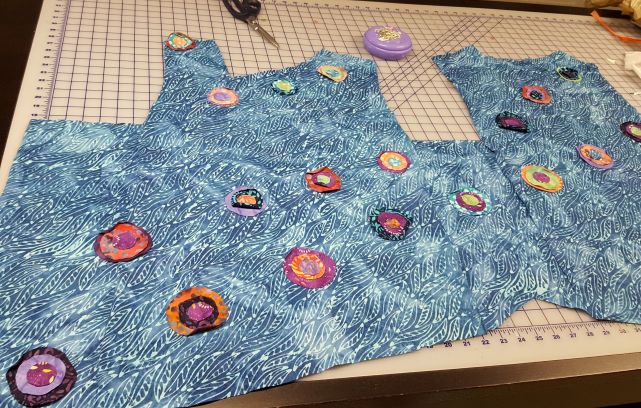 The finished design was then pinned to the top's flat pieces and each stack of circles was stitched down using a method that resembled slicing a pie.  I made samples to test several methods before stitching down the circles on each Tee section.  A few stacks of circles were designed to cross a seam line so they were applied after the construction was finished.
Craft Lovely Finishes
The front's asymmetrical neckline was finished with the V neckline technique.  The contrasting neckband was cut from one of the circle fabrics.
The top was finished with a ¾" hem all around, mitered on the long, pointed side and faced on the short cut away side.
What a fun and comfortable top.  And as many of you suggested, its hemline is indeed flattering.
Then Make Another
The tumbler top, made during the OSQE Nifty Knit sewing retreat, is also made in SewBatik jersey and it looks and feels like summer fun.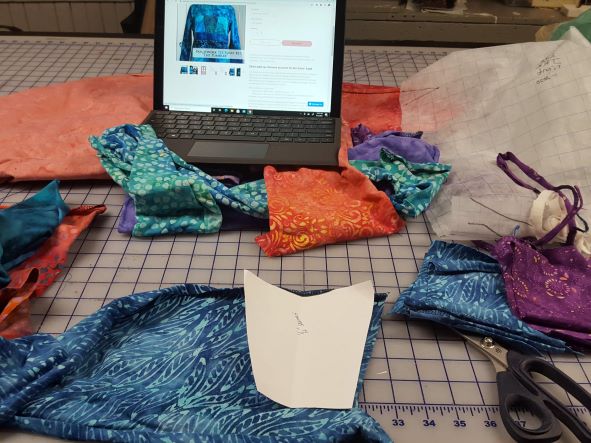 The piecing pattern, which I used on the front and back of the Tabula Rasa Tee pattern, was included in my purchased kit for the Tumbler Tee.   If you take a close look, you will notice that the circles for my asymmetrical tee were cut from the leftovers from the Tumbler Tee Kit.
I also pieced one of these tees for my friend Susie.  Hers is pieced on the front, like mine,  butthen only on the yoke of the back.  There are lots of possibilities!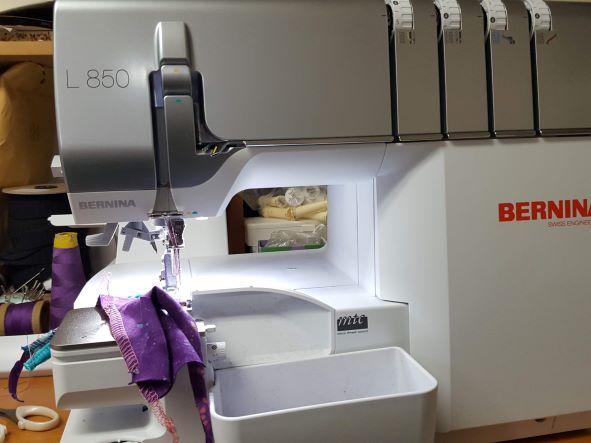 Use Proven Knit Sewing Techniques
My usual method of sewing knits is to sew the seams using a lilting straight stitch on my sewing machine; then I finish the seams with a 3-thread overlock on the serger.  For this project, I followed the SewBatik directions and created each pieced section using the 4-thread overlock on a new Bernina 850 serger.  It worked well; after all the piecing, I laid my grid pelon pattern on the finished piece and trimmed away any extra before constructing the tee using my usual method, which allows me to make fitting adjustments before finishing the seams.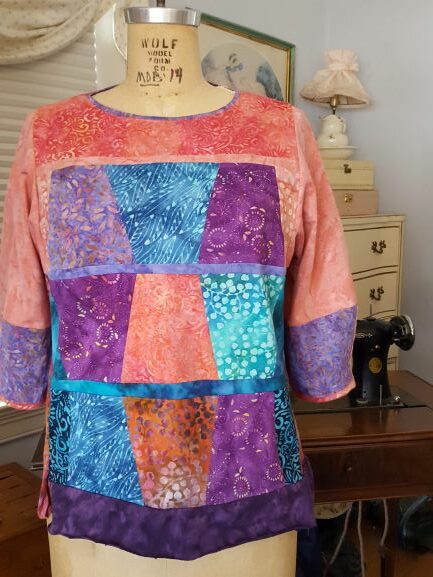 What is your usual knit sewing method?  If you are new to knit sewing, this cotton jersey in fun colorful batiks is a good starter fabric because it is not as slippery or drapey as many knits.
Stay Cool and Sew Happy, RAE