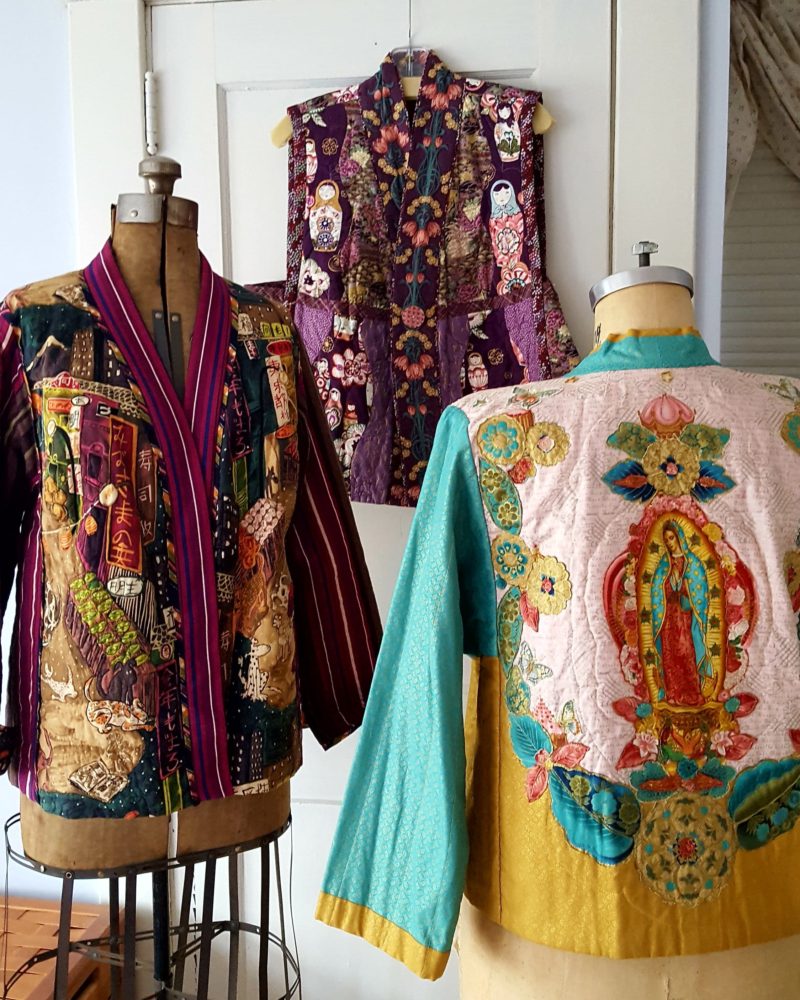 Welcome to Sew! Let's Get Dressed, a weekly blog that encourages you to sew successfully. 
Today we presented "Simple to Simply Amazing Cotton Jackets" at the Danner's Bernina Shop's Anniversary Celebration.  Here are the three Tabula Rasa Jackets(TRJ) we featured in the quilted jacket category of the show.  Each jacket features construction techniques outlined in the  Tips for Quilted Tabula Rasa Jackets booklet.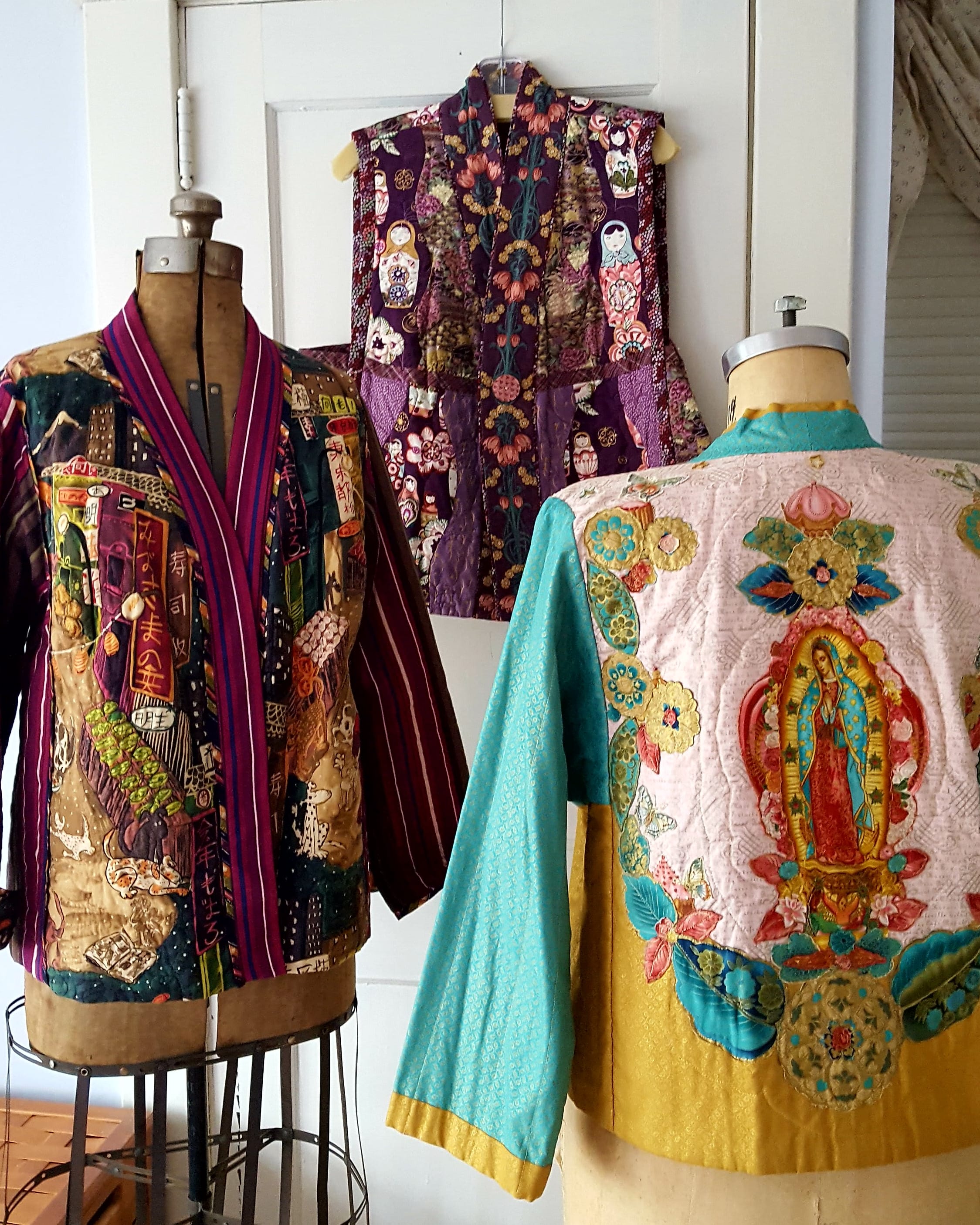 "Simple to Simply Amazing" is a trunk show format in which we feature trios of garments that show a Fit for Art Pattern in its basic form, a more challenging version, and then a very complex version.  It's a great way to show how a beginning stitcher can get started and then move into more complex stitching or piecing techniques using the same pattern.  We will be sharing more of these trios in the weeks to come.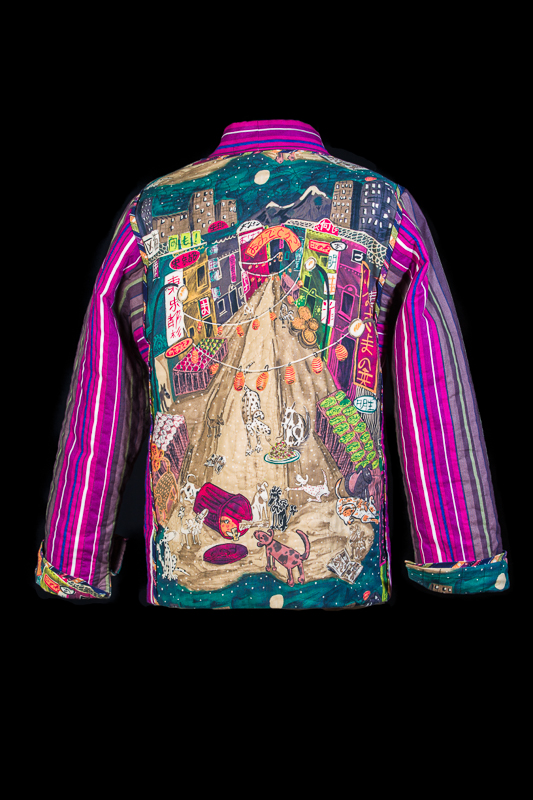 The basic quilted TRJ featured in this trio is an example of whole cloth quilting –  no piecing involved. Each garment section was joined to the batting with free motion quilting that outlines the fun Bow Wow design. Then the sections were assembled into the jacket.  A free hanging lining was used to finish the inside of the jacket before the band was added. The three prints used in this coat are such fun and resulted in a very bright and cheerful composition.  Read more in our blog post from 2014, Edye's Quilted Jacket.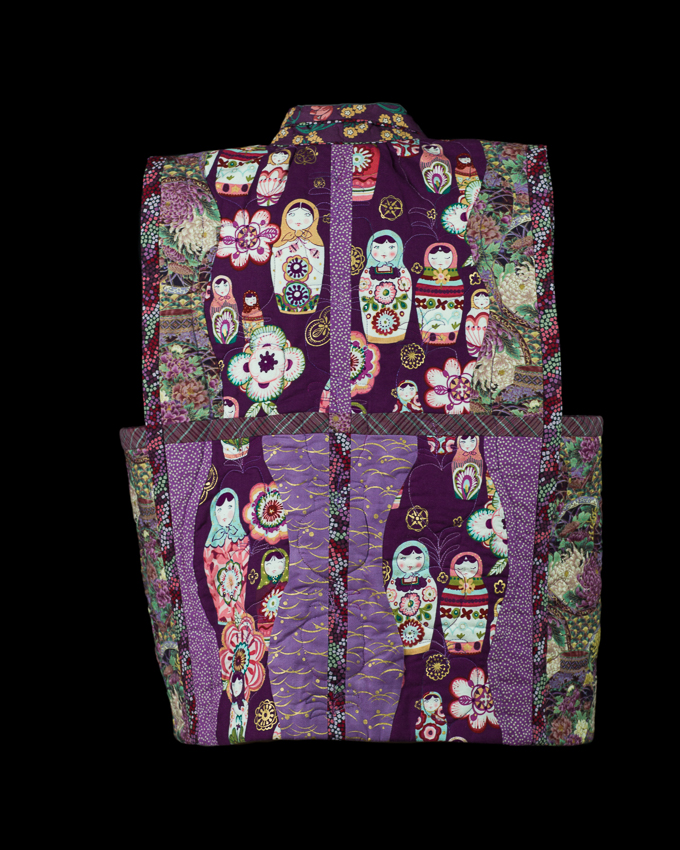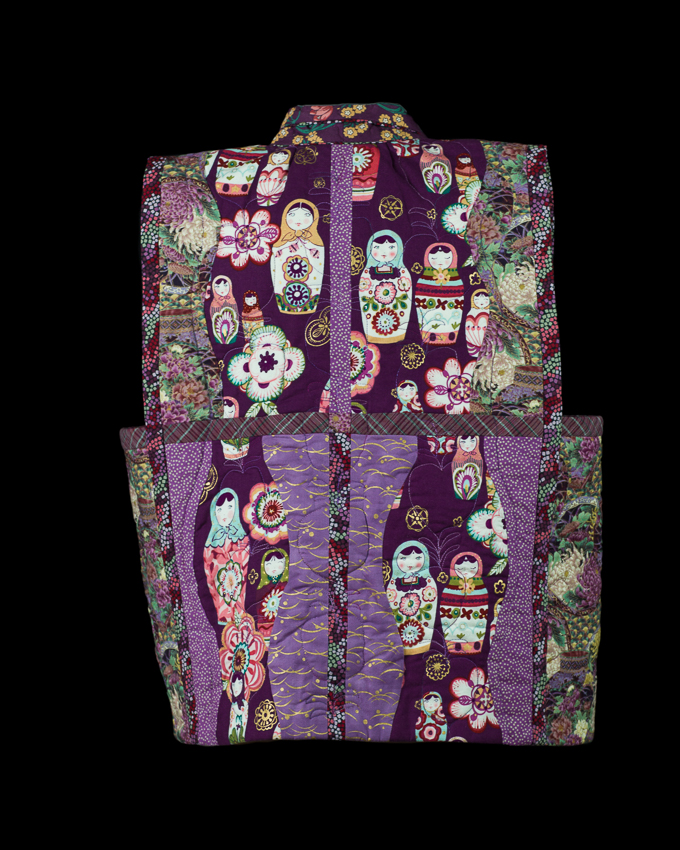 The second quilted garment in this trio is a vest.  Several fabrics were pieced to create the front and back design that features Russian dolls.  In addition to the piecing, this vest was quilted with the fabric, batting and lining stacked together.  It makes for a very compact layer, perfect for cool spring days.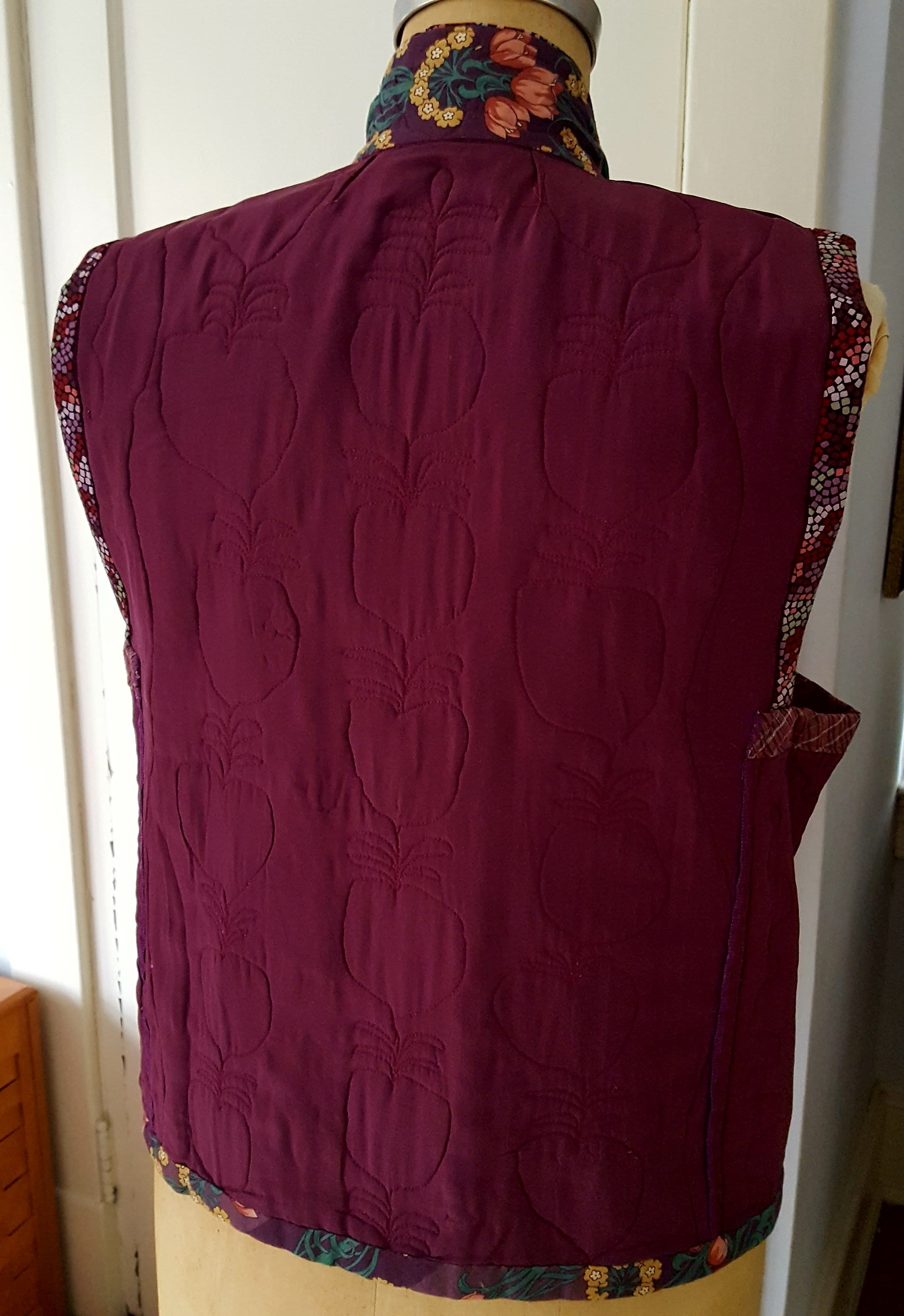 The band is the faux shawl collar design from the Band Variations and Pockets for the TRJ.  The directions for making a vest (by leaving off the sleeves of the TRJ) is in Swing Variations for the TRJ.  See more photos in our photo gallery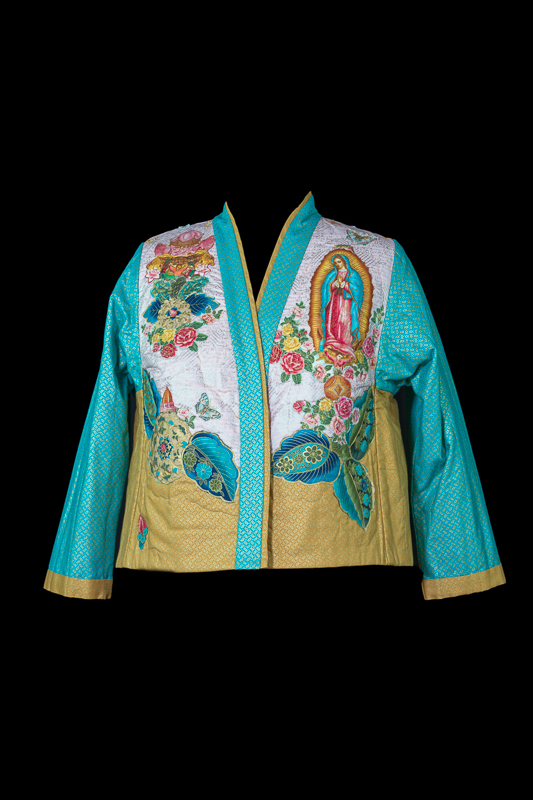 Our simply amazing jacket is the pieced, collaged and reversible Our Lady of Guadeloupe TRJ.  It has a spring and a holiday side so it is very versatile.  Directions for a reversible quilted TRJ, in which both sides and the batting are quilted section by section, can be found in the Quilting Tips booklet. See the reverse side of this fun jacket in the gallery.
Transitional weather is perfect for quilted jackets.  They are cozy but not too heavy or stiff when you use one of our suggested battings listed in the Quilted Tips book.  The book also features sections on choosing linings, design placement, and fit.  It is a great guide if you want to stitch up a fun quilted jacket.
Trunk shows are a fun way for us to show how versatile Fit for Art patterns are in helping you #sewsuccessfully and learn new sewing skills while building a wardrobe full of fun clothes.  Have you enjoyed one of our trunk shows at an expo, store or group event?  We have one scheduled in Crofton, MD on June 9 at Tomorrow's Treasures Quilt Shop.  Why don't you put it on your calendar?  Perhaps your sewing group would enjoy hosting a Fit for Art Trunk show, too.  Contact us for more information or to schedule an event.  (We will be headed to Cincinnati, OH and Novi, MI this fall; are you on the way?)
Happy Sewing, RAE
Enjoy receiving our blog? Sharing is caring, so forward this post to a friend by clicking on the Forward link at the upper right corner of your e-mail notification.  Remember that the beauty of the Fit for Art System is you can sew successfully with endless variations. Take a moment to review our variation patterns offered by clicking here.  Also, are you following us on social media?  Take a moment to check us out on Facebook and Instagram and follow the hashtag #fitforartpatterns and #sewsuccessfully.