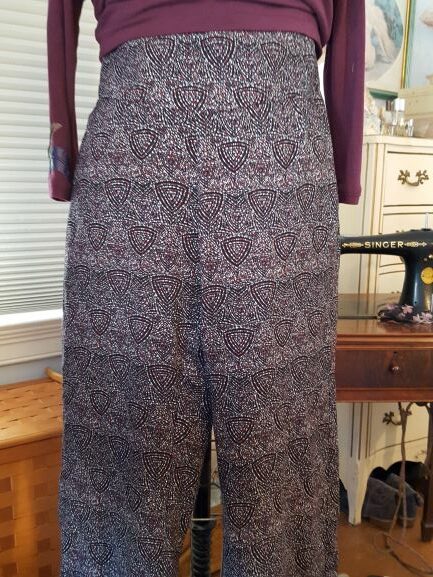 Let's close out 2020 looking at some clothes that are easy to wear during these "stay at home" times. Today, enjoy this look at some rayon glamour pants to sew for the holidays.  They have the wide leg silhouette and Hollywood waistband found in the Glamour Details Pattern for Eureka! Pants that Fit.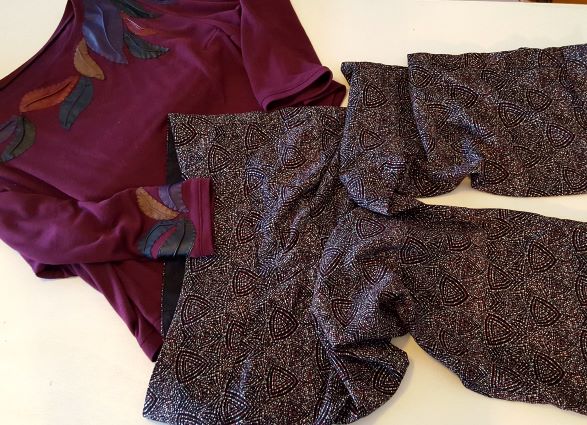 Rayon Makes Great Wide Leg Pants
My wide leg Eureka! Pants that Fit pattern was already developed, so once I had pre-washed this sophisticated rayon print with sparkly silver accents, I was ready to cut and sew.  I purchased the rayon from Vogue Fabrics at the Atlanta Expo in March, just minutes before it was closed early due to newly implemented virus restrictions.  I had looked at it longingly at several expos as I wanted some drapey rayon pants that would go with lots of my already made tops.  A quick look at the Vogue Fabrics website shows they still have the fabric and it is on sale.
Supporting the Hollywood Waistband
Because the rayon is soft, I decided to put a couple of bones in the extended front waistband so it would not collapse when I sat down.  I chose ridgeline boning which is easy to cut to the right length using old scissors and easy to insert into the extended Hollywood waistband.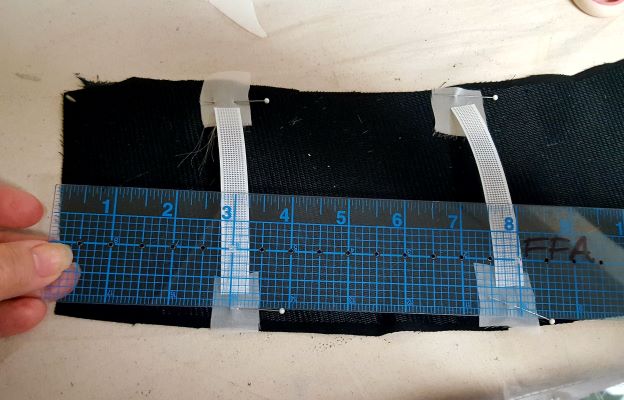 Once you decide where you want to place the bones, measure the width of the waistband and subtract the seam allowances.  The bones should not extend into eithre the seam that attaches the waistband to the pants or the seam that connects the facing to the waistband.  Cut small squares of silk organza to wrap the ends of the bones neatly.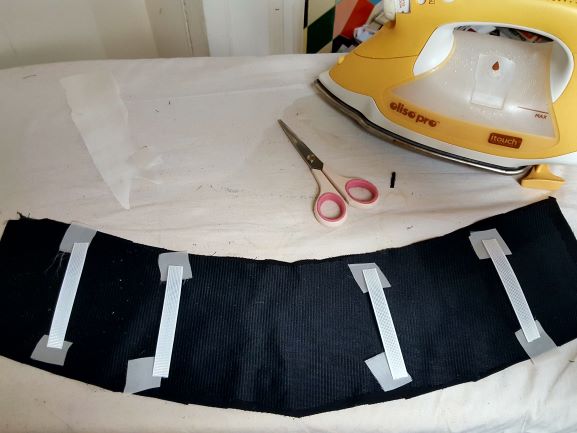 I placed the bones on the waistband lining which is cotton broadcloth interfaced with French Fuse.  I also interfaced the waistband with Envy Silk to keep it stable.  The ridgeline bones are stitched on by machine.  Stitch around all 4 sides of each bone capturing the organza endcaps into the stitching too.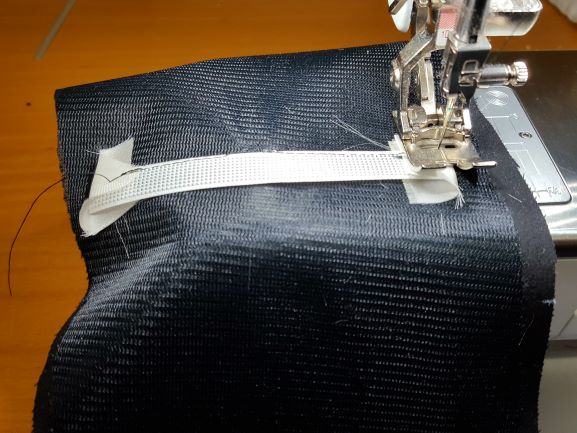 These extended waistbands are really comfortable to wear and sit very smoothly under shorter knit tops.  They are perfect for lounging.   The bones and interfacing work together to make the rayon Hollywood waist successful.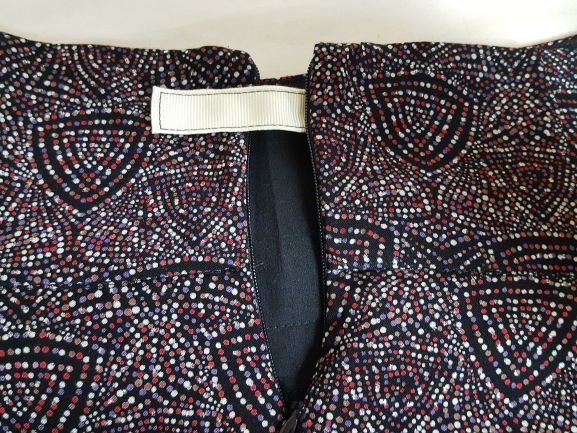 Get Comfortable Sewing Rayon
Are you comfortable sewing with rayon?  If not, join Carrie and me for our Luscious Rayon Tabula Rasa Jacket retreat Dec. 5-6.  We have teamed up with OSQE and SewBatik for some virtual group sewing. We will walk you through all the best practices as you get comfortable making a rayon Kimono, another perfect look for this upcoming casual holiday season.  Register right away through the Original Sewing & Quilt Expo and order your kit from SewBatik fabrics so you are assured a space in this virtual retreat.
Hemming the Pants for Stay at Home Ease
Because I usually wear wide leg glamour pants with a heeled shoe or boot, I had cut the pants long as I considered what hem length would work. My COVID dilemma is whether to hem the pants to wear with flats, my pandemic shoe of choice, or leave them long to wear with heels once the world is back to normal.  After some thought I decided to put in a 2½" deep machine stitched hem which is perfect for heels.  Then I pressed 1¾" up into a deep cuff so for now they will work great with flats.  Since rayon drapes out of folds easily, I have slip stitched the cuff to the pants all the way around each leg.  When I am out and about in heels again, I will remove those stitches and press the hem out to its original longer length.
There is a Tabula Rasa Knit Top to Match
With plenty of time to sew and lots of fabric in my stash, I also made a Tabula Rasa Knit tee to coordinate with my new pants. It is a heavy weight jersey in the perfect plum color.  The piece was small, so a cropped Tee was the perfect project.  To brighten it up, I repeated the applique technique from my Scrap Happy White Top around the neckline and on one sleeve.  These appliques are made from leather scraps and they are warm and wonderful for the fall and winter season.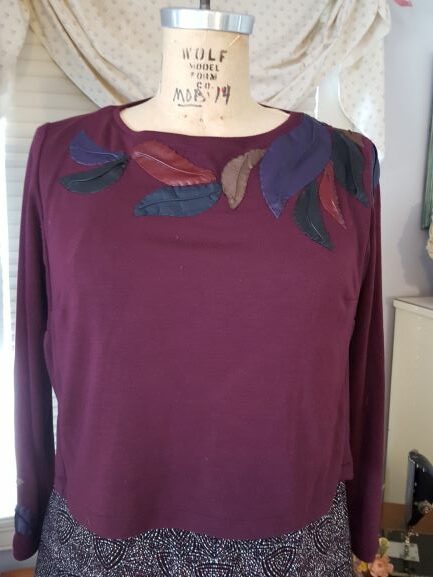 Feel Great and Sew Comfy
Watch Instagram, Pinterest and Facebook this week to see more photos of the planning and making of this leather trimmed tee. We will be posting more TRJ's and TRK's that are comfortable and mood elevating as we travel together through this altered holiday season.
Stay well and Sew Happy, RAE