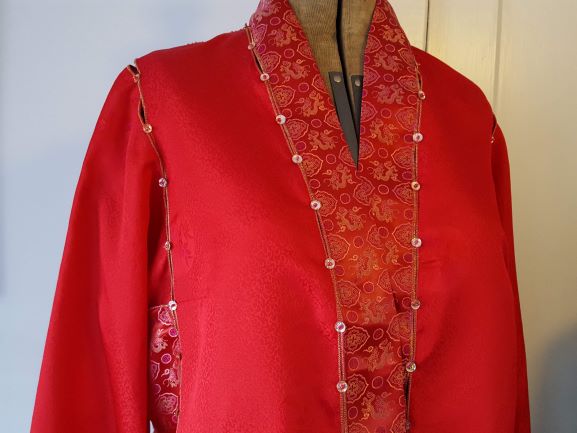 When I find a sewing technique I love and master, it is time to push the technique in a new direction.  My current article in Threads Magazine, Beaded Connections, is a perfect example of continuously stretching a favorite technique.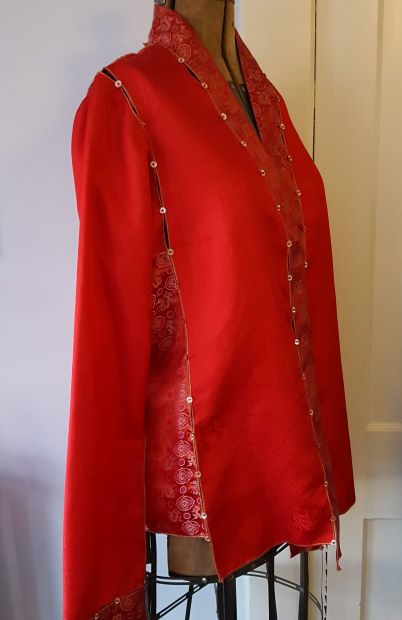 Why Rolled Edge Seams?
In the beginning, I first used rolled edge serger finishes on the hems of sheer garments.  Then I progressed to finishing the actual seams with rolled edges, first on the inside, then as exposed seams on the outside of both woven and knit garments.  It is a casual way to finish seams in light fabrics.
This new beading technique moves the rolled seam finishes one step further.  The Threads article gives you all the info you need to try out this fun beaded seam technique.  Here are a few technical tidbits to assure your beaded connections are successful.
Make Test Samples!
I have made three complete garments using this technique: rolling the edges of each garment section and connecting these edges with beads and sequins to create seams.  While it is not a quick and easy technique, it is a fun way to dress up a garment made with a TNT (Tried and True) pattern.  For the Threads sample, the Tabula Rasa Jacket.
Here you can see samples made for each garment I have constructed using this method:
A beaded sample hung on the form to see how it drapes.

Facing samples

The two coordinating red silk gazaar fabrics used in the Threads Jacket were very buoyant so I used facings to control the shoulder area and hems of the jacket. These samples test thread choices, machine tension, bead colors, interfacings, etc.

These navy rayon fabrics are constructed into a sample based on our coming soon Fit for Art Tunic pattern for woven fabrics. The rayon is soft and drapey and is anchored with interfaced facings in the neckline, shoulders and hemlines.  The facings give both support and weight to this tunic with thread finishes.

Thread and beading samples

The white and gray samples were made for the Denver, Head to Toe in Snow evening gown I entered into the Threads ASDP Challenge over 10 years ago. The overdress was rolled and beaded together with a lining underneath to give the garment structure.

Beaded seams on the snow gown
What Beads Make Successful Connections?
I love the look of a cupped sequin and a bead or two to anchor the sequin.  The sequin hides the thread stitches and knots which hold the garment together and provides lots of sparkle.  A contrasting bead can add a different sparkle and dimension to the seam.  Keep the beads small and the sequins in a medium to large size.   If there are no beads in my stash, I order beads and sequins in several sizes and colors so there are several good choices.
Pin together the two rolled pieces that are to be seamed together.  Safety pins are a good way to anchor the pieces at the desired intervals before beading them together.
Set up a beading station with one or more shallow dishes to hold the beads.  Work on a flat surface that will allow the garment sections to rest on the surface during the beading process.
Fine beading needles and matching thread are essential.  Choose a hand sewing needle that slides easily through each bead that will be used.  I like having an entire package so if I bend one there is a new straight needle to take its place.  When I ordered beads for the red jacket from Cartwright Beads,  I added a package of needles to my cart and was very glad for it.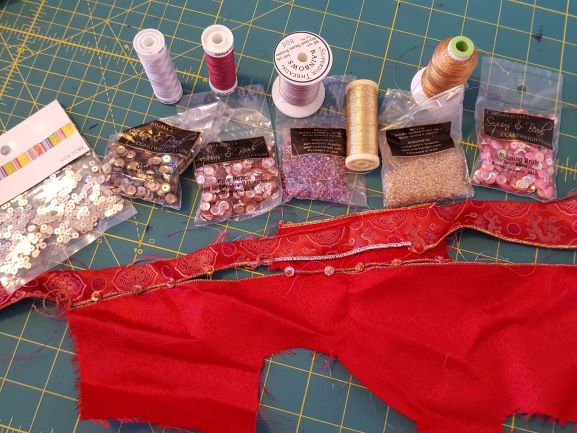 Anchor the seams first, then stitch the sequin and bead connections over the anchoring stitches.  Be sure to knot the thread well, especially if you are using a rayon or metallic thread which can easily come undone.  Once you knot the thread, feed the needle and tails through a section of the rolled edge finish to keep the ends secure.
Stagger the Hemline.
Rolling the edges of each section of the garment is not always a precise exercise.  Staggering the hemline, piece by piece, turns these imperfections into design details.  Then the garment and the designer can share a little chuckle to celebrate a design that makes their work a bit less stressful and a bit more interesting.
Have Fun Creating New Holiday Garments!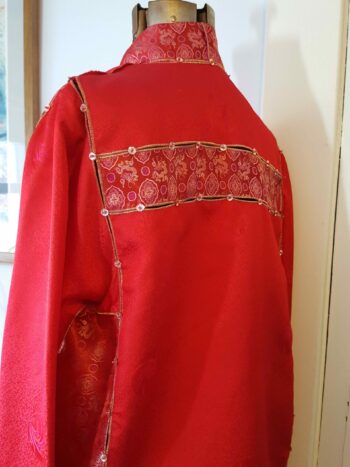 Now is the perfect time to try out this time consuming but lovely technique.  Use some stash fabric (or order some fabric from our friends at SewBatik) and make a soft sparkly top or jacket so you can feel festive during the casual 2020 holiday season.
While you are reading Threads issue #212, take a look at the article on needle felting by Ellen Miller.  She also used the Tabula Rasa Jacket pattern, and shows a different yet festive way to dress casually for the holidays.
Need a holiday gift for a sewing friend?  Ellen's wonderful book Creating Couture Embellishment is a contemporary classic and will be appreciated by any creative stitcher.  Visit her website to order a copy for yourself and one to give a friend.
Stay Well and Sew Happy, RAE
P.S.  As always follow us on Facebook or Instagram this week to see more examples of these techniques.