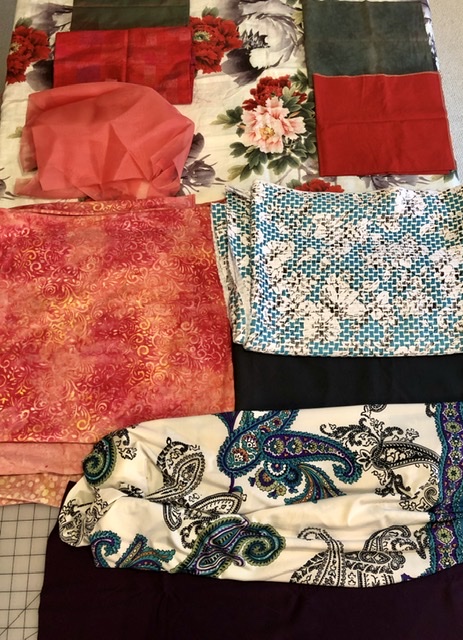 When times are good and when they are hard, sewing is one of my reliable friends.  So when we found out last Friday morning that the OSQE in Atlanta would close a day early, we spent a busy day teaching and giving trunk shows before packing up and heading home.  It is a long drive but for a good part of the trip we were uplifted by talk about our new found time to sew.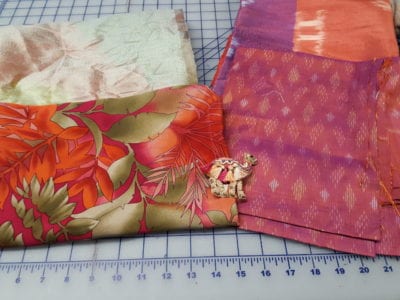 As with most Americans, we in Maryland have been asked to stay home and try to keep the COVID 19 virus at bay.  In addition, most of our busy spring events are on hold or postponed, so we are ready to sew.
After a restful Sunday, I headed to the studio to find some projects.  Perhaps you could say to unearth the things already on the list of spring sewing projects.
Fit for Art is always testing new ideas and many of these projects are samples to move our new patterns forward.  Today Carrie and I will share photos of our fabrics and an idea or two about what each will become. We plan to post our progress on Instagram and Facebook, even if it spills the beans about our new patterns to you, our sewing friends.
Rae's Projects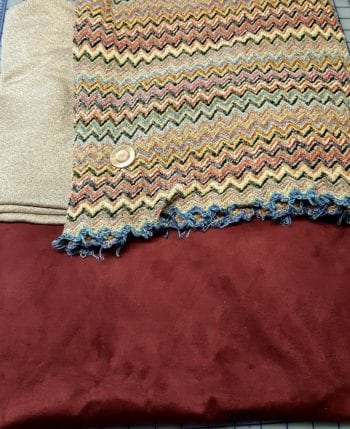 I have been wanting to stitch up this Missoni knock off fabric since I purchased it in Revel France at my favorite fabric store 3 years ago.  It is going to be a fun Tabula Rasa Knit variation.  The rose faux suede fabric will become skinny Eureka! Pants that Fit just like the navy ones I talked about in the Tale of Two Pants.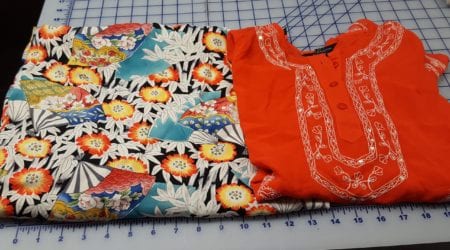 This orange chiffon embroidered georgette top is so pretty and it looks great with this colorful rayon I have wanted to use for a very long time.  The top is an XS so it will just be trimmings for a new Swing Variation top.
These two fabrics are for my daughter Anna.  We bought them in Revel last year during the Enchanting France – Embellishing Fabric Retreat.  The printed linen will be a Tabula Rasa Jacket with the Rain or Shine zipper variations with faux suede trim.  The soft sweatshirt fabric, a Tabula Rasa Knit.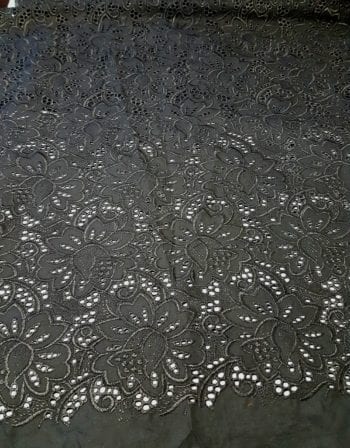 This is destined to be a summer top or dress.  I love black that has a little secret underneath.  I will underline the garment so it will be pretty on the inside and out.  These have to be pre-washed so they will not be my first project!
Carrie's Projects
My head is reeling after looking through my stash!  So here is my first round of priority projects for this treasured sewing time.
Last fall our friend Diane of SewBatik gave me a group of their cotton knit batiks to make into a Tabula Rasa Knit sample for her.  I felt badly about not getting it done in time for the Atlanta OSQE, so my very first garment will be a Wide Neckline Variation for Diane to model in peachy shades for spring.  I know the folks at SewBatik would be delighted to ship fabric for your projects while "social distancing".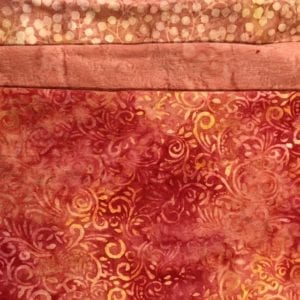 As soon as I finish the pattern work for our coming-soon knit variations, I have two sets of fabric to use to test them.  My daughter picked out the bright, bordered ITY a few years ago, so it is time to put it to use, pairing it with the solid light weight ponte knit that has been resting in my stash since she was in college in Chapel Hill.  For me, the less fluid teal/white/black textured print and, on the practical side, a pair of black shantung silk Eureka! Pants for spring.  I do wish I could find a knit in that shade of teal to use with it!
I purchased this digital print linen a few years ago at one of the expos we attended.  I love the peonies and Asian accents, but the size of the print is challenging; it has lead me to decide it needs to be a dress, and so requires a little more planning.  I am also searching for a semi-solid accent fabric to use with it.  So far I've found in my stash a red or green hand-dyed cotton, pink organza, or two different cross-weave silks.  I'm sorry the color is not better, but which do you think would be the best complement?  I could also make a trip to Rae's to check out her stash….
While I am busy working on these projects, I will be dreaming about things I could make in the next round of sewing with these fabrics from my travels around the world!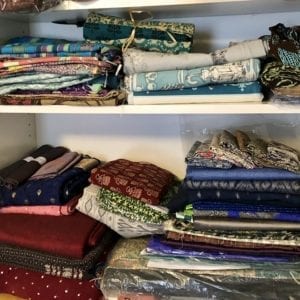 If you too are finding extra time to sew and are making some fabulous Fit for Art creations, share them with our hash tags, #sewsuccessfully and #fitforartpatterns.
If you need some inspiration, visit our photo gallery, blog archive, and Pinterest boards for ideas, then place an order if you need a new core pattern, variation, interfacing, rulers, or a starter kit.  We are still happily filling orders so you can keep busy!
Stay well, be at peace and spend some quality hours creating at your sewing machine during these unsettled times.
Happy Sewing, Rae and Carrie