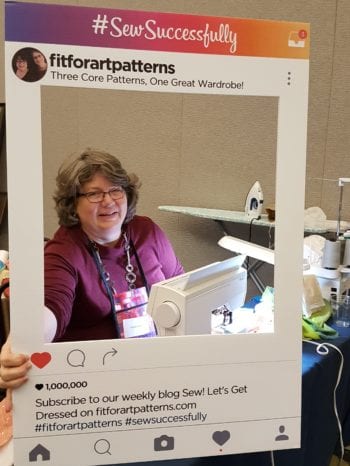 We are always talking about developing Three Core Patterns for One Great Wardrobe. Today we introduce Marie who has conquered all three of our core patterns and is gradually stitching up a comfortable and interesting wardrobe.  Because she is pleased with her new wardrobe additions, we are tickled pink!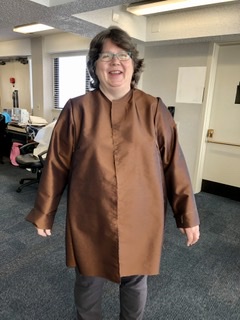 It was our pleasure to work with Marie for the first time in 2018  at a Tabula Rasa Jacket workshop for the South Carolina chapter of the American Sewing Guild.  She made a mock-up and started a very fun jacket which she has enjoyed wearing.  This started her down a path to sewing successfully with Fit for Art.
Shortly after that class, she registered for our Spring Retreat and spent several snowy days developing her Eureka! Pants that Fit Pattern.  She also worked on her Tabula Rasa knit top with hopes of teaching a knit top class at Sew Suite Studio in Sommersville, SC where she works. Marie has since taught the Tabula Rasa Knit Tee & Tunic pattern and is preparing to teach with the Eureka! Pants pattern too.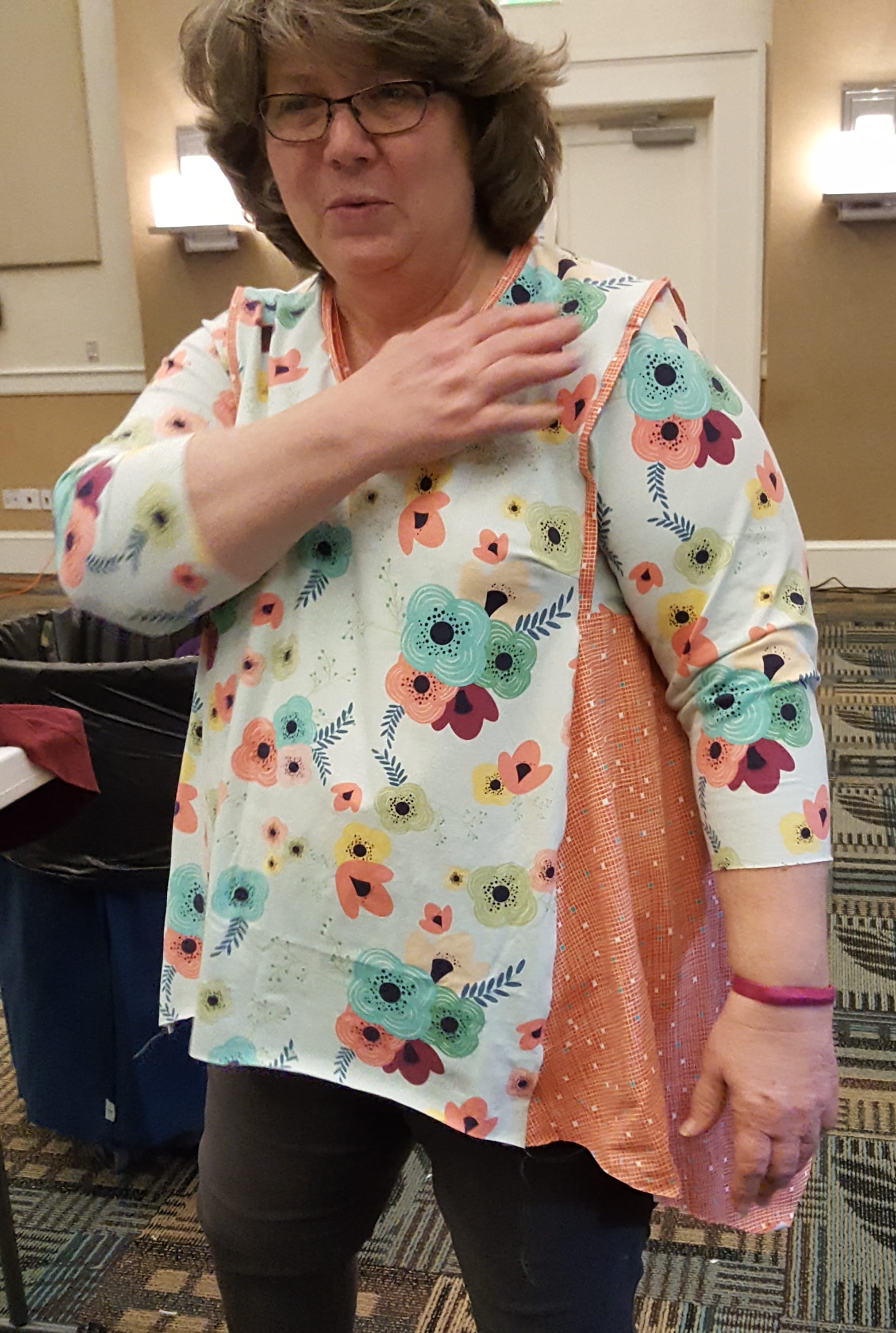 In  January of 2019 I worked with Marie again at Stitchin' at the Beach where we made some adjustments to refine the fit of her Tabula Rasa Knit pattern. Read more in the post An Improved Fit.  What is so exciting is that she has had success with her adjustments and is able to share all these improvements with her students.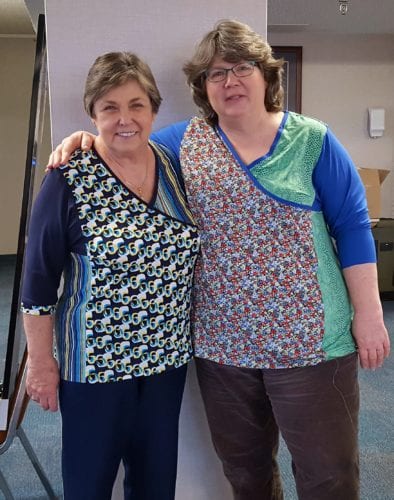 Marie and her friend Diane came to our Spring 2019 retreat too, and spent 5 days sewing up a storm.  She made several knit tops, played with the fluid textile paints, and also made a few pairs of pants.  But her biggest project was a reversible raincoat.  She had ordered two colors of water resistant outerwear fabric and a zipper to close it up.  She adjusted her Tabula Rasa Jacket pattern with the Rain or Shine Variations to create her zip front hooded reversible coat.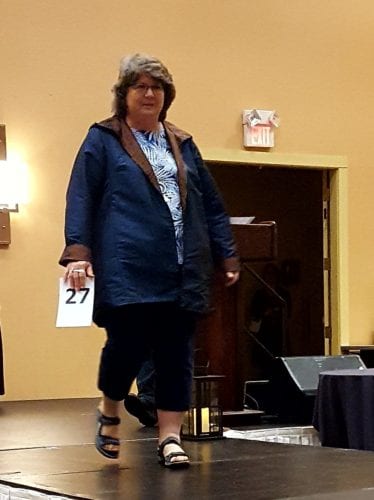 She even modeled it in the ASG Fashion Show at last summer's national conference. The fashion show theme was "One if by Land, Two if by Sea".  She had two great sides to show off.
This fall we were honored that Marie came to our Eureka! Pants Professionals licensing class in Milwaukee at the ASDP conference.  Now she is officially a licensed Eureka! Pants Professional and can guide sewing gals toward finding their best fit with our fabulous pants pattern.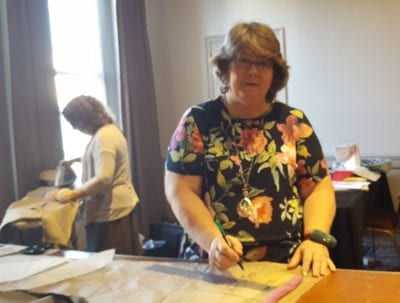 When I taught a 2 day Eureka! Pants class at Stitching at the Beach this January, Marie was my patient and able assistant.  I am not sure I could have managed without her.
Since Marie is everywhere great stitchers are gathering, she was also at the 2020 Sewing and Stitchery Expo taking classes and stopping by our booth to help when we were really busy.  We were also pleased to size her daughter for the Tabula Rasa Jacket so she too can begin her sewing journey.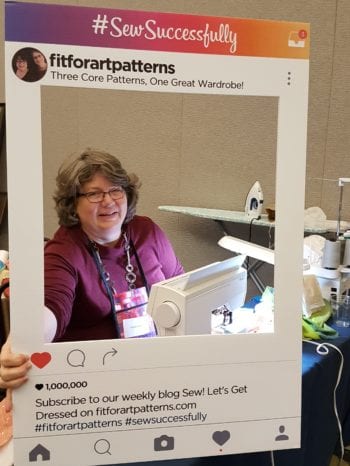 Marie really does embody our slogan, #sewsuccessfully with #fitforartpatterns.  We are sure that you can sew successfully too!  Begin or continue your Fit for Art journey by attending the 2020 Spring Retreat April 22-26. There are still a few spaces remaining.  You can set your own agenda as you plan and sew new additions to your handmade wardrobe.
Happy Sewing, RAE