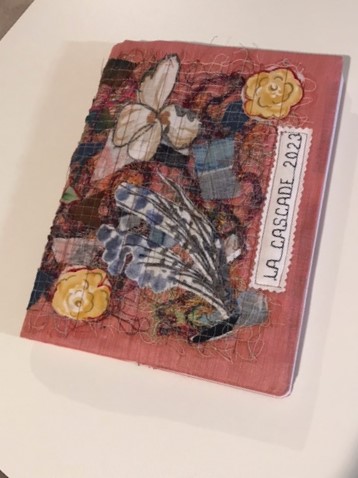 We are delighted to see this Scrap Lace Book Cover created by Linda, one of our 2023 La Cascade retreat participants!  Because she shared her accomplishments with us, we are able to share them with you.  Perhaps this will be an encouraging inducement for you to join us July 17-24 of 2024 in France for our annual retreat.  Registration is open, so plan now to join Fit for Art for this fun adventure.
Playing with Scraps in France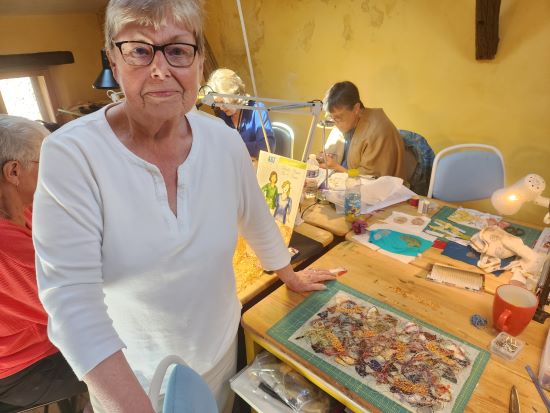 During the final days in the studio this past summer, we introduced scrap lace making techniques to the group and each student had access to the water soluble film used to create this fabric magic. They also had their own materials and the aggregate supplies from others through the years, to make a piece or two. They could use it in their final projects or play with it once they returned home.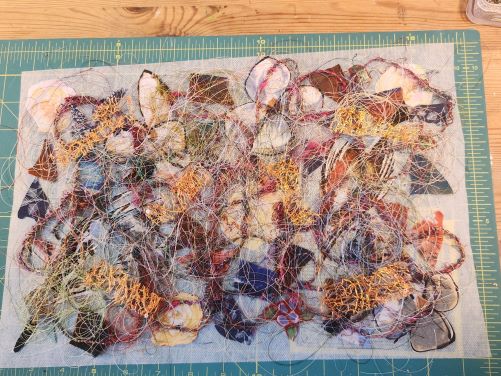 We snapped a few photos of Linda while she worked on her piece of lace. She had thoughtfully brought to France a very orderly coil of threads that represented a couple years worth of ends collected while changing the thread on her machine. She used these threads as her base and added some larger appliques on top for this piece designed to decorate a composition book cover.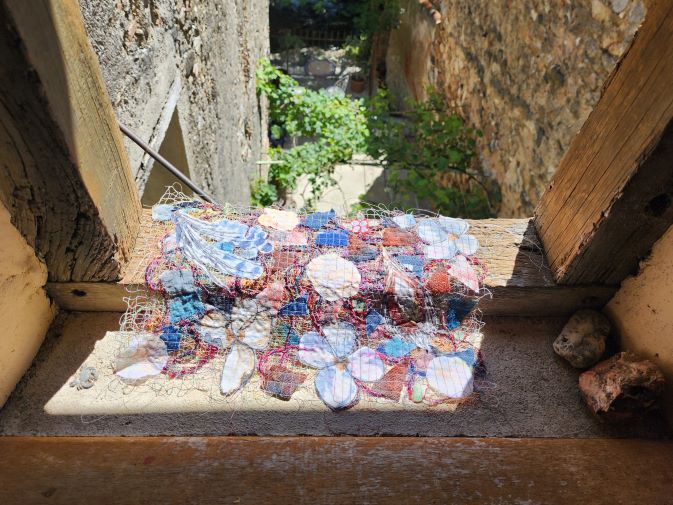 After securing the scraps and threads with the sewing machine, she washed away the film and set her lovely composition in the sunny studio window to dry.  She also picked out a backing fabric and cut the required amount for the book cover before packing her suitcase to head home.
Here is Linda's Follow Up Report
The lace mounted on fabric and embellished.

The scrap lace was smaller than the book size, but I think it looks good. I like the raw edge. I hope it holds up over time. You probably remember I didn't like the right side because I'd used too much scrap thread, so this is the wrong side. The flowers were very muted so to bring out the colors I appliquéd the yellow roses over the original ones & used my water color pencils to darken & highlight the others."
Scrap lace is whatever you want it to be. Either side can be the perfect side for your ultimate plan. Plus, any additional elements can be added to enhance the original piece. You can see that she also added her La Cascade 2023 label.
We will be sharing with you directions for making your own scrap lace as this year's holiday gift for our blog readers.  It can be used to decorate all manner of crafts or garments, so we hope you will try it out.
Linda also added that she lined the book cover, which we will show you on Social Media this week.  It is a neater application than our basic book cover directions.  There are so many possibilities and we hope you put your personal stamp on each of your own creations.
A Treasure to Remember a Special Week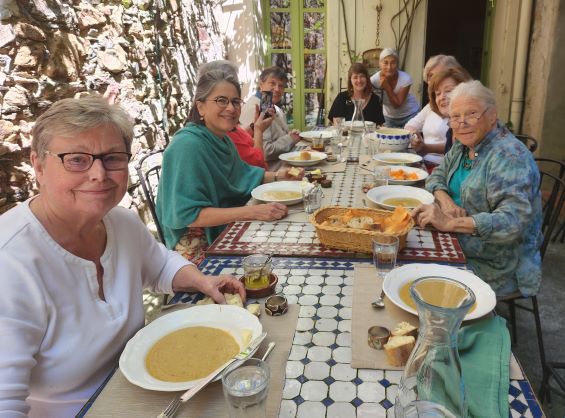 We think this is  a lovely treasure and memento of Linda's week in France at La Cascade with Fit for Art! Perhaps we will welcome her back again another year for more fun embellishing ideas and sewing camaraderie.
Read about our first experience playing with scrap lace in a Baltimore ASDP workshop led by our friend Mary Ray.  Stay tuned for our directions.  You can begin collecting precious scraps and threads now so you will be ready when we reveal the details and show you some other ways to use these fun creations.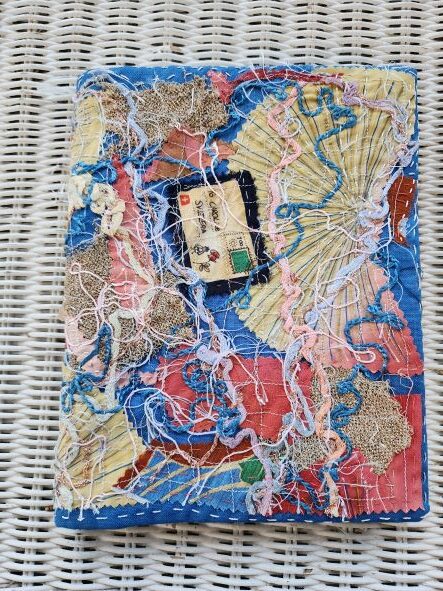 Happy Sewing, RAE
.