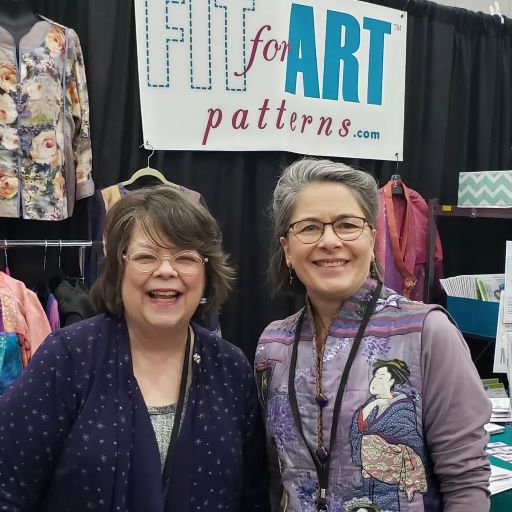 As we transition to new weather, how should our wardrobes transition to stay up to date?  Sew comfortable layers! While I am always interested in checking out the advice in the online fashion columns, I do not always choose to follow the trends. Our featured image above, taken by a friend at last year's Atlanta Original Sewing & Quilt Expo, sure is following this years color trends.
Consider colors and fabrics in fashion
The color directions being touted this year are blue, lots of blue, and soft colors like pink, beige, light green and lavender. There is also a nod to bright color: blood orange, magenta, bright green and teal. If such fabrics are lurking in your stash, get them out and consider some possibilities. Floral prints are of notable interest too.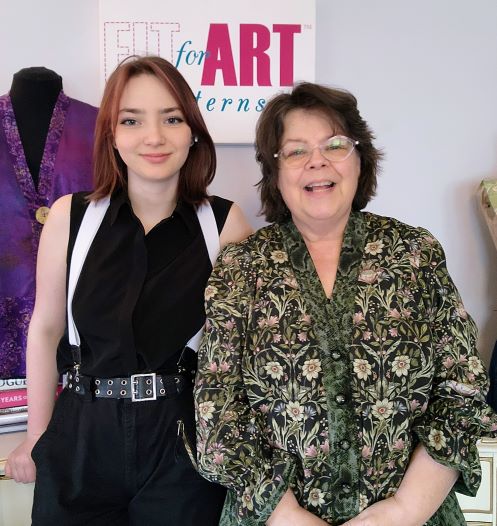 As for clothing, accessories and fabrics, we are still seeing wide leg pants and denim made not just as pants, but dresses, jumpers, jackets, etc. Lots of comfortable looks and flat shoes. I just recently added a new pair of boots to my wardrobe for the winter to spring transition. They have the chunky, comfortable, casual aesthetic that is really a strong fashion look, but with a bit of whimsy, which I love. Hoping to add some new black ballet flats or other dressy little shoes as we move into the new season.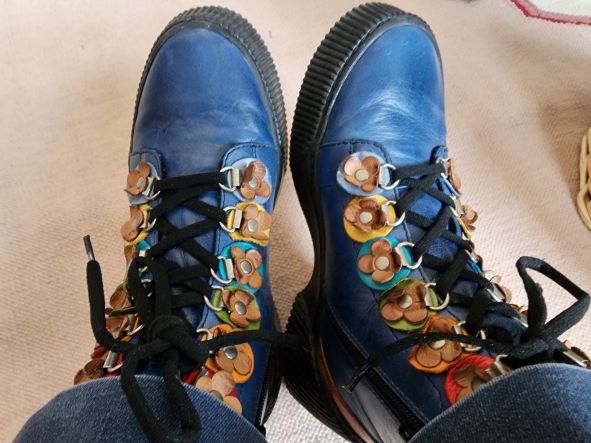 Choose your own direction
Here are a few Fit for Art makes I am looking forward to wearing. (Most of them have blog posts about their creation so click on the purple letters to read more.)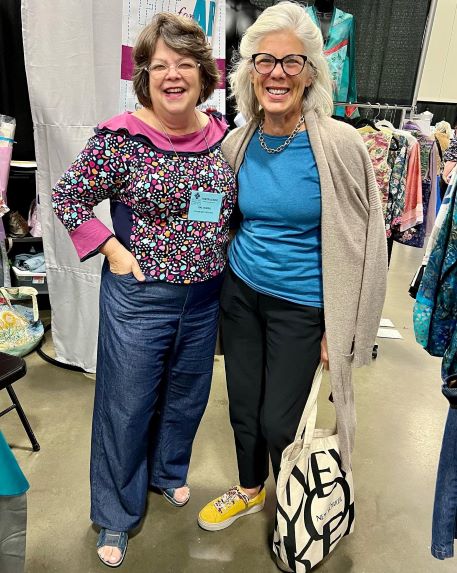 My denim wide leg, high waist Eureka Pants with Sporty Details (jeans styling) and Glamour Details wide legs. It looks great with a scrap happy tee made with the Wide Neckline variations and the Tabula Rasa Tee pattern.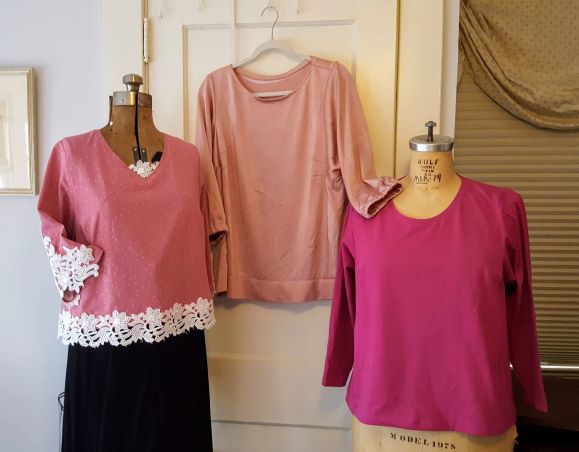 My Wanna Be Missoni Twinset and soft rose faux suede or olive tapered Eureka! Pants will get some use this spring as well. Both of those pants will compliment my new Swing Variation of the Tabula Rasa Jacket too. I am also hoping to get more wear out of all my pink knits tops and the beautiful beige and gold quilted jacket with pink accents featured a year ago on this blog. Quilted jackets are perfect when stacking several light layers in the transitional seasons.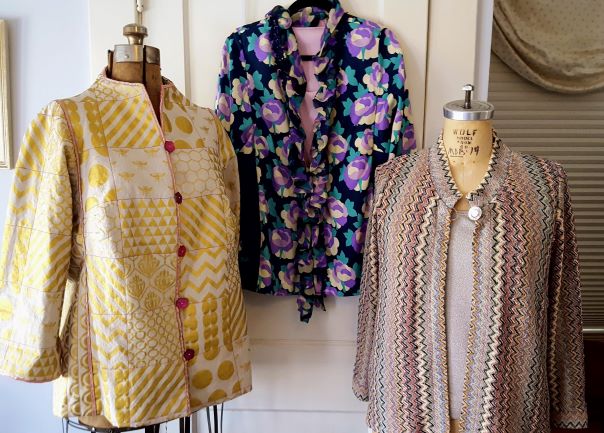 The fun blue and black Funnel Neck top in last week's blog post is going to look great with both my black cotton wide leg pants and my drapey black rayon Glamour Pants variations of the Eureka! Pants that Fit. The wide Glamour Pants are so fun when paired with short tops.
New designs should mix well with old favorites
Here is a group of fabrics I am playing with for a short dressy blouse to wear to an April wedding with my blue silk Glamour Pants. I am currently designing around a necklace I rarely wear but like a lot.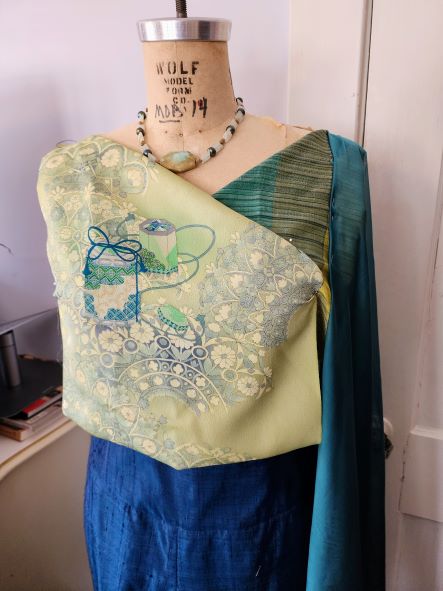 I know for a fact that Carrie is looking forward to wearing the Seawool Jean Jacket variation on the Tabula Rasa Jacket which she has been featuring on social media recently.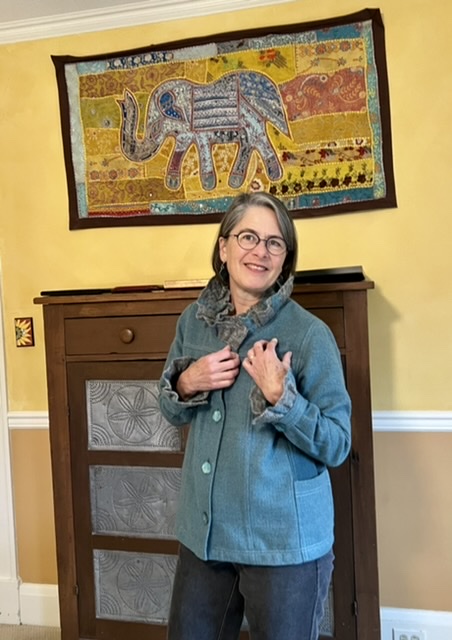 Keep an eye on Facebook and Instagram this week for more of our favorite transitional looks and some fabrics we have an eye on to perk up our wardrobes for spring in Baltimore.
Each new season can inspire lots of new projects.  As you add pieces to your wardrobe, plan to design and sew comfortable layers that will coordinate with several other pieces already in the closet, your favorite jewelry and shoes.
Happy wardrobe planning and sewing! RAE