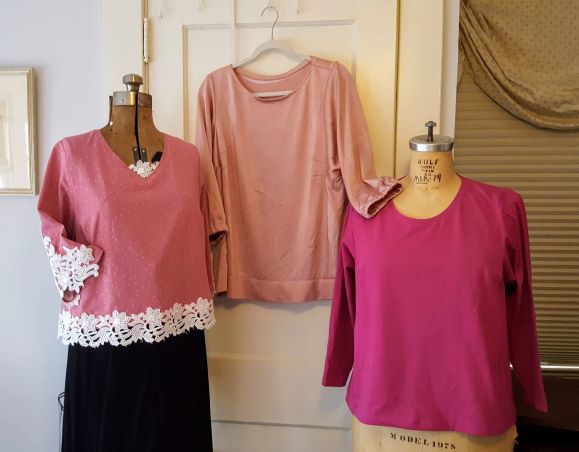 Over the last few weeks while Carrie has been working on her new summer wardrobe, I have been sewing pink Tabula Rasa Knit Tees. Seems I wore out most of my essential tees while living through isolation and was reminded of this every time I wanted to wear my beautiful new quilted coat. Now that I am out and about more, it was time to source the fabric and get stitching.
Start with a Basic Pattern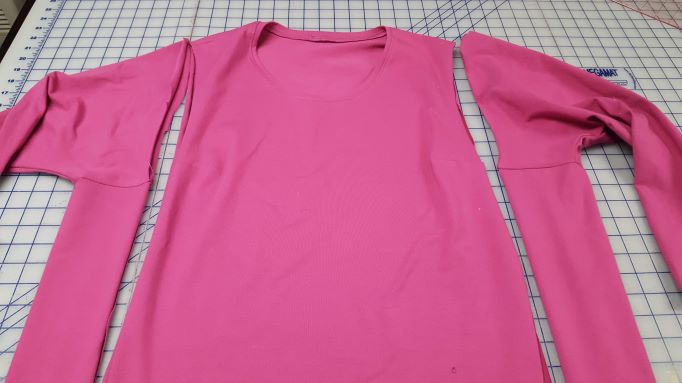 My basic Tabula Rasa Knit tee pattern was the starting point for each top. The magenta tee with ¾ length sleeves has the pattern's basic U neckline and 1" turned up hems. Though unremarkable, it will complete many ensembles. On social media earlier in the spring you all voted unanimously for this fabric over the subtle polka dot fabric for a tee to wear under my Russian Dolls quilted vest.
Change the Neckline to Create a Place for Lace
The basic pattern was adjusted with the V neck template and a cropped length for the pink with white polka dot jersey. It is trimmed with white guipure lace from my stash. A look at our Sewing with Knits Pinterest page reveals that I have been drawn to lace trimmed knits for some time; this tiny polka dot fabric seemed perfect for a summer tee trimmed in white lace to complement my Hollywood waist glamour pants. Perhaps you voted for this lace or one of the other choices. Once I test washed each of the other lace options, this one seemed softest and scaled well for the project.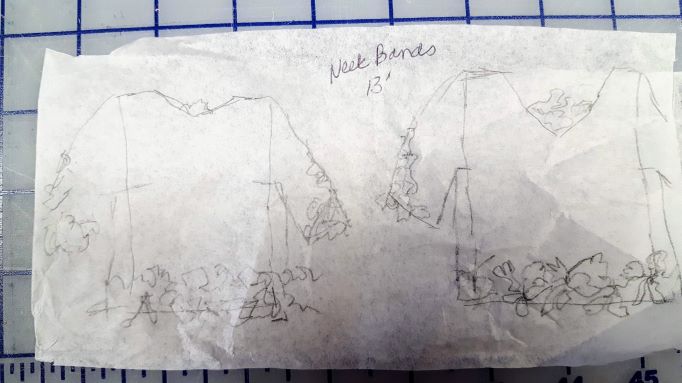 I ordered both of these knit jerseys from Stone Mountain and Daughter in the Bay area. They are excellent quality and were very true to the color advertised. Many years ago I had the pleasure of visiting their wonderful store. I found their online store when searching for some Echino Canvas. Once on the site, these two lovely knits jumped in my cart too.
Adjust the Fit for a Knit with Less Stretch
The third tee is made from a stash rayon sweater knit, at least 20 years in my possession. I remembering buying it at Baltimore's own A Fabric Place and making an oversized shaker sweater when I was not as confident about sewing knits. It is a beautiful pale mauve, the perfect color to wear under my gold and pink quilted coat and my unlined home decorator Tabula Rasa Jacket.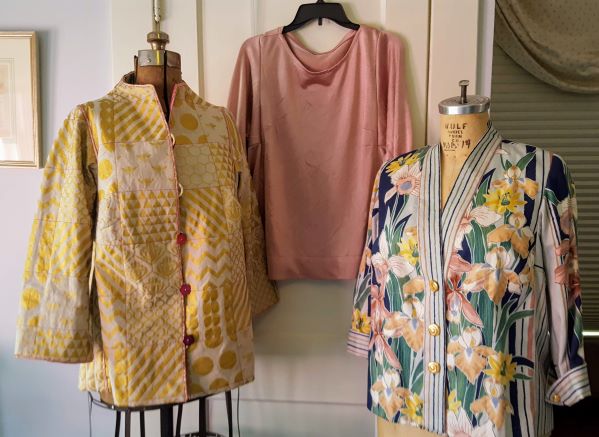 The fabric is pretty slippery and has very little lengthwise stretch, so I cut and stitched it, adding an additional dart for a better fit. I also used a deep hem interfaced with Envy Silk, elastic casings to finish off the bracelet length sleeves, and a turned under boat neckline from the Wide Neckline Variations. I find these techniques work great for longer length sweater knit fabrics that are designed to be worn with a scarf or statement jewelry.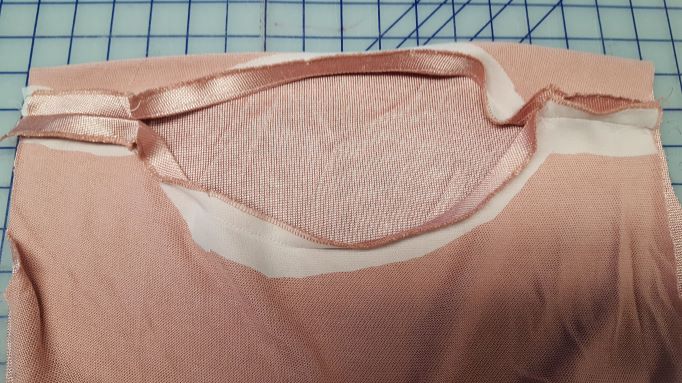 Keep an eye on Pinterest, Instagram and Facebook this week to see more about the specific details for each top. It's not especially fun to stitch simple garments, but we sure need some of them to get dressed every day!
Sew Essential Elements for a Successful Wardrobe Refresh
For me, pink tees are like black pants, essential! What are the essential elements in your wardrobe? Do you purchase nice fabrics you see for these garments in advance of actually needing to replace them? Having the fabrics and then finishing my tops so they are ready to wear will keep my outlook rosy all spring and summer long.
Are you coming to the ASG conference in San Antonio at the end of June? I am teaching a Notable Knits class there and I would love to have you join me for this conversation about making basic and embellished knits to extend your wardrobe in comfortable and unique ways.
Happy Sewing, RAE