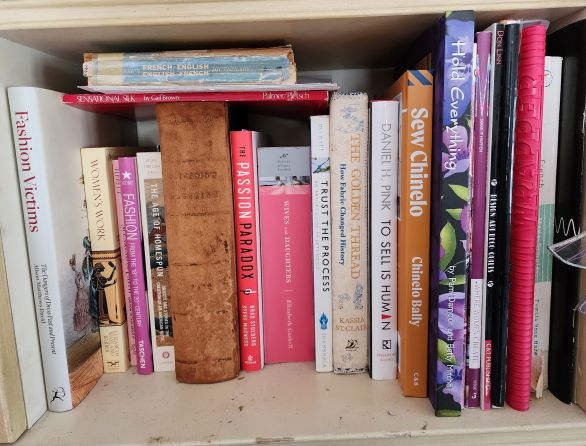 Even if sewing is your favorite thing, reading about sewing can also be fun. Here are a few of our winter reads that fit that description. You might enjoy reading them too.
There were several fiber related books under Rae's Christmas Tree.  First off a recently published book entitled Worn, A People's History of Clothing by Sofi Thanhauser.  It is packed with good information about the history of garments and the cloth they were made from.  The text is organized around 5 different fibers used to make clothing: linen, cotton, silk, synthetics and wool.  Each section is packed with information about the fibers initial discovery through its use in contemporary times.  It is also interspersed with honest and sometimes uncomfortable information about the situations of the workers who produce the fabrics from the fibers and stitch up the garments created from the fabrics.  The environmental and ethical issues associated with fabric and garment production are topics the author presents eloquently.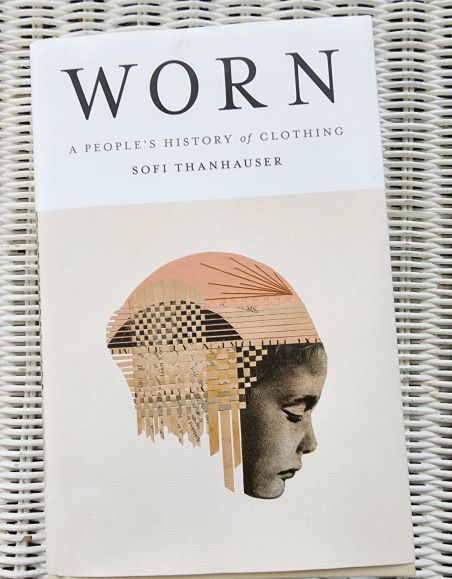 While this can be an uncomfortable book to read, it is interspersed with information about micro production of fabrics and clothing that offer glimmers of hope for the wise stewardship of our resources moving forward.
If you are interested in fiber but not quite up to this lengthy and meticulously researched book, try out one of the two fiber related books we reviewed in 2020, The  Golden Thread and The Fabric of Civilization.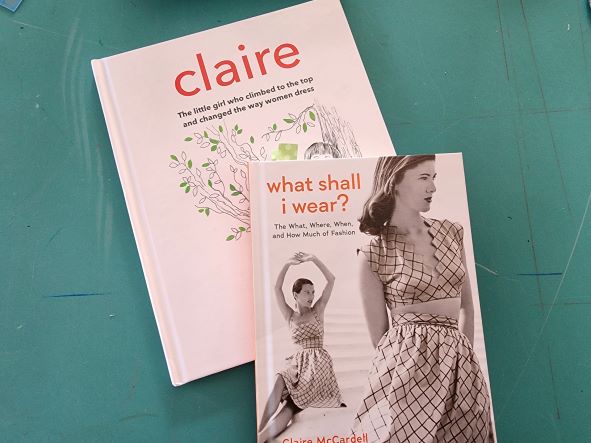 For a lighter but a bit dated read try What Shall I Wear by Claire McCardell.  Ms. McCardell was an influential but often overlooked fashion designer who introduced sportswear and athletic clothing to the women of America in the immediate post WW2 era.  Her work and philosophy of creating clothing that is fun and functional is having a revival of sorts.  This little book, which she published in 1956, is rather a stream of consciousness exploration of her philosophies about getting dressed and women's clothing in post war America.  
The forward, by designer Tory Burch, prepares the reader for some of the dated ideas presented in the book, especially around ideal body shapes and gender roles. Rae chose to skip over those annotations as an expression of the popular culture at the time and possibly annotations by a ghost writer as proposed by the curator of a current exhibit of her work at the Maryland Center for History and Culture in Baltimore.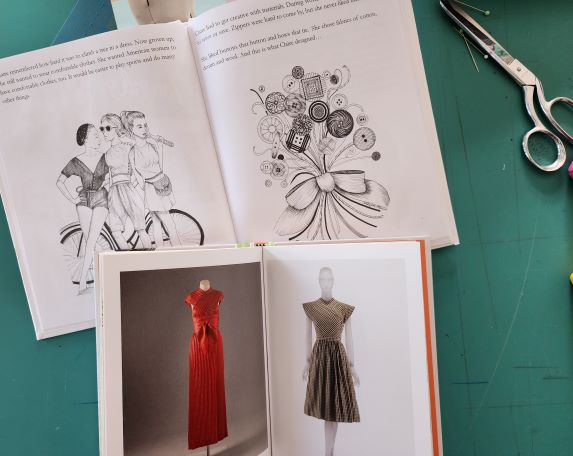 As a child of the 50's, Rae grew up in such a world and this book was so like her mother's philosophy of clothing and wardrobe planning. She describes a drawer for each accessory and guidance on which gloves, hat and hem length to choose for each time of day and event.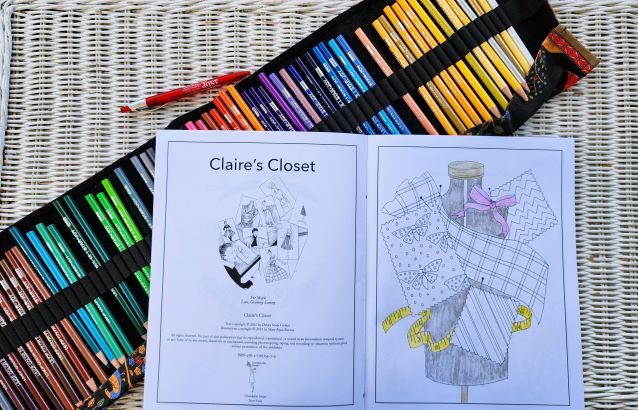 The re-release of this book,  based on the exhibit currently at the Maryland Center for History and Culture, is a fun reminder of a not so distant past and an American voice encouraging women to dress for themselves and love their clothes.  Who can argue with that? The museum also produced two new companion books for kids and the young-at-heart: Claire, a children's book about McCardell' s life, and Claire's Closet, a coloring book.
Carrie read a historical novel, The Seamstress of New Orleans by Diane C. McPhail, while on vacation. It's set against the backdrop of the first all-female Mardi Gras krewe at the turn of the 20th century. The seamstress moves to New Orleans in search of her husband, who had disappeared, and turns to her sewing skills to make a living for herself and the child she carries. She ends up living and working with a young society widow to create a very personal gown for the Leap Year ball of the krewe. If you like historical fiction, strong female characters, mysteries, and books with a sewing twist, this is an engaging read with a bit of a dark undertone.
Have you read any illuminating fabric or fashion books this year? Is there a book about sewing technique or design creativity that has captured your interest? Please share it with us so we can enjoy a new sewing related read too.
Happy Sewing, Carrie and Rae