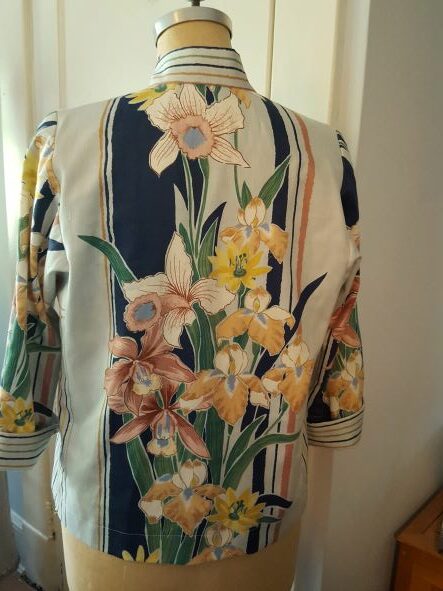 Let's head back to the basics today, inspired by our new pattern cover, and make a Tabula Rasa Jacket from some retro Home Dec fabric.  I have been wanting to make a Tabula Rasa Jacket from a unique home decorator fabric so when this retro print from 1981 fell into my lap, it was the perfect opportunity.  The print was such that it was like designing with two different fabrics.  It also provided the perfect opportunity to test out my new Tru-grid Pellon pattern.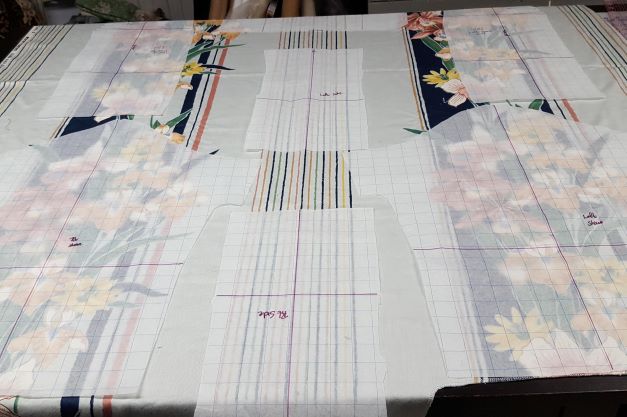 Prepare the Fabric
I received about 2¾ yard of this fun retro print which is similar to a brushed denim in weave.  Prewashing vintage fabric is essential and this fabric washed up quite well, hardly needing to be pressed.
Plan the Design
In pondering the best way to use the fabric to create a fun jacket, I laid my grid Pellon pattern on the fabric, testing out a variety of different options.  I decided that the best placement was to center the flowers on the front, back and sleeves and place the stripes on the band and side panels.  I was able to center the complete fabric repeat on the fronts and back.  While there is waste to fussy cutting like this, it enhances the design dramatically.  Fortunately, I had just enough of the widest stripe to cut both side panels and the front band.  I also was able to capture the selvage with the fabric's title and description on the support pieces that give shape to the shoulder area in an unlined jacket.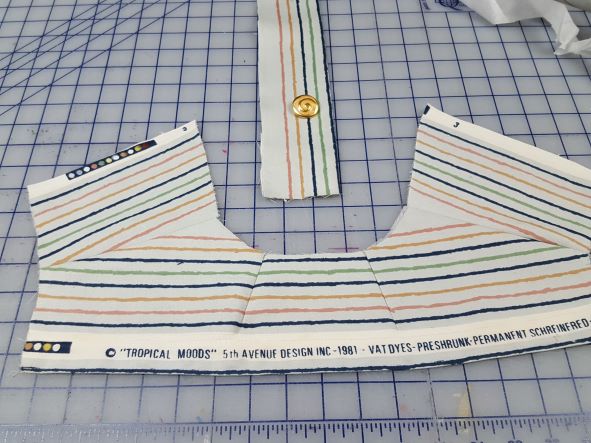 One detour led me to my button collection to search for closure ideas.  I was pleased to find some peach and gold buttons that, though heavy, they would be well supported by the weight of the fabric when the interfacing was applied.  There were 3 large buttons for the band and 4 small buttons that I wanted to use for the cuffs.  After a bit of ruminating options (jean jacket sleeve, tucked sleeve, roll back cuff …) I decided that a split turn back cuff was perfect; it allowed me to feature the stripes at the cuff and create a faux French Cuff application that would use all the small buttons dramatically.  There are several cuff styles included in our downloadable Sleeve and Cuff Variations which has patterns and step-by-step directions to give each of your jackets a perfect sleeve finish.
Cut, Interface and Construct
Once I cut out all the pieces, I made an interfacing sampler to decide what interfacing best supported the shoulder supports, cuffs and the front band.  My favorite of the 3 I tried was the French Fuse, so I cut those pieces in French Fuse and applied them to the corresponding pieces. The doubled fabric was sufficient for the hem so I did not put any interfacing there.
The jacket came together quite well and there will be several Story Pins created in Pinterest to illustrate the making of the jacket — constructing the split turnback cuff, adding the front band, and positioning and stitching in the closures.  Pin them to your Tabula Rasa Jacket Pinterest board and use them as your guide whenever you are working on a new Tabula Rasa Jacket and need to be reminded of the construction details.
This fun jacket will be more important in my wardrobe in the spring, but for now its a timely Expo booth sample since it features the pantone colors of the year, grey and yellow. And, I already have a stretch silk yellow top that matches perfectly!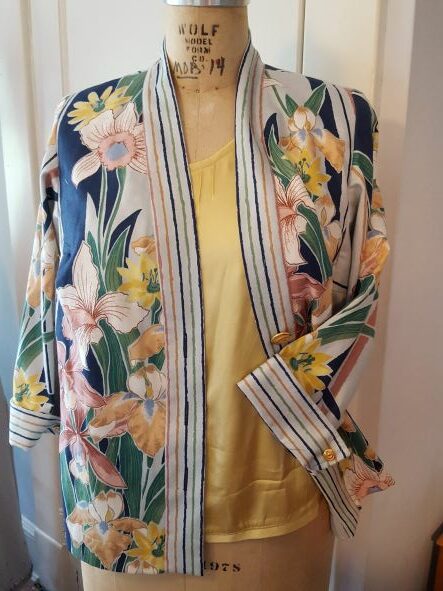 Make one for Yourself
Are you new to garment sewing?  Consider taking a class with Fit for Art that will introduce you to the basics of garment sewing with Fit for Art's patterns.   Check the Event Calendar for listings of currently scheduled Fit for Art  classes  and sewing retreats.  Make sure you join our mailing list to receive the weekly blog post and monthly newsletter announcing new and upcoming events in your email.
Have you made any jackets out of Home Dec Fabrics?  They are perfect during transitional seasons. If you have some big print Home Dec prints in your stash, consider them for fun raw edge collage projects too.   Come sew with us on retreat if you want some support when you plan and construct such a project.
Don't forget to share your projects with us or hashtag them with #fitforartpatterns, #tabularasajackets, and #sewsuccessfully.
Happy Sewing, RAE