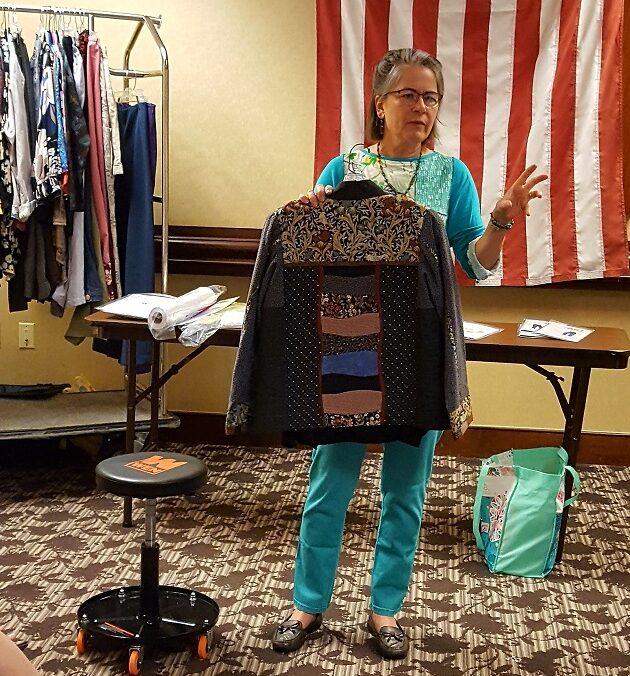 Fit for Art's trunk show at the Fredericksburg Original Sewing & Quilt Expo is themed "Play with Your Patterns".  Our goal is to encourage viewers to get the most out of their favorite patterns rather than starting with a new pattern for every project. There are so many benefits to repeated use of a pattern.  It brings certainty that the new garment will fit.  Familiarity with construction enhances your creativity by allowing you to envision what can be done with the pattern and frees up time to spend on embellishment or experimentation.
At the Expo  trunk show we'll be looking at how different kinds of changes can create an entirely different garment with a tried and true pattern – e.g. changing the nature of the fabric, dividing pattern pieces to mix fabrics, adding simple decorative or functional details, or even "mashing up" separate patterns to substitute style elements.  Today's examples are all based on the Tabula Rasa Jacket, but come to our trunk show to see the same principles applied to the core Knit Tee & Tunic and Eureka Pants patterns.  And of course you can apply these ideas to your favorite TNT pattern.
Choose a Variety of Fabrics
The simplest way to get more from your pattern is to make it up in multiple fabrics for different seasons and different occasions. The same pattern can look, and more importantly feel, very different in cotton, silk, linen, rayon and wool. Changing the weight and drape of fabric also alters the look, feel and use of a garment. Compare these basic Tabula Rasa Jackets made in  fabrics ranging from a sheer silk to wool suiting.
Divide, Mix and Mingle
We love to mix fabrics, whether mixing prints and textures in the same weight or mixing fabrics with very different natures.  A simple version of this strategy is to use different fabrics in each part of a garment, such as the collar and cuffs.  But a great way to increase the opportunity for mixing multiple fabrics is to sub-divide pattern pieces. Here we've taken that basic Tabula Rasa Jacket pattern and pieced the fronts and backs vertically, horizontally, or diagonally to craft a more artful garment incorporating multiple related fabrics.
There are a few "rules" to keep in mind when mixing fabrics.
 It will be most pleasing to the eye if you incorporate each fabric in at least 3 locations on the garment.  So, for example, you can repeat a fabric in front and back and then also add it to a cuff, piping or collar to bring all the elements together.
When dividing pattern pieces, plan ahead to ensure that the pattern will still fit when you are done.  A reliable method for ensuring  this is to trace the original pattern piece onto tissue, cut the copy  apart where you plan to divide, and add a seam allowance to each side of the cut.
Pieces on the bias, such as diagonal piecing, often require support to keep them from stretching.  Consider using fusible interfacing or foundation piecing to stabilize diagonal cut.
Add Decorative and Functional Details
It is easy to add piping, pockets, and cuffs to many top and jacket patterns as part of changing the look. We love to insert flat piping into seams to frame a section of the garment or to set off a collar or cuff.  You'll see several examples of piping inserted into the side seam or kimono band seam in the jackets collected here.  Do plan ahead when adding piping to make sure you add it in the correct point of construction!
A cuff can be used to extend a sleeve when you don't have quite enough fabric to cut the desired length or to repeat a fabric in another location.  Cuffs can be as simple as a band of fabric added to the hem of the sleeve or more complex with multiple layers, split openings, ruffles, or facings to turn back and show a contrasting fabric.
Pockets are also an easy and functional add-on. Patch pockets in a variety of shapes, sizes and fabrics can be topstitched into place and embellished with trims or embroidery. Pockets can also be secured into seams externally, like these "kangaroo pockets," or hidden inside.  Keep a variety of pocket patterns on hand with our Pocket Variations downloadable pattern.
Mash-up Pattern Elements
Pattern "mash-ups" are a bit more complicated but reap great rewards. Alter a tried and true pattern by substituting a pattern piece from a second pattern.  Fit for Art makes this easy for you with our Variation and Detail patterns that walk the sewist through the steps for altering specific elements of the core pattern, such as a neckline, front closure, sleeve or leg shape.  This can be done with your own TNT patterns by taking care to measure, adjust and "walk" the patterns along a combining  seam line.
By example, one of the simplest changes for the Tabula Rasa Jacket is playing with the kimono band.  You'll find samples in our gallery of Band Variations in which the band's width is changed or is pieced from several fabrics.  One can also substitute a different style for the kimono band such as these ruffled, gathered, pleated  and shaped bands.
Try substituting a different sleeve style into a basic garment to get a very different look.  These samples feature a wider, shorter sleeve for summer, a two-piece sleeve and classic cuff, a full gathered sleeve in drapey rayon, and a tied sleeve mash-up (from a non Fit for Art pattern), all in the Tabula Rasa Jacket framework.
What changes do you like to make to your favorite patterns to get the most out of them?  Inspire us and fellow sewists – we'd love to hear from you!
Happy Sewing, Carrie