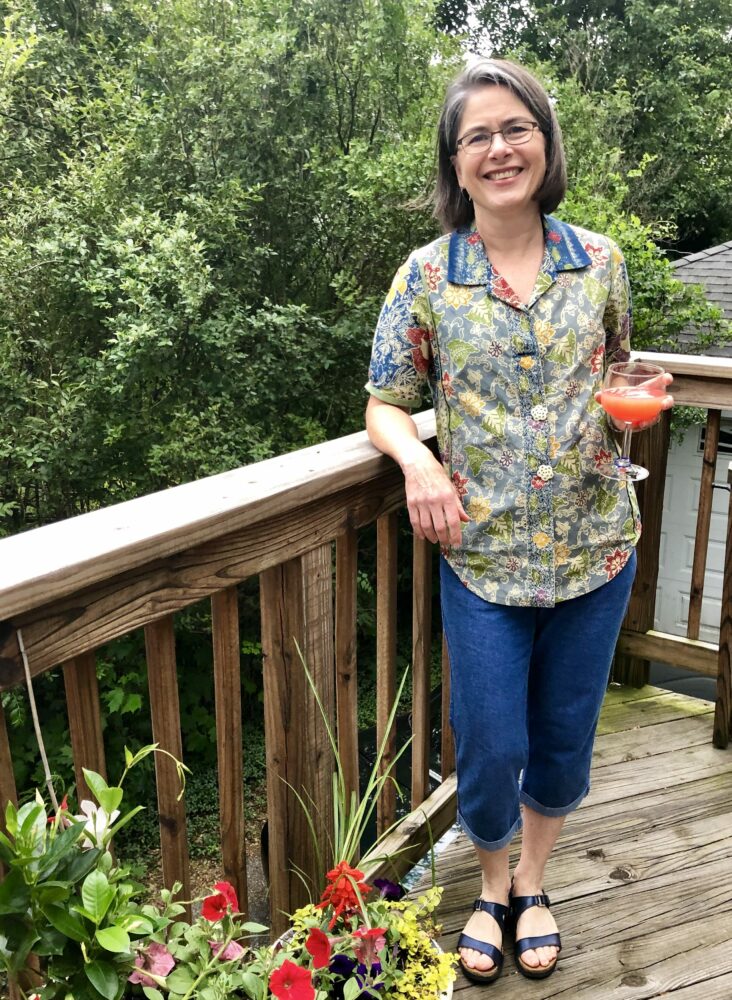 Welcome to Sew! Let's Get Dressed, a weekly blog that encourages you to #sewsuccessfully with #fitforartpatterns.
With summer almost here, we are featuring warm weather wardrobe staples in our series Three Core Patterns – One Great Wardrobe. This group of casual garments demonstrate the great variety of looks that can be created by combining your Three Core Patterns with one or more variation patterns for a great wardrobe.
A few years ago I wrote about a pair of Sporty Detail denim capris made from my Eureka! Pants that Fit pattern which have turned out to be a garment I reach for time and again. Read Eureka! Capris for Summer to learn all about the process of adapting my Eureka pant pattern for capris and deciding on a length and finish for them. One little feature that I didn't share in that post is the lining fabric on the waistband, some cotton batik left over from another project.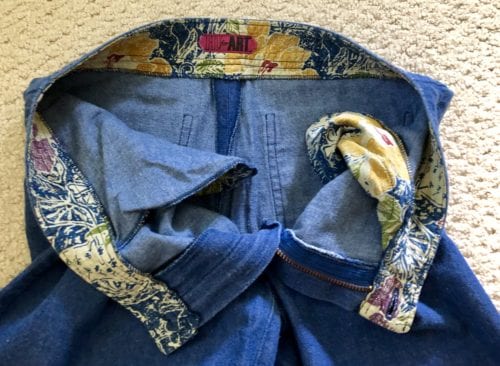 We frequently use a stable cotton for lining for several reasons: to reduce bulk when sewing with a heavy denim or other bulky pant fabric, to provide stability for a pant fabric with a touch of lycra, when we don't have quite enough of the pant fabric, and sometimes just for fun.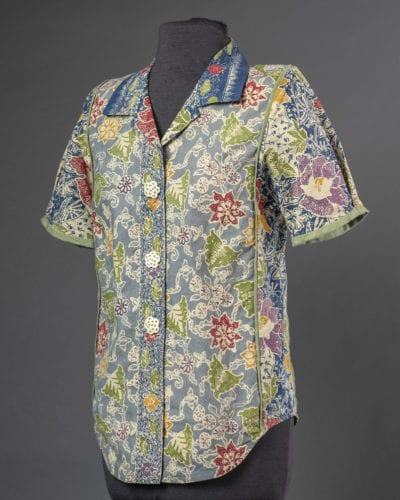 This lining scrap came from the cotton batik fabric in the Malaysian Batik Shirt, which I frequently wear with the capris. You can read about the cotton batik sarong, which I acquired a few years ago while on a trip to visit my daughter in Malaysia, in the Photo Gallery post. I created a longer curved shirt tail hem for this spread collar shirt by adapting the curved hem template from Wide Neckline Variations for Tabula Rasa Knits to fit the Tabula Rasa Jacket front back and side pieces. To finish a curved hem, use a narrow baby hem as I did here, or create a facing for the hem as I did in the Fireworks Rayon shirt.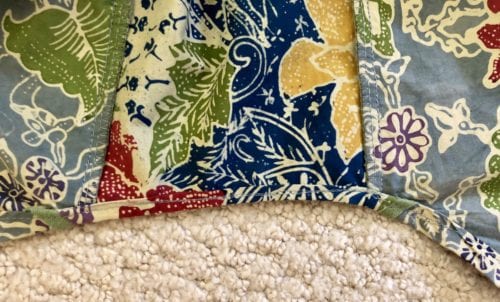 I also used my short sleeve pattern, adapted from the basic Tabula Rasa Jacket sleeve, for this warm weather top. A solid green linen scrap serves as flat piping in the side seams and as a binding on the sleeve hems. After binding, the sleeves projected out like wings (oops!) so we solved that problem by stitching a flattering reverse pleat on the sleeve, slightly forward of center.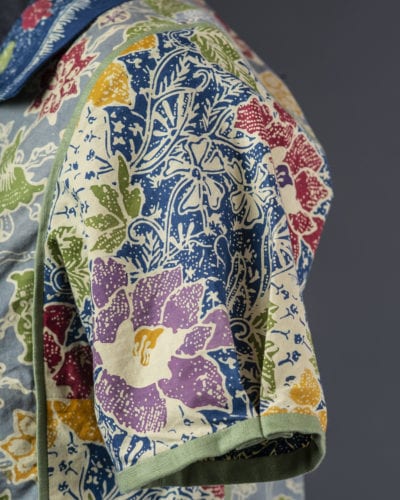 The effect is similar to the gentle tulip sleeve which is included with Clever Crossing Variations for Tabula Rasa Knits. The Summer Rain Surplice top demonstrates that the bias binding is better suited to knit fabrics!
The denim capris pair with several Tabula Rasa Knit tops including this tee, Crossover Yoke Floral Bouquet, and tunic, Peachy Bouquet. (It's spring and I'm bursting with flowers, just like my garden!) Both samples are based on the Crossover Yoke version of Clever Crossing Variations but illustrate the difference between combining multiple complementary prints and solids and relying on just one print with a solid knit accent. Try it both ways for yourself! The direction book for Clever Crossing Variations explains how to take the crossover yoke to a full crossover front, create a yoke in the back, and insert piping into these knit tops.
We hope you are inspired to put your Fit for Art core wardrobe patterns to work for your summer wardrobe. Mix it up with some new variations for the Tabula Rasa Jacket or Knits or details for Eureka! Pants to expand your possibilities. Register now to attend our Sew Successfully Summer Retreat where you can work on your Fit for Art wardrobe with a little guidance from Rae and Carrie.
Happy Sewing, Carrie