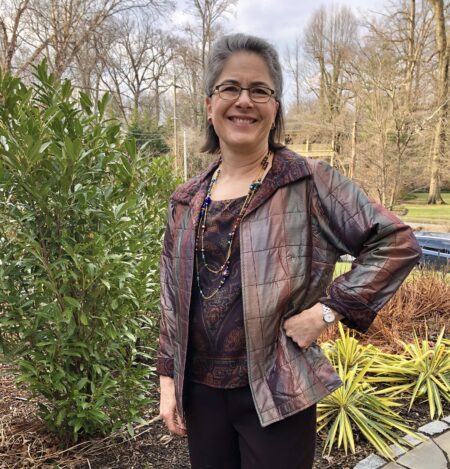 Welcome to Sew! Let's Get Dressed, a weekly blog that encourages you to sew successfully. 
Welcome to another installment in our series "Three Core Patterns – One Great Wardrobe."  We hope to inspire you to create your dream wardrobe with the 3 core patterns from Fit for Art, a little imagination and and a few variation patterns.  Rae shared a Fall group with a black and white focus in Episode 1; today Carrie presents a Winter group in shades of purple.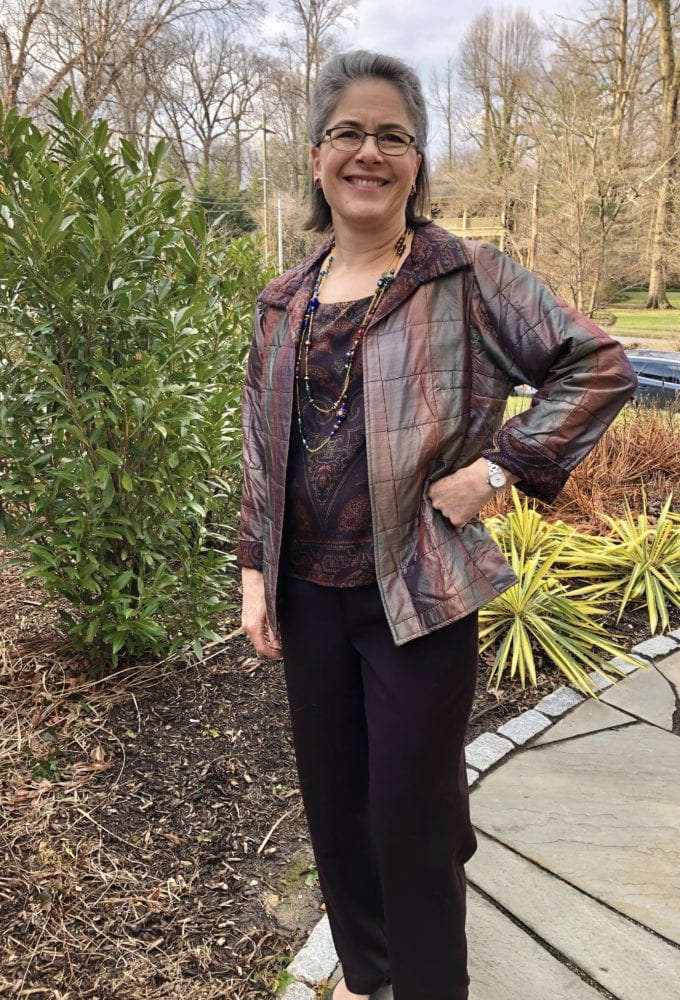 This wardrobe is based on a pair of dark aubergine wool slacks from my Eureka! Pants pattern.  This pair features a shaped waistband, which is my favorite waist finish.  It is fully lined with lightweight "china" silk; the waistband is faced with a fun cotton print in a coordinating color and a Hong Kong finished edge in the same china silk.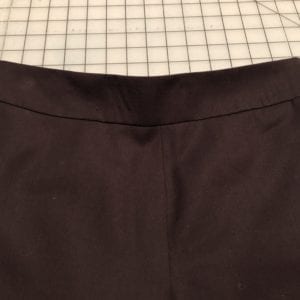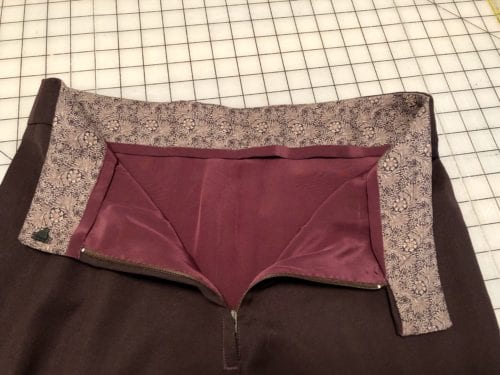 Follow the step by step instructions in this earlier blog post about creating pants with a shaped waistband pattern.   I'll share a little secret … a shaped waistband variation for Eureka! Pants is coming soon for you!  Look for Glamour Details to come out this Spring.
Speaking of Pants, Rae will be teaching a Eureka! Pants fitting workshop at Capital Quilts in Gaithersburg MD on January 31 to February 1. Click on this link to our calendar for more information or visit the Capital Quilts website to register for the class.  This is a great class to get you started on your Eureka! Pants that Fit journey for a great fitting pants pattern you can use over and over and restyle using our Details patterns for Eureka Pants.
I have several tops to wear with this versatile pair of wool slacks.  One is the Shimmery Shirt Jacket I'm wearing in the first photo.  This Shirt Variation TRJ with a center front opening, collar and turnback cuff was constructed from a piece of pre-quilted silk fabric.  I used a silk scarf print with many of the colors woven into the jacket silk for the lining.  I also made a sleeveless silk shell to wear with the jacket from the scarf print. This is a great top to wear for an evening event to the theater, a concert, a cocktail or dinner party.
If I want to go a little more mod, I wear the shimmer jacket with the other pants I've made for this group – my shiny purple faux leather slacks.  The leather pants are basic tapered Eureka! Pants with a one-inch waistband and a little vent at the ankle.  You can read all about my experience of sewing with this leather in the post  Faux Leather Pants.  A casual knit top that I wear with both pants is a Tabula Rasa Knit Tunic that you can see in this photo.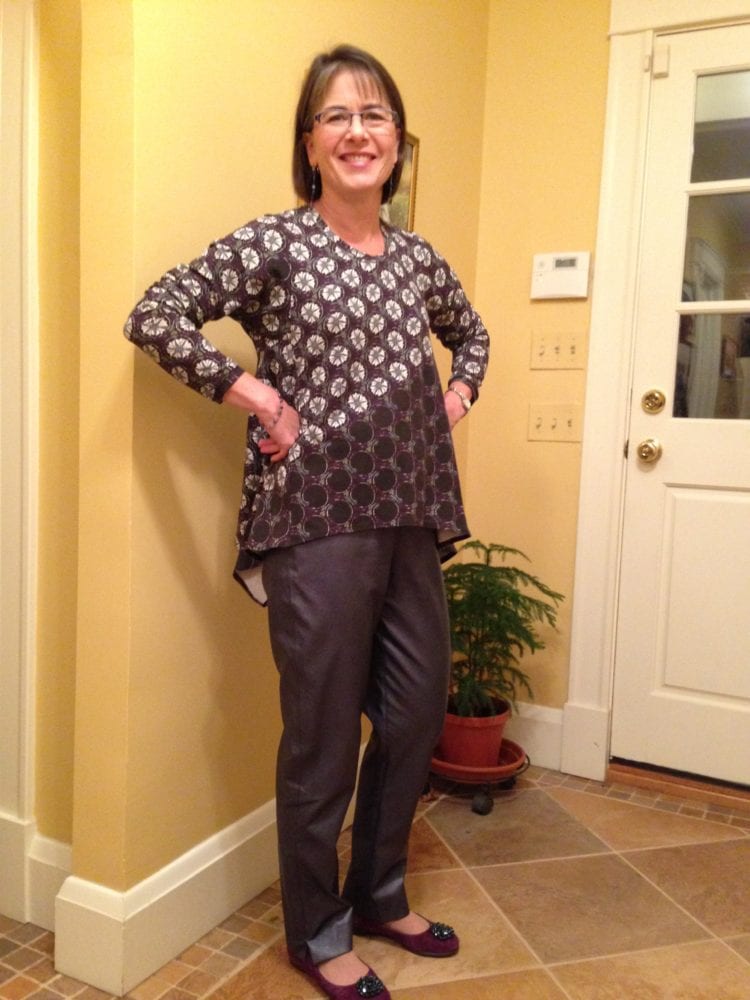 The Morning Glory Tunic features a u-neckline and swing sides from the core pattern.  Incidentally, this top was also made from rayon knit fabric printed in a square, similar to a silk scarf print.  These prints always present an interesting challenge for figuring out the best way to lay out your pattern to take advantage of the design graphics.  It helps to copy off a full set of pattern pieces (by which I mean a full front, full back and both right and left side panels and sleeves) so you lay it out all at once.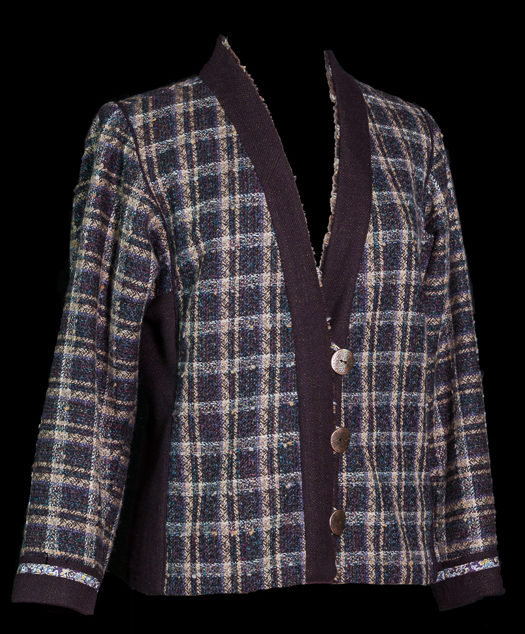 When I want a more business-like look, I reach for my Plaid Wool Jacket with the wool aubergine pants.  This basic Tabula Rasa Jacket features a band cuff (Sleeve & Cuff Variations for the TRJ) and a modified kimono band.  I cut an inner and outer band so I could insert the fun fringed selvage from the wool plaid fabric into the center front seam as a decorative element.  That also allowed me to insert button loops instead of sewing buttonholes.  A very special trim – Liberty of London – is featured in the button loops and on the cuff.  The technique for this type of band is explained in Band Variations and Pockets for the TRJ; in the pattern we suggest its use with a Shawl Collar variation, but it can also be used with the basic 2" wide front band.
I have several other garments that go with this wardrobe group.  You can see some of them at my trunk show, Three Core Patterns – One Great Wardrobe, if you are coming to the Original Sewing & Quilt Expo in Atlanta in early March.  We hope to see many of our southern friends there!
If you would like some help planning, fitting and sewing a core wardrobe that suits you, consider joining us March 27 – 31st for our Sew Successfully Retreat at the Maritime Conference Center.  This is a beautiful facility near BWI airport, so it's especially convenient if you are traveling to Baltimore for the retreat.  Read more about the Sew Successfully Retreat in our events calendar and contact us if you have any questions.  We would love for you to join us!
Happy Sewing, Carrie