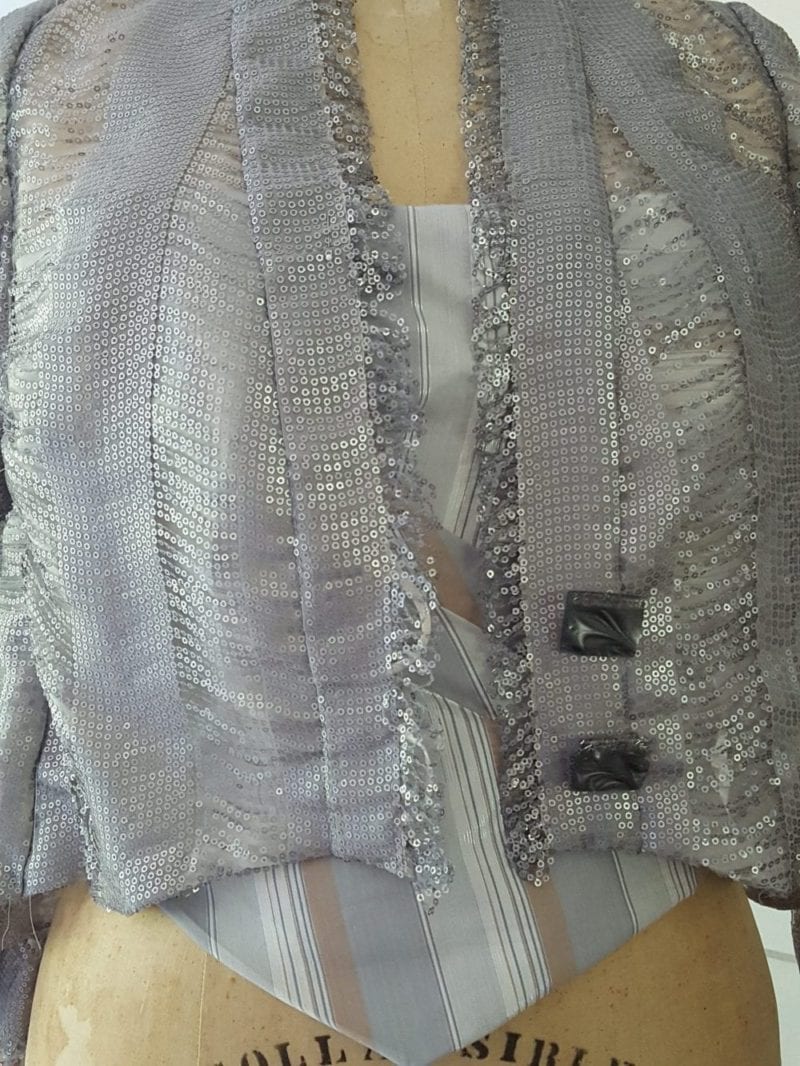 Beautiful bling is always in fashion for parties, weddings, events, or just a little pick me up.  As you plan your 2019 sewing projects, consider a Tabula Rasa Jacket (TRJ) made with sparkly fabric like this silver sequined jacket.  It will expand your Fit for Art core wardrobe so you will be ready for any special occasion.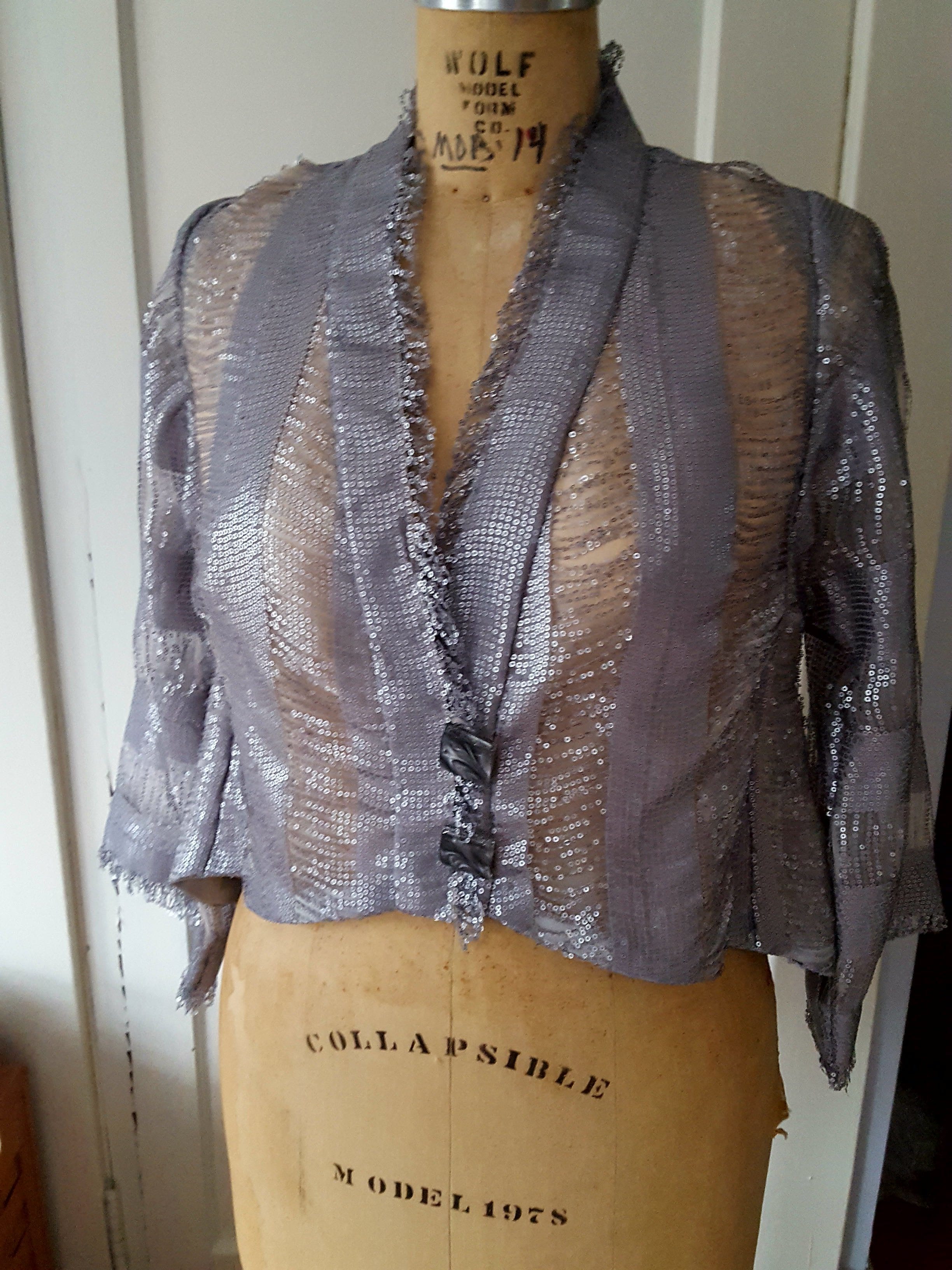 This weightless jacket was made for my daughter Sarah.  She attends galas and special events regularly and always needs some new sparkles. When the 2018 Threads Challenge to ASDP members was an elegant ensemble, I decided to design the outfit for her.
Most of the silver fabrics for the 3-piece ensemble were purchased at L K Couture, a little jewel of a fabric store in Richmond, Virginia.  The jacket fabric is chiffon that was sequined and slashed in strips.  I loved it on the bolt but found it challenging to design and sew with.
Sparkly fabrics often need to be engineered with care.  Sometimes beads or sequins need to be removed from seams for smooth construction.  Fabrics with sparkle may also benefit from support with an additional layer of fabric.  For this jacket I used both techniques.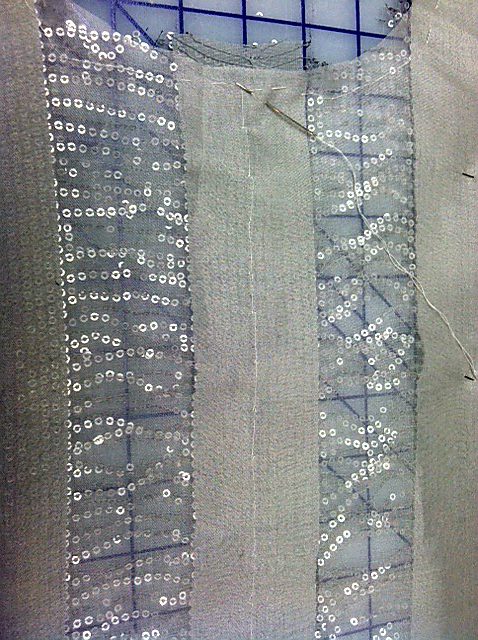 After puzzling over the fabric for weeks I decided to underline the entire jacket with a pale peach silk organza to keep the slashed sections stable. The organza also supported the sequins so they appear to sparkle more!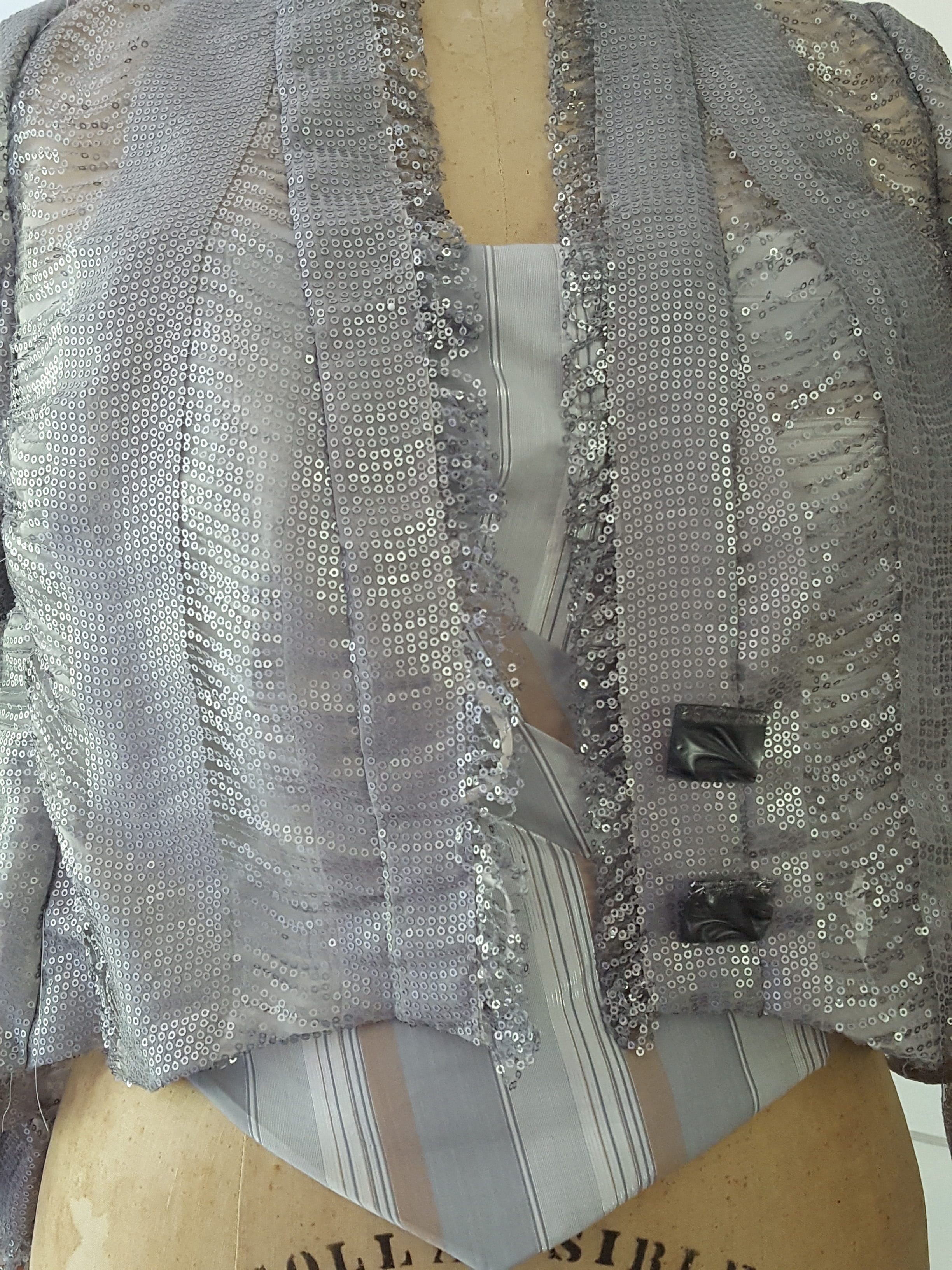 The organza backing allowed me to baste the slashed section so the loose ends remained orderly when attaching the center front band.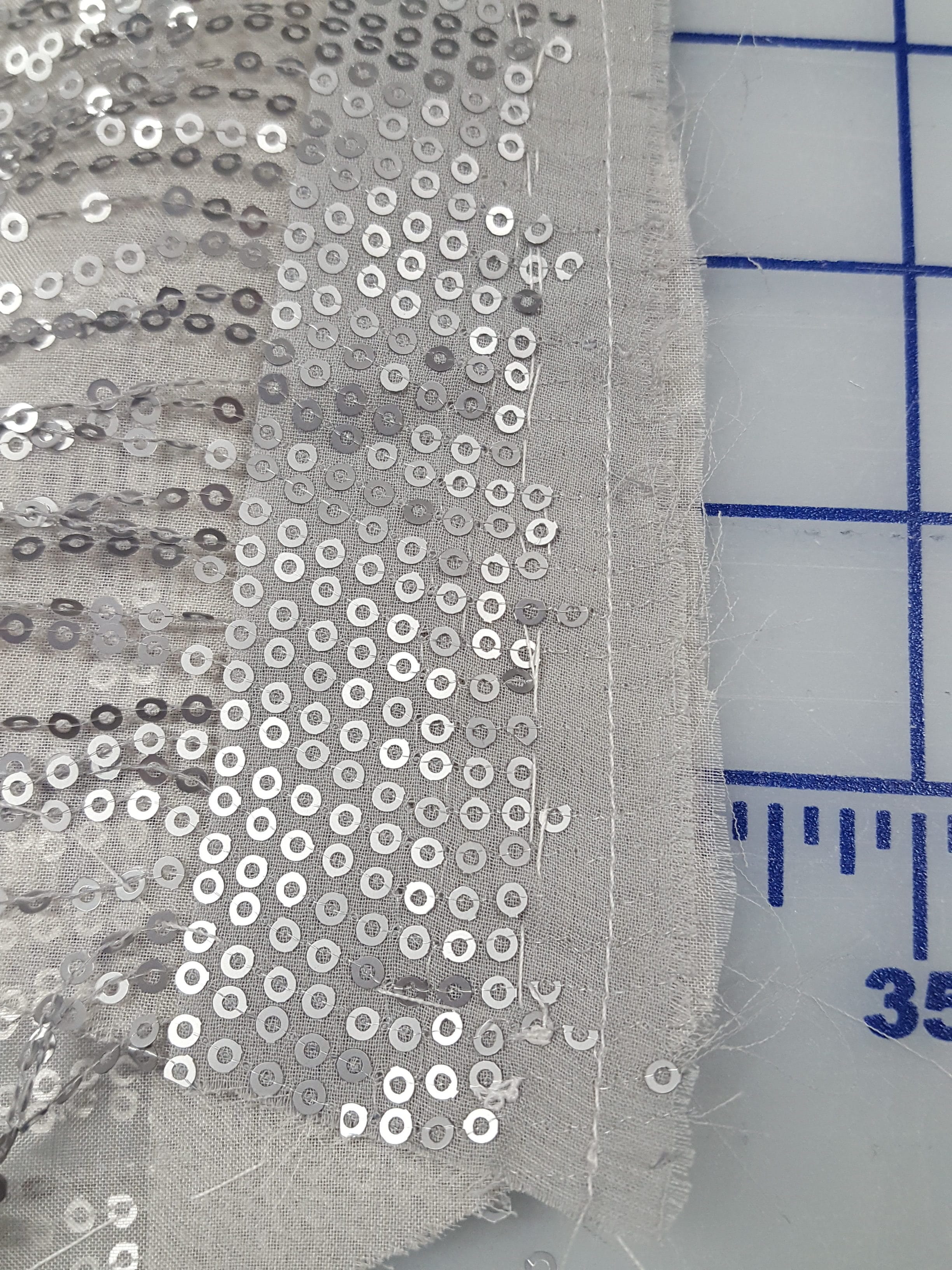 The sequins were removed from each seam allowance to keep the French seams smooth and sleek.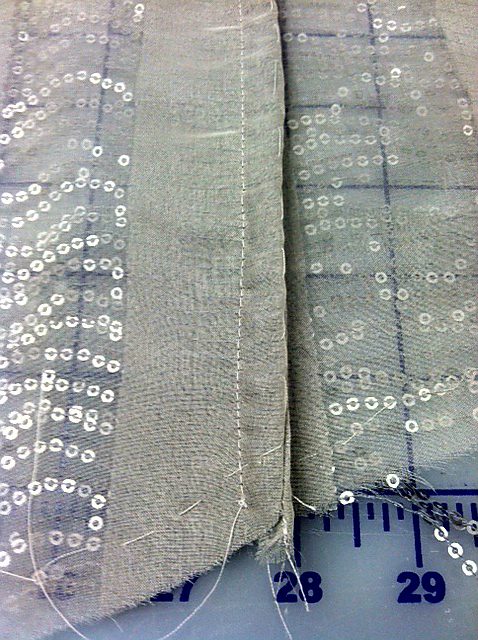 The final construction challenge was how to finish the hems and front band.  I considered binding the hems using the solid sections of the sequined fabric, another fabric, or the chiffon selvages.  Because the jacket had a curved hem, I decided to use a bias strip of the 4 ply silk, the fabric for the ensemble's pants, to face the jacket hem.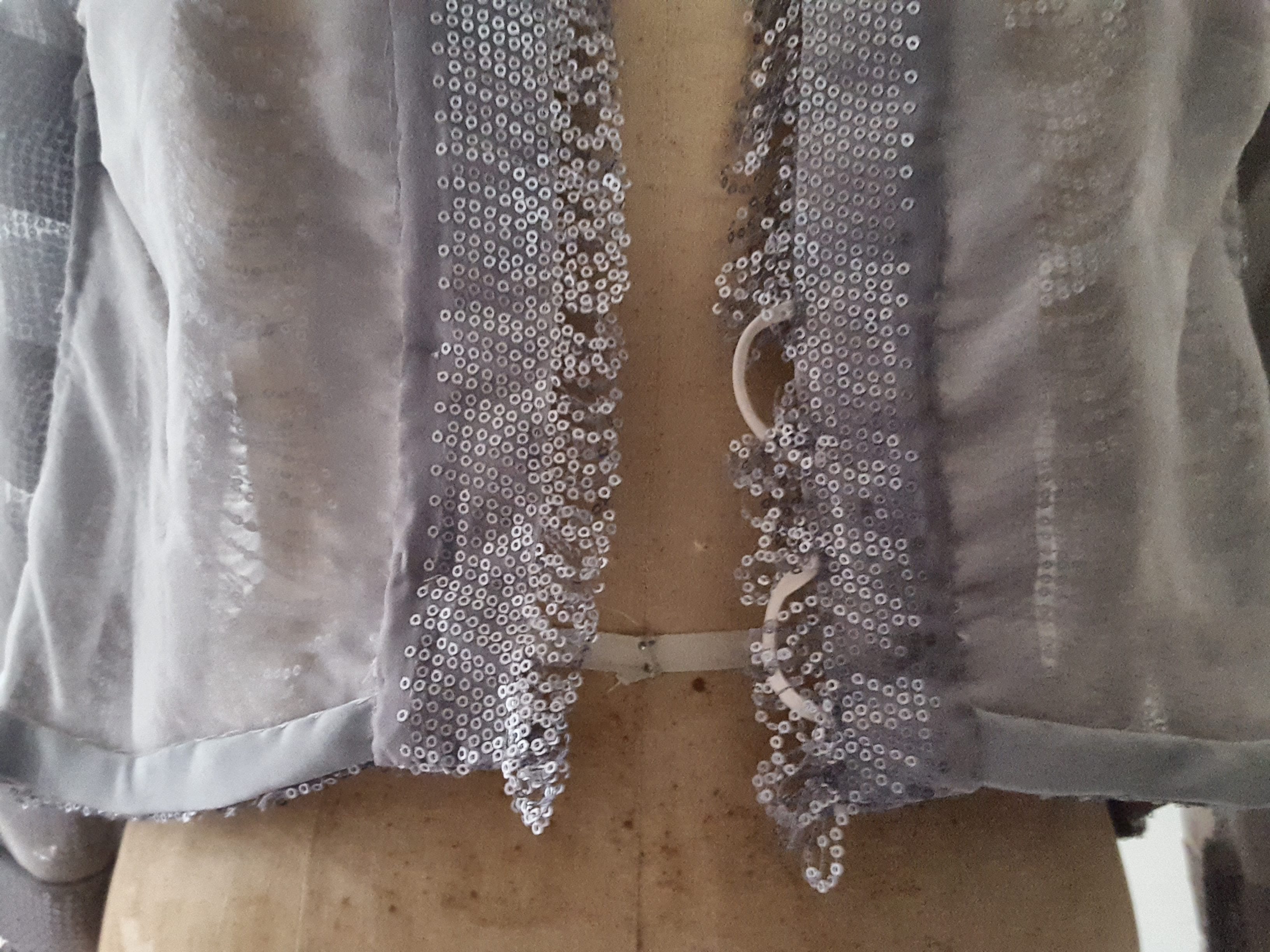 The sleeve hem and band were created by folding the slashed sections in half to create a loopy fringe.  The trims were anchored and finished by hand.  The two organza loops that close the jacket around the buttons were inserted into the loopy fringe and hand-tacked in place before the fringe was stitched together by hand.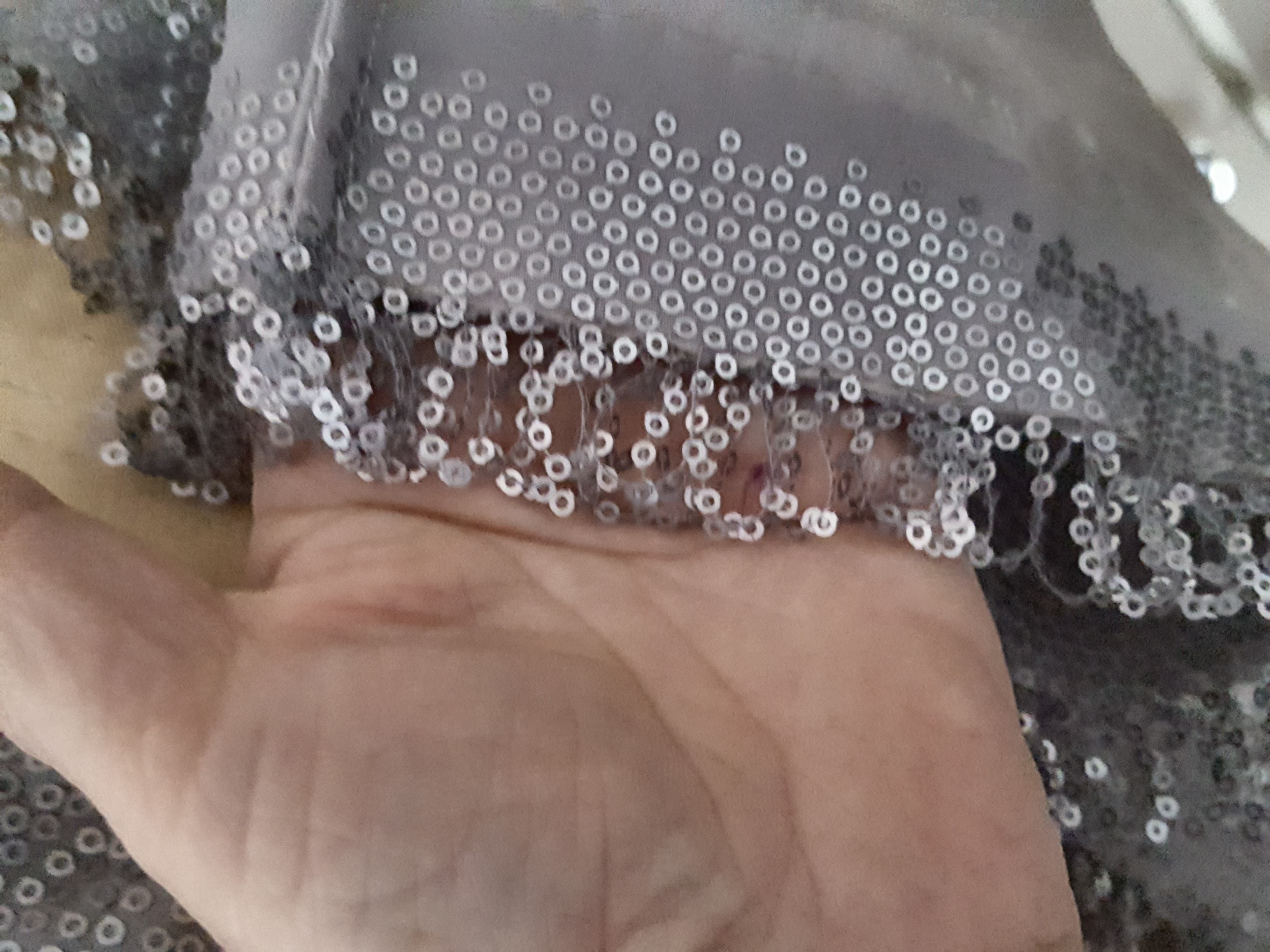 Additional loopy fringe, created using the same folding method, was inserted into the hem of the palazzo pants. A few more sequined loops were added to dot the bottom of the pants with more drama.  When the jacket and pants are worn together, they look so coordinated!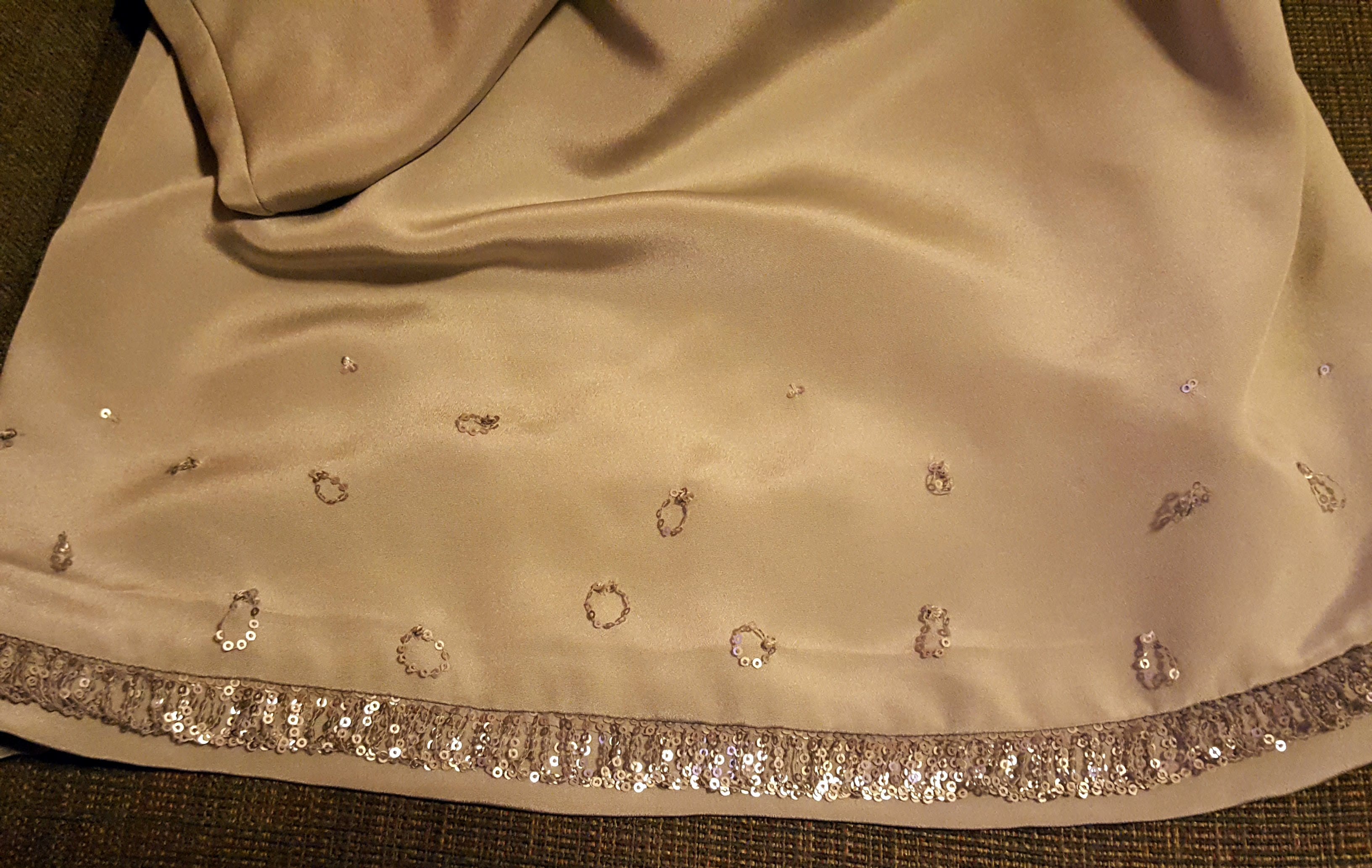 Now it is time for you to plan your sparkly TRJ:
Begin by purchasing some fabulous fabric in colors that coordinate with other clothes in your wardrobe.
Buy a little more fabric than usual so you have flexibility in choosing the shape and details.
Take time considering the fabric's quirks and planning the design and engineering. Make some samples as you test out different ideas.  I sure did.
Find your Zen place if you need to remove beads or sequins and baste the fabric's preparation and hand finishes.
If it is not part of a specially designed ensemble, wear it when you need a little pick me up with Eureka! Pants and a little Tabula Rasa Knit Tee (TRK).
Last year I decorated a jeans jacket for a friend using iron on rhinestones.  It said "Our World Needs More Sparkle".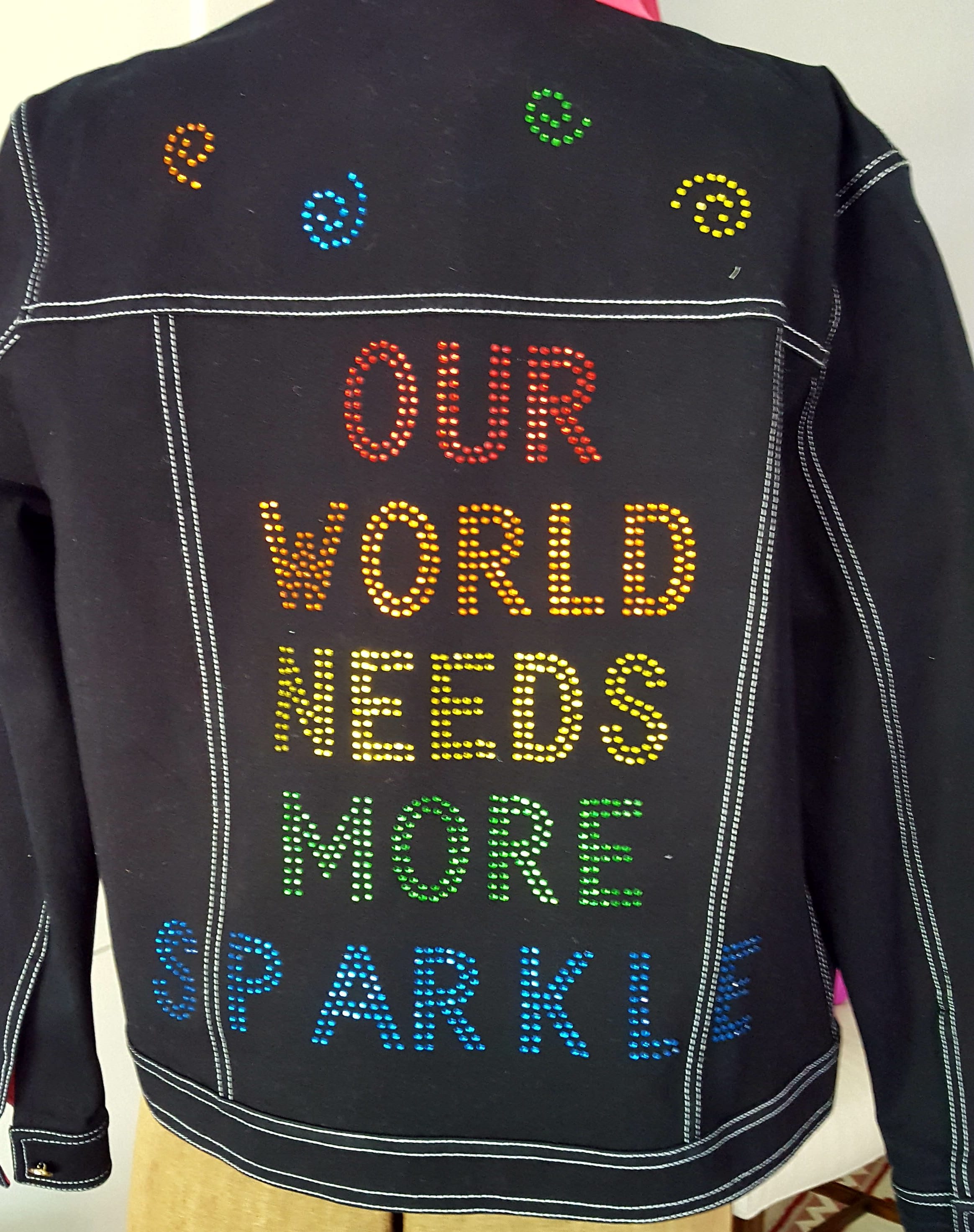 Not a bad tagline for 2019.  Sparkly clothes won't solve all the problems in the world, but they might brighten your outlook as you move though the year.
We hope you find some Fit for Art sparkle this year whether it is a sequined Tabula Rasa Jacket, a metallic Tabula Rasa Knit tee or tunic or Eureka! Pants decorated with beaded trim.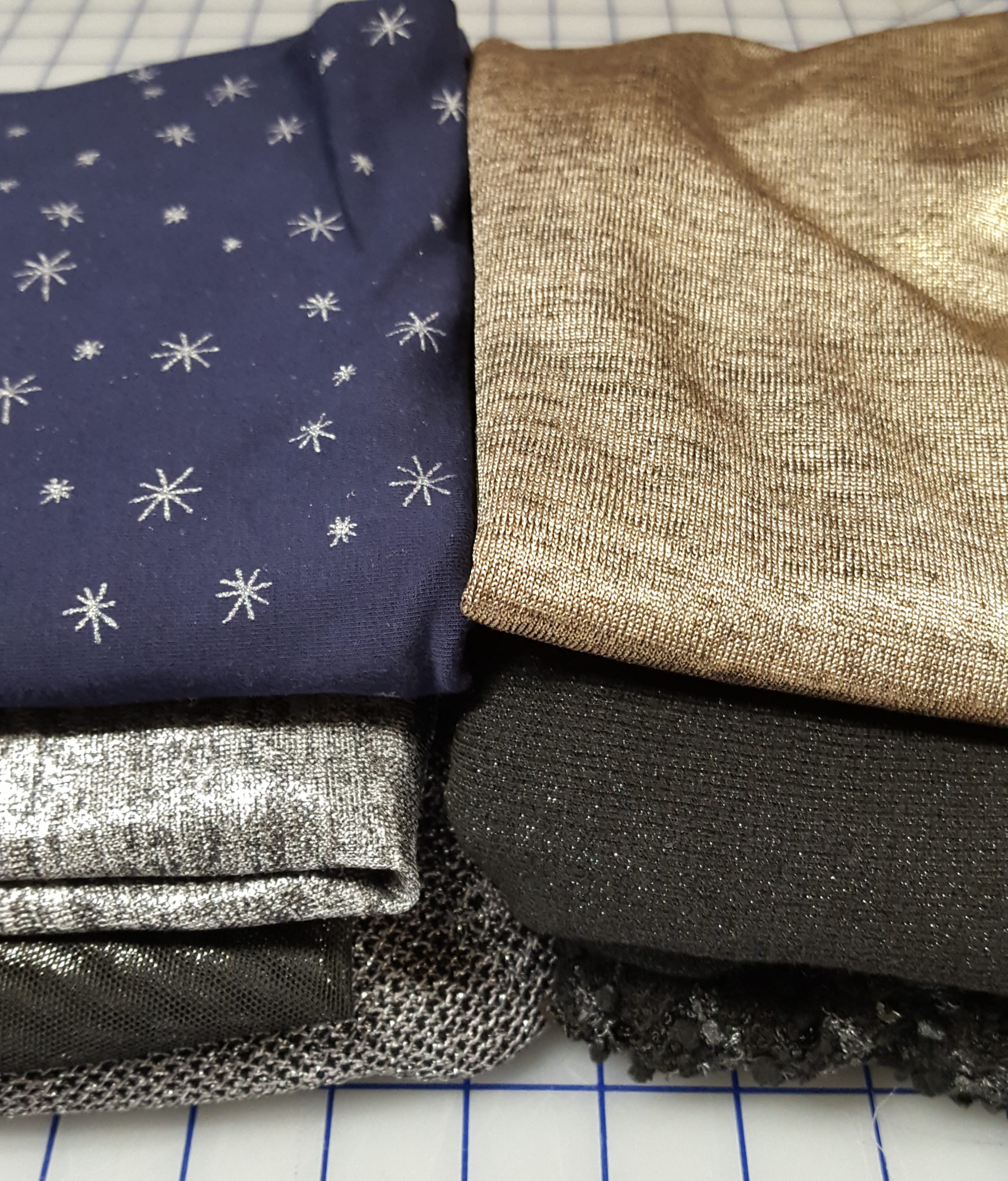 Or, brighten up some pants or a jacket already in your closet with some wild or subtle sparkle that suites your style.  We will inspire you each week to #SewSuccessfully with #fitforartpatterns.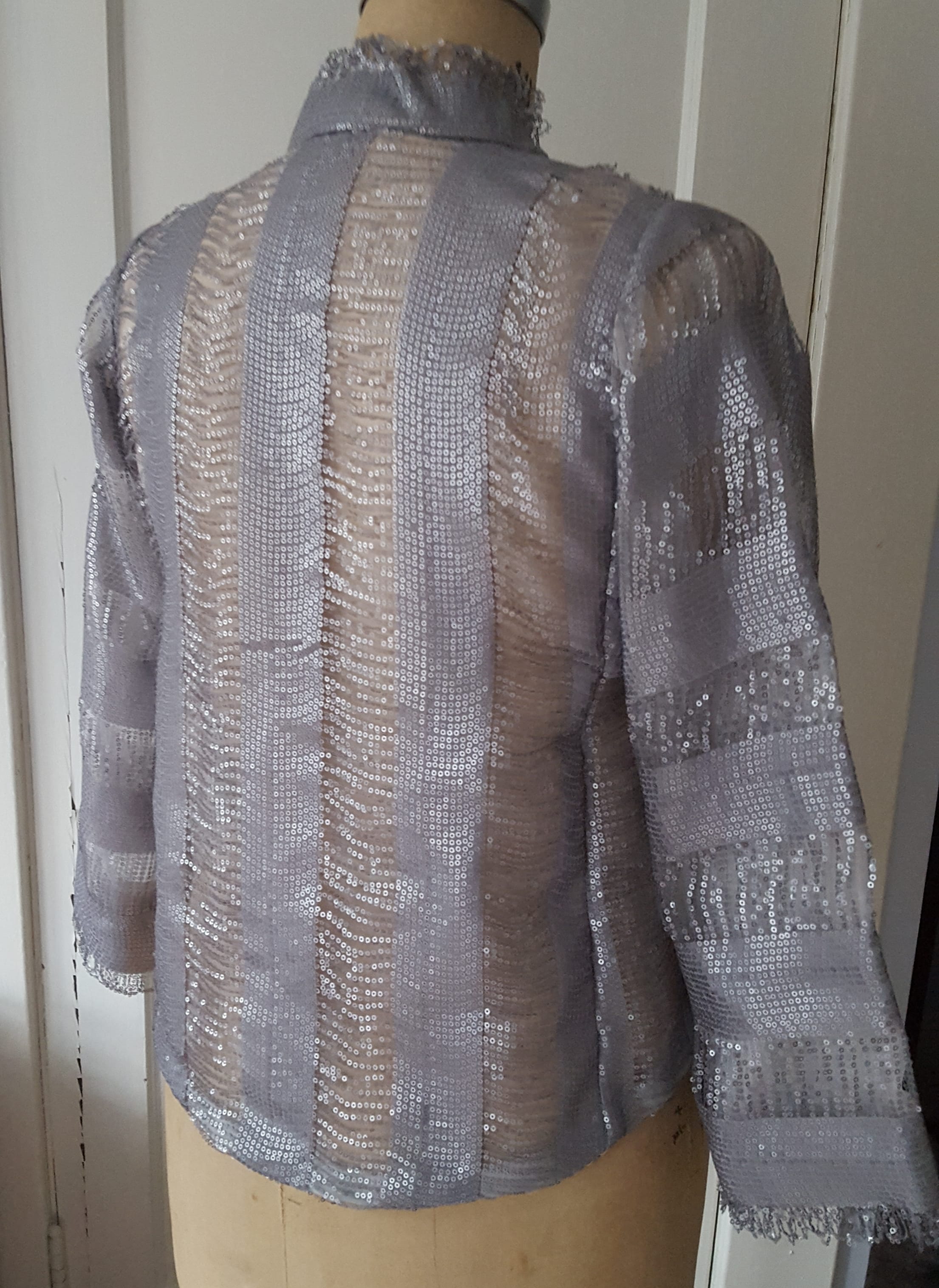 We trust that you will continue to inspire us by sharing all your sparkly creations with our sewing community.
Happy New Year, RAE