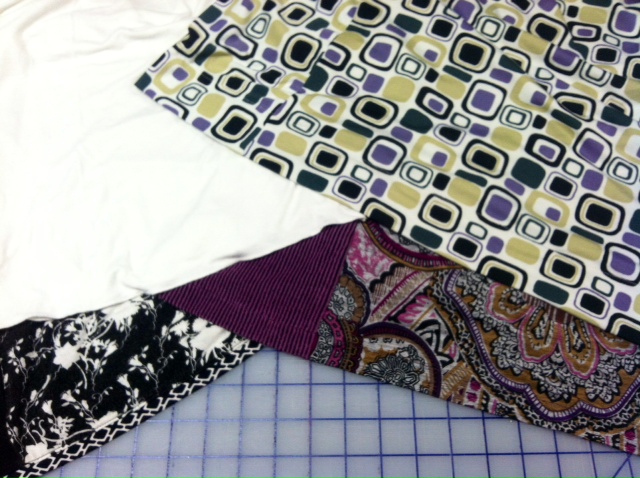 Sewing hems in knits always involves a machine finish.  I am not sure I have ever put a successful hand-hem into a contemporary knit garment.  Machine hemming is part of the process of taming your knits to look effortless and insuring they will live a long life. So, let's take a look at several types of hems for knit tees and what you need to do to get each look on your own knits.  (In a later post, we will look at hems for tunics and other curved hemlines.)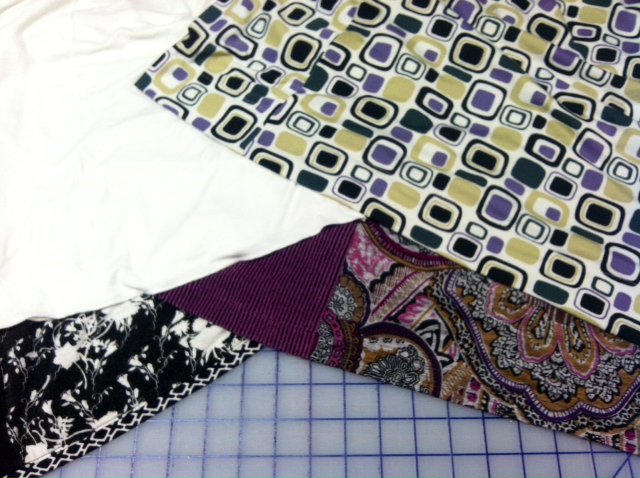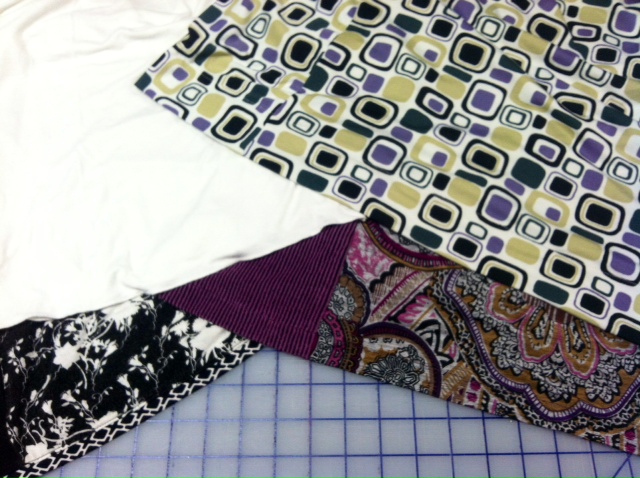 In our Tabula Rasa Knit (TRK) pattern's instruction booklet, we talk about types of knit fabrics and their appropriate finishes.  Read through the design section on page 5-9 if you need additional information to empower your knit stitching.
The question of interfacing also comes up in conversations about knit hems and there are as many opinions on this topic as there are stitchers sewing knit hems.  Here is my opinion; if a hem can be executed successfully without interfacing, then it will hang better.  But, if you are having trouble managing your knit hems, then by all means use a strip of soft fusible tricot interfacing to support your work.  Make sure to create test samples with and without interfacing and choose the best option for your new top.  We have an Interfacing Sampler for Knits with our two favorite knit interfacings available in either black or white.  Pick one up if you need some tried and true interfacing options.
As you plan your knit finishes, remember it's fun to repeat them on the hems of your sleeves.
Put on your top to determine your hem length, trim if necessary for the hem depth you have chosen. Then follow the instructions for one of these methods.
1" Classic Tee Hem – which in reality can be between ¾" and 1 ¼" depending on your fabric and your preferred hem length.
For a sewing machine finish: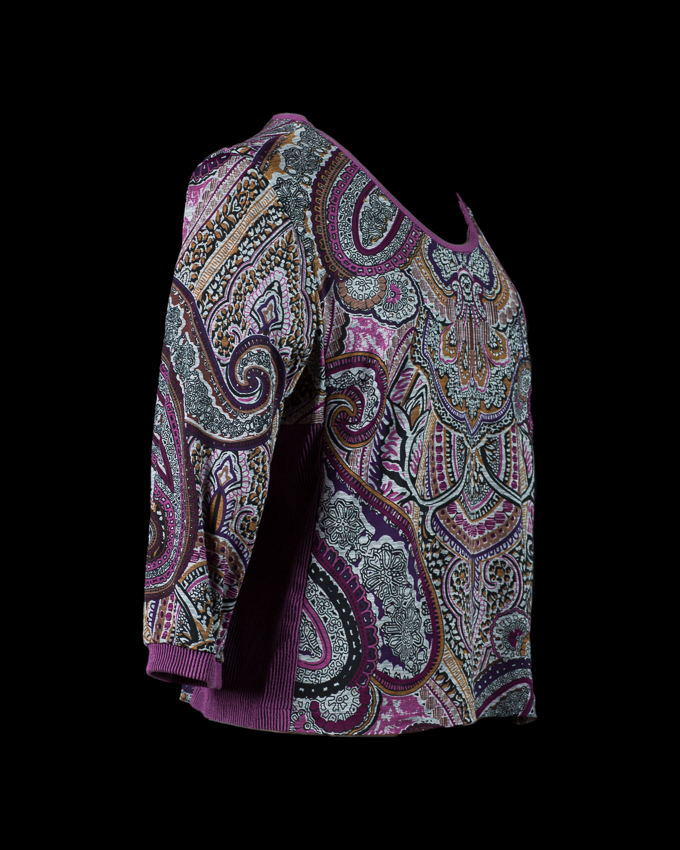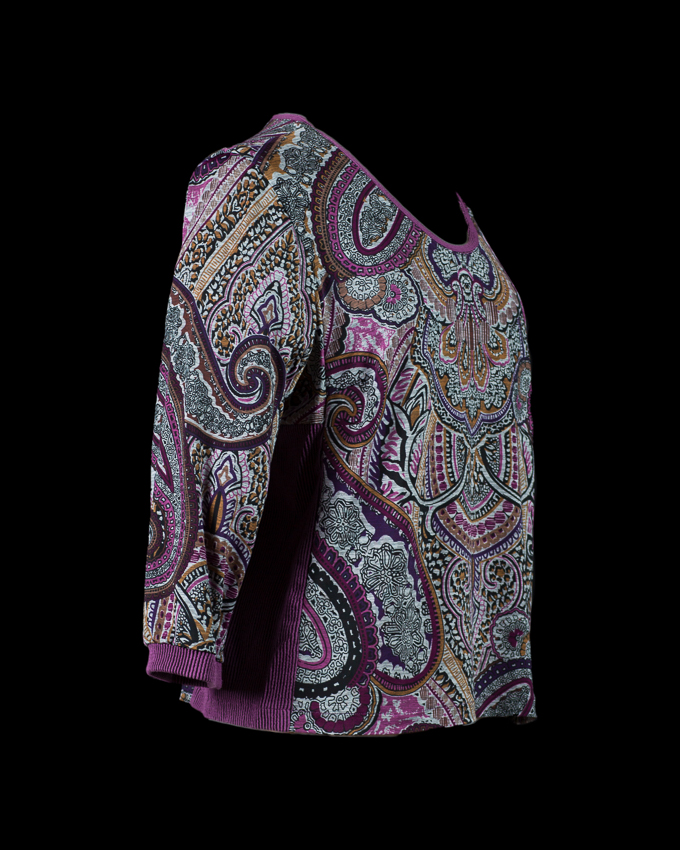 Interface this hem if you feel you need to control an overly stretchy fabric or to equalize a light weight knit that has been mixed with a heavier knit.
Serge or zig-zag along the raw edge if the fabric needs a clean finish.
Measure and press the hem up to the desired depth, anchor with a few pins if desired.
Lengthen your stitch and use the stitch with small width adjustment as discussed in the Knit Semantics post.
Determine where your stitching line should be placed: at ¾" for a 1" hem perhaps, or 1" for a 1¼" hem.
Working from the right side, stitch the pressed hem in place. Stretch gently as you sew or use the technique you found successful in your samples.
If you want two rows of stitching to make your top look like ready-to-wear, stitch the hem with a double needle, or add a second row of stitching ¼" below the first row of stitching.
For a cover stitch machine finish: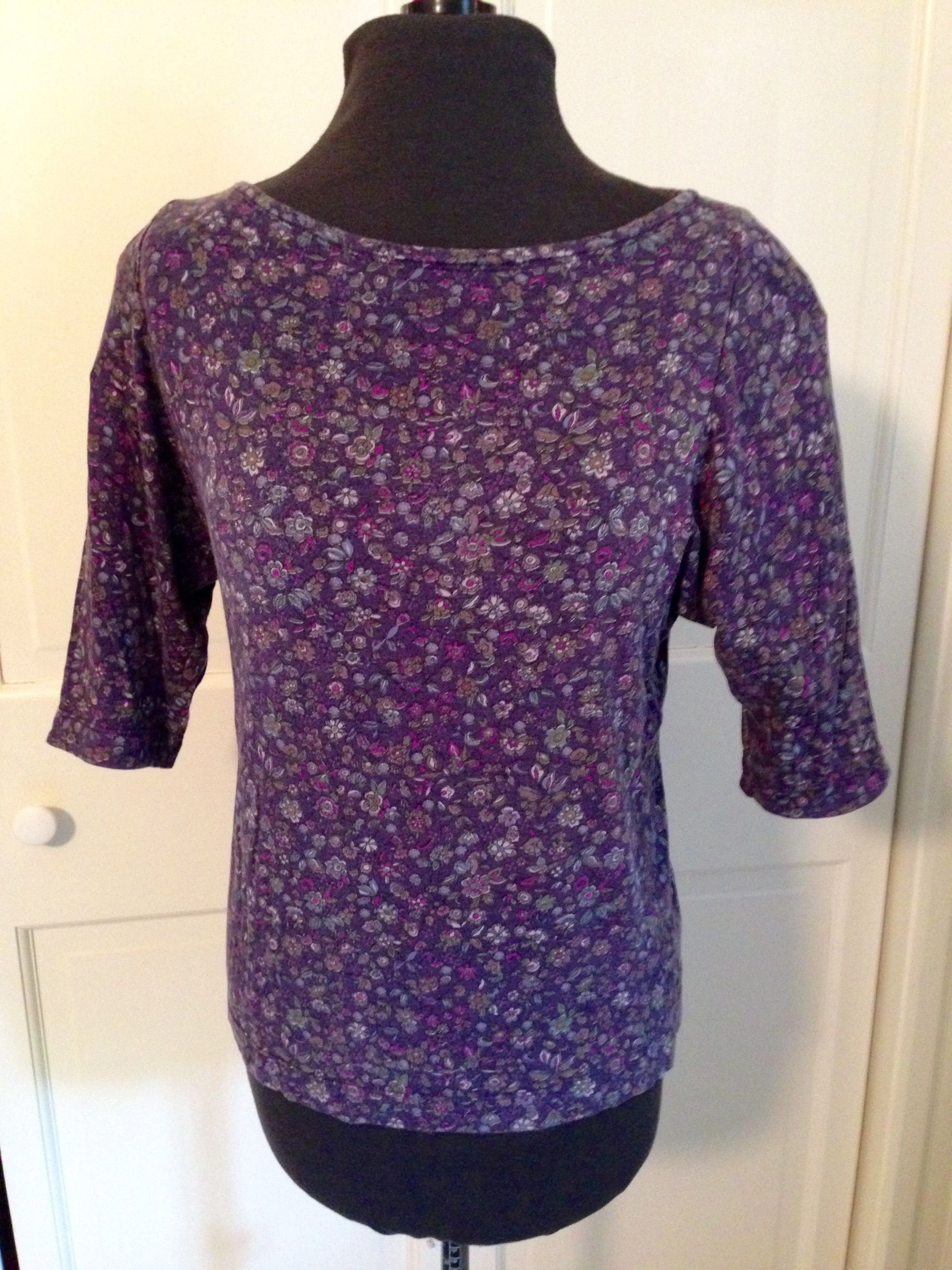 Turn up and press the raw edge of the fabric to the desired hem length.
Set your coverstitch machine for a double row of topstitching, narrow or wide depending on your preference.
Find the position your garment needs to be in to place the left needle at the top of the hem raw edge.
Topstitch from the right side to stitch the hem in place.
Pull threads inside the garment to tie off.  Carrie likes to bury the thread tails inside the hem after knotting them together; thread the tails onto a needle, insert it between the hem and outer layer, emerge about an inch over and snip the remaining tails off.

Detail of hem cover stitching.
A Deep Hem – for a top that could benefit from a bit more weight and drape.
Before you cut out your top, adjust the pattern by adding at least 2" to the bottom of the Front, Back, and Side pattern pieces. See page 4 of the Wide Neckline Variations pattern direction booklet for an illustration.
Then follow the directions above for a sewing machine finish or a cover stitch finish using the hem depth you desire.

Deep hem up close.
A Bound or Banded Hem – this finish is fun if you have a fabric you want to repeat a second time on your top, or if there is not have enough fabric to turn up as a hem.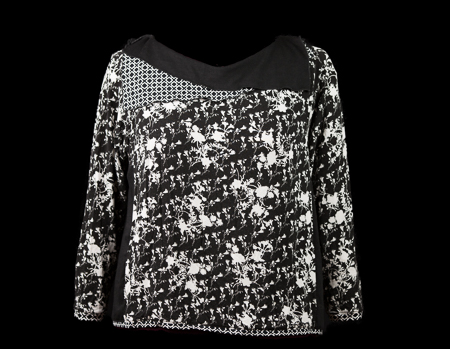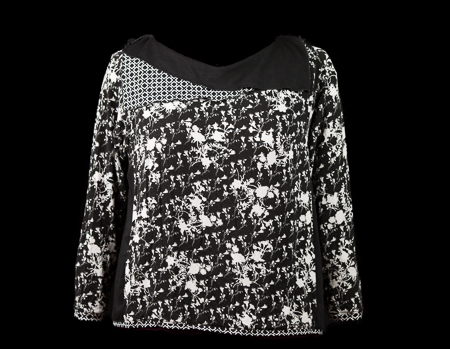 You can cut the band the same circumference as your hem for a smooth finish or smaller if you want the band to cinch in the tee at the hem.
Refer to the directions in Step 12, page 14 in the TRK direction booklet for finishing a banded sleeve, as you calculate and apply the band to your hem.

Banded hem, up close.
A Serger Rolled Edge Hem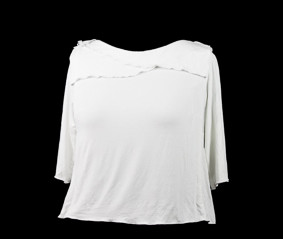 If you have a serger that can be set for a rolled edge, create a wavy lettuce-like hem for your tee.  This is also an easy finish if you find that your constructed top is too short for a classic hem.
Set your serger for a rolled hem and make several samples to test your thread, stitch length and width. If you are having trouble with the fabric separating from the rolled edge finish, try stitching a stay stitch on your sewing machine ¼" from the edge of your hem as a guide before adding the rolled edge finish.
Stretch as you sew if you want a very ruffled lettuce edge. Add a drop of fray check or other fabric sealant to the thread tails before trimming them off.
Carrie finds that the narrow hem setting works better on some fabrics with her serger, so test this option in samples if you are having trouble with the rolled edge setting.

Rolled edge hem, up close.
Which of these knit hems have you tried with success?  Do you like interfacing your hems, or not?  Are you still nervous about sewing with knits?  We have several upcoming classes to get you started, so check out our calendar for July to see where and when we are teaching.  Or come sew with us in August at our Summer's End Sew-In to practice your knit sewing under our helpful watch.
Hop on the knit sewing bandwagon.  Making tees is fun and quick once you get the hang of it and who doesn't need new tees for their summer wardrobe.
Happy Sewing, RAE