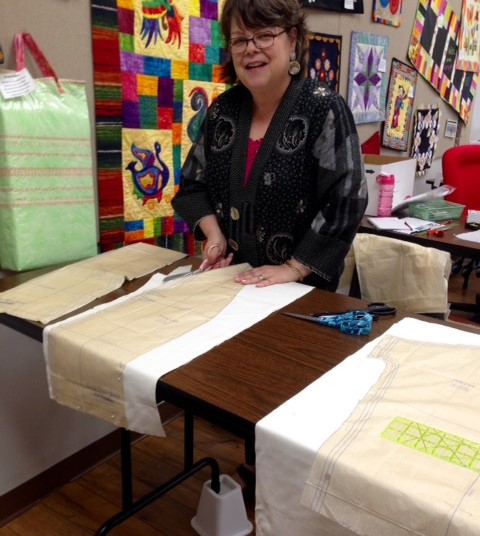 I have been sewing for years, over 55 at least.  It began with hand stitching while my mom sewed on the machine.  She was great at conjuring up hand sewing projects for my dolls in an effort to keep me away from her precious sewing machine.  But, as soon as possible, I started cutting and sewing my own clothes.  It was such a passion I even took my sewing machine with me to the college dorm.
Over 30 years ago I officially turned my sewing hobby into a business and I have never looked back.  The problem is that my back is tired. It began to rebel about 7 years ago and even with the support of a wonderful Physical Therapist (PT) and a heavenly Massage Therapist, it continues to haunt my days and nights.
I am just beginning to experience some relief from a long bout with lower back and sciatic nerve pain and as I improve, my support team wants me to make some changes.  We are looking at my habits and repetitive motions in an effort to keep my spine from shifting around again.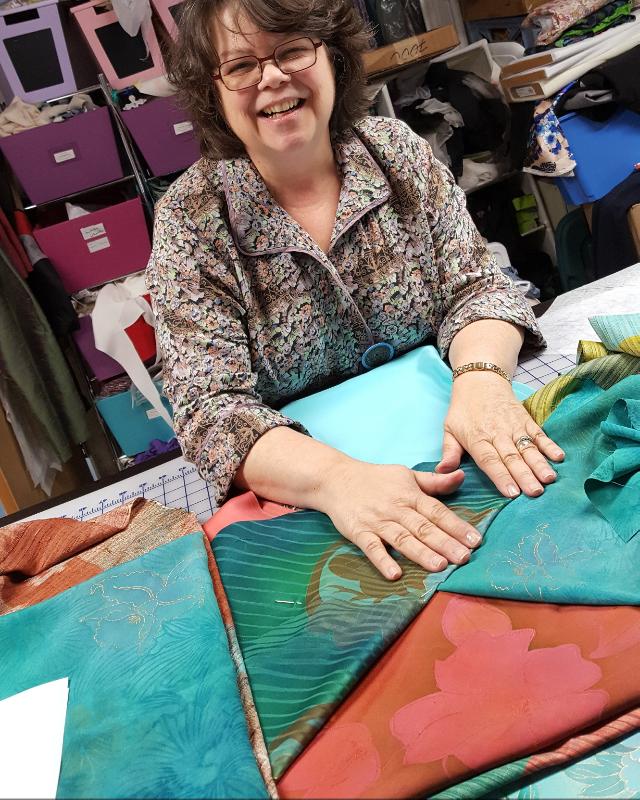 One culprit we have identified is the way I cut.  More specifically, the way I lay out and grain the fabric on the table, pin on the pattern pieces, cut out each piece and mark the notations.  These habits are deeply ingrained, as you can imagine, and it seems odd to assess them so closely.  But, I am taking note because I am determined to figure out how to stabilize my spine by changing my habits and strengthening my core.
Several years ago, I invested in a large cutting table that is an ideal height.  It was one of the changes I made after my first back problem, a herniated disk in my upper back.  But as I assess my movements, stretching across the table to grab a ruler or smooth a fold with my short arms, my tender back is irritated.  Reach with both arms, my PT says or better yet, walk around the table.  This means I have to slow down to think about changing a process that is second nature.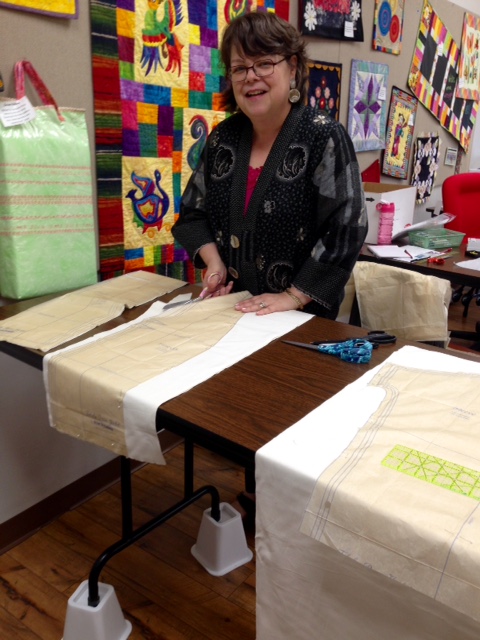 Then there is the cutting.  As I was cutting out several pairs of pants this week, I became mindful of my recovering back and my cutting habits. I am right-handed  and I begin to cut in front of my core then move across my body, twisting to the left (my bad side) to finish cutting the long legs.  Ouch! That is a bad idea.  Changing my habits, I am trying to take steps to the left to keep the twist contained in front of my body, or cut from the hem, straight ahead, shifting the fabric to keep from stretching too far forward.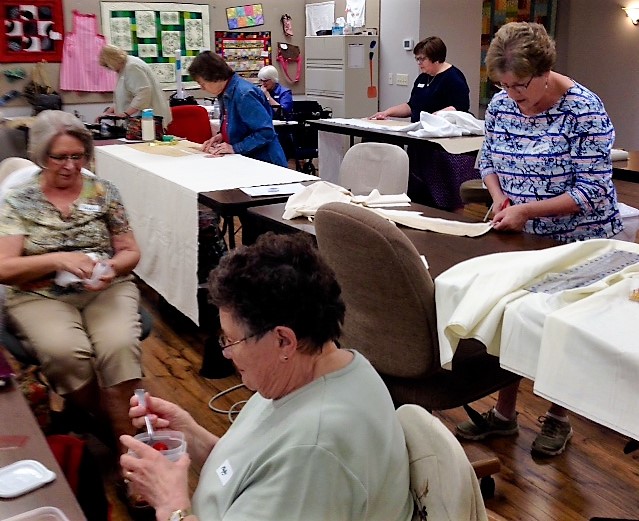 My PT says, stop and stretch to the sky, then slightly to the left and right.  Don't cut for an extended period of time says my massage therapist.  Their voices repeat over and over in my head as I try to teach this old dog some new tricks.  I have to conquer this because I certainly do not want to give up sewing.
Do you experience aches and pains when you are sewing? Do you cut on an elevated table?  You should, even if you don't have back troubles yet.  Purchase yourself a set of bed lifts to bring your table to a better height.  It is a quick and inexpensive way to make your cutting more ergonomically correct.  You back will thank you.
Happy Sewing, RAE