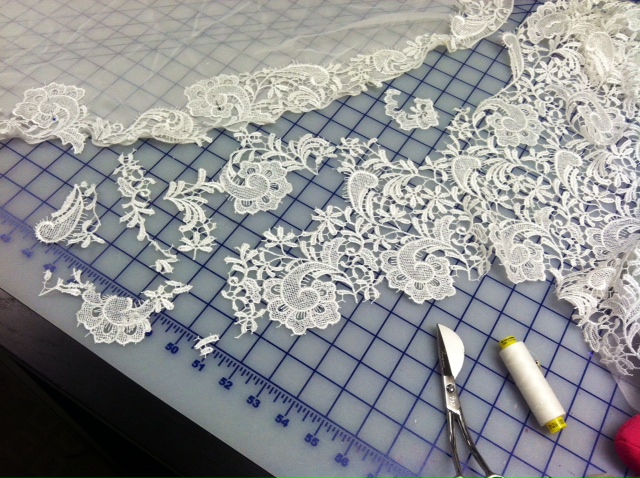 My sewing studio is my refuge and lately I want to hide there.  Last Wednesday I went to the studio in the morning and turned on the radio to keep me company.  The news was bleak and after catching up with the breaking news that included shootings, fires, and wars, I had to turn it off.
My inclination was to find some beauty to disperse the dark clouds in my mind and heart.  I had a chiffon bridal train that needed a border of lace, so I got lost in the process.  It was the perfect antidote, pretty, delicate work that occupied several hours.  Beautiful sewing won't fix the world, but it helped me alter my outlook.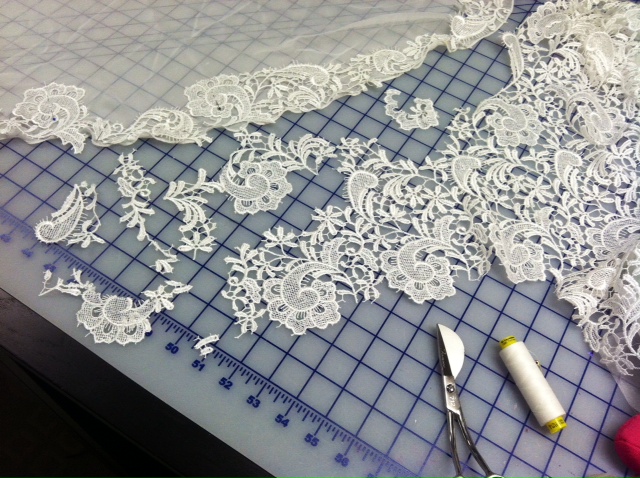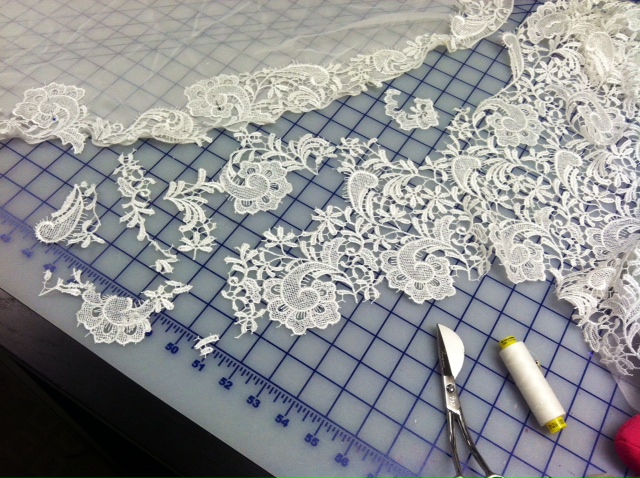 I accompanied my sewing with some peaceful music.  I love to fill my ears with beauty too and refocus my thoughts.  The CD changer in my studio is loaded with tried and true mood altering music that I often sew to.  My favorites were chosen, Bach's unaccompanied cello suites and the vocal music of the Benedictines of Mary our Queen.  These mellow tunes really help me find a calm place and keep the stresses of work and the world in perspective.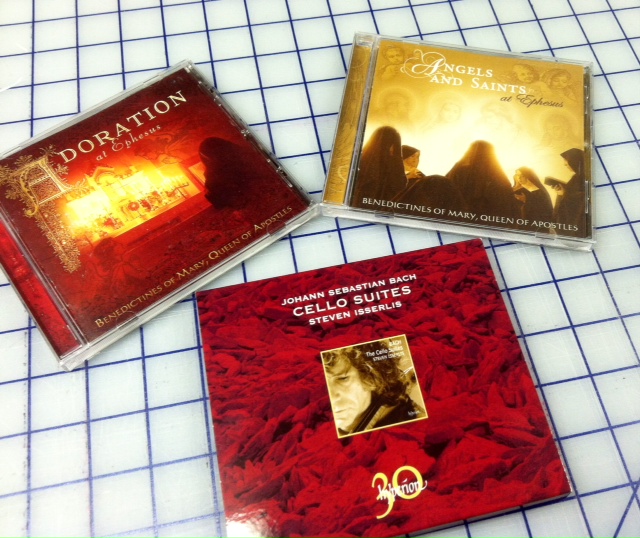 Other ways to keep sewing stress free is to have realistic goals for your sewing time.  Breaking a project into smaller sections and spreading it out over several days or weeks, depending on your allotted sewing time, will keep you feeling satisfied with your progress, rather than frustrated that it is not finished.
Let's take the bridal train as an example.  It is a detachable watoo train for my niece's wedding dress.  The wedding is this weekend.  The train was an afterthought, but it will be a beautiful and formal finish for the ceremony.  I ordered the fabric weeks ago and the lace border is being made with lace scraps from her dress.  It was on last week and this week's schedule.  Here is how I organized the project:
Two Fridays ago, I cleaned the studio so it would be ready for wedding gown work. The tables, machines, iron and board and the floors all need to be pristine, no colored threads or fuzz.
The following Monday I prepared the fabric on the clean cutting table so I could cut the curve of the hem.
I loaded the serger with eggshell colored thread and tested the rolled edge hem on scraps with a similar curve.
On Tuesday morning when I was well rested, I serge finished the chiffon train and fray checked the thread tails.
The finished train was draped on the dress to consider the scale and shape over a couple of days.
Deciding it was a fine shape and length, I began cutting lace motifs on the dreary news morning. My plan was to make a free form design that would dance around the train.
I was interrupted several times which allowed me to walk away and then return to consider the design with fresh eyes. Once satisfied, I pinned the lace to the curved hemline.
That evening I hand tacked the lace to the train so I could photograph it for the bride's approval.
I pick it up whenever I have a few extra minutes, or need a dose of beauty, to stitch the motifs down permanently.

The train with lace pinned into place.
So, how do we apply this method to Fit for Art sewing projects?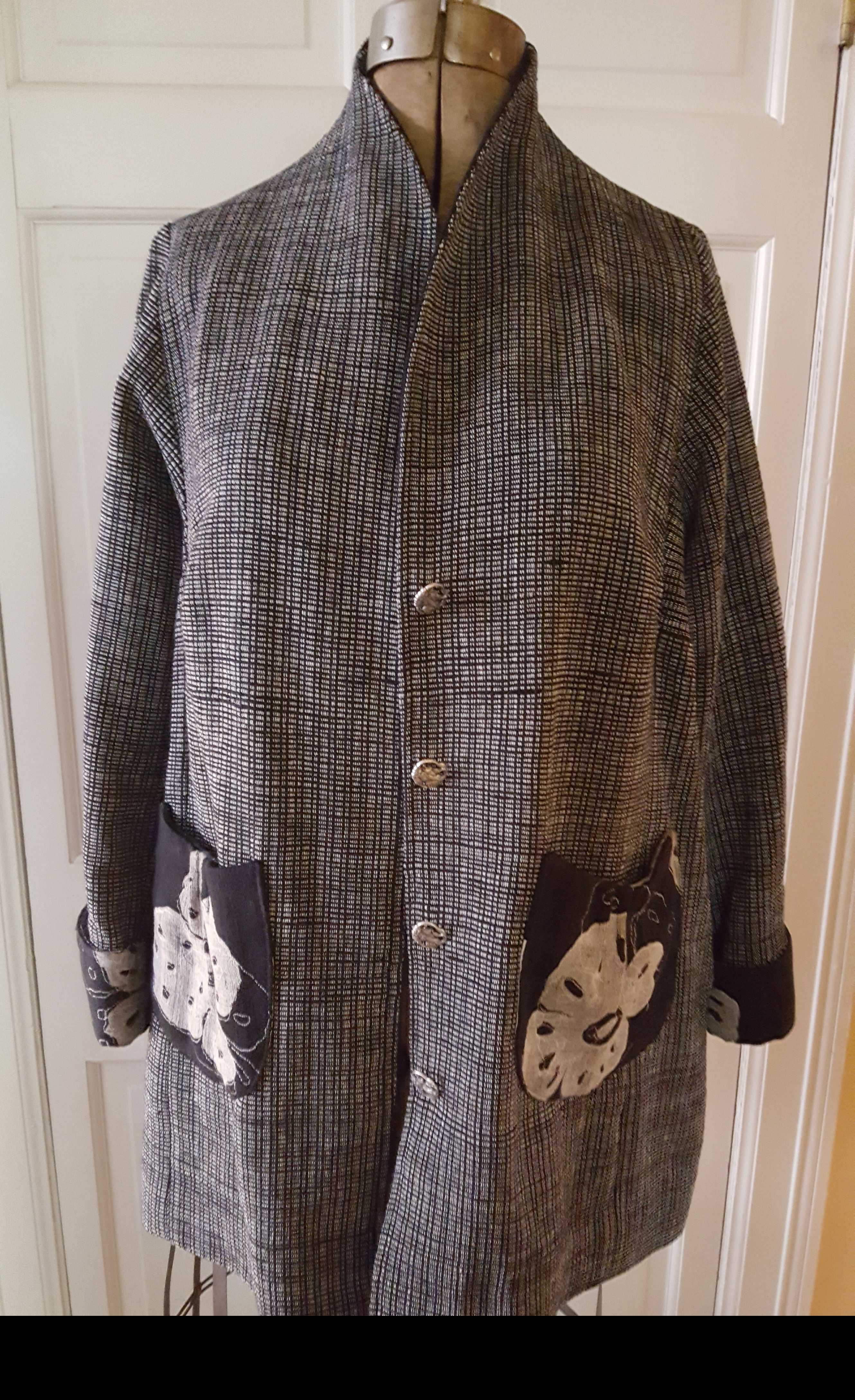 Garment sewing involves so many steps, including making a mock up, fitting, design work, pattern adjustment, fabric preparation, pattern placement, cutting, marking, interfacing, sewing, pressing, fit tweaking, hand finishes and more if you are embellishing or adding closures.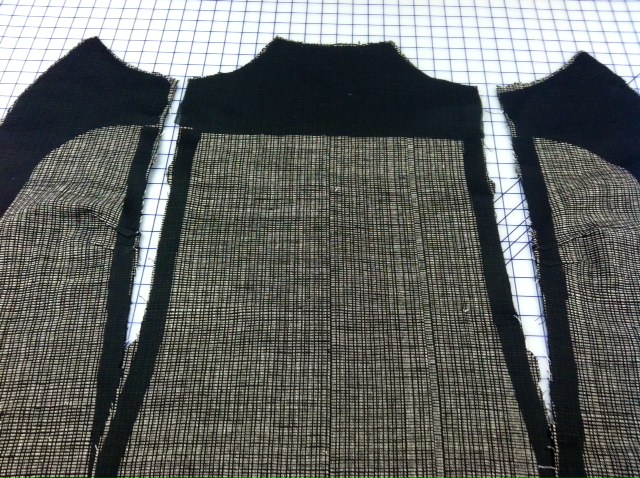 If your only sewing time is at night and on the weekends, consider scheduling one of these steps for each free evening.  Your progress might not be speedy, but it will result in a well-conceived and carefully crafted garment.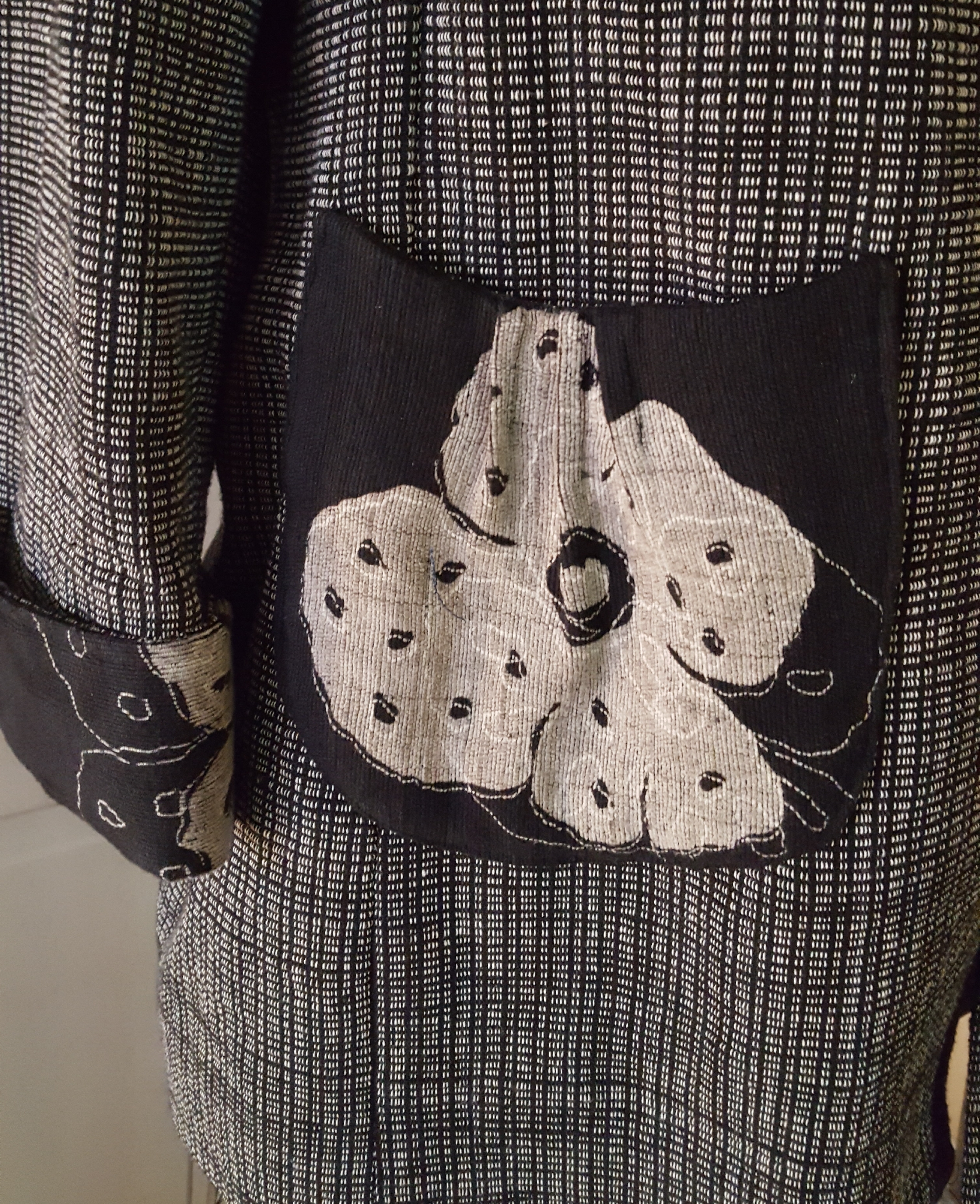 How do you divide up your projects?  What do you listen to while you are sewing?  Does sewing help you keep moving in these turbulent times?
Happy Sewing, RAE
PS, Love the Pintuck pocket?  It is a free download and can really jazz up a simple jacket.