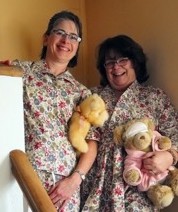 Rae and I have been eyeing a lovely bolt of Japanese cotton lawn that we bought earlier this year.  We've also talked for some time about creating Fit for Art sleep wear, and suddenly it clicked into place – the lawn is perfect for pajamas and robes!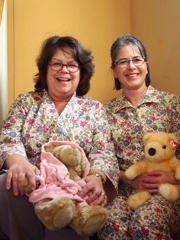 I made a pair of pajamas with the pre-washed cotton lawn.  The pants are based on my basic Eureka! Panta that Fit pattern.  I followed the instructions in the Eureka instruction book for pants with an elastic waist finish (page 22) making one pattern adjustment.  Because my pants pattern has just one small dart, I was afraid that I wouldn't be able to pull them over my hips without an opening.  As a precaution, I added 1/4" to the side seams both front and back from hip to waist, which added a total of 1".  Good thing I did!  (A little more wouldn't have hurt either.)  If you have relatively minimal darts in your pants pattern, you too may want to give yourself a little more ease.  Before I finished the waistband, I decided that I'd rather have a drawstring than an elastic waistband.  Luckily, Rae has written directions for a drawstring waistband in a blog post, so I followed her instructions, making inseam "buttonholes" on the outside of the waistband.  You can find the instructions in Drawstring Pants and Memories.
My pajama top is directly from my Tabula Rasa Shirt pattern with the spread collar.  I figure these will be warm season PJs because the cotton lawn is so light weight, so I opted to make the top short sleeved.  During construction, I found that I had overestimated the length needed for short sleeves when I cut out my top.  Instead of cutting the excess 2" off, I decided to add a cuff on the short sleeves.  This was executed the same way that we describe putting a cuff on Eureka! Pants in the Trouser Details instruction book (page 12).  It's easy to do:
press hem under ¼" or clean finish;
fold hem up 2" to the inside, press, and sew in place with a regular machine stitch;
fold up 1" to the outside, press again, and tack cuff in place.
I used Envy Silk (or bi-stretch) fusible interfacing for the front and back facings and collar, plus fusible weft insertion on the under layer of the collar.
Rae created a short bathrobe with the pre-washed cotton lawn.  The robe is based on Rae's Tabula Rasa Jacket pattern with a few adjustments – extending the front, back, side, and band pattern pieces to fingertip length and adding a little ease through the lower part of the robe for comfort.  It features a front and back shoulder facing for support and the summer sleeve with a faced cuff; both facings and the inside of the band were made with a complementary fabric.  She used the bi-stretch fusible interfacing on all of the facings and on both the inside and outside of the kimono band.
Rae decided to add an attached sash to tie her robe closed.  (I don't know about you, but I find robe sashes are always falling off or trailing on the floor.  What a great solution!)  Rae's sash is 4" wide finished and long enough to wrap around the back of her waist and tie in the front.  We wrote directions for adding an attached sash to a Tabula Rasa Jacket a few years ago as a freebie for customers at some shows.  The sash directions are now available on our website absolutely free as Wrap It Up, a downloadable document, which also includes a template and instructions for making an Obi style belt for your Tabula Rasa tops!
We are very pleased with our Fit for Art pajamas and robe and hope you'll be inspired to try it too!  This is especially easy to do for yourself if you already have your Fit for Art patterns fitted and ready to go.  We have 8 yards of the cotton lawn left over which we are offering for sale at $24 per yard plus the cost of shipping.  Both projects required about 3 yards of fabric, though Rae made do with less by using a coordinating fabric in the facings and band.  Please contact me directly at carrie@fitforartpatterns.com with the number of yards you'd like and shipping address.
I am already dreaming of flannel PJs and a bathrobe for winter!  Or, for those of you who like to wear soft knits at night, you could easily use your Tabula Rasa Knit Tee and Eureka! Pants patterns to create relaxing knit pajamas or lounge wear.  We'd love to hear about your creations and see photos, so post them on our Facebook page or send them to us at info@fitforartpatterns.com.  We think that Fit for Art PJs and robe would make a great gift, too!  Since sleep wear is generally looser fitting than day clothes, you don't have to be concerned with exact fit if you are making it for a friend.
Happy Sewing! Carrie