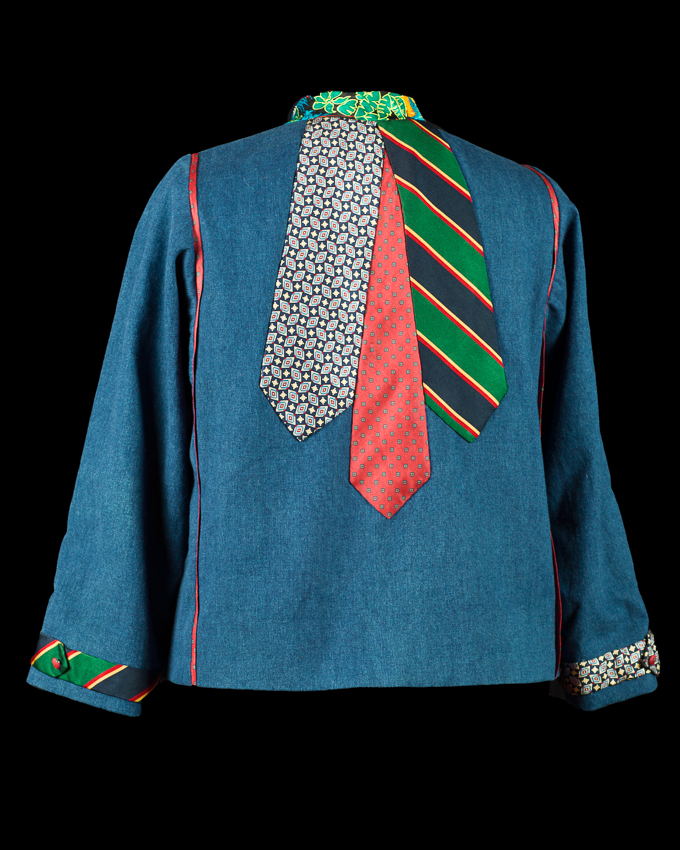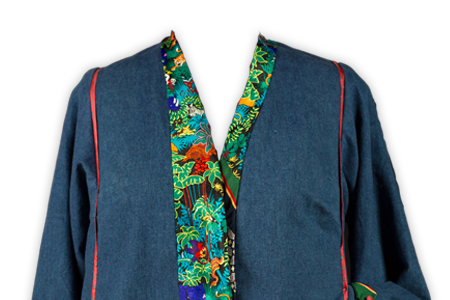 During the gifting season, I am often looking for gifts that delight the eye and touch the heart.  Digging out a box of old neckties is a good place to find lovely tidbits of sentiment and they work great as embellishments on Tabula Rasa Jackets (TRJ) and Tabula Rasa Vests (TRV)
When we were in the early stages of development for the TRJ pattern, I made a TR vest decorated with ties for my mother-in-law for Christmas.  She had given me a bag of her husband's old ties after his death the previous February.  I chose the best ones, found a coordinating piece of raw silk in my stash, and stitched it up in short order.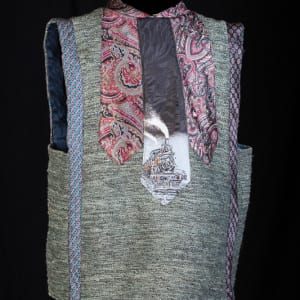 She tells me that whenever she wears it at the retirement community where she lives, people stop her to take a closer look.
The following year I made a TRJ for my mother using my father's ties and a wool tweed fabric.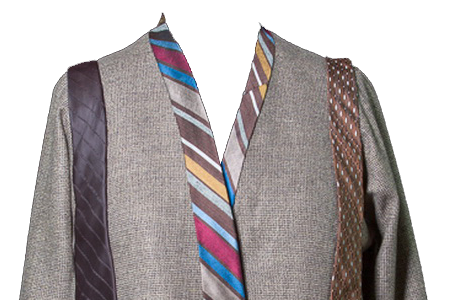 Since then I have made a TRJ with ties for myself and one for my mother-in-law's sister, both using denim as the base fabric.
Perhaps the most bittersweet was a TRJ that I made last winter for my friend Cheryl, whose husband died of cancer 20 years ago at the age of 39.  She was to speak at a church service honoring his memory and wanted to wear a jacket featuring his ties.  She had saved a lovely assortment.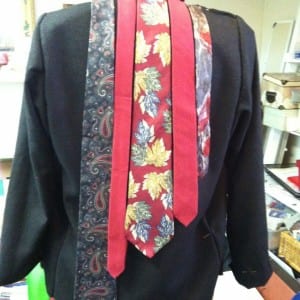 We started with a red tie she had made and gifted to him for Christmas over 30 years ago.  We selected a piece of black raw silk suiting from her stash to complement the group of 7 ties.
Here are some tricks for making a terrific tie jacket or vest:
Find 5-7 ties that coordinate well. Ideally at least one with a novelty print, one foulard, one striped and one very simple.

Testing ties for the band and side seam inserts.

Identify one or two for the front band. If your jacket is short, one might be long enough but for a longer jacket, you will need two.
Arrange some of the ties on the back before construction. Use the ends from these ties to decorate the sleeve if you are making a jacket.
If you wish to piece ties together to form a longer embellishment, piece them along the straight of grain, which looks like the bias.

Pieced tie for long front band.

Deconstruct a tie to use as flat piping along the side/sleeve seam if you do not want to use complete ties for each side.

On Cheryl's finished jacket, notice the sleeve details and piping.

Insert the selvage edge of the fabric between the jacket and lining to support the tie that forms the decorative front band.

The tie has been folded back to reveal the selvage base and the button loops.

Hand or machine stitch the ties to the jacket or vest.
Close the jacket with small buttons and loops or an inside tie.
Save the labels from each tie you use in the jacket and stitch them into the lining or back facing.

Labels lined up on the facing.
Love this idea, but don't have your own stash of ties?  Contact us and we will put together a collection in your desired colors from our extensive stash.
What have you done with old ties?  What other sentimental fabrics have you repurposed as gifts?  In this season of sharing we thank you for sharing the Fit for Art journey with us.
Happy Sewing, RAE