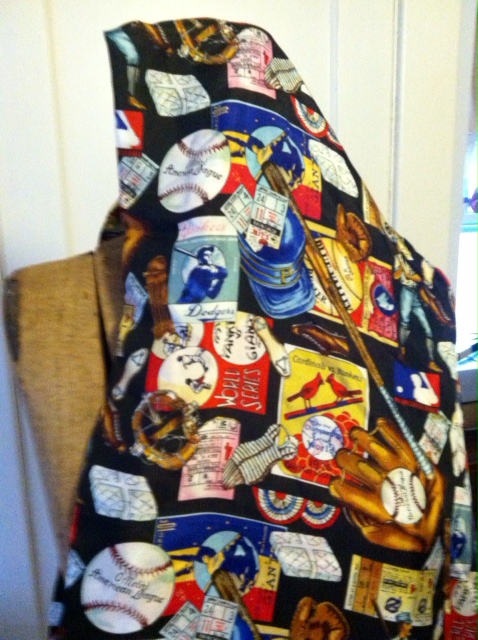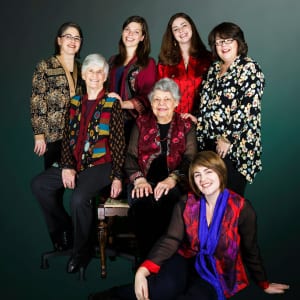 We love to dress up for the holidays, even if that just means a great top or jacket to complement our black pants or blue denim jeans. This photo was snapped last year, just after Christmas, when  our mothers and daughters were visiting for the holiday. Everyone is resplendent in their Tabula Rasa Jackets (TRJ)!
For your inspiration, we will introduce you to everyone and tell you a bit about each jacket. Many are in the private collections of these lovely ladies, so we don't have all of them in the gallery.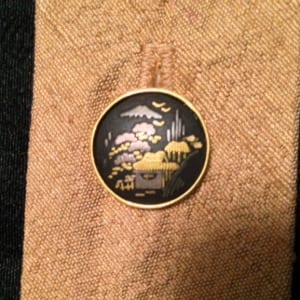 Let's start with Carrie and move clockwise around the photo. Carrie is wearing her "Batik Splendor"  blouse.  Visit our photo gallery to see it up close and read all the details.  It is made from rayon batik and silk dupioni and features a dramatic beaded trim on the front and back yoke, beaded cuffs, and vintage Japanese buttons that her mother-in-law brought back from Japan in the 1950's.
Carrie's daughter Meg is next in a sheer TRJ that features a rose and black scarf print in the front and back.  It is constructed with rolled edge seams on the outside.  Meg travels a lot and this sheer jacket is perfect to pack in her suitcase.
Sarah, Rae's daughter, has on her TRJ made with two Chinese Brocades.  You can't see the best part, which is the Nicole Miller baseball print that lines this lovely jacket.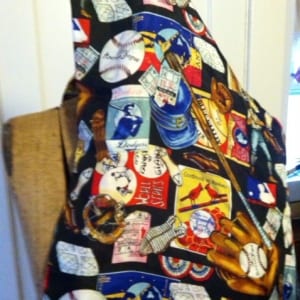 Rae is wearing one of her favorite TRJ s with the swing side.  It is unusual for her to have a top made from all one fabric, but this lovely crinkle rayon print was purchased in Nimes, France.  The fabric feels great and is set off beautifully with two jeweled gold buttons that belonged to her Grandmother.
Rae's daughter Anna is seated on the floor and is wearing her festive TRJ with an attached scarf tie, like the one on Rae's blue jacket featured in an October blog post.  (Read the post to learn how to add a scarf tie to your TRJ.)
In the center is Rae's mother, Anna Rae.  She has on a sassy Swing Variation of the TRJ. The fronts and backs are made from an embroidered and sequined organza with a beautiful scalloped border.  It has sheer black sleeves and is finished with bands made from a blue, red and black chiffon print.
Last but not least is Carrie's mother, Peg. She is ready for any holiday occasion in the Circle my Stripes sheer pieced TRJ. See more photos in the photo gallery. This wonderful top has exterior rolled edge seams and a ruffled band.  Both techniques are featured in Swing Variations for the TRJ.
We hope you are planning to wear one of your favorite TRJs to an upcoming holiday engagement.  Send us a photo so we can post it on Facebook.
We aren't sewing much this week, because we are busy baking cookies, wrapping gifts and visiting friends and family.  This holiday season we wish for you restorative time with the people you hold dear.
Happy Sewing, Carrie and Rae