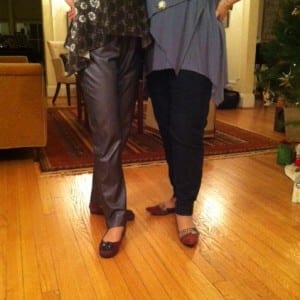 We have been sewing up pants to wear for New Years Eve.  Carrie and I celebrated the holiday a few days early so you could see our Eureka! Party Pants.  Carrie chose to wear the fabulous faux leather pants she wrote about last month.  They are so flattering and comfortable when worn with her purple suede shoes accented with gunmetal jewels on the toes.
I decided on one of my favorite pairs of party pants made with light weight denim and spandex.  This pair of Eureka! Pants was fit quite tightly down the leg.  They complement my Tabula Rasa Knit tunics perfectly.  My party look was finished with a pair of brown and rust suede flats sashed with rhinestone accented silk shantung.  I rarely wear these shoes so it feels like a party every time I put them on.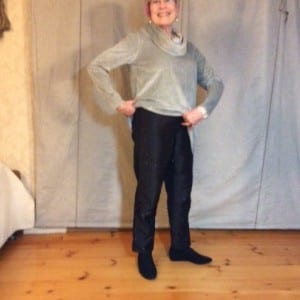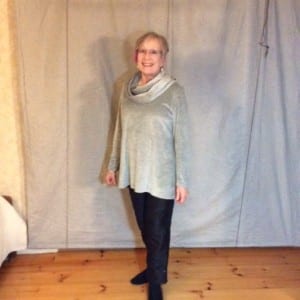 So much of the party spirit comes from feeling great in your clothes.  You can see that Pat, an ASDP friend who lives in the Boston area, is in a party mood in her pants.  She sent us these photos of her festive black tufted poly shantung pants made with the Eureka! Pants that Fit pattern she perfected in our 2-day class in November.  They are pull-on elastic waist pants and the fabric was already in her stash.  Pat has enjoyed wearing them all month to holiday parties.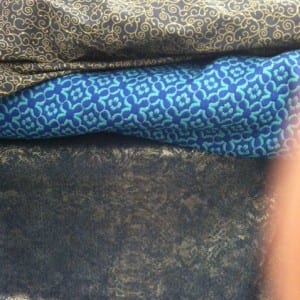 What are your favorite party looks?  Mine always include pants that are comfortable and slim.  Party fabrics are readily available these days.  At my local JoAnn's last week, I found these three sale fabrics which would make fun party pants.  The top fabric is black polished cotton and spandex with a gold scroll design for subtle party pants.  In the middle is a striking green and blue bottom weight jacquard for dramatic party pants, and on the bottom is a metallic swirl embossed stretch denim for some kicky but casual party pants.  If there had been more than a yard on the bolt I would have bought it for next year's party pants.
Make a resolution that you will celebrate the 2015 party season in some fun and comfortable Eureka! Pants That Fit.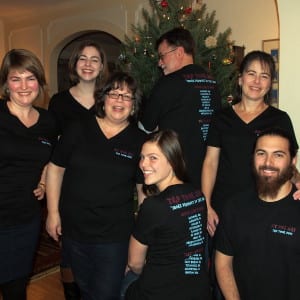 We will close out 2014, our first year blogging with you at Sew! Let's Get Dressed, with this fun family photo.  We are all partying in our "Fit for Art Patterns – 2014 National Tour" tee shirts.  Carrie's husband surprised us with them to celebrate our "rock star year".
We wish you and your family a safe, healthy and happy new year and we hope our "2015 National Tour" takes us to your neighborhood so we can sew some great clothes together.
Happy Sewing, RAE