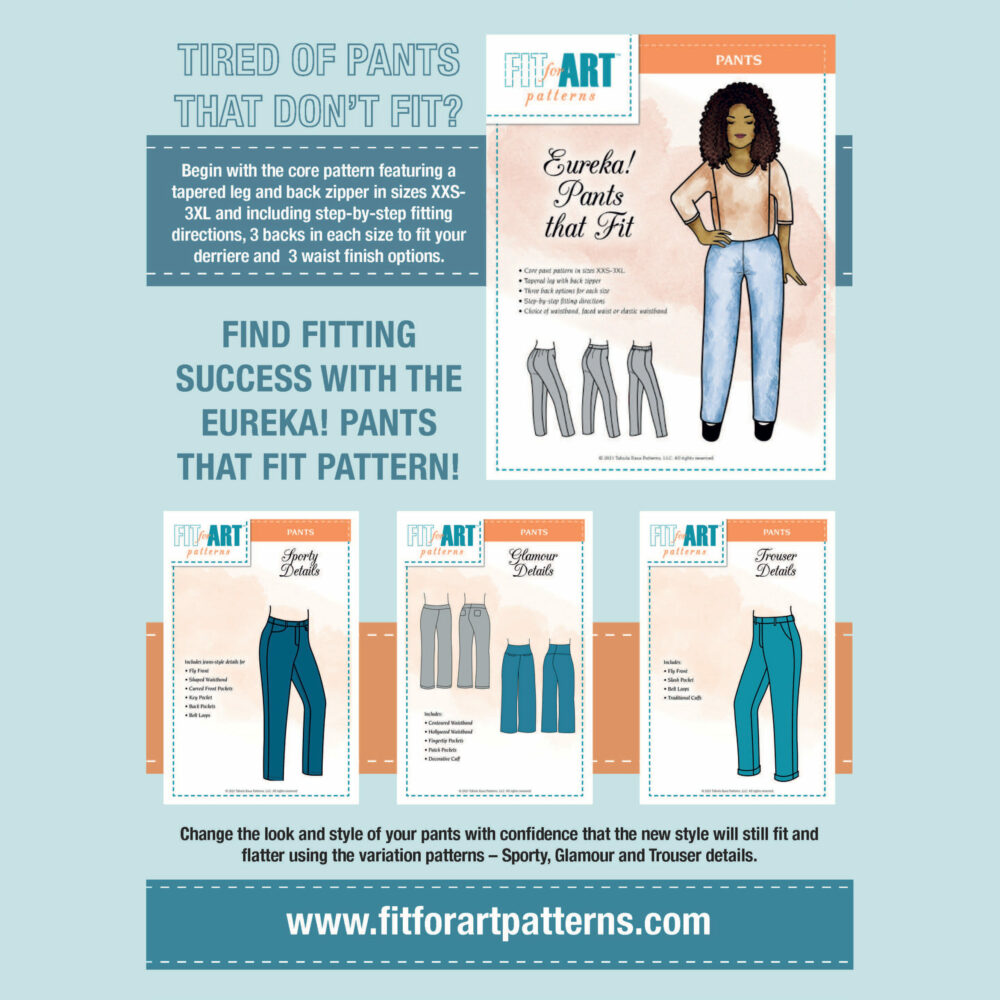 This month we are reveling in the convergence of all things Eureka! Pants.  We are especially pleased to extend our welcome to the international sewing community through a UK digital sewing magazine and to add downloadable Details pattern variations for Eureka! Pants that Fit.
Find us in The Pattern Pages
Fit for Art is delighted to be included in two small features in the latest issue of The Pattern Pages digital sewing magazine. "The Bride Wore Eureka Pants" is a quick review of Rae's clever adaptation of our Glamour Details to create Meg's fabulous wedding pants. You'll also find "12 Tips for Sewing Great Jeans from Fit for Art" along with links to several of the great resources on our website. If you don't already subscribe to thepatternpages.com, now is a great time to check it out. Issue 24 was published January 8th and is all about pants, especially jeans.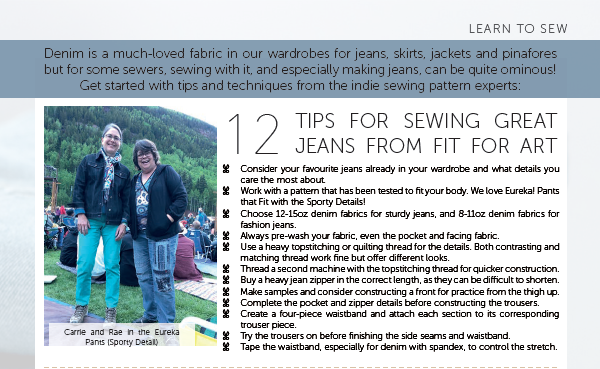 Details for Eureka! Pants – Digital or Print Format?
Even more exciting … all three of the Details patterns for Eureka! Pants that Fit can now be purchased in digital or print format! As always, the print purchasers will receive the patterns printed on tissue and the detailed instruction book, both tucked into our newly redesigned cover/envelope! The digital purchasers will receive links to two files; one file is a PDF of the instruction book to print at home and the other is a zip file with the patterns in two digital formats plus an instruction sheet explaining how to print either the copy shop or tiled format.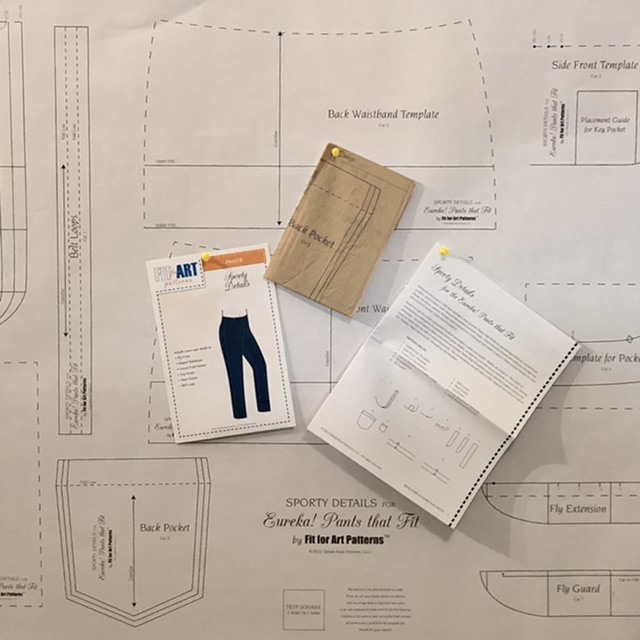 Some quick reminders when purchasing these Details patterns and any Fit for Art digital patterns. Be sure you create an account on our website so that you will be able sign into your account and download the files whenever you are ready. Because purchasers are limited to 3 times to download each pattern, you'll also want to save the pattern and instruction book files on your computer or other device so you can refer to them again and again as needed. For more details on Fit for Art's digital patterns, check out our Digital Pattern FAQs.
What will you find in the Details patterns?
Like all Fit for Art variation patterns, Eureka Pants Details include patterns, templates, and detailed instructions for using the templates to modify the core Eureka Pants pattern you have worked so diligently to fit.  We have tried to make the pattern work as simple as possible for you, so please take the time to read and follow the pattern work section of each instruction book.  It is so worth the effort, knowing that the new styles will fit just as well as your core Eureka Pants.
Looking for more help? Consult the resources on our website!
Don't forget to consult the extensive resources on our website.  In the blog archive you'll find posts about each of the detail patterns by searching for Sporty Details, Glamour Details, or Trouser Details.  Our posts include step-by-step demos of pattern work and construction. You will also find posts with inspiration and directions for additional pant modifications such as shorts, capris, hem vents, and underlining. 
Scroll down the Free Downloads page on fitforartpatterns.com to find links to detailed posts on inserting a lapped zipper, invisible zipper or fly front zipper and links to scaled down patterns for practicing zipper insertion before launching into your good fabric.
What are you waiting for? Get started on making your favorite style of pant whether it be classic jeans, trousers, or elegant wide-leg Hollywood waist pants today!
Happy Sewing, Carrie and Rae