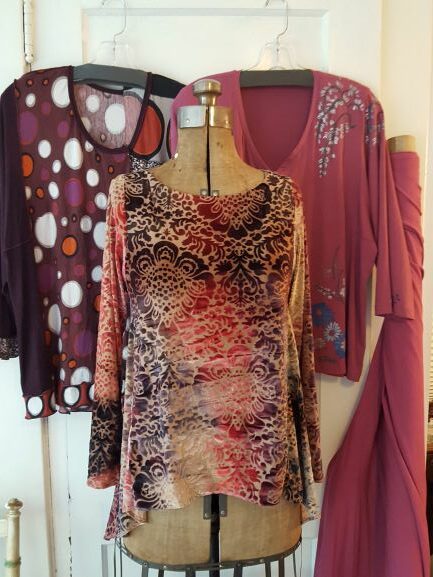 While preparing to teach the Knit Fit Nuances class online June 17 and the Knits that Are Sew Fabulous class at the Cleveland/Akron OSQE, I have been reflecting on my knit sewing journey.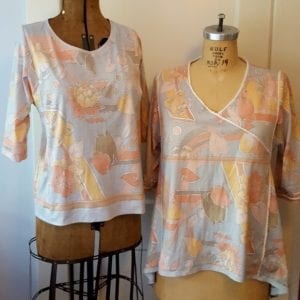 Sewing with knits was a new concept when I was in high school. My family had recently moved and I was having a lonely summer.  Our new down-the-street neighbor was friendly and she knew a lot about sewing.  She offered to help me make a stretch and sew swimsuit.  The fabric was a thick white double knit.  The style was a modest two piece.  I must have worn it, but that has been erased from my memory.  What I remember is the excitement of a new sewing adventure.
Knit fabrics are more varied and available now, an improvement over the selection in the early 70's. In those days, when I found fun ones, my design juices would begin to flow and the sewing would begin.  I remember clearly the light blue crepe double knit prom dress that was stitched from a Vogue Designer pattern, my collage ring dance gown, a wrap around Vogue Designer pattern in two layers of white poly jersey, and the red tee shirt I was stitching in my dorm room when my new boyfriend, now husband of over 40 years, dropped by to pay a call.
Now, there is a wardrobe of fun knits in my drawers and closets and I learn something new each time I stitch up a new design or work with a new fiber.  All these years of experience will inform my conversations with you about fitting and sewing knits.  An integral part of the conversation is how different types of stretch and drape effect the garment's fit.
If you want to learn more, register online with OSQE for "Knit Fit Nuances" and order up the large swatch kit from Fit for Art.  You will have access to the virtual class recordings for many months so you can watch it whenever you need to be empowered to sew on some new knits.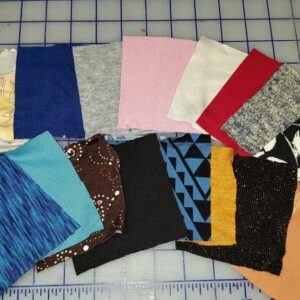 Our blog archive is full of great posts about knits.  Visit it anytime you want to read about great techniques and be inspired with fun design ideas.  It is like a book of short, illustrated chapters on sewing knits like Knit Tee Hems and Painting on Knits.  You can browse through the archive under the Knits topic or search by specific terms.
Last summer I came full circle and made my daughter a new swimsuit.  I used the excellent materials and directions from Cashmerette and she now has an amazing suit she loves to wear in her water aerobics class.  It was a long way from that white double-knit suit I made in the 70's.  Sarah's suit was a new adventure in piecing and fitting a curvy body in knits.
That neighbor I told you about earlier is Terry Sheetz.  She was a Stretch and Sew and Palmer/Pletch instructor who later became an integral part of the OSQE staff.  She is retired now but I try to carry on that great sewing tradition she shared with me: passing along my knowledge to others.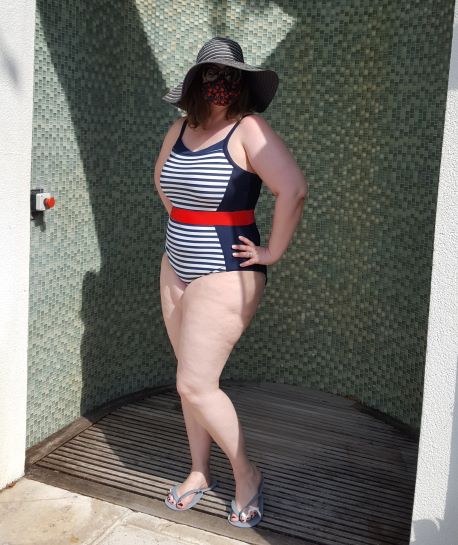 Want to sew Tabula Rasa Knits side by side with Carrie and me?  Register for our November sewing retreat.  We are so thrilled to be able to get together for stitching fun!  Insiders like you can register now  for 2, 3 or 4 days at our Sew Successfully Retreat to make sure you have a table in our sunny classroom at the Maritime Institute near Baltimore Washington Airport.  If you want to stay overnight, you can reserve a room near our work space with the Maritime Conference Center.
Happy Sewing, RAE