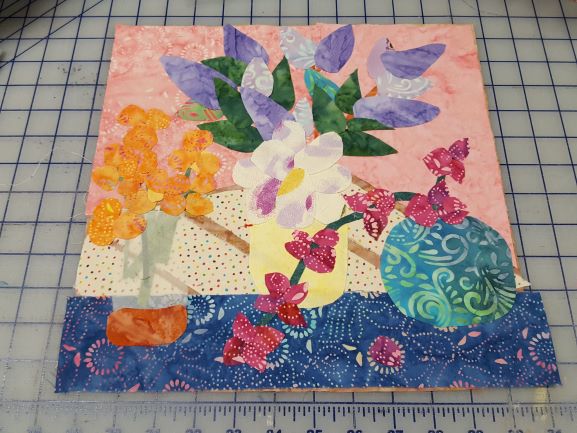 Are you sewing or designing in any new ways?  The forced isolation of the last 14 months led me to take a virtual art quilt class.  It's part of my ongoing effort to develop a more abstract eye in relation to sewing and wearable art.  My travel schedule has never allowed me the freedom to take a four-month class, but the e-mail arrived and I decided to dive into "Jumpstarting your Creativity".
Expand your skills and design eye in a class
Classes can really expand your sewing tool kit and while they may seem like a big investment of time they give the stitcher, who carves out time to fully participate, a refreshed perspective.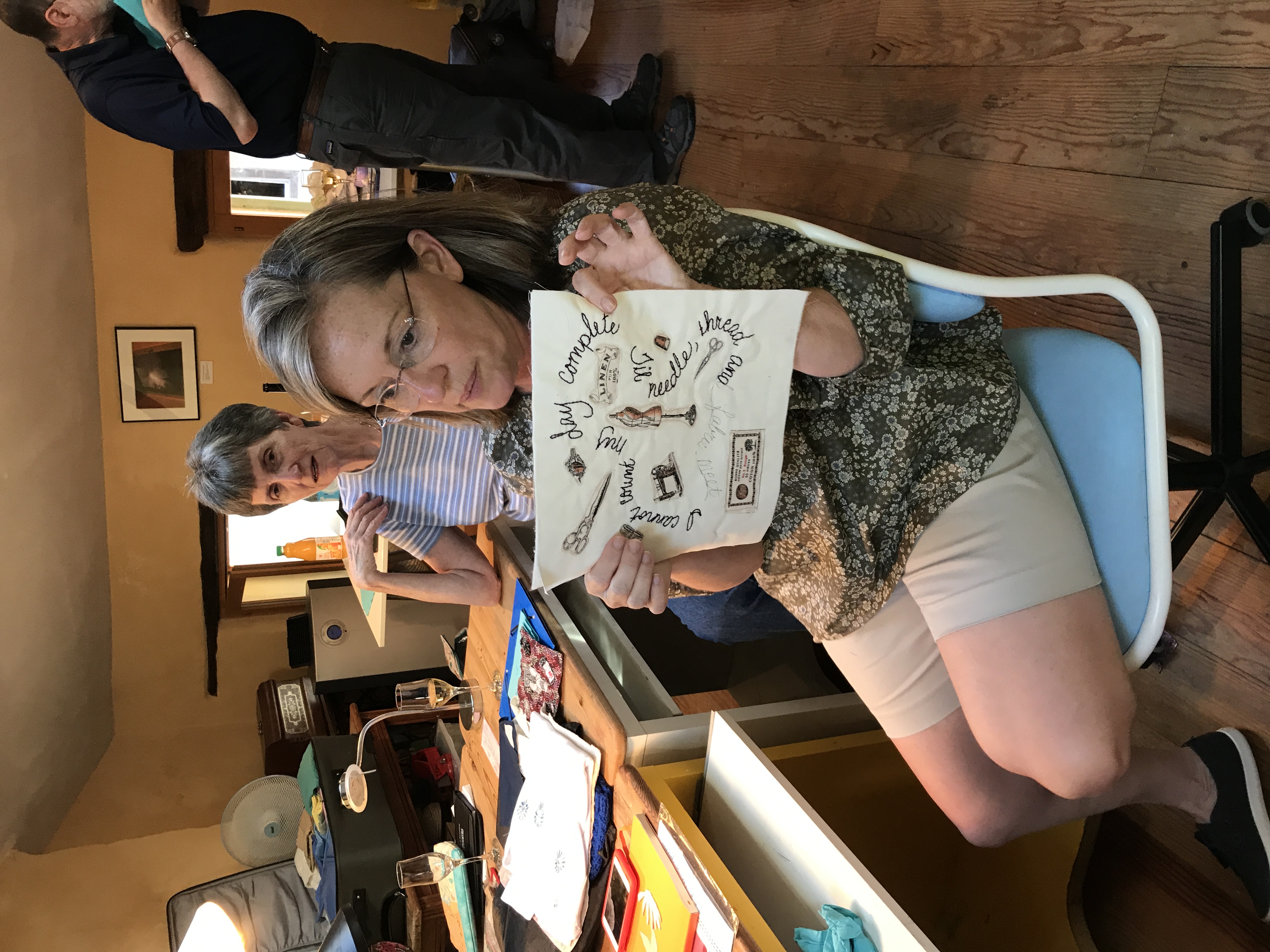 As we continue to have online learning opportunities and new in person learning events, think about areas where you want to stretch your skill set and perspective.  Watch for registration information for our Fall Retreat, November 11-14 and our French Retreat, August 2-9, 2022.  Visit with us at an expo or take a virtual class.  As I share my experiences in this class, think about what you want to master as we move into a safer world with in person opportunities.
Art Quilt Class Set Up
Master art quilter Katie Pasquini Masopust was the instructor for my 4 session online quilting class.  The first Monday of each month she presented a quilting exercise to expand our understanding of abstract composition.  Each student worked on their own 12 X 12" quilt during the month to find their own voice in the exercise.  The small size samples were large enough to be interesting but small enough to be attainable. Thanks to Bruce and Diane at SewBatik for choosing colorful cotton gradation fabrics for the backbone of my projects.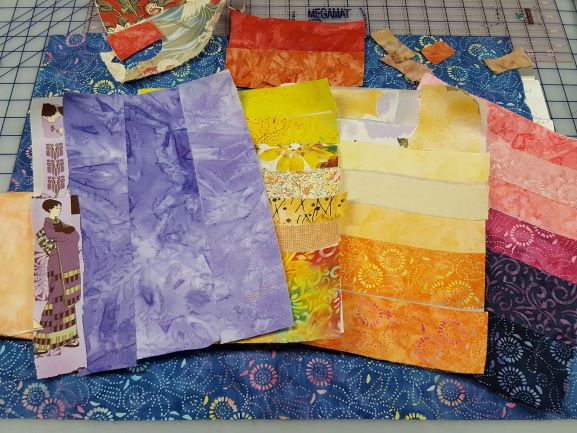 Unwittingly, I managed to create four exercises that speak to my pandemic predicament.  They have allowed me to recognize my moods and feel lighter about things that were weighing me down.
Still Life Project
Most significantly, the final exercise proved eye opening: build a still life, cut it apart and rebuild it abstractly.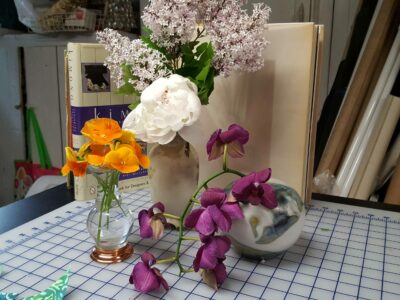 Since it was mid-May, the garden was bursting with possibilities for creating the still life. Miniature lilacs, peonies, pansies and a broken sprig of orchid were set out in vases and then created in fabric collage.
Create the Collage
The still life was made from raw edge pieces, backed with Steam a Seam 2, so they could be placed semi-permanently while organizing the composition. I worked on this over a couple of days, cutting out shapes at night and rearranging them over several days.
At the teacher's suggestion, I made 2 identical 12" pieces: one to keep and one to be cut up.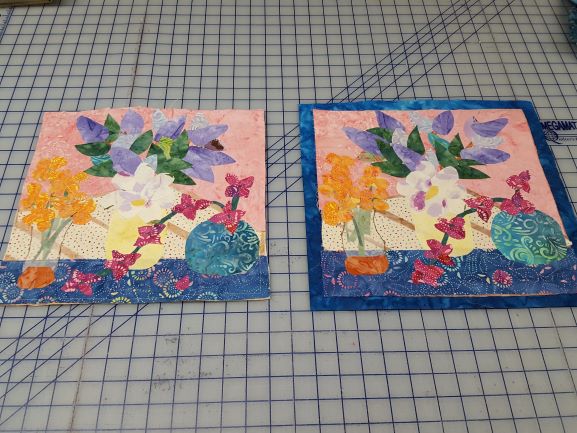 Break it Into Pieces
I cut mine up in horizontal stripes.  This seemed the easiest of the recommended options.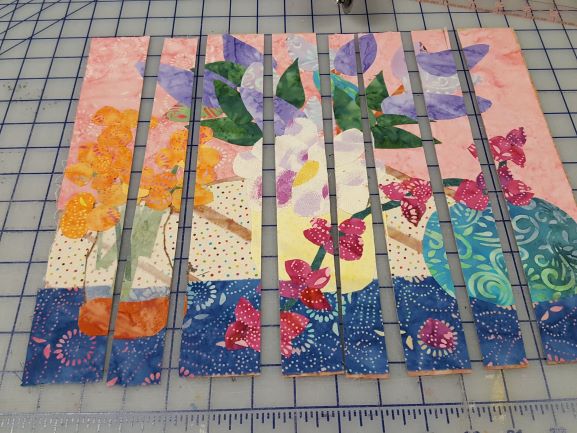 As I set about rearranging the pretty still life on a dark backing, I realized it represented pandemic life.  My life, work, and priorities were still the same only rearranged, flipped on their heads, completely out of order. In each rearrangement of the composition there was an interesting, even attractive abstract image.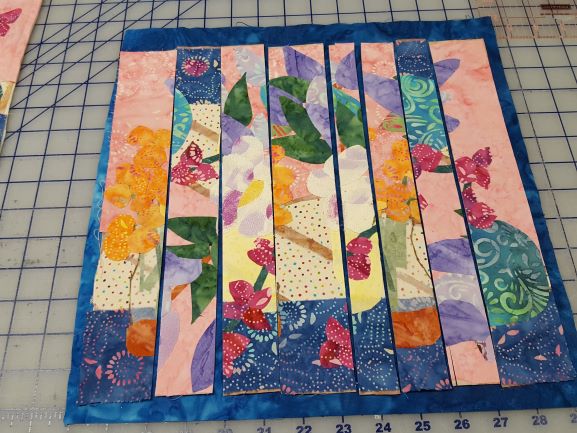 Choose a Favorite Disorder
As I settled on a final order of disorganization, I realized the two sides remained in their original spot, with the center area chaotically reordered.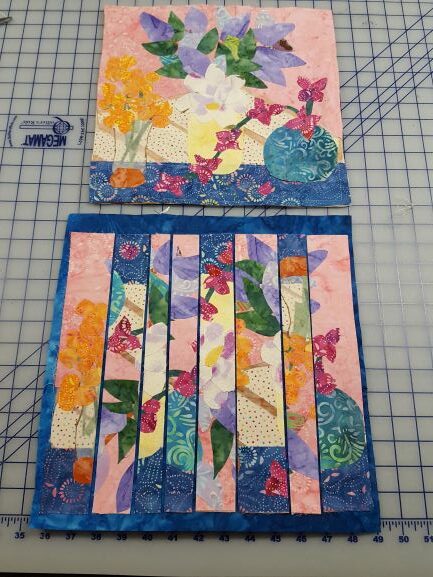 On the outside, I still look the same, but the inside is different.  Once stitched to the backing it will be changed forever, as I think the pandemic has changed me forever.
Check out Instagram and Facebook this week to see the three other exercises which include: a series of pandemic moods, memories of La Cascade our French retreat center, and a peak into my zoom studio.  I know this four month sample making experience will influence my art-garment sewing practice, but I am not yet sure how.  As my trusted readers, you will be the first to know.
Happy Sewing, RAE
PS: Katie PM is offering the class again.  Sign up if you are interested in some challenging abstract sewing  fun.